Statistics can show us a side to Malaysia that we've never known before. Did you know that 4 in 10 Indian youths from underprivileged neighbourhoods drop out of school? Every year nearly 10,000 students leave school before reaching SPM. They often become involved in street crime or violence. Once they get on this path, there's little chance of turning back.
These are statistics received and compared from the Ministry of Education and the Exam Syndicate for 2011. It may vary according to year, but overall that's the average number that students fail and drop out from the education system.
This figure is shocking and sad at the same time. And perhaps for a lot of us Malaysians, it opened our eyes to a problem we never knew before…
Until a Deepavali video shed light on this long overshadowed problem
Malaysia celebrated Deepavali recently. Though it is a festival of light, reality might be bleak for the less fortunate. So when Maxis shared a Deepavali video, it showed the public how life takes two separate paths for a young Indian boy.
In one story, the boy is poor. He leaves home in frustration and hangs out with neighbourhood gangsters. As they are about to fight with a rival gang, the sound of a police siren sends everyone running. Only the boy is left alone, scared.
BUT this is a special video. Clicking the screen with your mouse or tapping it on your handphone shows an alternate story. In the second story, the boy is well off. He's got a nice home and he leaves for school, smiling. Later he meets up with his football team. The boy scores a winning goal and he's happy.
It was the video that brought this dilemma to our attention. Click on Maxis' post below to go to their Light A Life campaign and watch the video.
Poverty is one of the main causes of youths dropping out of school
Statistics gives us another insight…that 85% of school dropouts from less developed states in the country come from poor families, according to the Welfare, Women and Family Development Minister Datuk Fatimah Abdullah.
Poverty, (alongside low academic achievement, low interest and disciplinary problems) puts youths at greater risk of quiting studies and joining the workforce very early. But because they don't finish SPM, they don't have the qualifications to upgrade to better jobs, so the poverty cycle continues to the next generation, so on and so on. Which brings us to Maxis' video – the stark contrast in the boy's two different lives is just WHOA.
Video aside, here's a true story of how poverty led Raj to drop out when he was 15: "…my mother who is not well-educated couldn't support my studies after my parents got their divorce. I didn't have proper guidance as well and I lost interest in studies, which made me quit my high school back then." Fortunately for Raj, he found a job in a car repair workshop because someone cared to help him. One of the customers is his father's friend and recommended him to his boss. This act of kindness saved him from ending up in the clutches of gangs.
On top of that, the video also shows us that when one person follows a life of crime, it doesn't just affect his own life. His influence will spread to other kids in the neighbourhood and that will cause the vicious cycle of crime to grow in their community.
"Many of us never knew these things were happening. We just see the bad end results." – Sunil Kumar, from Maxis
Unfortunately, it is the story of hundreds of children throughout Malaysia who end up taking the wrong road. 😥
The boy in the video narrates: "I cannot change where I came from. I can only change where I'm going." It's true, we cannot change where we start out in life – some of us are born to rich families, some are born to poor families. But what if we could DO something to help change the direction where youngsters are going?
This organisation cares about changing the lives of Indian youths
Actually, Maxis' video is a joint project with MySkills Foundation, an NGO that reaches out to at-risk youths from poor families, broken homes, and those who don't receive adequate attention or care in schools.
MySkills observed that there was no one to analyse and solve the problem of student dropouts in Malaysia and decided to do something to help communities…. so, on 3 March 2011, Pasupathi Sithambaram founded the NGO. CILISOS spoke to MySkills Foundation CEO Devasharma Gangadaran on WhatsApp, and he told us they compiled the heartbreaking statistics from the Education Ministry and Exam Syndicate that 4 in 10 youths were dropping out.
All their activities are geared towards equipping at-risk youths with vocational skills and placing them in proper jobs so they can be gainfully employed. Starting out with only 10 students in KL, they raised enough funds to move to a new building in Klang, costing them almost RM600,000. Today they have 500 over students!
We know that langauge skills is super important if you wanna get a job right? MySkills they teach their students  English, BM and even Mandarin classes. Students also learn basic arithmetic. Next, they have a programme called Work Ready Now (WRN) where they prepare students to enter the working world, touching on stuff like personal development, communication skills, teamwork, working ethics, writing resumes, grooming and more.
The wonderful thing about MySkills is how they connect with communities. They visit the families of students because it's important for them to understand the students' backgrounds before planning the right intervention.
Vikneswaran, a student from Malacca, lived with his mom who is a rubber tapper. She only earns RM350-400 a month!! Sharing his situation with Mr. Velan, a teacher at MySkills, they helped him get a part time job that allowed him to continue studying at MySkills. Viknes' loyalty and hardworking character impressed his boss within a week and his boss decided to personally train him to become contractor of his own in 5 years.
The visit had a profound effect on 5 other students who had accompanied Mr. Velan to Viknes' home. It demonstrates how touching one life can actually touch many other lives along the way. For more accounts of transformed lives, click here.
So touch the light, if you want to touch a life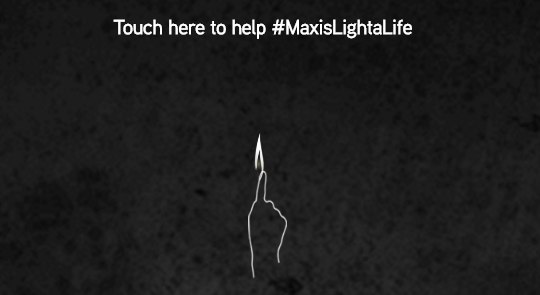 If you would like to give these children a chance to break the cycle of poverty and crime, here are 5 simple ways to help MySkills Foundation:
Donate
Conduct talks in career development or industry training
Volunteer as a friend or mentor at our institutes
Offer internships within your organization
Host or sponsor skills training activities (vocational trades, performing arts, etc.)