So once again, Malaysia is hit with floods, and this time… it's REALLY BAD. Like the worst in history. This year's floods are unbelievably bad. As you can tell from this picture.
More than 100,000 people's homes have been turned into aquariums, which means not only are they homeless for a few weeks, but chances are they've lost most of their stuff – vehicles and furtniture for sure. Here's an image of what a flood did to a neighbourhood during last year's floods.
"It was a sight vegetable farmer Tho Swee will never forget – his neighbour running in vain from the waters before succumbing to a heart attack. Tho said he saw Tam Tuck Choi, 51, scrambling in the flood waters but could not do anything to help. "I was carrying my daughter and running to safety when I looked behind. Tan seemed as if he was squatting in the water," the 53-year-old said. He said Tan's wife and another villager finally pulled him to safety, but their efforts were in vain."We saw him dying, but we were helpless because there was no way to take him to the hospital as the road was flooded," he said. – From Thestar.com.my
And if the rain doesnt stop, that number is only getting higher. As a frame of comparison, only 13,237 were displaced last year. These 100,000 are people who are going to need to eat, and keep their families safe, at least until the flood waters subside, which at this rate of rain, might be weeks.
And after that, they need to go home and restart their lives. Most likely without their cars, furniture or anything else that was on the ground level of a mostly single-storey part of Malaysia.
Sound horrible? Here's how you can make it better (and here's how Malaysians have already been making it better! OMG). We've spent the whole day googling for convenient ways for people to help. All suggestions are categorised by number of hours required.
1. Donate blood.
Time taken: 4-5 hours, including driving to the centre, and potentially waiting. You amazing person, you.
5 have already died.  Contrary to popular belief, flood victims don't just drown, but die from injuries related to being swept and hit by objects,
AND from water-borne diseases in the aftermath of the flood.
These people will need blood.
"But I donated last year!" – Well sorry dude, but that blood has probably already been used or thrown away. The blood you donate is broken down into various elements, some like red blood cells lasting just over a month, while others like Platelets having up to a year's shelf life.
So in other words, the blood banks are preparing for the worst, and you can help.
The National Blood Centre is calling for urgent donations.
It's on Jalan Tun Razak, next to the National Library.
Address: Jalan Tun Razak Kuala Lumpur 50400 Malaysia
Telephone: +603 2613 2688
2. Don't politicise la
Time taken: one week (after that you can start politicising again la. Kasi chan)
What we find most depressing about this situation is that the minute something like this happens, everyone makes it into political ammunition. PAS started the ball with this humdinger…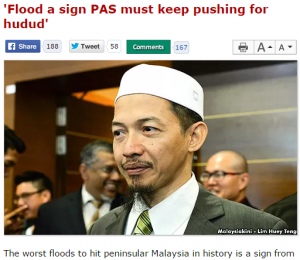 Then Najib gotta look busy
Then Muhiyiddin bro kaokao
And everyone starts banging everyone with political debate. To be honest, this article started out political at first, until we realised that this wasn't the best way to help.Someone at the RakyatPost even wrote this article that Najib was damned if he did, and damned if he didn't, which unfortunately does not work to the benefit of anyone.
Also, there'll be schools of people saying the government isn't reacting well enough and all that, well, nature gets messy people. Even in Australia, floods get more difficult to manage year after year. We're not saying don't improve the processes, but do so constructively 🙂
Haiya. to all MALAYSIANS, let's just focus on getting sh*t done can? Share stuff about people helping rather than people NOT helping. Nah, can start here.
3. Donate some cash right from your desk

Time taken: 5 minutes (unless you don't have online banking, then refer to point 4.)
You literally don't need to leave your desk or mobile,
1. DAP is organising a nationwide donation drive. They've set up a bank account specifically to get donations at "Tabung Dana Kecemasan" (Ambank 8881002244649).
"The donations will be channelled to areas which are badly affected by the floods," he said in a statement today" – Look Siew Fook, DAP to the MalaysianInsider.
2. Alternatively, Mercy Malaysia has one too. They accept credit cards and local bank transfers.
3. And a third option (Thanks Zai!), if you want to help solely in making sure lives are saved, donate to the Red Crescent Society by transferring to their Maybank account at 514422107228 under Persatuan Bulan Sabit Merah Malaysia. More details here.
In fact, this can be a better option than buying something to donate, as it's alot easier to transfer money than it is to transfer goods, so they'll just buy it closer to the areas that need help.
4. Anything in the house you've kept for a while? Donate it as food. or diapers. (preferably don't mix the two)
Time required: 1-2 hours to pack some boxes into the boot and head to nearest dropoff area (listed below for your convenience).
100,000 displaced people to feed is no joke. If you imagine each person eating 3 servings a day, that's ALOT of food. Thankfully, it's christmas and we're assuming there's been alot of gifting, and many parties held. This also probably means loads of leftover food and drink.
Also, some families often switch to healthier diets, which leaves a cache of instant noodles and unhealthy snacks abound. We're sure someone up north is dying for a potato chip, so donate away your guilt!
Here's what else they need besides food n water: Gas cookers, Blankets, diapers, Sanitary Pads, Toilet paper
In fact, if you're organising a Christmas party this weekend, let's really get into the spirit, and ask all your friends to bring stuff together, so you can drop it off at one of these collection centres on Sunday. Many companies are already chipping in (like Tesco, Fireflyz and CIMB). Those are the articles you should be sharing peepur!
Here's a handy list of all the drop off points we could gather from the internet. Due to shortage of time, we covered mostly Klang Valley. If anyone knows of anymore… please highlight them in the comments below.
PETALING JAYA
Jaya Shopping Center (Run by CIMB)
Call: Effendy Shahul Hamid, CIMB Group +603-2261 0688
Strand Mall, Kota Damansara (Run by Islamic Relief Malaysia)
Call: Zamer (0166264946), Wan (0163362433) or Halim (0192075788)
TTDI
Harley's TTDI (Run by Mohd Hafiizh Mohd Mokhtar from Pertubuhan Belia Sinar Kasih Petaling)
Call: 03-7722 1488
HARTAMAS, MONT KIARA 
Ministry of Coffee Solaris Mont Kiara: (run by David Leong, in cooperation with Fireflyz)
Call: David 0122338121
BANGSAR
Bangsar Village 1 (Run by CIMB)
Call: Effendy Shahul Hamid, CIMB Group +603-2261 0688 
KL CITY CENTRE
Menara CIMB (Run by CIMB) and Menara Bumiputera Commerce
Call: Effendy Shahul Hamid, CIMB Group +603-2261 0688 
Directions (Menara CIMB) and Directions (Menara Bumiputera Commerce)
Menara Dato Onn (Run by Wanita UMNO)
Call: Er… dunno. We found this link on Yahoo. We're guessing contact Wanita UMNO at their FB page?
Malaysia Red Crescent Society, Near Dewan Bahasa & Pustaka
Call: Datuk Dr. Hajah Noordin Ab. Razak 0321438122, or Nor Aziah Burdin 0321449227 or Shamshiah Abd Kadir 0321437872
Menara DBKL
Call: DBKL? 1800-88-3255 Again we found a link here. (might as well pay your saman while you're there maybe can get diskaun)
NILAI
Universiti Sains Islam Malaysia:  (Usim)
Call: Waliuddin at 0145038534 or Baihaqi at 0109077501
PENANG
Perda City Mall
Call: Visit this FB Link
ANYWHERE ELSE
All Tesco Outlets (but starting only on Sunday)
Call: 1300 13 1313
Details: (UPDATED) Tesco branches are ALL OPEN to donations. And they're taking cash donations. AND they're matching every ringgit you donate! HOW AWESOME IS THAT!? Well done Tesco! If you wanna find a store, click here.
And here are some Flood Relief hotlines for those affected (Thanks Jovian!)


For centralised info, visit http://portalbencana.mkn.gov.my/Portal/
There's also a further list of help points from Malaysiakini 🙂
UPDATED: And not-so-sapsap-ways of helping
There are also people looking for skilled volunteers. e.g. Doctors or transport etc. Please refer to the links below which were taken from a MUCH bigger list, also on a different list from Malaysiakini. We're cutting and pasting the list from there to make helping easier 🙂
Freemarket

What: A container lorry to send 300 cartons of drinking water and three tonnes of other supplies to Hospital Universiti Sains Malaysia (HUSM), Kubang Kerian.

When: Dec 27 (already passed, but you can call and ask if they need more)

Contact: 019 318 5667 (Hayati Ismail)

HUSM

What: Medical volunteers (medical officers or medical students)

Contact: 013 401 2934 (Dr Sheikh Farid), 012 908 5110 (Dr Junaidah), or 017 287 8104 (Hayati)

Insaf Malaysia

What: Volunteer pharmacists and psychologists flying to Kota Bharu from Kuala Lumpur.

Contact: 013-340 0447 (Juliana)

PSM Kelantan

What: Boats (preferably fishing boats) and crew to evacuate stranded residents in Kota Bharu and Tumpat.

Contact: 0199150795 (Azhar)


Help sort and pack donations

Freemarket and Damansara Performing Arts Centre

Where: Damanara Performing Arts Centre, H-01, Empire Damansara, Jalan PJU 8/8, Damansara Perdana, Petaling Jaya.

When: Dec 27-28, 2.30-5.30pm and 7.30pm onwards

Contact: 012 248 0014 (Athirah)

Imaret, Mercy, Firefly and Freemarket

Where/Where: Harley's Taman Tun Dr Ismail (Dec 27, 10pm) and Subang Airport (Dec 28, 5.30pm)

Contact: 016 225 4669 (Mohammad Hafiz)
Also, if you know any other way of helping… let us know! (either in the comments or via email)
Thanks for reading, and please share this for those of your friends who want to help. If there's any other way WE can help, please let us know in the comments below.
In the meantime, checkout what Malaysians are ALREADY doing to help here. It's really really heartwarming to know we embraced our call-of-duty so readily, and without fuss.
Let's unite as a nation and help the ones who got the short end of the stick this holiday season 🙁