Have you ever been through the dilemma of choosing the right career path for yourself? If you recall being a fresh-faced sekolah menengah graduate, confused and frustrated with a high-pressure decision to determine the course of your future, then you'll know what this writer went through.
Now, most parents (and society in general) would push their kids to the more 'acceptable' path, like accounting (which I ended up taking), engineering, law or if you damn terror go be doctor. All for one possible, simple reason: they make money.
But it's understandable because our parents probably had a hard life growing up. Speaking from experience here, alright. With an accounting degree, you're looking at a comfortable starting salary of RM3,500 per month if you manage to score a job at a big firm. Sound pretty safe, but it just didn't appeal to a geek like me.
You see, when I was 11 years old. I wanted to become a Pokemon Trainer. Not because I was good at it (I was), but because I was just terrible at everything else. Math no good, Malay no good, speak Chinese also like banana. I was crushed when I found out that a Pokemon Trainer wasn't a "real job".
But… Could I find something like it? Could I rake in my monthly dough doing something that I love? 
Well..
Good news, everyone. It is possible!
We found 5 Malaysian geeks that not only gives a typical career path a run for their money (ba-dum-tsh), but they are pretty successful in their own field as well.
1. Chai "Mushi" Yee Fung, Professional Dota2 Player. 
Dota2 is an incredibly popular Multi-player Online Battle Arena (MOBA) played by 90% of all the people lepak-ing in internet cafes around your neighbourhood and, Mushi is incredibly good at it. In fact, he's so damn good that he gets paid to play.
You see, Mushi is a professional Dota2 player, and by extension, an eSports athlete, which in some countries are recognized as professional athletes. And like all pro athletes, they train, get sponsored and even sometimes get scholarships!!
He went pro in 2011, where he started building his professional career from being a casual player, which eventually lead him to be one of Southeast Asia's finest player. His status peaked when he and his team managed to compete on the world stage at the Dota2 International 2012, 2013 and 2014. Which, by the way is THE largest Dota2 tournament in the world with a prize pool of over 10 MILLION USD for last year.
What did the parents say?
"Before I became successful, there were always worried about my future. In their eyes, I'm just this little kid who doesn't know any better, plays computer games all day and all night. But things turned around after some success at the Internationals. Now, they watch Dota2 tournaments every day even when I am not playing." – Mushi.
And how much does he earn?
While consistently winning tournaments around South East Asia do rack up on average a few thousand ringgit per tournament, reaching the top 5 of the Dota2 Internationals can easily net you anywhere between US$300,000 to US$800,000 (which you then have to split among your teammates and sponsors la, BUT STILL!!)
"I also want! HOW!?
The game is actually free to download on Steam and go through the tutorials if its your first time. Better still, grab a few friends and start working on your teamskillz. . And if you really need to get an edge, there are strategy guides easily available with a simple Google search or you can also watch how the pros play on twitch.tv.
If you think you are ready, then look around you for local tournaments. Of course, Malaysia cybercafes are bursting with DOTA2 players so you might need to try extra hard.
You need to hold your dream no matter how hard it is because this is your dream. You need to have a alot of self discipline so u won't mess up things in real life. Never give up even if u keep failing. – Mushi
2. Terry Soh, Professional Magic: The Gathering Player.
If you take the strategic elements of chess and combined them with the variance and technical play of poker, you will get Magic: The Gathering (MTG). It is the largest trading card game in the world, that comes with video and written coverage. It even has its own mini economy. Heck, it practically invented the trading card game genre. To put it in Terry's words, "it's like Pokemon, but for adults"
Terry first started collecting cards when he was about 9 or 10 and eventually picked up MTG at the age of 12. It was at that moment, where he then made it his priority to be the very best, like no one ever was (last Pokemon joke!! I swear!). Of course, going to school was a prerequisite for his parents before they allowed him to travel all over the world to play magic. But in his defence, he still managed to do well in school and university, graduating with a Masters in International Business.
Terry steadily made a name for hiself by competing in MTG's biggest tournaments, in MTG Invitationals and what they now call the Pro Tours. While he still seeks to one day win the grand prize, his competitive spirit has earned his place in the top 200 money leaders of the game and voted as a candidate for the MTG Hall of Fame.
He even has a magic card made in his image OKAY!
And his own pro card
What did the parents say?
Quite supportive actually. That's because he understands that doing well in school is important to them and everything that comes beyond that is his decision to make. Magic was also the biggest contributor to his proficiency in English, and would often read Magic articles the night before an English language exam.
Improving your competitive edge in Magic and in school?!?!?!
And how much does he earn?
On average, a competitive player will probably earn a decent 9-5 job salary over the course of 3-5 years. At his peak, he managed score a 3rd place in two pro tours with a sweet payout of 15,000 USD each. But for Terry, the chance to pursue his passion represents as the ultimate prize. It's not so much about paying the bills, but more like indulging in a hobby that pays for itself.
"I also want! HOW!?
Magic is pretty easy to get into actually, and there are many ways to it! You can learn the game by getting a starter deck, which includes enough cards to play the game and the rules manual. If you want to learn it on your own, consider getting Duels of the Planeswalker a multi-platform digital version of the game which is designed to teach new players. You can learn about the multiple formats to see which one suits you the best.
And if you feel like dipping your toes in the competitive scene, there are casual level tournaments like Friday Night Magic.
"There is never an easy way out, no matter what you do in life. Life's a grind, and the more you grind, the better you become." – Terry Soh
If all of these sounds too daunting, you can use the MTG store locator to look for a local game shop. They will be happy teach you everything you need to know. Speaking of local game shops…
3. Nik Nadzru Iskandar, Co-founder of Spartan Games Arena
You had a long day at work, your boss just came to your office with that report you sent in saying that it lacks "synergic dynamism" (whatever that means). By 5:55pm, you're just looking forward to blowing off some steam by heading to the local bar game store. With the shop owner, ready to welcome you with open arms.
Spartan Games Arena (THIS. IS. SPARTA!!) is what you call a local game store (LGS) and Nik runs it. He is kinda like a modern day bartender where instead of serving booze to downtrodden white-collared workers, he creates a platform for the growing community of (board/card/miniature) gamers here in KL. Sparta is place to play, to meet new people, and sometimes forget about your ex-girlfriend who just doesn't "get" you!
After years of working at an investment bank and even a stint in the advertising industry for a while, the long hours and commitment starts to kick in, spending less and less time for friends and family. He then spent a year cultivating a local entertainment blog with some friends before ending up working part time at Signa Games Shop (another LGS) because bills.
However, having a natural aptitude for connecting with the local gaming crowd, he quickly picked up on the ins and out of the local retail games industry from the ground floor up and proceeded to make key contacts and networks which continues to serve well to this day.
Today, Sparta Games Arena (THIS. IS. SPARTA!!) is one of the biggest LGS in KL. By 2013,they broke every single KPI set by Hasbro in the South East Asia Region for new player growth, player retention rate and number of organized play events in for the game "Magic: The Gathering". Through his store, he aims to create the next generation of gamers in Malaysia, and share the same passion he had for gaming as a kid with a whole new generation of Malaysians.
What did the parents say?
"Being Asian, well meaning parents wanting their child to do their best in life is a norm. Let's just say the journey of finding what I actually wanted to do in life between 2009-2012 was a pretty harrowing one at that." – Nik
As for how he overcame it all, Nik only had this to say:
"With the petulance of a child and the charisma of street grifter." – Nik
And how much does he earn?
Well, like any service based industry, location is key. Sparta Games Arena (THIS. IS. SPARTA!!) has been blessed over the past three years because they are the only LGS servicing the gaming community in KL. All other Malaysian LGS are predominantly based in the greater PJ area.On a good weekday, they can rake in RM1,500 – RM2,000. On great weekends we're looking at double or triple of that. Suffice to say, using your calculator, you can work out how much they make on a good month and year.
"I also want! HOW!?
Nik write poem for us.
"Like everything in life, figure out if this is what you really, really want to do in life first.

Because the hours are long, the financial gains paltry and your convictions will be tested along every junction.

The trick is to not compare and to find the beauty in the little things in life.

If you can simplify your life, then join me on this journey, my son! – Nik
So if you wanna get into it…. STOP THE PRESS! Nik wants to hear it because they are expanding! If you're a fellow avid gamer looking to make a life change by opening up and running your own local games store, write to them!
4. Sonny Liew, Comic Book Artist.
Sonny Liew is a Malaysian Born (now residing in Singapore) comic artist, painter and illustrator. His work includes the New York Times Bestseller The Shadow Hero (with Gene Yang), and titles for DC Vertigo, Marvel Comics and Image Comics. He has received Eisner nominations for his art on Wonderland (Disney), as well as for spearheading Liquid City (Image Comics), a multi-volume comics anthology featuring creators from Southeast Asia.
Wait… Image, DC… AND MARVEL!?
His very first comic was a piece called "Frankie and Poo", A comic about a man and a polar bear with Frankenstien's Monster scars talking about political and sociological issues. It ended up being published as a daily strip in the Newspaper for about a year.
He has a deep passion for the medium because of its richness and potential, constantly looking for new creative challenges. Getting a particular idea, joke or scene across. Solving a structural issue in a story, or finding the right angle in a panel. Making something that never existed before.
His latest work is The Art of Charlie Chan Hock Chye, which will be published by Pantheon Books in 2016, which has a history of publishing some of the world's greatest and the most influential comic books. Most notably Maus, Persepolis, Ice Haven, Habibi and more. Right now, he's working on Dr. Fate with writer Paul Levits on the new DC Comics reboot.
What did the parents say?
When asked if his parents protested against his career….
"I'm sure they did, I'm sure they still do :)" – Sonny
Yeah. That's about it.
But why, Mr & Mrs Liew?? Your son so successful leh!!
And how much does he earn?
If you are lucky enough to create the next Walking Dead or One Piece, you can rake in millions. As for the rest, it's surprisingly kinda like a normal job. But if you are working on mainstream titles for Marvel or DC, its about 6,000 to 10,000 SGD a month.
Outside of that, the more independent or personal your work is, the less it earns. So going freelance will rake in about anywhere from 2,000 to 10,000 SGD a month. So its important to find a balance between commercial and personal. Or you can always use your talents for teaching or generating content through Patreon.
"I also want! HOW!?
There are 2 ways to go about it. One you can go to art school. Places like The One Academy will have courses that can eventually bring you to the level you need.
Or, like my friends from said art school used to say:
"At the beginning of your journey, save your first artwork, and keep it somewhere. After that, just draw every single day. Its what they teach us in art school. Find something you like and copy it. Copy it until it looks at close as possible. Find another art, and copy that. Do it over and over again. Trace it if you have to. Draw one art a day. Doodle when you are free. It might take a year, or 5 years. But keep drawing every day. At the end of 2 years. Find that first artwork that you did, and marvel at your improvement." – Totally paraphrased from writer's flashback had.
As for Sonny:
"Be prepared to earn less money than bankers. But possibly get to feel like you're doing exactly what you were put on this earth to do. But really, it's a craft like so many others, something you can get better at through practice and sweat." – Sonny
Nice!! So maybe it's not too late to start working on my own comic book then.
Hmm..maybe not..
5. Cheeming Boey, Artist and Published Author.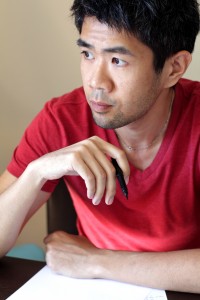 If you visited an MPH bookstore recently (be honest!), you might have heard of a little book called "When I Was A Kid"
It is a charming and yet simple story about the writer and artist's own personal journey growing up. And writer is Cheeming Boey, a Malaysian born animator-turned-artist-turned-writer (Currently residing in the US). It highlights, the little nuances of being a Malaysian Kid, complete with squiggly handwritings and leaving out in the crosses.
Boey started his artistic career at Blizzard Entertainment (Yes, THAT Blizzard OMG OMG) where he was a lead animator for Diablo 1 and Diablo 2. He left the multi-billion dollar company to pursue his own personal projects and made a name for himself drawing on coffee cups. Naturally, people's interest in him peaked, and the topic of his hometown eventually came up. When told he is from Malaysia, the common question to this answer?
"Where in China is Malaysia"?
At the time he was already producing a webcomic chronicling his daily experiences. After speaking to his mom, he got the idea to produce a prequel in which he talks about life growing up in Malaysia. For most people, growing up is difficult and lonely, so it's always awesome to hear the stories of other people's childhood and say, "Hey! I'm not the only one!"
It was a hit! Especially in Malaysia, eventually becoming one of our nation's best selling non-fiction books, even at one point competing against Mahathir's Biography. Putting us one step closer in being recognized for something good.
What did the parents say?
"My Mom was against it. The work and the pay at Blizzard was very good. When I left my mom keep telling me to go back into it. Even after the book sold really well, she still told be to go back to it." – Boey
It's ok Auntie, if I work for Blizzard I also dunno if I want to leave or not.
And how much does he earn?
If your book is well received, it can actually be pretty profitable. The sales of a book series is actually compounded over time. From 3,000 copies for the first book, 5000 for the second and a whopping 10,000 copies for the third. And that is only the first printing, not counting the demand for reprints. Because once you read the 3rd one, you of course want to know what happens with the 2nd one right?
The books alone can rake in six figures (one book is about RM34 okay). And that's not even taking into account the profits from his freelancing career and doing ads for big names like Sharpie, AirAsia and Nescafe.
"I also want! HOW!?
It was quite a rough journey for Boey. He pitched the book to multiple publishers only to be rejected over and over again for 4 years! Walau… rejected for 4 years (My article pitch to CILISOS got rejected 4 times I also want to cry already). He almost sold the right to his books to a Singaporean book store for 3,000 SGD, but decided that being paid 3k for 4 years of work was waaay too low, even for a migrant worker like him.
After some advice he tried his luck and Googled the top editors in Malaysia, and emailed all of them. Some hard work, and some luck. He found someone from MPH bookstore that's willing to do it… but ONLY if he self-publish. He was also one of Malaysia's first Kickstarter.com success stories. The rest, is history.
Moral of this story: Don't get cheated by Singaporeans!
---
It seems like there is a common theme – yes, deviating the traditional path is extremely scary, and risky not only for them but for their parents too. For these guys, (as cliched as it sounds) they knew the risk and they know where they want to go. They worked hard, they persevered, they move past their boundaries and limits towards their goals.
Because when you're doing what some consider a 'dream job', there's probably a reason why it stays as a dream for most. Cos it's usually very very difficult, and sometimes, it doesn't even pay that well. These guys also understand that to pursue their passion, they need to be sustainable – to reap the rewards of their success so they can continue doing what they love.
Kesimpulanya: If you want to do what you love, do what you love because it will make you happy. Not because if will make you rich.
As for me, last year Google had a contest to give the title of "Pokemon Master" to anyone that can complete its challenge. It reminded me that times are changing and we have a more supportive environment to pursue our passion. No matter how silly it might sound at first.
Perhaps I can tell my 11 year old self. It's never too late!