Sponsored
6 Peninsular Malaysians who moved to Kuching tell us why they LOVE it there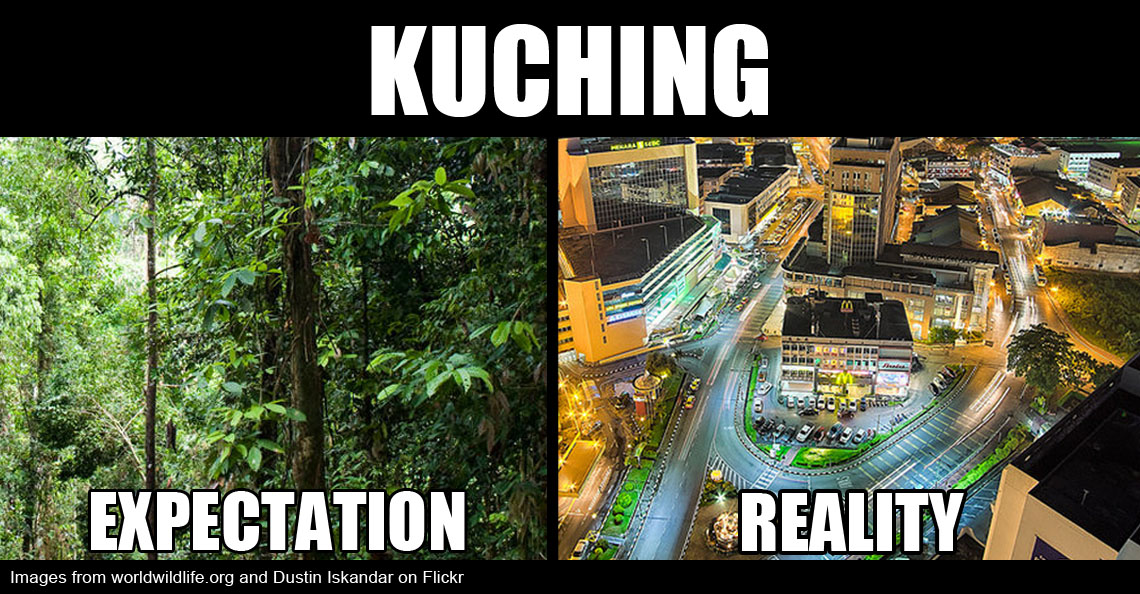 We gotta admit, Malaysia is developing quite fast and our cities are becoming urban hubs. But we are guilty of one thing… thinking that development ONLY happens in the Peninsular – or in snobby Klang Valley people's case, just KL. #SemenanjungBubble 😛
Sometimes, Peninsular people think of Borneo as rows of longhouses, Orang Asal, and jungles that can only be accessed by 4WD…but what some Peninsulites may not realise is that cities in East Malaysia are catching up with our develo-wagon, particularly Kuching!
So an international university wants to help you see the other side of Kuching
Yep. Welcome to Swinburne University campus, located right smack in the city centre. And of ALL the places in the world to have their ONLY international campus, Swinburne University from Melbourne, Australia picked… KUCHING.
Currently the Sarawak campus has about 4,000 students from over 60 countries, according to Borneo Post Online. Like a legit, proper cosmopolitan campus – you might even feel like you are right in Melbourne itself! Besides its popular Business and Engineering programmes, you can check out their Computing, Design and Science programmes.
No wonder they wanted to show us ignoramus Peninsulites that this city is a great place to study (and maybe even relocate to for work one day?). They felt you'll definitely need some convincing… so we worked with Swinburne to find 6 Semenanjung people who moved to Kuching for various reasons and find out why they LOVE IT there!
1. An Astro AVP who left to join Kuching's hipster cafe trend
Ooi See Bee, 39, owner of Cloud-99 Ice Cream Cafe
Moved to Kuching in: 2013
From: Johor Bahru
If a taste of Melbourne's coffee culture is what you want, guess what, you can do that right here in Kuching! Ok, it doesn't look like a carbon copy of the famous coffee laneways down under, however you can definitely find a good cuppa in Kuching as it has the coolest cafes, hipster joints, and high-end restaurants.
From the time Ooi See Bee moved to the capital in 2013 from her native Johor Bahru, there was already an established F&B culture.
Adding to the ranks, See Bee's Cloud-99 Ice Cream Cafe serves liquid nitrogen ice cream, another one of those urban food trends that the cool kids are very into right now. Don't even get us started on the coffee houses there… coffee culture which is a growing trend worldwide is sweeping the city. See Bee has a friend who opened a coffee cafe called KopiCut, where people can get coffee (duh) and… get this… a HAIRCUT!!
"I find a hipster cafe called Wrong Place quite interesting. They use bathtubs and turn them into the furniture. There are events like open mic poem sessions held at the cafe. China House, a cafe and restaurant has a room for live performances and also a room showcasing arts." – See Bee
2. The PJ boy who didn't expect Kuching internet to be as fast as in Peninsula
Vinodhan Vennoo, 24, Student
Moved to Kuching in: 2012
From: Petaling Jaya, Selangor
Six years ago, Vinod got his first experience of Kuching when he attended his sister's graduation there. That's the reason he chose to study in Swinburne, Kuching. There's a different atmosphere compared to the Peninsular. The main reason is because of the people… as you can probably guess, Kuchingites are way nicer, more accepting. You just feel more welcome.
The second reason he chose this city is because of food – it's easy to get good food anywhere in Sarawak's capital and it's cheap too! For example, a bowl of kolok mee only costs RM2.50, as a student, it's very economical. But what he didn't expect was how the internet speed is very good in Kuching as it is in the Peninsular:
"Reaches 10mbps on a good day. I don't game, but let's just say HD streaming can go without any lag." – Vinod
Plus, Kuching is really growing, for example, when Vinod was there for his sister's graduation, there were only one or two malls, but now every few kilometres there is a shopping mall (really big ones too). Plus they have TGV and GSC now, whereas during his first year, there was only MBO and Lotus cinemas.
"It sucks when I tell my friends I'm studying in Kuching and they all say, 'how's it like living in a tree?', but no, actually Kuching is way more developed than a lot of places in the Peninsular. I have been here for four years and things are changing as I'm living here." – Vinod
3. The medical officer who chose to be transferred to Kuching for a… vegetable?!
Kok Sen Wai, 30, Medical Officer in the Psychiatric Department of Sarawak General Hospital
Moved to Kuching in: 2011
From: Malacca
When Kok Sen Wai was studying for his A-Levels, he met a bunch of Kuchingites who would always bugging their Peninsular kakis to go 'cuti-cuti Malaysia' in their city. There they discovered a particular vegetable which sorta looks like paku, called midin, that their tongues and stomachs fell hard for. By popular demand from the Peninsulites, they ordered midin for EVERY MEAL.
"When it came to my choice of posting in 2011 after I finished medical school, I put Kuching down as my first choice. It's mainly because of midin, I often tell people." – Sen Wai
Since he's settled in, another kind of green has captured Sen Wai's fascination… Sarawak's pristine National Parks where urbanites can cabut to to relax, and just a short distance from the city (p/s: See Bee told us everywhere you go takes 15 minutes). We know that Kuching is a metropolis and everything, but it is not completely devoid of places to see nature, thank goodness! Some of the places Sen Wai often goes hiking with friends are Kubah National Park and Bako National Park.
4. The Pharmacist who didn't think Kuching was very different from the Klang Valley at all
Muhamad Azmeer b. Ahmad Shahruddin, 27, Pharmacist in Sarawak General Hospital
Moved to Kuching in: November 2016
From: Klang, Selangor
Azmeer's friends' reaction when he told them he was being posted to Kuching was all negative, negative, negative! But Azmeer was thinking the opposite, he felt that since he was still young, he should just go soak up the experience. He hasn't regretted it since.
"My thought when I first stepped into Kuching, it was like, not much different compared to the Klang Valley. No culture shock, and in less than three months, I could speak Bahasa Sarawak and I'm learning Bahasa Iban and Bidayuh." – Azmeer
And like we said, the city is also full of shopping complexes, about mebbe 10 of them, mebbe more, according to the official Sarawak tourism website. You know la, we Malaysians love our malls. Currently, the biggest one in Kuching is Vivacity Megamall at 1.3 million square feet with 280-300 brands. Landscape wise, errthing is like KL – big bungalows, apartments, condos, semi-D etc. Yes guys, they have proper tar roads and flyovers ok, you don't need 4WD to drive around.
5. The student who loves Kuchingite culture and warmth
Izzatie Musa, 22, Student
Moved to Kuching in: 2014-2016
From: Cheras, Selangor
Izzatie had visited Kuching in her childhood when she was 11 years old, though she says the Kuching of today is not too different from back then… in a way, it is slightly less modern than KL, as in there are not too many skyscrapers, BUTTTT it's not too old school.
She can get all the necessities of city living there, like hangout and makan places! At the same time, it's more peaceful and calm there… there are less distractions, so she doesn't feel the temptation to shop so much, finding herself more attracted to nature and the outdoors instead of a shopping mall. What is it that makes Kuching such a peaceful place? Perhaps it's the good traffic and polite drivers? Drivers there are really  good at giving way to other drivers. For example at a junction, they would let others go first, she told us. Kuchingites are super friendly and helpful… Izzatie remembers this one uncle, they call him Uncle Liew:
"He would offer carpooling services for only RM5… anywhere you want to go, it's only RM5. He was very popular among the students at Swinburne because it's so cheap. If I wanted to go anywhere, I could call him and even share the ride with someone else, so I only pay RM2.50." – Izzatie
Uncle Liew perhaps had a lot of free time and just wanted to help people out with transportation. He was in fact popular with everyone in town, not just students. At the time, there was no Grab and Uber coz the two services launched in Kuching around October 2016. But now that they've entered the market, Uncle Liew will have "competition", hurhur.
6. The doctor who absolutely hated his transfer to Kuching… until he fell in love with the city
Dr. Sai Kishoak Menon, 29, Medical Officer in the Psychiatric Department of Sarawak General Hospital
Moved to Kuching in: 2014
From: Klang, Selangor
As a medical student from a city filled with job opportunities, good social life, good food, and everything, Dr. Sai Kishoak Menon thought he really had it all! Life was going perfectly, until one day, BOOM… POSTED TO SARAWAK!!
"Initially I told myself, 'OMG, this is going to be a disaster and I might not have the opportunity to learn anything in my chosen field (psychiatry). I told myself, just serve your time like it was a prison sentence and then transfer as soon as possible." – Dr. Kishoak
But Sarawak turned out to be a very lovely 'prison' indeed, where the 'prison guards' were warm, welcoming and hugged him. His first experience with their famous Borneo hospitality was his taxi driver who charged him only RM35 despite driving and waiting around for him for HOURS. "Doctor datang tolong orang Sarawak, kamik tolong doctor", the taxi driver told him.
In less than two months, Dr. Kishoak made so many friends, MORE than he ever had back home. During Gawai season, he followed his friend Collin Anchaya to Miri to stay with his family. As soon as they reached Miri airport, Collin's parents hugged Kishoak first before welcoming their own son. 😆 They were so sweet because they bought their guest a new bed and a stand fan so that he wouldn't feel hot. It just brought him to tears!
"People here are really respectful, friendly, love to talk, and love to drink alcohol. Everything they do it's with a smile. Last but not least, Sarawakian women are really beautiful. That's one thing everyone can vouch for." – Dr. Kishoak
Kuching seems to be like the Klang Valley… with a little more…everything?
There are the many things that Peninsular Malaysians have conveniently missed about our East Malaysian friends. In fact, it doesn't only happen to Kuching, even Sabahans feel the same. Another person we interviewed who was in Sarawak for time, but is back in the Peninsular now said:
"Sarawakians say that West Malaysians tend to brag about themselves and criticise the Sarawakians' way of life, and that's the part they don't appreciate." – YJ Chong, 30s, Sales
It's easy for city folk to think that they have it all, but when you really put things into perspective, it does feel like we don't have one thing that really matters: heart. Kuching may be developing quickly, but they still have their Bornean warmth and hospitality, harmonious relations between the races, and traditional culture. It's really having the best of many worlds! All the kind of things that Semenanjung cities have lost… to the point that when folks from the West goes to East, it's such an eye-opener!
Ironically, if you're the kind of person who's always stereotyped that place, once you go Kuching, you never want to leave, Azmeer laughed.
But how would one get to Kuching in the first place? Well, if you're a student, we can think of one way…