This article was originally published in July 2019, but has since been updated with new information.
Remember Bitcoin? The whole crazy fad involving cryptocurrency seemed to have been everywhere in the last couple of years, with everyone from the rich and famous to the homeless apparently getting involved in the digital gold rush. Heck, even your makcik selling nasi kerabu got in on the act as well:
But like any major idea sweeping the world, there'll be those seeking to exploit it and fraud others. One of these types of fraud cases just happens to be phishing scams. Now in case you don't know how these Bitcoin phishing scams work, the bad guys essentially make some legit looking website and try to deceive the victim into thinking that they're on some safe and secure website when in actuality you click something and then BOOM BAM POW HACKED SCAMMED NO MORE MONEY FOR YOU.
So how do these guys utilise Bitcoin to scam you anyway? Well of course some might try to access your Bitcoin account by getting you to fill in your details, but in more recent times, a common theme we've seen on Malaysian social media is:
Feature ads on Facebook using prominent Malaysians to promote a usually fictitious Bitcoin platform.
Get you interested in them enough to click on them.
Get you to share your details or for you to 'deposit' them some money.
Swim in illegally-gotten money.
Now because we're truly some hard hitting investigative journalists (read: kidding), let's take a look at some examples of these ads together with the people who had the misfortune of being linked with them.
1. After realising the pain 1MDB caused, LGE apparently "wanted to give the rakyat free bitcoin"
Poor ol' Lim Guan Eng. It's bad enough that he's being hounded by the Opposition after the PAC found that no GST refund money was misused, and now must deal with Bitcoin trading scammers somemore.
Guan Eng's name and image apparently first started being used by scammers earlier this year, where they made a fake BBC news report alleging that the govt will be paying back Malaysians money from the 1MDB scandal. Think of it as BR1M, or rather, Bitcoin Rakyat 1 Malaysia. Now while LGE did say he'll repay Malaysians GST refund money, no such claim was made for 1MDB, which probably should raise alarm bells dy la.
But if your mental alarm snoozed past that, it should probably ring again when you read the fake BBC report and see that Guan Eng apparently wanted to repay 1MDB money using cryptocurrency. And in order for you,the ordinary rakyat, to get this "1MDB refund", you're gonna need to deposit USD250 into some weird "online trading account" called Bitcoin Loophole. If you still sleep past this alarm bell then we guess it must've been a very expensive wake up call for you.
Despite some good work by the folks over at Lowyat.net to warn people of it, the scammers didn't end there, as recently our Ciliboss got word that the Guan Eng ads are back, complete with the similar modus operandi of asking the poor reader for USD250 again. Oddly enough tho, the fake news article didn't work on a desktop browser, but when viewed on a mobile browser it has all the telltale signs of a phishing scam.
"Instead of poverty, Malaysia will continue to build its economic competitiveness fairly by adopting this new crypto technology called Bitcoin Loophole. This is a special offer we hope people can take advantage of to achieve their dreams," – fake Lim Guan Eng, from the fake news report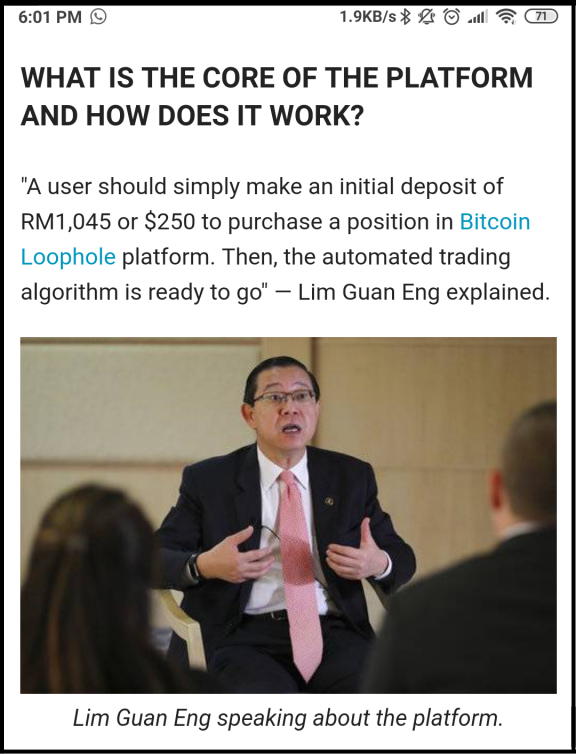 2. Tony Fernandes "left AirAsia to head new FinTech startup", perhaps after achieving dream at AirAsia
Now this one you guys might have actually heard about before, because Tony Fernandes has unfortunately been used not once, not twice, but MULTIPLE times in the past couple of years.
It was first reported in 2016 that Tony's image was used in numerous Facebook ads where he shared his 'secret to success', which turned out to be a trading scam page once you clicked on the links in the ad. It happened again in 2018, with the claim this time being that he's leaving AirAsia to pursue a new 'fintech' company, with the fake post even calling him the 'real life Ironman'.
https://twitter.com/tonyfernandes/status/970550430794166272
The latest ones are similar to the Guan Eng ones, with claims that he's backing a 'new cyptocurrency platform' and that you need to deposit USD250 to begin things off. You'd probably find quite a lot of them shared on Facebook as sponsored posts, with the pages posting using random names and the links directing you to some weird lookalike of a real page. And yet despite being caught out so many times already, the Bitcoin bandits were back at it again, with a recent posting including the main man in Putrajaya himself….
3. Dr Mahathir saw the hardship of the rakyat, so "launches Bitcoin platform to make Malaysians rich"
So the scam ads involving Mahathir is actually the same as the Guan Eng one, with our Cilibos getting both of the ads sent to him around the same time. The two fake ads promote the same Bitcoin Loophole and after the first couple of paragraphs descent into the same piece trying to get you to deposit USD250 into some unheard of cryptocurrency trading platform.
"Our best economists created a roadmap which will make every Malaysians rich. The roadmap includes five general steps and the main one among them is – launching a brand new cryptocurrency trading system called Bitcoin Loophole… A user should simply make an initial USD250 deposit to purchase a position in Bitcoin Loophole. Then, the automated trading algorithm is ready to go," – fake Mahathir , from the fake news report
In fact, judging by Mahathir's affinity for an old school gold-backed currency due to the stability it may provide, linking him with the hypervolatile Bitcoin does seem odd when you think about it la.
4. Watson Nyambek apparently "showed Harith Iskandar how to quickly double his money"
Watson Nyambek is a famed former national sprinter, who just so happened to have been running all the way to the bank… or so the claim was anyway.
It was reported that his image was used for Bitcoin trading promotions, and subsequently lodged a report to the police about it as well as informing the MCMC about it.
"Yes, I first knew about it (being used to promote Bitcoin) through Facebook on Nov 9 but I was busy with training, therefore I was not able to lodge the report… I strongly deny the claim and that I have never involved (myself) in Bitcoin," – Watson Nyambek, as quoted by The Borneo Post
The fake post about Watson even had a "cameo" from Harith Iskandar! The scam claimed that Watson went onto Harith's talk show to tell people that after making the USD250 deposit, he doubled it in three minutes! Like, we know he's fast but not that fast right?
5. Anthony Tan is "urging others to grab a chance at new Bitcoin program" before the authorities kacau
You may know him as the founder of the ride-hailing company Grab, but for the scammers, Anthony Tan is just another famous Malaysian who miraculously discovered the joys of Bitcoin.
Kinda like how ads on Cornhub tell you about how to 'grow an extra 3 inches on your jagung in just 3 weeks' and that 'farmers hate him', this particular scam ad suggests that Anthony Tan found a loophole that makes anyone a millionaire in a matter of months, and that the big banks hate him for it.
"What's made me successful is jumping into new opportunies quickly – without any hesitation. And right now, my number one money-maker is a new cryptocurrency auto-trading program called Bitcoin Code. It's the single biggest opportunity I've seen in my entire lifetime to build a small fortune fast. I urge everyone to check this out before the banks shut it down," – fake Anthony Tan, from fake news article
While this scam ad also tries to get potential victims to give away USD250 plus all their personal details, what caught our eye here was an attempt at looking like it had journalistic integrity. So after rambling on about Anthony's incredible drive to put food on the table using Bitcoin, it goes on to say that their 'editors wouldn't let them publish the Anthony Tan interview' until they 'verified Bitcoin Code as legitimate'. They then say that one of their editors, Farid Hanwei (what a name) volunteered to test it out.
Now Farid is apparently a 53-year old father of two girls with financial struggles. In fact, Farid's so poor that when we checked the provided the image of him and his family turned out to be a stock image of a family playing board games!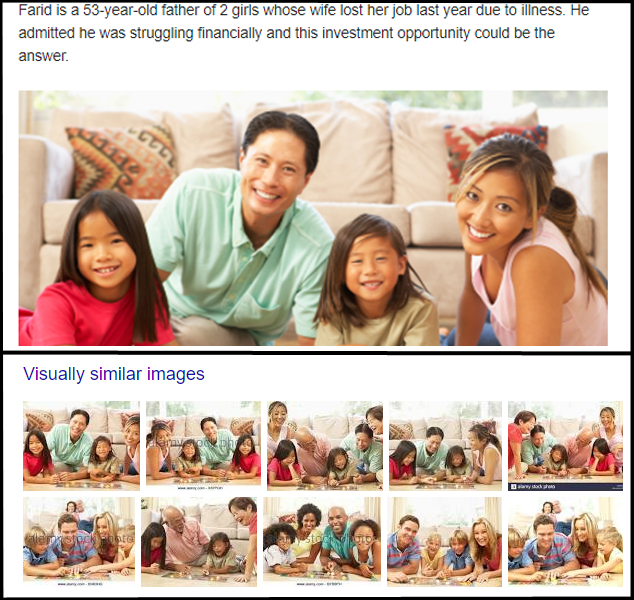 6. Vincent Tan seemingly "gave RM500,000 to a Bitcoin scheme" to help you berjaya in life
Berjaya Corp founder Tan Sri Vincent Tan found himself at the center of an alleged get-rich-quick scheme called the 'Bitcoin Formula' last year. The scam claimed that Vincent Tan gave half a million to this Bitcoin Formula, with various doctored photos of him being involved with the 'financial startup'. Once he found out about people using his image tho, he quickly had this to say:
"How can it be a good investment when the operators have to resort to such dishonest ways like using my name in fake reports and doctored photos to promote their business? I think anyone who invests in such a shady business will surely lose their money," – Tan Sri Vincent Tan, as quoted by The Sun
[UPDATE 28/5/2020]: So it looks like the scammers haven't stopped trying to use Tan Sri Vincent Tan's image when setting up the scam. In the past couple of days, a link alleging that Tan Sri Vincent had turned his attention to a 'cryptocurrency auto-trading program called Bitcoin Era' had gone viral on Facebook. Apparently, it let the Berjaya tycoon earn """"tens of thousands of dollars a day on autopilot"""".
In case our obnoxious use of quotation marks doesn't make it obvious enough, it's a scam. In fact, Tan Sri Vincent Tan has already lodged reports to the police and the MCMC regarding the latest round of scams doing the rounds online. He's also looking to sue the people behind the scam, adding:
"I urge the public to be extremely careful not to be victims of any investment scams, especially since many people have lost their jobs and savings recently due to the Covid-19 pandemic. It has become too rampant that internet and social media platforms are used by criminals to prey on innocent investors, " – Tan Sri Vincent Tan, as quoted by Malaysiakini
7. Celcom CEO Idham Nawawi made a call and "invested RM100 million for Malaysia"
These scammers already kena prominent businessmen like Tony Fernandes and the two Tans before this, so what's stopping them from using other CEOs like Celcom's man in charge Idham Nawawi right? While we could no longer find the original scam post, with the link to it now a copypasted news article from months ago, it seems as tho it did the rounds on social media quite a bit, to the point where Celcom had to release a statement about it.
There is currently false content on social media claiming that Celcom CEO Idham Nawawi is involved in a "Bitcoin Loophole" trading method. Please ignore, delete and do not click on any links you may receive, to avoid online #scams.

— Celcom Axiata #StayIn (@Celcom) July 6, 2019
8. Guy Sebastian apparently quit singing and settled down in Malacca, "thanks to Bitcoin"
Ok la this one extra point la, but we found this pretty amusing. So in some of those scam ad articles, there would be 'testimonials' from people who have apparently used it too. Incredibly, one of them happened to be Shaun Adam Abdullah, just a normal looking Malaccan guy who looks exactly like Australian pop sensation Guy Sebastian.
And just incase you had no idea who Guy Sebastian was before this, here's the Australian Idol icon below for reference:
Scammers won't keep trying these ads if they didn't work
After seeing so many of these ads, many of y'all probably think that you'll never fall for them. These scam ads look so silly right? Where got such thing as businessmen or politicians giving out free money to others right?
But these scammers won't continuously make new websites and post them up if no one takes the bait. Especially for Bitcoin, where many people are trying to ride the hype train, there will be plenty of people in the know jumping on those who don't. Of course, if you take the correct precautions you may end up slightly better off, but ultimately one should know that the risk is there.
And in fact, Bitcoin scam ads aren't just a problem in Malaysia, but everywhere online. Facebook tried to regulate these kinds of cryptocurrency ads, but the scammers simply began altering the text used and became even more clickbaitty to avoid the Zucc machine's claws of death. Just the other day, a Dutch billionaire announced that he was suing Facebook, after numerous Bitcoin scam ads featuring him were placed on the social media platform.
In anycase, you might wanna remember that if it sounds too good to be true, it probably is. Bitcoin… more like bit-con amirite?