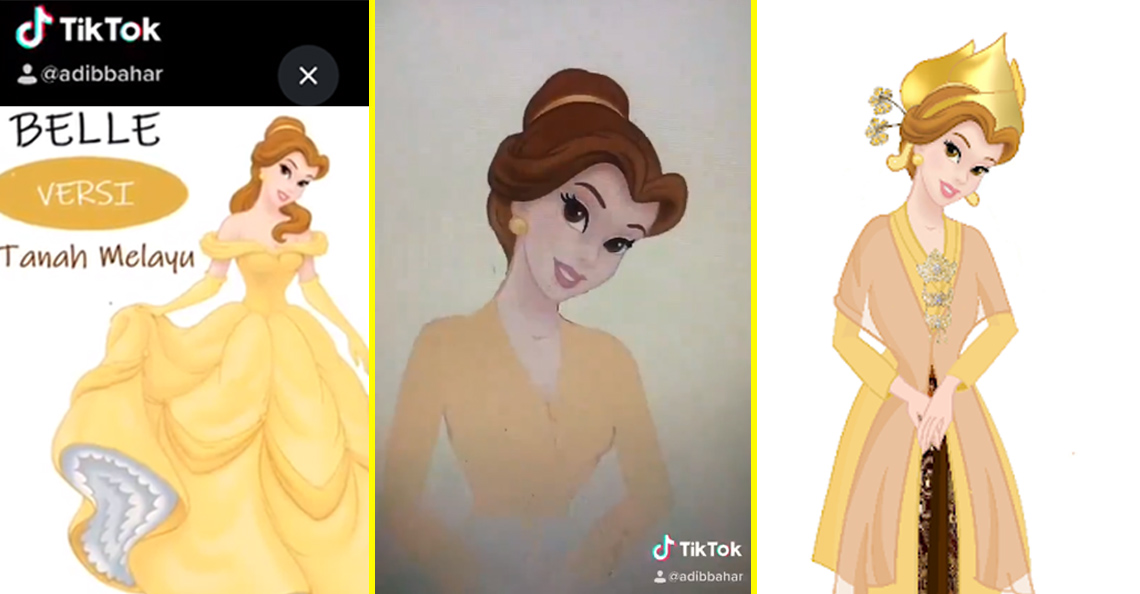 Mention the word TikTok (the app) and you're probably thinking of videos of people dancing, passing makeup brushes or wiping mirrors. Or if you're old enough, then you might be thinking about this…
Just recently, we can't help but to notice another trend on the platform that somehow made its way to other social media platforms like Facebook and Twitter as well. This time around, the trend is pretty localised because a bunch of Malaysians have been transforming Disney Princess' dresses to… traditional Malaysian clothes! 
Guys aku buat disney versi melayu.. support skit nk 5 like sbelum lailatulqadar datang😂 pic.twitter.com/D7J14U0lrP

— Adib Bahar (@4dieb_) May 18, 2020
We managed to get in touch with three Malaysians who joined this trend:
Amir Sabri, an architect by day and doodle artist by night
Sabrina Khairi, an arts student at International Islamic Universiti Malaysia
Adib Bahar, an art management student at UiTM  and also a comic creator
And as we looked deeper into this trend and the artwork these guys do, which is known as the 'Disney Princess versi Malaysia' btw, we discovered that they have transformed many Disney Princesses' dresses into…
1. Kebaya Nyonya
2. Minangkabau traditional attire
3. Kadazandusun traditional attire
4. Cheongsam
5. Saree
With this kind of creativity, we can't help but to wonder where did they get their inspo from? And, based on the conversation we had with them…
They were actually inspired by an Indonesian artist's artwork on TikTok!
Ok, we heard ya. This trend is NOT originally from Malaysia but from Indonesia. #doneclaim
See, initially, these three Malaysians were either not interested to be on TikTok or have TikTok accounts but rarely use them. All they wanted to do was to create more artwork like doodle (you can check Amir's work here and here) or comic.
But that kinda changed after they saw a video by an Indonesian artist named Aprilia Muktirina. In this video, Aprilia used a song called Lathi by Indonesian musicians Weird Genius and Sara Fajira, to transform Elsa to a Central Javanese princess. 
Lucky for us, we managed to get in touch with the full-time Indonesian illustrator (she's also pretty famous on Instagram) who told us that she was actually inspired to start the trend because of the song she used in the video. 
"The main reason (I started this trend) is because of the song. If you listen to it, the song is sung in English, then it changes to gamelan (Javanese) music. And it's also arranged with DJ music." – Aprilia to CILISOS.
She added that she was inspired by the assimilation of cultures between the West and East (read: Indonesian culture) and one way to show this assimilation, besides the music, is through clothes. This is why she came up with the video that actually went viral and the trend was then picked up by our fellow Malaysians.
Coming back to our home country, Adib told us that he actually saw an opportunity to showcase our culture by joining the trend.
"I was amaze but a little bit disappointed because there is no representative from Malaysia to show off our beautiful culture. For me our culture is no different from them as we used to share a culture and tradition of Nusantara together like wayang kulit and so on." – Adib to us.
He added that, just like Amir and Sabrina, he started making these videos for fun besides as a personal challenge. 
And this is especially true because as it turns out…
The Disney Princess versi Malaysia challenge is more than just your regular TikTok challenge
Well, that's at least, based on Amir. According to him, he didn't get to decide which Disney characters get which transformation. Instead, he let his friends and followers on Facebook, Twitter and Instagram decide this.
"My friends comment and give suggestions. I will follow the first suggestion for each princess. It's like a personal challenge for me because I'm not sure if the suggestion can actually work or not but I'll try to make the best out of it. That's the challenge and where the excitement is." – Amir.
It is a challenge, according to Aprilia, because not only is it difficult to determine which character is suited for which traditional clothes but it's also pretty hard to match the current colour of the characters to the traditional clothes she desires to draw. 
But this is not the case for everyone. Sabrina told us that she transformed Elsa and Anna's dresses into Songket and Saree respectively because she was very interested in the details of each traditional clothes.
Adib, on the other hand, looks at the story of each princess and tries his best to match with our local legends.
"I guess maybe it's in their story line. For instance, Ariel is probably suitable for Ulek Mayang, who falls in love with someone by accident in the storm. Or Snow White and the seven dwarves is suitable with the story of Mahsuri and the curse of seven descendants. Or how Belle is suitable with the story of Che Siti Wan Kembang and Maharaja Siam and Pocahontas is suitable as Puteri Gunung Ledang as they both live in the woods." – Adib.
To him, these story lines keep the art more interesting.
This may be why these Malaysians are tryna challenge themselves to do more. At the time of writing, they have transformed the outfit of other Disney and non-Disney characters to other local traditional outfits.
"I already transformed the outfit of an Anime character, Nezuko from Demon Slayer into Cheongsam." – Sabrina to CILISOS.
In fact, some took the opportunity of the recent Raya celebration to transform the outfit of some characters like Maui from Moana and Zuko from Avatar: The Last Airbender into Baju Melayu.
As it turns out, there are plenty other Malaysians who've joined this trend besides Adib, Amir and Sabrina. And they are even encouraging more Malaysians to hop in this trend!
This is because, according to Adib, we get to showcase our culture to other countries out there. He added that since there are a lot of Malaysian TikTok users, other people from other countries are slowly yet surely learning about our country from that platform.
"Let's do this, guys! Show your hidden talent. I may have drawn Rapunzel in the Minangkabau version, so you can try Rapunzel in the same or different attire. After all, there are plenty of traditional attire in Malaysia. I won't be able to cover all Disney Princesses." – Amir.

"I see a lot of my family and friends do something out of their comfort zone during this MCO. Don't be afraid to try new things because sometimes we don't know if a small thing can make a big difference in our life. This is the time we test our true potential."- Sabrina.
This is actually true considering how Amir was recently invited to be a content creator by TikTok! Apparently, the number of his followers on TikTok jumped from 100 to about 7,000 in just one day.
In addition, Aprilia told us that she's actually glad that she can inspire Malaysians during this hard time by making art. At the end of the day, she hopes that her art and the art of these Malaysians could help everyone go thru this tough times.
And, yes, if you've reached here, it has been a slow news day at CILISOS. #ihatecilisos