Everyone has dreamt of owning a slick, sexy supercar at least once in their lifetime. But with our humble monthly salaries, how can anyone afford to buy one? Dah lah our imported cars get taxed like mad, how to make our dreams come true la?
Actually, you can own a Porsche now! (Kinda la…)
Our happy new sponsor, Petron, has introduced to us their new Porsche collectibles! Ok la they're not REAL Porsches but it's the closest we can get to it.
But think about it – even the cheapest Porsche (Macan) is priced at RM420,000, and the most expensive that we could find (911 GT3 RS4.0) costs RM1.75 million! Save until your hair turn white wei. Buuuttt… what if you really, really wanna live the dream?
Well these 7 genius (and probably a bit crazy) fellas came up with some pretty Malaysia Boleh ways anyone can afford a Porsche:
Oh and read till the end of the article to find how you can own one too ;)!
1. "Sell nasi lemak in front of Zoo Negara" – Chidambaram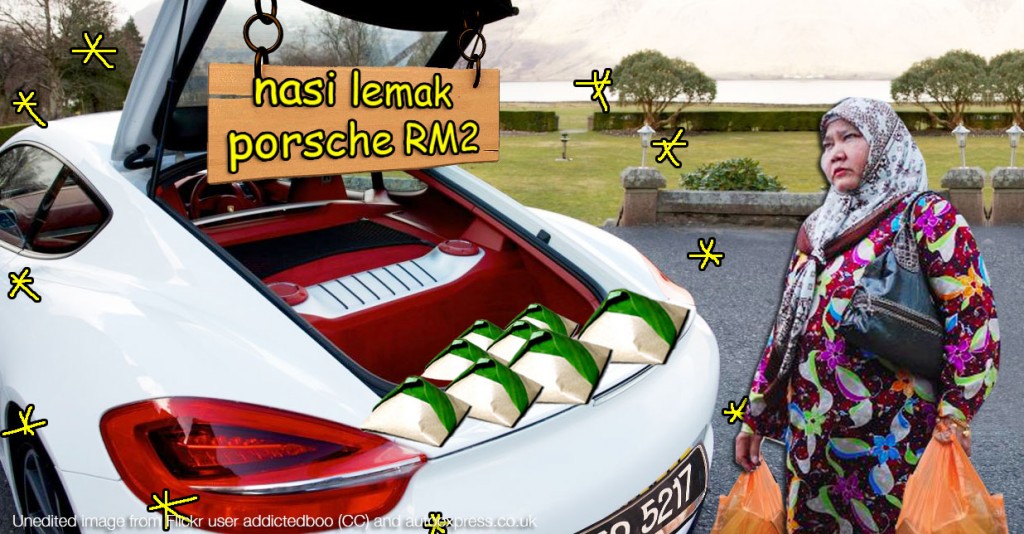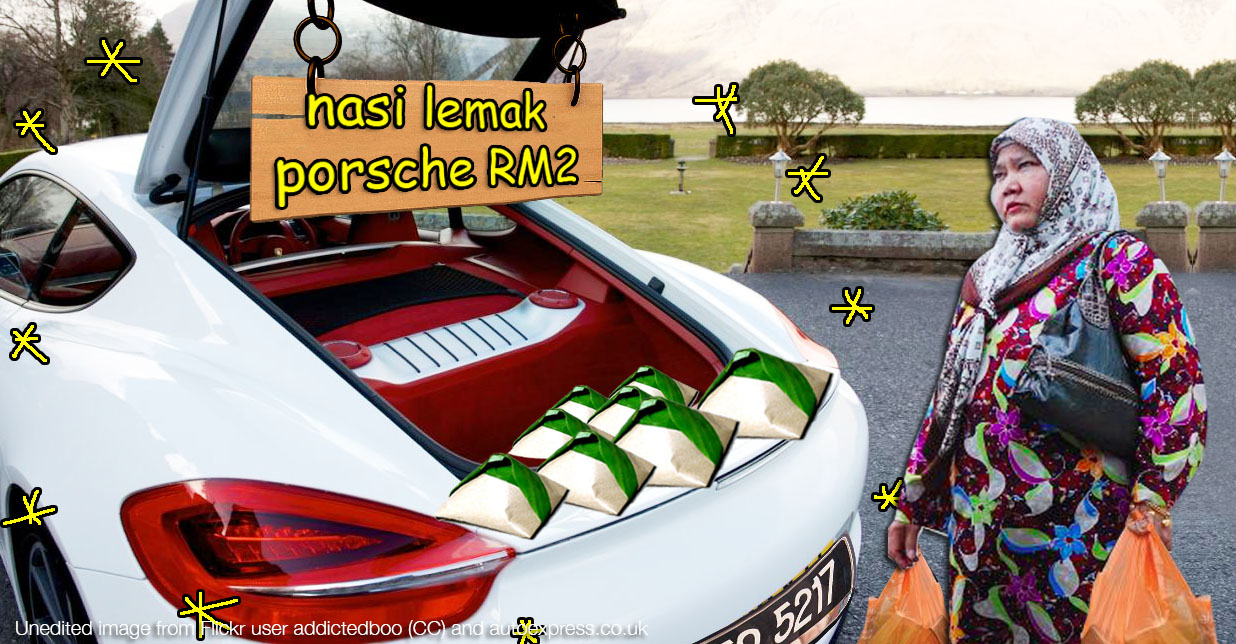 Model desired: Porsche 911 GT RS4 (RM1.75 million) 
"I will buka gerai nasi lemak near Zoo Negara where customers can buy nasi lemak and feed the animals. In order to buy a Porsche 911 GT RS4, I need collect a revenue of…

RM115/day x 30 days x 480 months = RM1,656,000 (+ 6% GST = RM1,755,360) 

The extra RM5,360 will be used for road tax, petrol, etc."
It may sound funny, but don't play play wei, hawkers can actually earn 2-3 times more than you think! With low overhead (sell from van) and high demand (who DOESN'T want a RM5 lunch?!), you're pretty much set lor. In fact, check out this interesting thread on LowYat forum:
"A chicken rice stall owner in imbi is making at least 15k a month. The owner of sun meng kee roasted duck restaurant in cheras make at 100k a month." – user dannyme 
So there's really no surprise why you see some chicken rice sellers driving Alphards, GT-Rs, A Class etc. and going for week-long holidays in Europe. Just tabahkan hati and don't be lazy lor, these kinda jobs require more commitment than weight loss programs.
2. Save RM20/day while car value depreciates in 10 years – Choong Joe Ming
Model desired: Porsche Macan (RM425,000) 
"Assuming the first 5 years, the car depreciates at 10%/year. By the 5th year, it will be of its True Market Value (TMV) at 50%. Then assuming it depreciates further 6%/year for the next 5 years, the car will be at 20% of its TMV. (RM425,000 x 0.2 = RM85,000)

So if I save RM20/day (approximately RM600/month is feasible), it should take me 4,250 days to get to RM85,000.

RM20 x 4,250 days = RM85,000

4,250days/365days = approximately 11 years 7 months

That is an additional 1 year 7 months which will most likely depreciate the value of the car further. The extra money can be used to either offer a more competitive price to the seller against other buyers or restore the car!"
OMG this has to be the most practical suggestion we've actually received, cos it's actually pretty workable! If you think about it, in 10 years time, a Porsche Macan could cost less than a Japanese sedan today. Plus, by then you'd probably have a family and a dog… something that the Macan would comfortably fit 🙂
3. Cycle from Kepong to Subang everyday – Carlos Wong
Model desired: Porsche Cayenne (RM640,000)
"I'm gonna skip breakfast and eat plain curry rice for lunch and dinner. Agak-agak one plate of curry rice cost RM2 so I save around RM15 per day for meals. Besides that, I'm gonna ride bicycle to college everyday which save me another RM15 per day.

RM15+RM15 = RM30 savings/day….. for one year it would be RM10.8k…. RM640k+RM10.8k = 59.2 years of saving up.

I'm currently 18 years old, so that means I'll get my own Cayenne by 77 years old. Hope I won't die from over-stressing my legs cycling from Kepong to Subang every weekday."
In the meantime, you can apply to be a Les Milles RPM coach in a fancy gym and earn more money. Maybe you won't have to eat only curry rice, you can add on some eggs for protein to recover your muscles!
4. Start a donation drive in the U.S. – Lim Chze Lor
Model desired:911 GT3 RS4 (RM1.75 million)
"Since the US have higher currency and generally are richer and more generous than most other countries, the online donation drive will mainly focus on the US citizens. Assuming, that the exchange currency of US dollar to Ringgit is at 1 USD to RM 4,

Price in USD = 1,750,000 ÷ 4 = 437,500 USD

Since US has an estimated population of 322 million, and the campaign only manage to reach 20% of the population,

Population reached=322,000,000 × 0.2 =64.4 million

Percentage of people Needed to Donate 1 USD = 437,500 ÷ 64,400,000 × 100% = 0.68%

The online campaign should run for 9 months and assuming that there is no increase in price and the exchange rate is hex at RM 4/1 USD, and there is no extra charges on the money transfered, we should be able to get 475,000 people in US to donate 1 USD by then. Which is only 0.68% out of 64.4 million people that is being reached."
This could actually work, since all the Mat Sallehs in US don't seem to turn down people who knock on their door. Girl scouts selling cookies, asking for treats during Halloween… they don't seem to mind people showing up at their doorsteps at all! Not like in Malaysia, where the only people who come knocking on your door are kepoh neighbours and TNB fellas. Yang lain tu we pretend like we're not at home.
5. Sell durians to Mat Sallehs – Sheri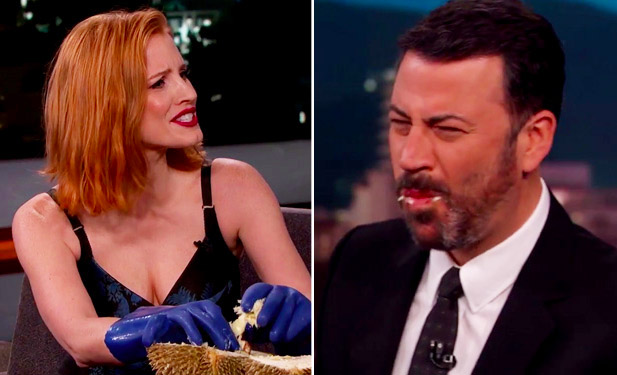 Model desired: Porsche Macan (RM425,000)
"Angmohs love them and it's expensive! I will give them good access to my fresh durians by setting up an online shop and maintaining good morale with suggesting good type of durians for them to try as my unique selling point. According to Google, 1 durian = USD15/RM74.

1 Musang King = RM30/kg… so during Durian season, I can sell RM60 per family. RM60 x 10 families = RM600/day.

I can also export batches of durians overseas, like to Singapore. If I export 100 durians daily, I can get RM3,600/day. Macam ini, getting a Macan will take me,

RM450,000 ÷ RM3,600 = 125 days.

Now I just pray ugaiz appreciate this while I plant durian trees and wait for my Macan."
Wah another crafty entry taking advantage of angmohs! But it's true though – durians are such a big thing to anyone who isn't familiar with it. Every foreign tourist would have been 'challenged' by locals to try the durian. And anytime one of them say they like the taste of it, sure make headlines one. Like that time Jessica Chastain made Jimmy Kimmel eat durian on live TV…
Anyway, the good thing is, first time angmohs would probably not even taste the difference between Musang King or the biasa type. It's so smelly that they won't even be able to tell the difference. So, uh, increase your profit margin lor 😛 #readCILISOSlearnhowtotipuorang #ihatecilisos
6. Go casino and reinvest all your winnings – Eng Hozhun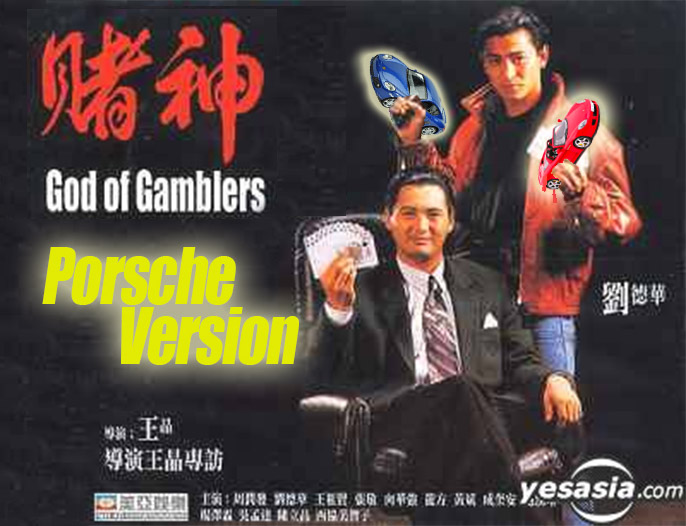 Desired model: Porsche Cayenne (RM640,000)
"To kick off my scheme, one has to have net income of at least RM2k/mth. Let's say Ah Leong has RM2.5k net income monthly. Since Ah Leong stays with his parents and take public transport to work, he spends only RM500 monthly. He has now RM2k left.

Ah Leong has to spend that RM2k on Genting casino every month, particularly Black Jack. Given that, Ah Leong is able to win 200% every month constantly on Black Jack, and "re-invest" the amount of money won back to the game every month, Ah Leong will be able to buy Cayenne in less than a year. Best is, Ah Leong is able to purchase not one, but 12 Cayennes in a year."
Woi you think you God of Gambler is it? Casinos are not charity organisations giving away free money yo… it's still a multibillion-dollar industry. Casinos make money because they have a built-in statistical advantage. Although small, it favours them over time. (How else do casino owners earn so much they could fund their own presidential campaigns?)
7. Send script to James Wan – Sivenesh
Desired model: Porsche 911 GT3 RS4 (RM1.75 million)
"I want to write script and make a movie like Fast & Furious. James Wong did what. He is from Malaysia what. Try to contact James Wan and seek his advice. Before that, have to come up with story in Malaysia. Then send the script to the production company.

Will have this car in the movie. Promotion as they going to fulfill my sport car dream. Best part is, don't need to save everyday to get RM1.75 million."
James Who? James Wan is a Malaysian-born filmmaker with some of the most tak-boleh-tidur movies under his belt (Saw, The Conjuring…). But apart from horror films, he's also the one who directed Fast & Furious 7! So maybe for Fast & Furious 8 we could get him to shoot it in KL?
This plan is pretty genius la. You don't need to save money and eat grass everyday, you just need to write a script and make sure you're hensem enough to be included in the movie. Plus always got lenglui wan.
These 7 people are gonna drive home a Porsche! But you can, too!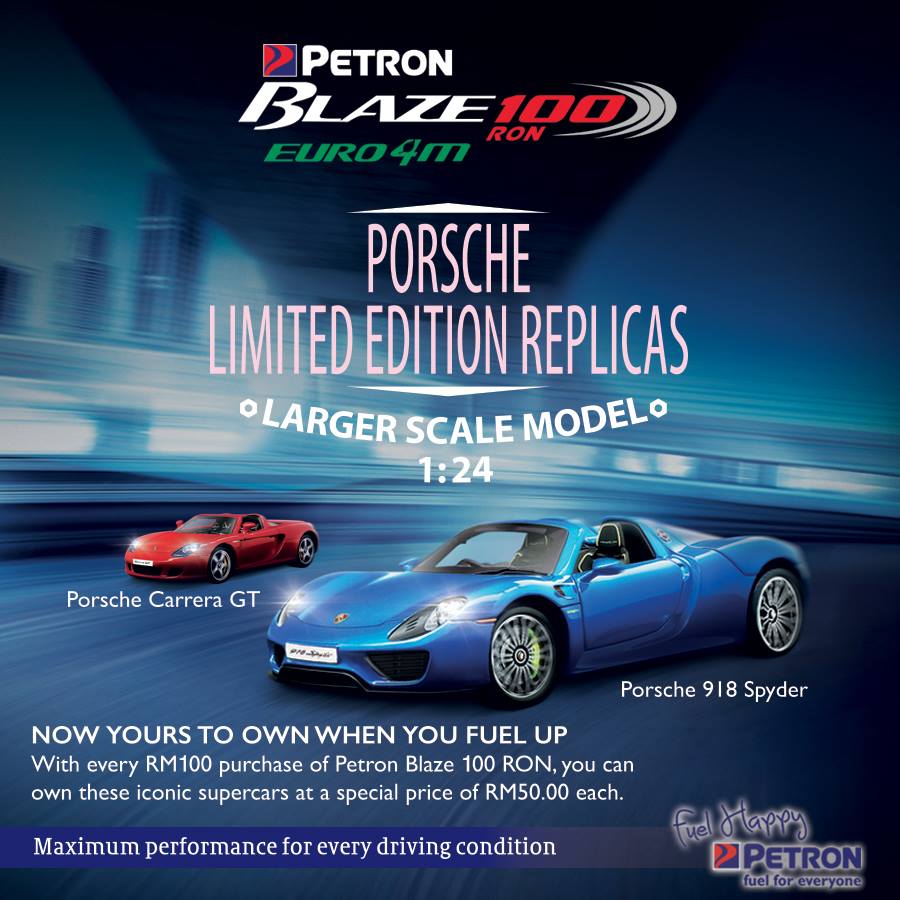 You can get either of these beautiful models from participating Petron station for RM50,  just by pumping RM100 worth of Petron's new superfuel – Blaze 100 by May 31st! It might be a model, but it sure ain't no toy. These (the Porsche Carrera GT and 918 Spyder) are on a 1:24 scale… so these babies are big!
Petron Blaze 100 is Malaysia's only RON100 fuel (Everyone else only has RON95 and RON97), which promises better power, better mileage, better engine protection for a wide range of cars! In fact, this stuff is so premium you can only find it at selected Petron stations.
So don't wait any longer, unless you wanna save up money for 50 years…. O___O