This post was originally inspired by the Bomba calendar, a calendar with pin-ups of Malaysian firefighters guaranteed to spark…er…douse….er…light a fire in your pants.
The 2015 edition above is a follow-up to the hugely popular 2014 Bomba calendar below. Both went viral on the interwebs and sold out very early upon their initial release, with reprints being commissioned due to overwhelming demand.
However, we got distracted by the long hoses other issues and never got around to writing an article about it… which turned out to be a good thing because we managed to come across some other initiatives by government agencies which left us scratching our heads.
DISCLAIMERS (so we dun get in trouble)
Please note that we said

WEIRDEST

, not WORST or BIGGEST WASTE or anything negative like that, because some of these entries are actually

quite cool

.
Also, we're using the term "Taxpayers' money" loosely, based on the notion that these are all government agencies, and therefore funded by us taxpayers. But what to do, have to use linkbaity title to get ugaiz to click on the article, right? 
So what we're trying to say is, please don't flame us in the comments. Okay, that's the last fireman joke. Promise. Otherwise the editor will fire me.
1. The Dancing Policewomen of PDRM
We're unable to gather any more information on this, like if they have a dance club or something, but our women in blue seem to have a thing for doing public dance performances – and they're pretty darn good at it too!
http://youtu.be/4H49d2-0k9w
In August 2014, they performed the Tunak Tunak dance in New York, for Daler Mehndi, who was the guest of honor at the National Indian American Public Policy Institute's Azadi Diwas celebrations. Who's Daler Mehndi, you may ask? Oh, only a popular pop star in India.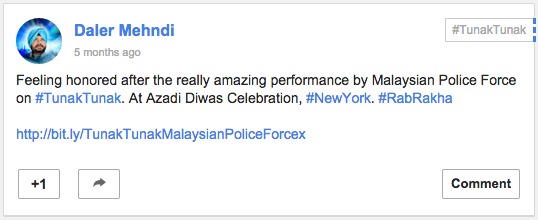 They've also done performances locally too – here's one of them grooving out to Play That Funky Music (with props to the random uncle who joined them).
In the interest of gender equality, we should point out that they aren't dancing only because they're women cops… the men have done the same as well, except um… let's just say they won't be going to New York anytime soon  😳
http://youtu.be/4yammDsuwMk
But still, 10/10 for semangatness!
2. Casino de Polis
Wait, whaaaaa? Are those policemen gambling? No wonder Malaysia not safe! How to depend on polis?! Gnash gnash rage rage!!!!ONE1!
Chill yo. It's a mock casino.
Set up in the Cheras Police College, selected policemen are taught the various gambling games and, more to the main point of the training, how gamblers and cheaters operate – with Police Inspector-General Ismail Omar saying "To catch a thief, we need to think like a thief".
The cops learn most casino games, from the more complex card games to jackpot machines, which were sponsored by Genting. Of course, the cops selected for the training are also trusted to not misuse what they've learnt. However, what they actually learn in there is a secret since they "don't want the enemy to know what they know". Check out The Star's in-depth coverage here.
3.  The Malaysian Pavilion in Shanghai (Not the shopping mall)
The Shanghai World Expo in 2010 attracted more than 73 million people and contained more than 70 exhibition buildings (called Pavilions) by various countries and organizations. Malaysia's pavilion was rather….interesting to say the least.
For one, here's the concept art for the pavilion's design:
And here's the finished product:
While we do know that the real thing may not always look as good as the drawing, this one seemed to stray pretty far off course – perhaps due to the fact that the construction contract was given to a pharmaceutical company. Some critics have also noted that Venturepharm isn't a Malaysian company, which isn't a big deal till you consider that they were also put in charge of conceptualizing and designing the thing.
The end result kinda differs according to who you ask. Many criticized the design for being more Indonesian than Malaysian, for the rojak exhibitions inside resembling a pasar malam, inattentive staff, below-par Malaysian food, and the fact that the pavilion was pushing Malaysia's past achievements when the theme of the 2010 expo was about improving lives for the future.
This writer happened to be in the area during the final stages of the pavilion construction, and while it's a personal opinion, let's just say that it actually looks better in the picture. But hey, check out more feedback on the pavilion here (go to comments), here, and here
4. Sukan Bomba (SUKBOM)'s Mr. Wonderful contest
Aside from calendars, our Bomba also has an annual sports competition called SUKBOM (which we assume stands for SUKan BOMba) that involves firemen from 16 contingents (15 states/territories and headquarters) trying to best each other in skill and strength.
While we're sure that the golf, basketball, or even marching band competitions are exciting, what caught our roving eye was this:
It might be one thing to see well-toned men showing off their..um… assets, but well-toned men showing off their assets in fireman pants? NOW THAT'S HOT! ….because, y'know, firemen, fire=hot… nevermind.
These are for the under 75kg guys, but if you prefer looking at beefier men, here's the link. We are, of course, only speaking to our lady readers since, you know, why would men be looking at buff men?  🙄
5. The 1Malaysia Chopper
No, this has nothing to do with Nuri helicopters because we're talking like American Chopper choppers. Part of a 2012 campaign to promote Malaysia as a biking destination, the chopper was unveiled to much fanfare with American Chopper's Paul Senior (whose company designed and built it) riding it in.
And it is glorious!
You can't see it from the picture above, but there's Malaysia in almost every piece of the bike, like the Twin Towers in the oil cooler-
PM Najib even got a badass (we feel justified in using this word, since, choppers) leather jacket to go with it-
The RM450,000 machine is currently on display at in the lobby of the Ministry of Tourism and Culture in Putrajaya. If that's too far for you, you can check out these sites for moar pictures! – mrandmrsfarid | informations-the | fotozaza
6. The Super-Najib comic book
We promise you we're not making this up. Najib is a comic book superhero!
When we came across this, we HAD to make sure this wasn't a spoof, and according to the various news sources below, it's not. We also can't prove with 100% certainty that this was published and distributed via government links, but the distribution cycles seem to point to that conclusion. Also, it's not just one comic book, but the gomen has (possibly!) published at least THREE comics featuring Najib –
1. Transformasi Najib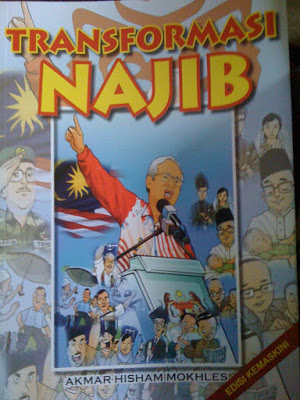 Transformasi Najib is by far the most popular of the three, since it went through 10 reprints and was widely available for free at all BN-sponsored events. The authorship of the comic is attributed to Akmar Hisham Mokhles, a former Utusan Malaysia reporter who is currently the Prime Minister's Press Secretary. The 109-page book outlines Najib's personal life and political career, along with suggestions that government workers who don't vote for the government are enemies in blankets. More pictures and discussions available here.
2. Transformasi Vs. Reformasi
Transformasi Vs. Reformasi is more of an informational booklet rather than a comic, outlining the difference between Najib's "Transformasi" agenda and Anwar's reformasi:
It's also the only one that's fully reproduced on the internet so you can just click right here to read it.
3. Untitled "Super-Najib" comic
We haven't been able find out too much about this beyond the fact that it's a 50-page color booklet and was primarily distributed to schools. While teachers definitely got a copy, we don't know if students did as well. Funnily enough, The Malaysian Insider, who investigated this story, failed to find the publisher listed on the book nor a printer's permit license – a requirement of the Home Ministry. You can read their story here while we sit here wondering why the villain in the comic looks so familiar…
These books have not been available since the last election *cough* so if anyone has a copy of any of these books, please please PLEASE let us know! We'll buy/pinjam it off you and belanja you minum kopi 😀
7. PDRM Sungai Petani just made the best promo video ever!
Yeah… we totally saved the best for last. This video was posted to the Balai Polis Sungai Petani's Facebook page and (if you haven't watched the video) has all the hallmarks of a good local action movie. From epic credit sequence to a shot of cops walking to their vehicles in manly glory;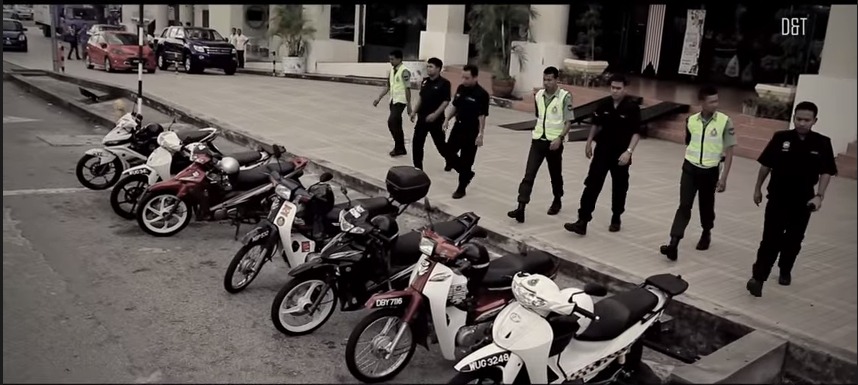 To a heavily-armed robbery at a local jewelry store;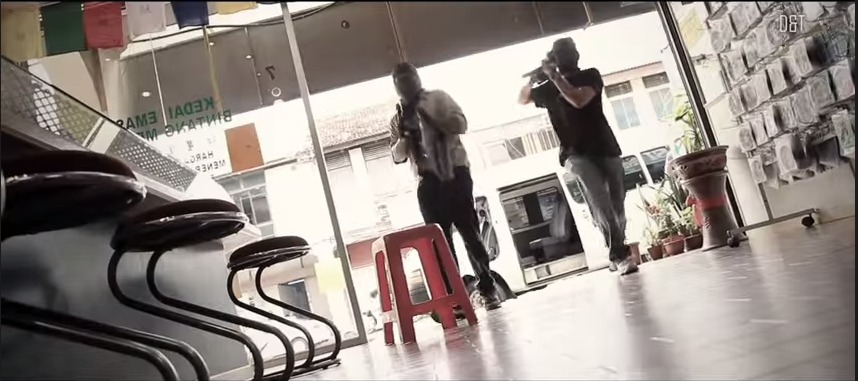 To epic car chase;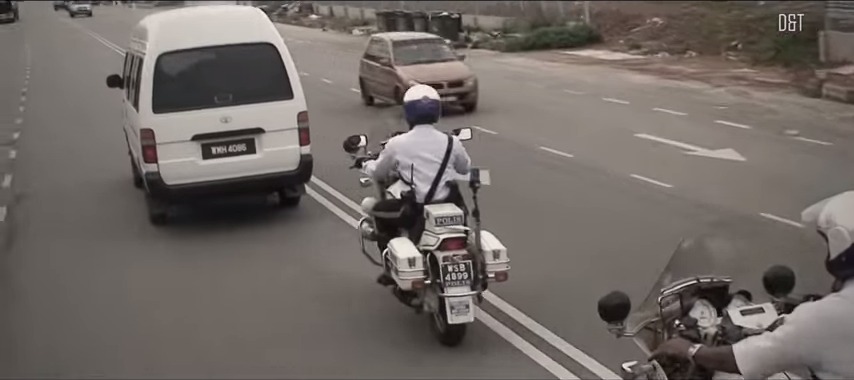 Climaxing in a shopping mall chase and arrest;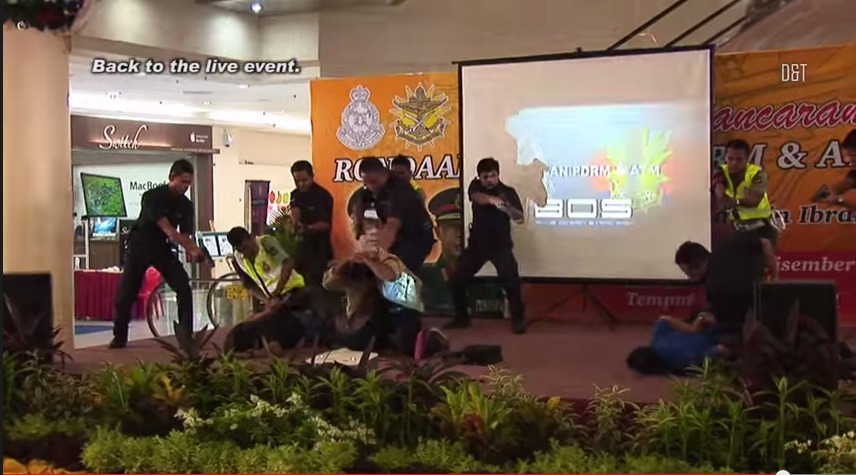 And TA-DAHHH! The mall chase was done live!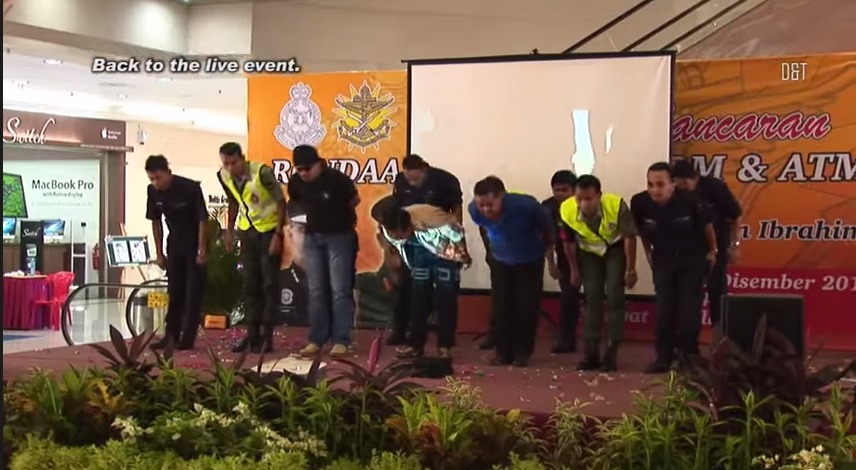 It seems that the Sungai Petani police force is quite engaged in their community, with fairly constant status updates and replies to comments that don't sound as if it went through a PR filter.
Oh, and they have 2,434 friends and 11,596 followers. Compare this Balai Polis Subang Jaya's…….. 152.
These people got nothing better to do izzit??
We didn't share this as much for the lols/facepalms as much as a reminder of how we tend to forget that our government servants are still, at the end of the day, regular people. Regular people who still enjoy dancing out to Gangnam Style or entertaining dreams of being a movie star or a superhero, but with the added responsibility of serving the rakyat. Which they actually do quite well.
….. Except the Malaysian Pavillion. Like come on, seriously?