We live in a country where pretty much 90% of the population double lock their doors at night, most children are prevented from playing outside without supervision and women are taught to hold their handbags tightly in public. As much as we don't wanna admit it, Malaysia is synonymous with a high crime rate. Just early last year, we recorded a 4.6% increase in the crime index, especially for home robberies and snatch theft cases!
But while a lot of these crimes may sound well calculated (like these unbelievably sinister Malaysian supervillains), there are those that would literally make you smash your palm to your face sampai terkeluar at the back of your skull.
Since crime topics are usually all serious and depressing, here are 8 cases that will either make you LOL or facepalm …
1. The guy who pretended to be a police officer… IN A POLICE STATION
Pranks are all fun and games, until you're someone who cannot differentiate between being a prankster and a criminal. Just last year, one particular 22-year-old walked straight into the Nusa Bestari police station in Johor and introduced himself as the Criminal Investigations Department chief, holding the rank of Deputy Superintendent.
When the policemen on duty asked for his identification card, he excused himself to the toilet (to probably reevaluate all his life decisions), then proceeded to try and awkwardly escape the situation by heading straight for his car after that. Obviously, the policemen on duty were a lot smarter than him cause they arrested him straight.
They also seized a pair of handcuffs, 2 handphones, a sling bag, a metal baton, a sticker bearing the Royal Malaysian Police emblem and car keys. Our biggest questions is: what was his purpose exactly? Even if he managed to pass off as the Deputy Superintendent, and then what? Or does he have some sort of policemen fetish? That would explain a lot.
But did chu know that this guy is not the only one who has tried to illegally play pretend? There are many cases of impostors pretending to be a civil servant (cops, traffic policemen, military officers) and they're giving the original PDRM a bad name. The punishments include two years in jail or fine (no amount stated), while the range of acts consist of impersonation, selling or owning articles meant for police officers and possession of a gun. The severity of each acts will result in a heavier punishment, obviously.
2. The guys who didn't have enough space in their car to store all that money
Back in September 2008, two robbers tried to steal RM4.5 million but only managed to get away with half of their loot because their getaway car was too small to haul the many bags of cash. They actually started off pretty well by observing the pickup schedule of the van, how many security guards would be on duty and how they plan to execute their heist.
So what happened was, they did manage to strike and escape. One robber threatened the security guards with a gun, then drove the van away from a mall in Kuala Lumpur where the robbery took place. The other tailed behind with their getaway car. We couldn't find updates on whether they were caught but we're guessing that leaving that much of evidence behind won't get them very far. Remember, precise planning and organizational skills are very important, people.
3. The robber who got attacked by a spirit
Coming back from a vacation to find a robber in your house probably isn't a warm welcome, but to find said robber begging for forgiveness? Now, that's a winning welcome. A Malaysian couple returned to find a burglar lying on their floor in a weakened state while apologizing to them. The guy said that a spirit blinded him after he broke into the house in Kemaman and prevented him from moving or screaming for 3 whole days! The fact that he was dehydrated and starving was prove that he wasn't making it up.
Naturally, we found the story a little hard to believe at first but our friends at Soscili told us about a common Malay belief about a myth. Apparently, some house owners will seek help to put a charm on their house as 'protection' from unlucky fellas such as above. One of the spells may consist of a house turning into an ocean once a robber breaks in, and he has to keep swimming until the owner comes back. We're guessing that the spell causes hallucination but just to be safe, better learn how to swim first before you try anything.
4. The snatch theft who got his bag stolen by the VICTIM!
This was a case of karma in your face when a snatch theft got his bag stolen by the victim during his attack in June 2014. So what happened was, the thief stole the victim's bag in a coffee shop where she was having her meal. However, the victim's friend managed to grab the thief's bag in return and the best part is, his MyKad was inside, so that solved a lot of issues.
While making a police report, the victim received a call from the guy who asked to settle the matter quietly and in between themselves. The victim agreed. Both showed up during the exchange of bags but the thief was arrested immediately. The fella even brought his wife and children during the exchange, so that was quite a show.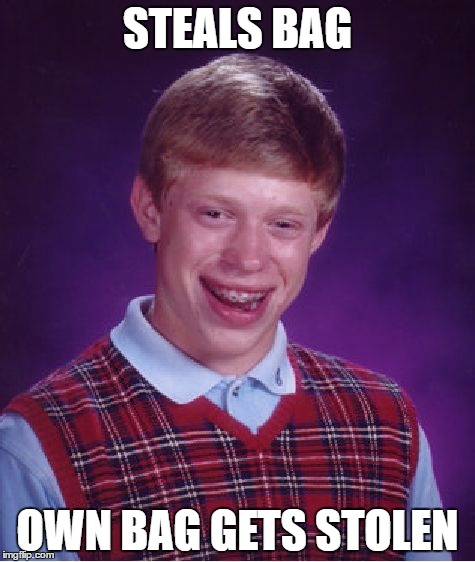 5. The guys who tried to steal 4 cows using a Proton Wira
What is it with thieves and the wrong form of transport? Two men had to abandon their Proton Wira that was modified with the back seat removed when they tried to steal 4 cows from a cattle farm in Sungai Lembu, Bukit Mertajam.
During their supposedly great escape on the Butterworth-Kulim Expressway in early 2014, they passed by members of the public who were helping the farm owner find his cows after he lodged a police report. Since 4 cows in a Proton Wira isn't exactly your normal everyday sight, they accelerated which probably wasn't wise cause their car broke down shortly after. The abandoned vehicle (and cows) were found about 15km from the farm. Guess they couldn't really be moo-ved.
Surprisingly, stealing cows is not as uncommon as it sounds. Cattle rustling in America is still a major issue for those involved in the community and the industry. Meanwhile, our local policemen busted a cattle rustling syndicate in Port Dickson just a couple of weeks ago. All you city folks will probably think why on Earth would anybody steal a cow. Well, it's actually a lucrative business as there is a high price for beef. With these peeps selling the cows below market price, it creates an opportunity to become a syndicate for both the buyer and seller. More importantly, it's a crime with low risk and high reward, so why not right?
6. The petrol thieves who used a LIGHTER while stealing petrol
What happens when a bunch of not-so-clever teens with too much time to spare try to commit a crime? They screw it up, obviously. Back in March 2013, 6 teenagers, aged 14 to 18 from Georgetown tried to steal petrol from a motorcycle at 4am ended up setting 9 other motorcycles on fire because one of them decided to use a lighter for better view. This is why you should listen to your parents, stay in school and probably pay attention during Science lessons, kids.
Putting that aside, this goes to show that we should never fool around when we're at a petrol station. We often ignore rules like using our phones, not turning off the car engine and even smoking when refueling, but these are all causes for fire. The case of a woman who died from severe burns while using her phone at a petrol station and a 7-year-old boy who also got burned for playing with a lighter in the car is prove that taking precautions is extremely important, ugaiz.
7. The burglars who decided to take a nap in the house they just robbed
Most robbers would usually escape as fast as possible after breaking into a house, but not these 2 risk takers from Johor who decided that food and sleep is more important than a life out of prison. After stealing the valuables, they raided the fridge for a free meal and pushed their luck further by taking a nap on the couch. Wow, these men really tak malu. The owners returned to find them still sleeping and called the police. Talk about a rude awakening.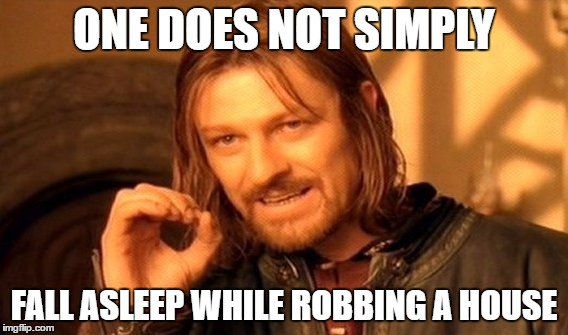 8. Two robbers tried to bomb an ATM ended up blasting the whole bank instead
These robbers tried to blast open an ATM at a bank in Bukit Beruntung but failed miserably back in July 2014. The explosion damaged quite a number of items including several cash machines (money were all intact thought, phew) and the ceiling, but they still got nothing out of it. The explosion scared them so much that they dropped an undetonated bomb and a handphone outside the bank during their escape. Thankfully, the bomb was deactivated by a bomb disposal squad from the Selangor police headquarters. According to Selangor deputy CID chief ACP Rooslan Radzi, there were even witnesses at the scene! Amateur robbers, much?
If you're wondering how these fellas have the ability to make a bomb, it's actually not rocket science at all! In fact, the ingredients to make bombs are readily available and affordable. The most common ones like charcoal and sulfur can be found at pretty much any mall, while potassium nitrate which used to be the hardest to find, is now being sold as fertilizer again. Even if it cannot be bought publicly, there are plenty of replacements for potassium nitrate such as old banana peels, bleach, some cold packs, cow dung and your own morning bombs in the toilet (if you're really on a budget).
Wah, why are these criminals more blur than sotongs?
Ok la, as WTF as these fellas may be, at the end of the day, crime really isn't funny 🙁
Everybody can agree that there are a few lessons to pick up from the stories above. First of all, how about people just don't commit a crime cause most of the time, it'll probably not end well. Secondly, even though these stories may be funny cause of the way it turned out, it wasn't funny at all when it happened, especially for the people who were directly involved.
According to Nation Master, our country believes that crime has been increasing for the past 3 years since 2014. We're also the 12th out of 93 nations for crime levels in year 2014, as well. In fact, our crime rate was still in the 'high level' for 2016. Even stupidity have its consequences like hurting people, causing loss, damage, trauma and fear. And these criminals may not be smart but there are definitely many smarter ones out there, so be alert and stay safe, everybodeh.