Every Malaysian we know has a secret makan spot that no one else knows about. Usually tucked away in some obscure part of Malaysia, off the beaten track that your KYspeaks or BangsarBabes might not have been to yet. Thankfully, these days… the process of finding good food has been democratized…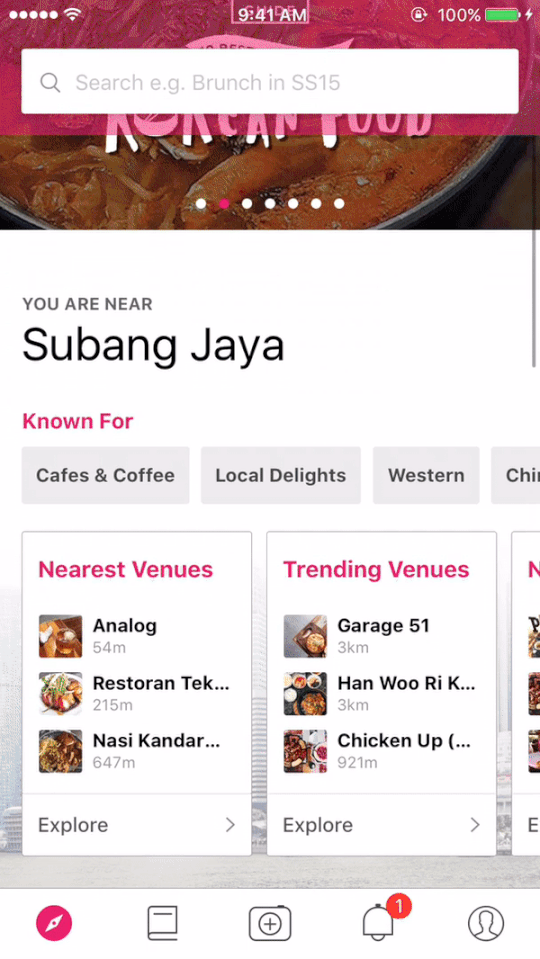 If you're in an unknown hood with an internet connection, you don't just have to rely on one review… with Burpple, you can rely on a whole active community of people reviewing food already. Just key in natural language terms like "Breakfast in SS15" or "Brunch in Kelana Jaya" (which is incidentally CILISOS' hood) and Burpple will know exactly what to show you.
If you DON'T know what you're looking for, they've got lots of foodie guides, to make it easier for someone exploring a neighbourhood, or craving for a specific kinda food.
Download the Burpple app here!
But here's the thing…. when these guys go out to find food to review, they need to have their instincts about them to sniff out good food before anyone else has reviewed it.  ALSO, alot of these secret makan spots are in obscure neighbourhoods, without good internet connections. 
So then, we're left with our keen Malaysian instincts. Thankfully, the Malaysian species has one unique survival ability – without even ordering a single dish, Malaysians already know all the tell tale signs that the food… is going to be awesome.
And Burpple REALLY wants to help you find good food, so for the times where they might not be able to help, we worked with them to ask Malaysians about what kinda signs will indicate that a place has good food. We received ALOT of entries, but here are the ones that our judges felt had the best chance of working (or were just plain hilarious).
1. Luxury car parked outside the shop – Catherine Khor
Here's an interesting one. Catherine's observations were made by driving past the same shop everyday, and realising that there were always luxury cars parked outside, leaving little room for others.
"Mostly are patrons by uncle and aunty's in large groups, signs of Ho-Liao ("very good" in Hokkien). One day I stop by to try their food and realize its a real gem and I have to make reservation in advance. Seriously, I cant reveal this gem coz i dont want to walk 2-5 km away." – Catherine Kor
She didn't elaborate how this works, but we've got a pretty good idea. Our Tan Sri CILIsugardaddy also loves going to look for good food, and much like the earlier point, when you're earning THAT much money already, the only reason you'd eat stall food would be because it's really THAT amazing. Speaking of our boss…
2. Look for aunty uncle, and ask them where to go – Vera Soo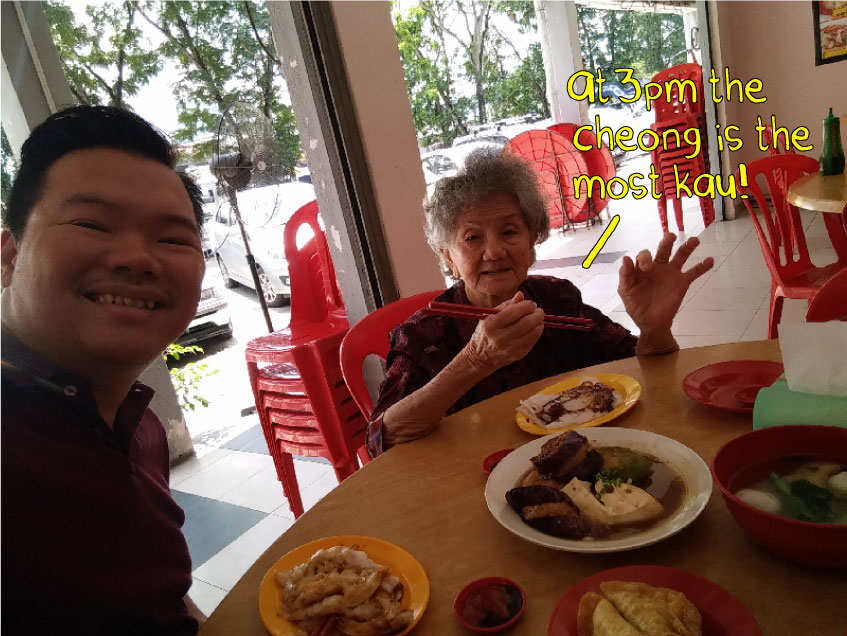 Vera travels ALOT, and due to work shifts, also tends to eat alone alot. Thankfully, she's also a self-confessed chatterbox, so she always makes conversation and asks around before settling on a place to eat.
"Of course ask the locals especially the uncles, aunties, they are the experts who consumed more salt than another in life, they will spill the juice on the HISTORY – past, present even future." – Vera Soo
In fact, she even tells us in detail the kind of feedback she got, including the best TIME to eat (e.g. Bakuteh soup pekatness peaks at 3pm), the best items on the menu, the latest price, and what to eat specifically. She even finds out which staff doles out the most generous portions. WAH. THANK YOU AUNTY UNCLE!
"Their feedbacks are mostly #nofilter and #moreaccurate since they are the regulars unlike some *ahem* paid reviews or free sponsored reviews which are sugared with great words and big portion." – Vera Soo
Also, this writer's dad agrees that older people (especially retirees) and cab drivers are the ones that have all the time in the world to look for good food #pleasedontfireusboss.
3. Go through the backdoor and see how messy the kitchen is – Michael Lee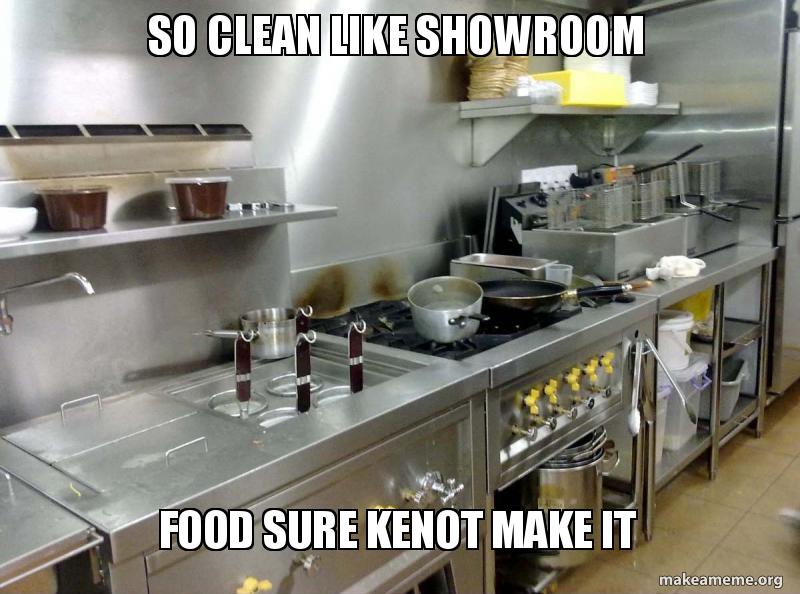 Michael's logic is roundabout (in more ways than one), but makes sense.
"Oily n messy kitchen means they have a lot of order/continuous order thus no time to clean up properly." – Michael Lee
Of course, we'd counter by asking why they don't just hire more staff, but Michael has us covered there too. "We are talking about kopitiam and no Malaysian kopitiam is eyeing for Michelin star status so…all those good kopitiam that I frequently patron are too occupied to dish out goodies to bother about cleanliness hence they occasionally close down for total cleaning when they hear rumours of health inspection."
CILISOS actually wrote an article about food cleanliness wayyy back in 2014, and the findings there were that many Malaysians really didn't care, as long as the food was good. After all, considering that your chances of dying from food poisoning in Malaysia (1 in 3 million) are lower than getting struck by lightning (1 in 3000), maybe it's worth it 🙂
4. Look at the finished plate, then trace which stall it came from – Ezekiel Chow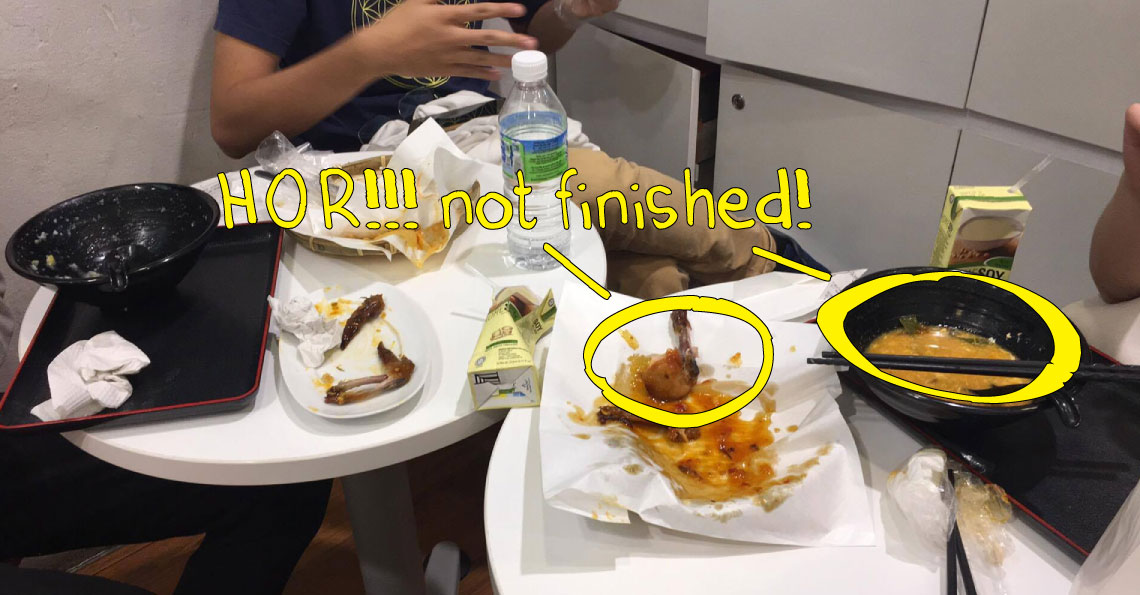 "If the food is good, confirm finish one. No leftover. Better ah..if the soup also drink until dry dry" – Ezekiel Chow
Ezekiel's from Kedah, where he claims that 99% of hawkers got standard one la, so he didn't need to develop any food-spotting skills. However, since moving to KL, he's had much more … erratic results. "But now move to KL. Aiyor..alot hawkers gg la. Even harder to find good laksa. So, to spot the delicious one ah. Need some special food-ops.".
5. Observe how many leftover plates are all over the place – Liew Zhun Yeau
Another reader, Liew Zhun Yeau, had a similar observation with different method compared to Ezekiel. He and a friend have spent alot of time observing, analysing and even recording statistics (!) over " breakfast, brunch, lunch, tea time, lunchner, dinner, supper" to come up with some rather specific conditions.
"When you see the used plates with some residues on it (not too much, around 15%) and the workers are too busy to collect the plates, confirm-plus-chop this is a super good foood sign! The workers are too busy in serving foods & collecting money instead of keeping the plates. " – Liew Zhun Yeau
Also similar to the messy kitchen, but this one is a bit easier la, since er… less roundabout. Yes, you both win food vouchers from Burpple, to continue your very important work 😉
6. Duh. Look for the Grumpiest cooks – Maddy
Here's one way that most Malaysians have known for years – the grumpier the owner, the better the food. Why? Because they know they can be.
"I'm from Penang la – have you ever been to a hawker in Penang who has great food AND a pleasant attitude? Some are so good, they're downright nasty! You know what they'd say if you even dare to make requests or ask how long will it take? They'd tell you go away."Beh tan mien chiak!!!!""
We feel you Maddy. We remember one time with the infamous KinKin pan mee. It was our first time there, and so one of our staff took orders from everyone – one dun wan veggie, one dun wan egg, one want more noodles etc. We started ordering, and the owner just said in Cantonese "Every bowl same. You all dun want egg or veggie, take it out yourself".
And yes, we still go there 🙁 5 years later, we actually went there as media to interview the owner, and managed to get a rare smile for the camera, shown above 🙂
7. Spot multi-racial customers – Yasmin Yusof
Observing various restaurants famous for their multi-racial breakdownlike Yong Suan coffeeshop in Ipoh, which has a Indian Muslim stall inside selling nasi "vangge", Yasmin came up with a killer observation.
"My friends and I have the theory that each race has a high regard of their 'own' food, so to venture and be a customer of different culture food, the food has to be outstanding."
And in that way, she's right. In our office, most Chinese and Malays preferred their own cuisine, so one of the things that would drag us to say, a banana leaf restaurant, would be an unusually high standard of food. This writer for instance eats Chinese food every day, so on the one occasion he would venture to eat something else, he wouldn't waste it on sub-par food.
Unless of course, this writer works at CILISOS, and only has access to mamak food at Parklane during deadlines.
🙁
8. Look for people in shorts… being greeted by stall owners? – Visithra
One day, Visitra was in a Portugese settlement in Melaka, and looking for food. It was difficult because most of the restaurants were closed. Then they saw a bunch of people in shorts sitting near a wooden shack. "We asked what was good – someone from the other table told us it was the BURGERS, with a few varieties and special sauces. And yes, it was super delicious." So delicious in fact, that Visithra tapaued some back to KL! Sadly, she can't remember the name of the place today (sorry Burpple!). She does remember the lesson though…
"I watch the crowd and look out for folks in shorts and are greeted by the owners. It means they are regulars. However this might back track if its in a place with no food options. This tip works best in a location with a lot of food options. Also crowded and long queues doesnt mean its good, just that there's a bunch of kiasu people following the crowd."
Hmmm… Which one of these work for you?
THANKS UGAIZ FOR SHARING YOUR SECRETS! We love the earnestness and Malaysian-ness of some of these tips and we can't wait to give some of these a try (especially the plate one). In fact, our friends at Burpple tells us these secrets might even help their own reviewers give better reviews! After all, while each of us might have one or two tricks, by our powers combined, we will never be short of a good bite.
Then again, as Malaysians, we kinda knew that already.
Download the Burpple app here 🙂