Law
Lifestyle
6 WTF discoveries found by Malaysian authorities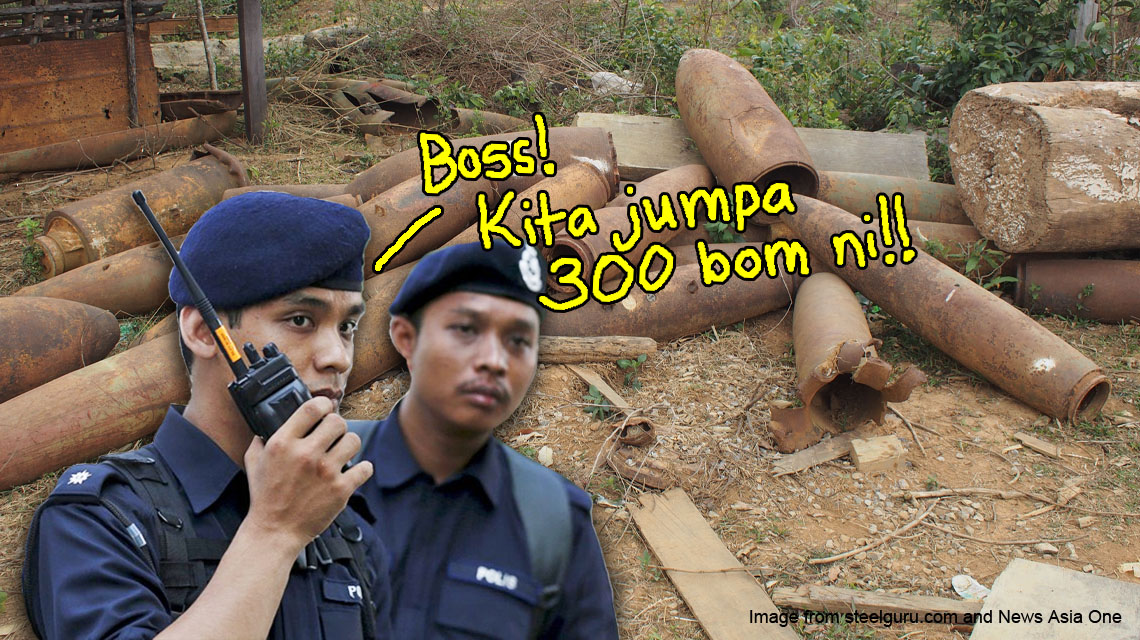 Just that day we wrote about whether Malaysia was ready for an ISIS terrorist attack. In our search, we found a few solid cases that show we might actually be able to handle it IF EVER (choi!) terrorists decide to attack. We've dealt with an armed invasion before, we've nabbed suspected IS members before, we've dealt with militants groups before, so our cops are pretty well-trained for tough going.
But speaking of tough going, it's not easy to be a man or woman in uniform. Police, army, navy, even other Department officials… their job not easy k! We civilians will never understand the kind of things they witness and have to live with. Some things are downright ghastly, like the discovery of Deputy Public Prosecutor (DPP) Anthony Kevin Morais's body cemented in an oil drum. But others also can be quite random.
So we looked around for some of the epic finds by Malaysian authorities. Here are 10:
1. 1,068 frozen pangolins
Pangolins (aka anteaters, or tenggiling in BM) are the most common mammals seized during raids on wildlife trafficking, so it shouldn't be surprising to officers when they cracked down on this case. However, after 2 high speed chases on road and on sea, they found a total of 1,068 FROZEN pangolins in Sabah. WTF?!?
"This is shocking. There is something wrong with enforcement. You cannot possible attempt to smuggle out so much pangolin meat." – Datuk Masidi Manjun, Minister of Tourism, Culture, and Environment, pangolins.org
We asked ourselves the same question – WHADDAHECK would anyone want with 1,068 pangolins? It's coz these animals are either eaten for their meat or will be crushed into traditional 'medicine'. This has got to be biggest load the authorities busted in 5 years. Since 2010, the Department of Wild­life and National Parks (Perhilitan) had stopped 50 cases of smuggling, totalling nearly 1,500 pangolins.
2. Tree logs?!?
What kind of crime is burying tree logs??
Apparently, it's one of the latest tactics by illegal loggers to avoid detection. A recent operation by the MACC and Forestry Department in Temenggor forest reserve uncovered 3 spots where stolen logs were buried under red earth.
"We believe about 400 tons of logs worth more than RM1 million were buried at the 3 locations and the culprits are waiting for the right time to dig them out and sell them." – Anuar Mohd Noh, MACC Assistant Commissioner, NST
A pretty random discovery by Malaysian authorities, but that's A LOT of wood to bury and we can't imagine how the loggers did it.  😯
3. 1,500 elephant tusks
In the biggest ever raid of smuggled ivory in Malaysia, guess how many pieces the Malaysian Customs found? 1,500 pieces! Weighing 21,772kg! The elephant tusks were stashed in 1m deep hidden compartments of 10 crates, divided between 2 containers. The compartments made to look like stacks of mahogany coz the shipping company tried to pass them off as wooden floor tiles. We can't even… 😐
China is one of the top markets for ivory, where they use them to make chopsticks, bookmarks and figurines, etc. Ivory can fetch up to US$1,000 (RM4,400) per pound. OMG, so this particular stash must have been worth around RM211 million!
Tens of thousands of elephants are slaughtered each year in Africa. Why is this cruel trade continuing to happen? It's said that the ivory trade is widely connected and well-armed. Big crime syndicates have the money and skill to organise shipments with the help of corrupt officers. That's not all… there are notorious armed gangs from Africa involved too! S'long as there's demand, this trade will continue to kill elephants everywhere. Thankfully, there are organisations like Save the Elephants who want to…well…save the elephants.
4. Singapore's MOST WANTED terrorist
Mas Selamat bin Kastari was Singapore's MOST WANTED guy for a whole year in 2008 and he sparked largest manhunt ever in Singapore! He was allegedly the head of the Singapore branch Jemaah Islamiyah.
Somehow Mas managed to escape a high-security detention centre by squeezing through a toilet window and climbing over a fence. His relatives sheltered him for a short while in a flat and they disguised him as a woman to help him escape! Then he improvised a floating device to cross the sea to Johor. Walao, he's a real life James Bond! He made it to Skudai, Johor, where he lived off-radar in some obscure village called Tawakal with a population of less than 100.
On 1 April 2009, 40 officers from PDRM's Special Actions Unit and Special Branch broke through 2 doors into the house he was staying in to arrest him. The villagers were totally shocked that a fugitive had been living in their lil' kampung.
"He never spoke to anyone and kept to himself. And he never prayed at the local surau." – Mohd Saat Marjo, Tawakal villagers, The Star
5. 300 FREAKIN' BOMBS!!!
Most scrap metal yards collect boring old scrap metal. Not this epic one in Prai, Penang. Police found 300 bombs – most of them live ones at the yard. Somehow, the yard owner bought some scrap metal from overseas, China, Laos, Vietnam and Cambodia, and the bombs were just mixed with the items. WTF, WORST free gift ever! This guy should demand a refund.
Anyway, good thing none of them went off. At last, the police helped the yard owner get rid of the bombs:
"A company has been engaged to complete the task. The appointed company will dispose of the bombs with the assistance and supervision of the police to ensure public safety." – Abdul Rahim Hanafi, Penang Police Chief, Free Malaysia Today
6. An illegal mini zoo
They were looking for stolen cars, but police got more than what they bargained for when they raided a warehouse in KL. They stumbled on animals – SO MANY animals. In fact, it was a whole friggin' illegal mini zoo. WTF?! There were thousands of birds, leopards, cats, albino pygmy monkeys, and more than 20 other species of endangered wildlife. One pair of rare birds of paradise was worth RM1 million!
Police also found 42 stolen cars. And 2 low-level criminals at the scene, who weren't the masterminds behind the illegal operation.
Moral of the story is, it's not pretty being a cop
…or any uniformed personnel for that matter. Coz they see some of the ugliest, most horrible things. They really never know what they're gonna stumble upon next.
You might think, it's just a job – once they go home, they can relax and forget all about it. Yes, some people have the ability to compartmentalise work and life, lucky them. But Crime Analyst Akhbar Satar said work stress and pressures faced by cops should not be treated like 'petty issues'. He was referring specifically to this case:
A study by Universiti Kebang­saan Malaysia Medical Centre revealed that 53.7% of personnel from 6 police stations in KL are work-stressed. In fact, cops are the MOST STRESSED compared to firefighters (47.3%), teachers (45.8%), nurses (42.3%) and doctors (40.7%). Also, the higher their rank (sergeant and above), the higher the stress. Cops too are human after all and they can cross the line between sanity and insanity. But the consequences of it happening to cops should be taken more seriously since they have guns!
Isn't there a counselling unit or something within PDRM? Currently, there's the Religious and Counseling Division (BAKA) which IGP Khalid said regularly monitors troubled cops. But Malaysian Crime Prevention Foundation (MCPF) Vice President Lee Lam Thye feels BAKA is too general and suggests that a more focused psychology unit:
"Mental health is very important and should be given serious attention as bigger tasks and challenges are being faced by today's security forces personnel." – Lee Lam Thye on Free Malaysia Today
Did we miss any? Share what you know in the comments section below!