At its 60th annual congress recently in Kuantan, PAS Youth brought back an old name to preach – Muhammad Zamri Vinoth Kalimuthu. If his name rings a bell, he's guy who had allegedly used Hindu slurs during one of his religious lecture. And, yes, after 867 reports lodged to the police, he was eventually arrested in April 2019. Now that he's free, Zamri, is back with making another statement at the PAS Youth congress. This time around it's in relation to the issue involving Zakir Naik's extradition to India (SPOILER: He's a fan).
"If the government wants to send back Zakir Naik or extradite him, I will not hesitate to hand over my IC." – Zamri told Malay Mail.
From what we can see, social media is okay with this…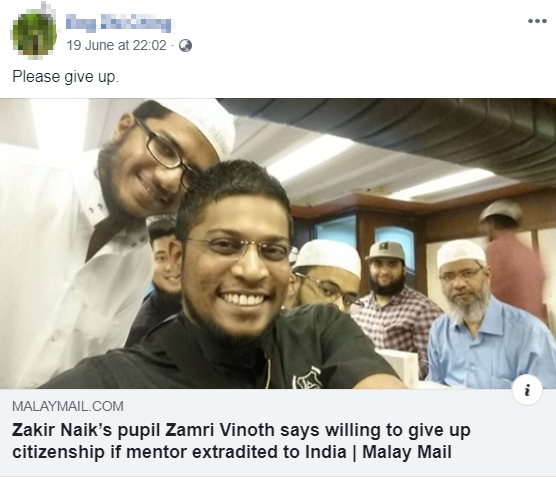 But then we got to thinking… how does one actually give up their citizenship? Is it like super difficult? Do you need exit interviews? Do you need to pay like RM1,000 in national divorce fees?
Actually… You may only need some documents and… RM10 to renounce your Malaysian citizenship
#ihatecilisos #donttrythisathome
And it's legal too. According to Article 23(1) of the Federal Constitution,
"Any citizen of or over the age of twenty-one years and of sound mind who is also or is about to become a citizen of another country may renounce his citizenship of the Federation by declaration registered by the Federal Government, and shall thereupon cease to be a citizen."
Which means you may only need to be over 21 years old (if you're a married woman, then your age doesn't matter), sane and is in the process of applying for a citizenship in foreign countries – this may be important because it has something to do with necessary documents that you need to submit to the National Registration Department:
Copy of the foreign passport
Copy of the foreign citizenship certificate or copy of confirmation that the applicant will become the citizen of a foreign country
Birth Certificate or latest extract of Birth Certificate for applicants born in Malaysia, or Form W for applicants born in a foreign country (if any)
Citizenship Certificate (if any)
Identity card (if any)
2 Passport-sized photograph of the applicant with a blue background
The applicant's left and right thumbprints
Form K must be signed and certified before a magistrate / Justice of Peace / solicitor / notary public or commissioner for oaths (aka renunciation letter)
Malaysian passport or other travel documents
Marriage document (for female applicants below age 21)
After completing all these forms and documents, you may need to submit them to the National Department Registration (JPN), or if you're in a foreign country, then you may wanna submit them to the Malaysian consulate of that country. And it may only cost you RM10 for the application fee! 
After going through all that process, you may need to wait for about 7 to 8 months, according to those who have renounced their citizenship, before you can be a citizen of another country. Bonus(!): By doing this, you may also get to withdraw ALL your money from your KWSP accounts before you leave Malaysia!
You're gonna need it though, because while the cost of renouncing citizenship might be cheap, the cost of migration isn't – from visa application fees to travel cost and accommodation, among other things.
Walaowei, it's that easy?? Yep. Apparently, 5,000 Malaysians renounce their citizenship yearly, according to an official from JPN! But do people really hate being Malaysian that much? If not, why are they giving up their claims over Nasi Lemak, Chicken Rice (don't even try, Singapore) and the 5th most public holidays in the world!?
One reason could be because, unlike countries like Australia, Canada and Taiwan, Malaysia doesn't recognise dual citizenship. Well, last time our country did la because the 1948 Constitution clearly distinguished the definition of citizenship and nationality. However, that changed in 1952 after the introduction of the State Nationality Enactments, where citizens of the federation could no longer hold more than one citizenship.
Some Malaysians have dual citizenship, and actually don't know it's illegal. Surprisingly, as we were researching for this article, we found out that most Malaysians have no clue that Malaysia has strict regulations against dual citizenship.
"I was, by birth, a Malaysian citizen. While working in UK, I obtained UK citizenship. When renewing my Malaysian passport in London the official demanded to see my UK naturalization paper. I showed it to him, immediately my Malaysian citizenship was taken. It was a brutal experience. It was my fault and my naivety for not understanding how extremely harsh the Malaysian Government's policy regards this matter." – Rohana, excerpt from Lawyerment.
She was later informed by the Immigration Department that she would only be given the Permanent Residence status after staying in Malaysia for five years and she'd probably get her citizenship back after another seven years. So far, there's been no update on her yet so we couldn't tell if she had regained her citizenship.
At the time of writing, there isn't any exact figure of how many Malaysians have dual citizenship. In fact, the official from JPN claimed that they don't have a special data bank on Malaysians holding dual citizenship. So, they're relying on feedback from the public who has information on dual citizenship holders.
So what citizenship are these ex-Malaysians taking?
Back in 2016, over 56,000 Malaysians have reportedly given up their citizenship since 2010 and more than 90% of them were… Malaysian Chinese and in their 30s to 50s. #notbeingracist
Okla, that may not be a total shocker. In 2016 when the then Home Minsiter, Datuk Seri Dr Ahmad Zahid Hamidi announced the total number of Malaysians who had renounced their citizenship, most Malaysian Chinese claimed that they felt as though they were second-class citizens because of their ethnicity. Daphne Lim (not real name), who had given up her citizenship to become a Singaporean in 2015, claimed that she had grown up being told that as a Chinese, she was not welcome in the country.
Her perception may not be wrong tho considering how common slurs like 'Cina balik Cina/Tongsan' might be here. Cathy Chin and Clementi Lee who have two degrees felt as though they didn't get equal rights and opportunities as Malaysians which, based on their claims, are mostly based on race and religion. In fact, most of them believe that they may get better opportunities outside of Malaysia too. 
"Every country has its own political and welfare issues, Australia included, but I feel that I get more rights as a second-class citizen here in Australia. My religion and ethnicity do not come into play." – Cathy told SCMP.
Besides Australia, some of them might opt to go to China (yes, seriously) since the republic has actually offered Malaysian Chinese to literally balik China back in 2015. Apparently, Malaysian Chinese are still considered the China Chinese even tho they're bananas who have been living in Malaysia for generations! You can read more about that here.
Some people might also opt to be citizens of the country that had once colonised us aka Britain. In fact, 1,000 (Zahid Hamidi claimed there were only 673) Malaysian Chinese in Britain had decided to get British citizenship back in 2009. Some of them confidently renounced their citizenship to the extent that they had literally torn their passports and, according to Zahid Hamidi, they had done it out of hatred.
"This is because there were those among them who had torn up their (Malaysian) passports with feelings of hatred towards the country and an intention to no longer return to this country – there was no more loyalty in them." – Zahid Hamidi to The Star, 12 Apr 2014.
Apparently, they thought they were eligible for the British Overseas Citizenship (BOC), which was introduced to citizens of countries that have been colonised by British. However, they ended up becoming… stateless.
As it turns out, the British immigration laws that were tightened in 2002 had caused the British govt to refuse to accept those Malaysians as British citizens. Dun dun dunnnnn!! So how??
Apparently, you cannot get Malaysian citizenship back once you've renounced it. But for this case, Zahid Hamidi claimed that it may take at least 17 years before these Malaysians can regain their citizenship.
"Anyone who wishes to re-apply for citizenship will have their application reviewed carefully while they are given only a residence pass, not citizenship or permanent residence." – Zahid Hamidi told The Star, 12 Apr 2014.
A Residence Pass is normally issued to foreigners who either has Malaysian family members, family members who are Permanent Residents in Malaysia or are ex-Malaysians. They may need to pay RM500 for this pass, which is renewable every five years.
But cases like this are pretty rare considering how most people who renounce their citizenship may not try to regain their citizenship back as they have taken enough time to consider and reconsider their decisions beforehand.
Oh, and the question we know you're asking as you're reading this article right to the end – Are there MORE or LESS Malaysians renouncing their citisenship after GE14?
As it turns out, the number of Malaysians renouncing their citizenship decreased 50% from 10,143 in 2017 to 5,372 in 2018. So it seems at least from a citizens perspective, there is hope in MalaysiaBaru.
For now.