Politicians come in all levels of fame (or infamy, depending). Some of them are well known globally, like Tun M or Najib, and some are… well… their constituents might not even know their faces. Well, a group of big brained Malaysians headed by Lau Chak Onn (founder of Cilisos but he definitely didn't force us to write this) and Seah Eu Hen (chair of HAKAM Youth), wanted to create a website where you can find out more about not just your own MP, but ALL 222 MPs from around Malaysia using stats like you'd see in a role-playing video game!
Some of you might be thinking, "If I wanted to get information about politicians, I'd just hit up Wikipedia; I don't need your crummy website," and to that we say, that's true… BUT MyMP isn't the usual, boring website that's a dime a dozen out there. No, no, the good people who set up MyMP went through a lot of trouble to make it look like this:
That's super cute and all… How does it work, though?
MPs are scored based on multiple factors
In video games of the RPG genre, having stats like strength, intelligence and dexterity is pretty standard. The higher those stats are, the stronger your character is. That's kinda how it works with MyMP too, except MPs are scored based on these 5 stats: availability, loyalty, work ethic, transparency and win rate.
Some of those stats aren't immediately clear, but don't worry, we're here to (briefly) break them down for you.
Availability
Availability is basically how easy it is for you to get in touch with the MP. Having active Twitter, Instagram, Facebook and email accounts will net them a higher score because you can get in touch with them on multiple platforms.
Loyalty
Loyalty is how often a given MP changes their parties, alliance/coalitions and constituencies. The less that happens, the higher score they'll get.
Work ethic
The work ethic stat is a sum of what an MP has done at any given Parliament session. Attendance, questions raised, bills submitted, motions proposed. These all factor into their work ethic score.
Transparency
Transparency is a measure of how open an MP is with their finances – what do they own (asset) and what do they earn (income).
Win Rate
The win rate of MPs are based on how likely they are to retain their Parliamentary seat.
Let's take an MP as an example: Syed Saddiq, who represents the Muar constituency.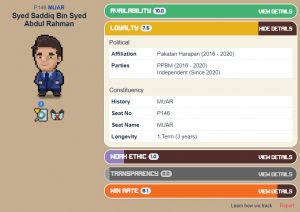 As you can see, he's very contactable (10.0), doesn't seem to switch parties or allegiances often (7.5), and is likely to retain his seat (8.1). His transparency score is at a (0.0), but that's because MyMP is still updating the transparency score for the MPs. Syed Saddiq actually disclosed his assets last year, so we think he'd score at least a 7 there. Since MyMP is politically neutral and they don't take money from any political party, MPs are free to contact them if they feel like MyMP didn't their profile justice.
We absolutely adored what we saw… but do other people think?
The site went viral even before its official launch
Despite having officially launched on 30 August (which roughly a week ago, as of the time of this article), MyMP had close to 11K visits from all over Malaysia. People seem to really enjoy the way the information is presented, and the overall look and feel of the site. Politicians who attended the launch also voiced their approvals… here's a quote from one of them:
At my time at BERSIH, I was also tracking MPs, so it's really good to see that others are taking up the mantle to track MPs in this way. If you look at the website (for parlimen) that we have now, for HANSARDs, you have to go PDF by PDF to search for it. There are better ways nowadays". We need to bring the voices from the ground, to the Dewan – YB Maria Chin, MP of the Petaling Jaya constituency
YB Dato' Seri Hishammudin Hussein, our Minister of Defence, even Tweeted about them:
Of course, none of this would've happened without the hard (and we can't emphasize "hard" enough here) work of the two founders, the artist I-Van Yee, and volunteers from Undi18. Over 6 months before MyMP's launch, the volunteers had to go through Wiki pages, verify contact details, read HANSARDs (that's the official records of Parliamentary debates) from the last 2 years, and even try to monitor Parliamentary attendance in the last 5-day special sitting. All of that, with little to no pay.
MyMP has plans in the pipeline to publish content relevant to the data they've collected, like "Which MP has changed parties the most?" to encourage Malaysians young and old to get to know more about the people they've elected. We know this entire thing was a massive shoutout to MyMP, but we still wanna tell y'all: please, please, do check out their site here! Oh yeah, before y'all go, see if you can recognize any of these MPs!
Spoiler
The answers are, from left to right:
YB Tuan Ibrahim Bin Tuan Man, MP for Kubang Kerian
YB Lim Lip Eng, MP for Kepong
YB Abd Latiff bin Ahmad, MP for Mersing
YB Wong Tack, MP for Bentong
YB Hishammuddin bin Datuk Hussein, MP for Sembrong
YB Azizah binti Mohd Dun, MP for Beaufort