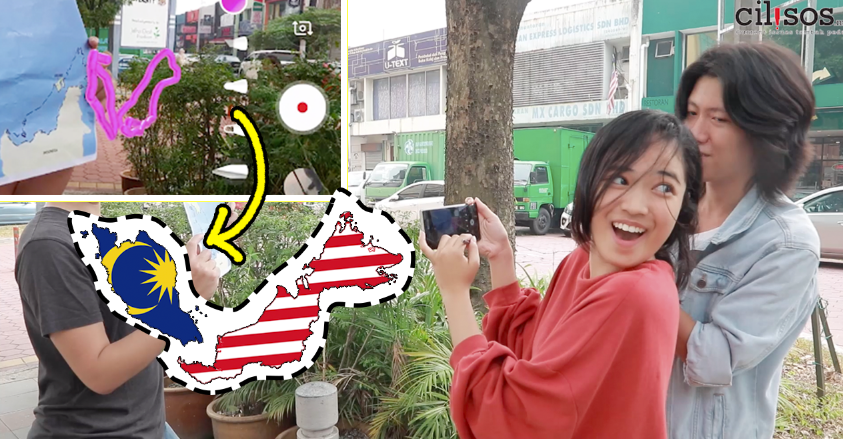 So just last week, we went around town to challenge Malaysians to draw the Petronas Twin Towers IN THE AIR. Needless to say, some ended up drawing… furry animals?!
This week, we're gonna show you what happened when we got them to draw out the shape of Malaysia… using their non-dominant hands!
Why Cilisos so kepoh, keep asking people to draw stuff?!
Well that's cause our friends at Samsung recently lent us the awesome new Samsung Galaxy Note10+ to play around, and… for a buncha starving writers with basic, lousy old phones (cos Cilisos srsly pay potatoes), this upgrade was one we couldn't waste. 
And you guys know us la… Cilisos likes doing fun, creative stuff, so the phone made the perfect fit for us as it's powerful enough to be equal parts productive and creative. Not only does it have the enhanced S Pen, a pro-grade camera and a whoooole buncha other cool features…. it also has the AR Doodle – a super canggih function that lets you doodle stuff in MID AIR.
To see how it works, just see how our respondents tried to draw the map of Malaysia! But to make it a little harder, we made them draw it with their left hands, hehe:
Here's the full video! 🙂 (Watch the video k, Cilisos team battled through the haze without N95 mask to shoot this T_T )

The AR Doodle is actually RIDICULOUSLY fun
As you guys know, augmented reality has invaded our daily lives for a while now. Thanks to technology, there are so many ways where we can utilise this, from playing Pokemon Go to pinning cute stickers on Instastories… so it totally makes sense for Samsung to include this innovation in their Note10+. (But do note that this is more towards an S Pen function – you won't be able to utilize this without the pen.)
In the 'face' function, the camera will recognise a face or a square. The doodles that you draw will then follow the face as it moves:
In the 'Everywhere' function, you can do the same but with a space in front of you. (You'll need to be connected to the internet for this.) And this is SUPER cool cause you can move around and see the doodle in 3D – front, back, up, down, left, right, aiyah just gerak-gerak a bit and you'll see:
This means you can also do really creative stuff, like building obstacle courses on the go. We can already see this as something we'd use to spice up our HIIT workouts:
And what's life without sharing… you can easily share your AR Doodles with friends or on mobile-integrated AR drawing albums.
The function is always impressive at first try, but even after using over and over again, the novelty somehow hasn't worn off…. for us, at least. 🙂 More on how to use it here.
Overall, it's a pretty sleek new line of smartphones
We're sure you're aware that apart from the Note10+, there's also the Note10. For the first time ever, the Note10 comes in two sizes so you can choose one that suits you just right. (Note10 at 6.3-inch, Note10+ at 6.8-inch.)
You can check out more about the phone in our previous article here, but for now, we wanna tell yall how you can actually WIN this phone!
From 2nd to 30th October 2019, Samsung Malaysia is calling all Malaysians to AR Doodle their love and stand a chance to win a pair of Galaxy Note10 and Note10+, together with other amazing prizes. All you need to do is just creatively express a love note to your loved one(s) through the AR Doodle feature.
Just follow these simple steps and you will be on your way:
(1) Follow them on Instagram @SamsungMalaysia and set your Instagram profile to public
(2) Doodle your love creatively with AR Doodle and post it on your Instagram feed
(3) Post 10 submissions on Instagram, tag @SamsungMalaysia and #ARDoodlePlus #GalaxyNote10 to stand a chance to win the grand prize and weekly prizes!
To snap the creative AR Doodle, you can utilise your own Galaxy Note10 or Note10+ or head to any Samsung Experience Store. You can also look out for the campus locations as stated below:
7 October 2019 (Monday) KDU University College, Utropolis Glenmarie
8 October 2019 (Tuesday) Universiti Kuala Lumpur – Malaysian Institute of Information Technology (UniKL MIIT)
9 October 2019 (Wednesday) Raffles College of Higher Education, Kuala Lumpur
10 October 2019 (Thursday) Asia Pacific University of Technology & Innovation (APU), Kuala Lumpur
21 October 2019 (Monday) UCSI University Kuala Lumpur
22 October 2019 (Tuesday) Tunku Abdul Rahman University College, Setapak
Don't come to Cilisos cos we returned the phone edy. 😥 For more information on Samsung AR Doodle+ Campaign, just click here.