Raise your hand if you have been personally victimised by double parkers in Malaysia.
Like it or not, double parkers are everywhere. While it's pretty unavoidable during peak hours in a jam-packed area with lack of parking spots (like Damansara Uptown or USJ), it gets super annoying when double parkers pull the same stunt on off-peak hours, even without trying to look for empty spots.
Lazy? Selfish? Class A douchebag? We can't really explain the latter for lack of pleasant words, so we'll leave it at that.
FYI: 50% of the CILISOS team have admitted to double parking, whereas the other 50% have never done it. (This writer is part of the second 50%). But 100% of the team hates this annoying civic rudeness.
We can't deny it: there are just too many cars on Malaysian roads. Parking lots have become a battlefield for drivers, with way too many vehicles and barely enough spots to park 'em. But how bad have we got it?
According to The Star, the 2014 Nielsen Global Survey of Automotive Demand deduced that car ownership in South East Asia among the lowest in the world, but Malaysia was ranked 3rd highest GLOBALLY with a staggering figure of 93% car ownership throughout the country.
The report goes on to reveal that we actually won 1st place in a related category: Malaysia has the HIGHEST incidence of multiple car ownership globally with 54% of households having more than one car!
So does this justify double parkers or not? Well…. It kinda does, but not always.
Malaysians can be an angry bunch
It's a general rule of thumb – if you're gonna double park, watch out for a long, ear-piercing honk disturbing everyone's peace. And when you do hear it, you should probably rush out to car and be apologetic to the person you've just inconvenienced. Because if you don't, push can lead to shove.
Like the time when this blocker's car got vandalised…
… or when this guy smashed the window of a Kenari…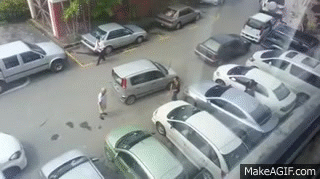 … or when an equally inconsiderate 4WD reversed a blocker's car OUT TO THE MIDDLE OF OLD KLANG ROAD. WTH???
Here's what Malaysians are currently doing to tackle this problem.
Other than knowing to avoid routes with speedmarts or banks, we've come up with other solutions. We've heard of cars leaving their handbrakes off so that anyone would be able to manually push the blocking car away…. Y'know, just in case if you haven't mafan them enough yet.
But we've also seen people parking their car with their butts sticking out, just to ward off double parkers:
And perhaps the most common trend today would be leaving your number or your namecard on the dashboard. Usually comes with a 'sorry' note:
Just don't give a fake one cos… Not scared kena 'pek' meh?
But now there's a smarter way!
While leaving phone numbers may be the best – and fastest – way to reach the driver, there's also the argument of:
"You mafan me so why do I have to waste money to call your phone?!?"
Introducing Double Parkr, a brand new Malaysian app that's trying to address the problem in a practical, non-windscreen-breaking manner. Don't get them wrong – it's not made for selfish drivers who are too lazy to look for parking lots…. It's meant to help double parkers and 'parkees' in districts with an unavoidable parking problem.
It won't save you from getting summoned by the cops, though. You're on your own for that.
How does this app work? Let's explain it by pretending that you need to double park:
1. Download the Double Parkr app. 
2. Get your hands on the Double Parkr car sticker. Each comes with a unique QR code. (We're not sure how to get the sticker, but we assume there's a request function in the app.) 
3. Register your QR code with your smartphone and stick the sticker to your windscreen. 
4. Go double park your car and do what you need to do. 
5. When the other car owner needs to get out, he'll go to your car and (presumably) see the car sticker. 
6. The owner will then scan the QR code into his smartphone. 
7. The system will immediately buzz you to move your car.
Don't believe? Nah, see:
Created by ad agency McCANN Kuala Lumpur for Petronas, the mobile app has even made its way to this year's Webby Awards. FYI this Webby Award thing is quite a big deal to us, cause why? It's like the Oscars of the Internet, yo! And they're the only Malaysian nominee this year!
If you'd like to vote for this cool mobile app, you best do so fast 'cause the voting period closes IN A COUPLE OF HOURS YO, Friday 23rd April, at 2pm. (If this writer's math is correct.)
Will this app fare well in Malaysia?
To be realistic, there are concerns… What if the double parker's phone chow tut and won't turn on? Or if your own phone chow tut? If people don't notice the windscreen sticker then apamaciam? No data plan how? Plus who actually uses QR codes? 
Or, even worse, what if neither you or the double parker have the app? This app will only work if it has everyone on board, so if nobody gets on board then what's the point?!
Well, by that logic, that's precisely why everyone needs to get on board. Waze didn't get to be so helpful and successful if nobody downloaded it and started reporting jams and roadblocks and PDRM hideouts, yo!
So if you want double parkers and parkees to co-exist beautifully, give Double Parkr a try and download it today. BTW, it's only available for iPhones for now. (McCANN KL are you saying Android users don't double park??)
Actually, please try it out and tell us about it in the comments – as mentioned, 50% of the CILISOS team are double parkers… and all of them are Androids users. 😯