Crime
How likely are you to survive a shootout with PDRM?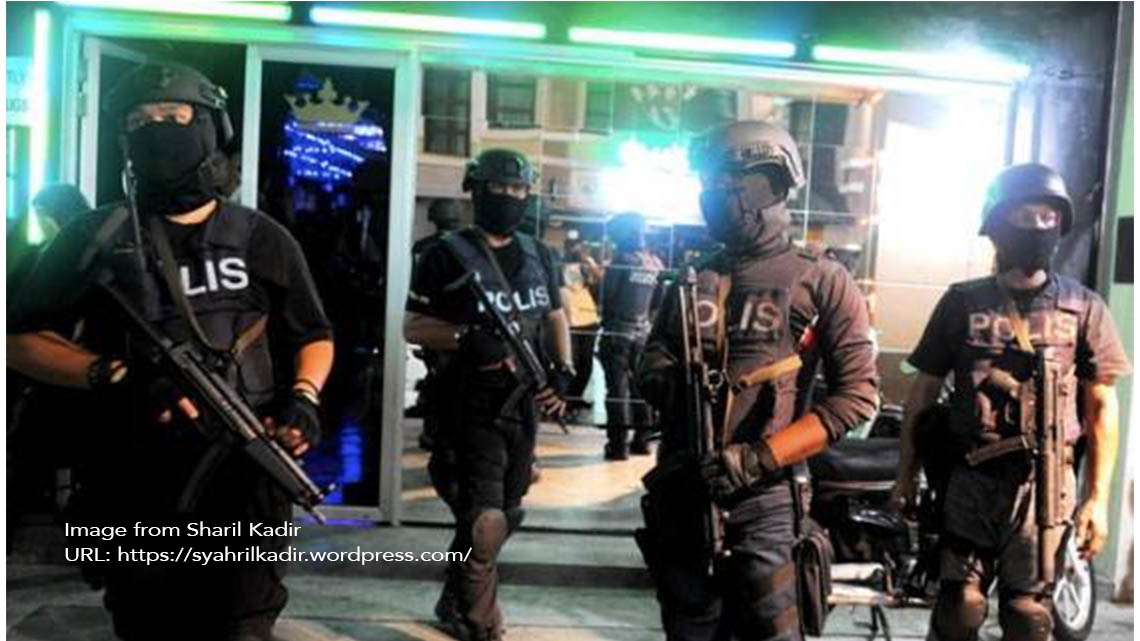 We don't usually start an article off with numbers, but we figure ugaiz might be interested to know that from 2009 to August 2013, Malaysian police have shot dead 124 criminals. During this period, almost 900 illegal firearms were confiscated; including 31 hand grenades (!!!).
Every so often, we hear of our local Malaysian police being involved with shootouts- and of course leaving, in the aftermath, a few dead criminals. But what about survivors? Surely not every shootout ends up with all the bad guys dying? With this question in mind, we trawled the web looking for examples of what it's like to mess with the Popo PDRM, excluding national security incidences such as Lahad Datu. Some of the details of the incidences also raised some question marks with us, and we're gonna list those down as well.
CILISOS recommends playing this song in the background while reading the rest of this article.
Arrested: 0 | Shot dead: 5 | Cops injured:
Reason for shootout :
At 4:30am, the police sieged an apartment unit used as a hideout by five members of Gang 04 . The cop's investigation showed that the gang members "were either hired killers or acted in revenge over the shooting cases which they had been involved in since last year."
The five were obviously not very cooperative as the police claim "We were shot at first and we shot back in defence. This subsequently led to the death of the five men." The police believe that ballistic tests on the weapons gathered at the scene allowed them to solve at least 10 cases of murder and two of attempted murder. 
Questions unanswered: 
1. What kinda gang name is Gang04?
2. Can 'ambush' and 'in defence' be used in the same statement?
3. How conclusive are ballistic tests that don't show whether it was a murder or an attempted murder?
Meh who cares! Here are some neatly placed shots on a riot shield.
Arrested: | Shot dead: 2 | Cops Injured:
Reason for shootout :
Note: Additional information was sourced from Says.com, but it contains graphic uncensored images of the shootout. So yea, warning!
Under a massive crime prevention operation called Ops Cantas, a joint operation between the serious crimes unit in Melaka and Bukit Aman led to a 10-minute shootout at a road junction close to a Tesco Hypermarket.
The two suspects, D. Selvam and K. Sivanesan, were considered to be highly dangerous – especially D. Selvam, who had 10 previous criminal records and 2 detentions under the Emergency Ordinance Act. They were also believed to be members of Gang 04 and Gang 36.
At 9:20am that day, the duo were approached by a team of 35 police officers after being spotted in a Silver Myvi. According to a police source:
"My team tried to stop them, I introduced myself as a police officer and I was wearing a police jacket. As I got near to the car, I heard gun shots and I saw one of the men had a gun on his hand. We exchanged fire and the two men died on the spot." – Anonymous police source, quoted from Free Malaysia Today.
The only police casualty in this incident was a police car which had been hit by one or more of the 5 shots fired by the suspects. Two automatic handguns, cannabis, and police badges were found in the Myvi.
Questions unanswered:
1. None, actually. This one is quite well documented, unless you'd want to know if the police car survived.
Arrested: | Shot dead: 3 | Cops Injured:
Reason for shootout :
Three smash-and-grab gang members were gunned down during a shootout near the Sentul toll plaza on the Duke Highway after a 60km-long high-speed chase with police in South Klang. The drama began when a team from the Selangor police serious crime division (D9) – patrolling under Ops Banker – spotted the men and their accomplices in South Klang at about 11.30am.
Three black Proton Wira were seen sandwiching another car while a man on a motorcycle broke a window and snatched the victim's money amounting to RM2,000. A chase ensued with the gang being chased through several urban areas before two of the cars were cornered near the toll plaza.
Selangor deputy police chief Deputy Comm Datuk Abdul Rahim Jaafar said the gang members fired several shots at the police. "We had no choice but to fire back, hitting three suspects. They died at the scene," he said, adding that there were no casualties on the police side. DCP Abdul Rahim said the gang's victim – a woman in her 30s – was not hurt during the robbery.
He said the dead men were believed to be Indonesians and that police were looking for other members of the gang as well as the driver of the third car and the motorcyclist.
Questions unanswered: 
1. With all that shooting back and forth, no one else got hit?
2. What was Ops Banker about?
Arrested: | Shot dead: 1 | Cops Injured:
Reason for shootout :
Selangor deputy police chief Datuk Abdul Rahim Jaffar said in the 9pm incident, a team of officers from the Selangor Contingent Headquarters serious crimes division pursued a white Nissan Grand Livina multipurpose vehicle (MPV) during a routine patrol.
Abdul Rahim said when the officers neared the MPV, the lone driver stopped the vehicle and fled into nearby bushes before opening fire in their direction.
"A firefight ensued for several minutes before the officers found the man's body," he told a press conference.
Abdul Rahim said Matruji, a leader from the police-termed Rantau Mahkota gang, has held a series of past criminal records committing armed robbery and burglary since 2005 in Penang, Selangor and Negeri Sembilan.
He said the suspect's fingerprints had been traced in 27 robbery and break-in cases and it was likely that he had been involved in more cases as he was a known career criminal.
The vehicle that Matruji was driving in also carried fake number plates and was reported stolen earlier this year.
Questions unanswered: 
1. Why would they chase a random Nissan?
2. Well, not much more really.. this one seems pretty legit.
Arrested: 0 | Shot dead: 2 | Cops injured: 1 (but died later)
Reason for shootout :
At about 5am, Raja Aizam and Mohd Aidil were patrolling Taman Sentosa in a police car when they came across five men behaving in a suspicious manner on Lorong Yusuf Shahbuddin. All five appeared to be foreign nationals. The policemen pulled over and ordered the group to stand still. When they approached the group, one of its members grabbed Raja Aizam's pistol and pointed it at Aidil, but apparently could not unlock the safety button.
Another suspect pulled out a knife and thrust it into Raja Aizam's neck. As this was happening, Mohd Aidil recovered his partner's gun and shot down two of the suspects. The other three fled the scene. Minutes later, another police patrol car arrived, picked up the two corporals and rushed them to the Tengku Ampuan Rahimah Hospital where Raja Aizam, 53, was pronounced dead.
Questions unanswered: 
1. Why can't we know what sort of foreigners they were?
2. What kind of behaviour by foreigners at night would be ruled as non-suspicious?
3. Why would they agree to stand still, and then stab someone in the neck?
Arrested: | Shot dead: 3 | Cops Injured:
Reason for shootout :
According to an official from the Indonesian Consulate in Johor, three Indonesian men were shot dead after attacking a police patrol unit.
From the report, the PDRM unit was patrolling a stretch along the Senai-Desaru highway at 4:40am when they came across the three, identified as Wahad, Sudarsono, and Agus, and thought they "seemed suspicious" and stopped to investigate. As they approached, however, the trio attacked the policemen with "machetes and revolvers," and the cops fired on them; shooting the three multiple times in the chest and abdomen.
According a family member, Sudarsono and Agus were related and both had been working in Johor for the past 5 years. However, it's not clear how they got into Malaysia – with some saying that they used a recruitment company while others say they got in on tourist visas. The bodies were returned to their families in Central Lombok amidst criticisms by Indonesian groups on the trigger-happy nature of the Malaysian police force.
Questions unanswered: 
1. Were the Indonesians in a car or on foot?
2. Why did the trio not fire their revolvers despite having them?
Arrested: | Shot dead: 1 | Cops Injured:
Reason for shootout :
Note: The eyewitness account was taken from this site which contains uncensored photos of the shooting. Graphic imagery warning!
Adelbu Tunde, a 26-year old student at Lagenda College in Nilai, was walking home from classes with a group of friends when they passed by an apartment unit being raided by the police. A police car soon started following them and eventually pulled the group over with the alleged intention of "getting pocket money".
According to an eyewitness, Adelbu was "unarmed and not putting up a fight" but suddenly made a run for it and was shot in the head as a result. The eyewitness also mentioned that the cops left the scene after the shooting.
The Star noted that the case has been classified as a murder investigation.
Questions unanswered: 
1. What floor was the apartment on, and how did the cops spot the students?
2. Why did Adelbu suddenly start running when he seemed to be cooperative just moments before?
3. If the eyewitness account is true and the cops were looking for some duit kopi, was it worth shooting someone over?
4. Why did the cops leave the scene when the police would be called in again for an investigation?
Arrested: 1 | Shot dead: 1 | Cops Injured: 0
Reason for shootout :
In a strange turn of events, a cop became both the victim and the suspect when he shot and killed the thief who stole his motorcycle a day earlier. Because there are two suspects in this case and no names were revealed (the motorcycle thief had no identification on him), we'll refer to them as "polis" and "thief" to minimize confusion.
According to the news report, the policeman's motorcycle was stolen from an R&R stop in Gurun, Kedah. He subsequently met a bomoh who told him where he could find his stolen bike. The cop then drove with his wife and mother in law to an old factory, where he searched the premises. He rushes back after his wife calls to tell him that there was a bike approaching them "in a suspicious manner," and there was a machete, walkie-talkie, and a pink phone in the motorcycle basket.
After a brief physical confrontation, the thief managed to flee on the motorcycle, prompting the policeman to fire "warning shots" to get him to stop………. in the thief's general direction. The cop then returns to the police station and handed his gun in. He was arrested to assist in what is now a murder investigation.
It was also noted that the "thief" who was shot "had nothing to do with the lost motorcycle".
Questions unanswered:
1. How many shots were fired?
2. If the person who was shot dead had nothing to do with the lost motorcycle, who actually stole it then?
3. Why would a cop take his wife and mother in law to stake out what could be a dangerous situation instead of calling, you know, other cops?
4. Should we start believing in bomohs?
Wah! So many fellas shot dead!
Yeah. Looking at the past cases, it does seem highly unlikely that anyone would survive a shootout with PDRM.
But why so? Are they just a bunch of trigger-happy cowboys?
Well, probably one of the more controversial shootings involving the Malaysian police would be the case of 15-year old Aminulrasyid Amzah from Shah Alam, who was chased and shot at by the police 21 times after running a road block. Amzah had taken the car without his mother's permission and had no driver's license.
This incident became a major point of discussion and criticisms against the PDRM, especially when the officer charged with his death was found not guilty based on the notion that he was trying to shoot the car tires, and the IGP at the time – Tan Sri Ismail Omar – refused to apologize to Amzah's family, stating that they "acted according to the law".
On this note, we would point out that in almost every case mentioned here (except maybe the one with the Nigerian student and the bomoh motorbike), the police were given legitimate reason to open fire since they were attacked first. Also, guns in real life are much harder to aim and shoot than you might see in movies and video games, so even if officers were trained to "aim to wound," factors such as the target shooting back at you may not reproduce the same results in training exercises.
On the other hand, we can be fairly certain in saying that every time we read news like these, there's a little voice in our head asking "Did the actual events happen as described? " or "Could they have planted evidence to justify shooting the suspects?" . After all, if the police give their accounts to an investigator from the police department with no one from the other side alive to give a counter-statement, how much can we trust that the story is accurate?
Well, dead men may tell no tales, but cameras do – specifically body-worn cameras (BWC). Already in trial use in Singapore and Hong Kong, these mounted cameras record both audio and video and can be used to provide a clearer picture of an incident. We're beginning to see local traffic policemen with helmet-mounted cameras, so this might be the next step for more transparency and trust in our local police force.
What if you DO survive a shootout with the PDRM?
Um… For starters, you should probably thank your lucky stars.
And after that, you should probably hope that your experience in jail would be more like our article on what it's like to be arrested for sedition (Highlight: "nice, polite, and generally quite civil" cops") rather than The Malaysian Bar's statement on police custodial deaths (Highlight: Dying under the care of the cops). 
Co-written by Uihua