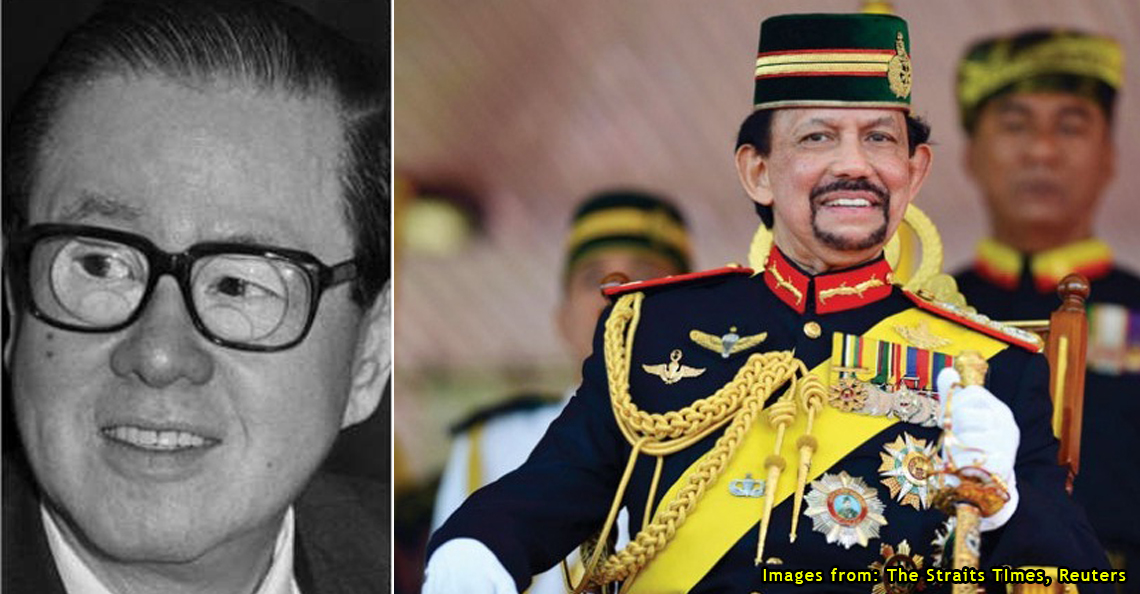 Thanks to the lightning-pace of information exchange in modern times, there isn't much you can get away with these days (especially when it involves large amounts of money). For instance, after ex-PM Najib Razak's alleged flight plans to Indonesia were leaked, the public were quick to storm Subang Airport and block his possible escape, forcing him to allegedly cancel his flight.
However, back in the day when there was no Internet, fugitives had relatively more time to act to cover their tracks, or possibly escape, if needed. And in fact, there was in fact one such incident involving… the founder of Maybank, the late Tan Sri Khoo Teck Puat!
Now, it was never actually proven that he actually did it (since he was never arrested), but this alleged crime was BIG; in fact, it ran all the way up to the Bruneian royal family, who tried to hunt Tan Sri down for years to no avail.
But to fully understand what happened, let's first take a step back to understand the man himself.
Tan Sri Khoo Teck Puat's career was controversial even from the early days
Khoo was born in 1917 to a well-off family in Singapore. By the time he was 16, he joined the Overseas Chinese Banking Corporation (OCBC Bank) in Singapore, and quickly rose up the ranks too.
He was known for his aggressive loaning and investment decisions, which had caused friction between him and his boss. In fact, Khoo apparently left OCBC in 1959 because he thought the bank was not moving fast enough in Malaysia as well as cos his boss didn't give him that seat on OCBC's board of directors that he so dearly coveted.
Shortly after leaving OCBC, Khoo founded Malayan Banking in 1960, which quickly became the fastest-growing bank in the world at the time. He made so much bank, that just three years later he even managed to acquire the famed Goodwood Park Hotel, an iconic Singaporean hotel.
However, it would soon all come crashing down around him after Singapore's secession from Malaysia in 1965. The separation caused the value of Malayan Banking's Singaporean investments to plummet. It was also later alleged that a significant proportion of the bank's loans were to Khoo's companies in Singapore. 
To make it all worse, at the time customers were leaving Malayan Banking in droves and the bank's Board pretty much said enough is enough, deeming Khoo responsible for its failings and removed him from his post as Managing Director, effectively ousting him from the bank he built.
Malayan Banking (known today as Maybank) would later be taken over by the Malaysian government, but it wasn't game over for Khoo. In fact, he had a trump card, and it involved some very powerful friends…
Khoo got close to the Bruneian royals, and went into business with them
Sometime in the 60's, Khoo was said to have gotten cosy on both business and social terms with the family of Brunei's Sultan Hassanal Bolkiah. And so, with some equity participation from the royal family, he established the National Bank of Brunei (NBB) in 1965. Khoo himself reportedly owned about 70% of the bank and would also allegedly go on to sell some Singaporean hotels and properties – including the Holiday Inn – to the Bruneian royal family.
Years passed, and all the way throughout, Khoo was busy making waves and forging a massive hotel empire for himself. In 1972, he returned to Singapore and turned his focus towards the tourism sector, buying more hotels than the really kiasu kid no one likes playing Monopoly with. He also acquired Australian PR status, started investing there, and went on to take ownership of Standard Chartered Bank.
To add the cherry on the cake, he even acquired substantial shares in OCBC, and the very same gung-ho investment attitude that had caused so much friction during his time there now served to cement his reputation as a shrewd businessman with impeccable timing, investing during downturns when others would shy away:
"When no one wants it, that's the time to buy a few million." – Tan Sri Khoo Teck Puat, as quoted by South China Morning Post
There was no stopping him; in fact, he got so big that at one point, he was even named the richest man in Australia; he would later earn the same title in Singapore in 2004 with a net worth of US$4.3 billion!
Back in Brunei however, things were starting to get a little fishy.
NBB's finances kept getting worse, and the Brunei royal family wasn't pleased
While Khoo was busy balling in the hotel and banking sector, something strange was going on in Brunei: NBB was unwittingly digging itself into a financial pit, and no one knew why. Following an investigation, it emerged that 90% of NBB's loans were made to companies under Khoo's ownership, and that NBB had plunged itself into USD600 million worth of debt to other banks and depositors! 
Needless to say, the Bruneian government were extremely displeased with Khoo. They shut down the bank, and issued arrest warrants for several bank staff, including Khoo's own son Khoo Ban Hock (who was Chairman of the bank at the time), as well as for Khoo himself. By the time the trial began over the NBB issue, it was reported that the bank fraud's total amounted to around ONE BILLION BRUNEIAN DOLLARS!
However, while Khoo's son along with two bank auditors were later jailed without bail and charged with five counts of conspiracy to fraud the bank, Khoo himself remained elusive, moving from country to country to avoid extradition to Brunei.
Because of the scandal, Khoo was forced to resign from his post at Standard Chartered (who were ironically the biggest creditors in the case, and were owed $38 million), and set out to perform some major damage control. Following several meetings to discuss the repayment of the debt, Khoo somehow managed in 1988 to make restitution – meaning that he paid them back – and the charges against him were later dropped.
However, the Bruneian government did not let Khoo's son off lightly and they had even earlier derided Khoo's proposal to pay them back. Khoo's repayment of his liabilities could not save his son from being convicted and sentenced to four years in prison which was later reduced to three on appeal.
The NBB scandal left a stain on Khoo's otherwise glittering career
To be fair to the man, the late Tan Sri Khoo Teck Puat contributed heavily to the development of the tourism sector in Singapore, Malaysia, and Australia. He was also known for his philanthropy, and had set up the Khoo Foundation, which has contributed over S$360 million in the past decade towards healthcare and medical research. There's even a hospital named after him in Singapore!
However, despite never being proved guilty, and despite all of his accomplishments, the NBB incident is frequently mentioned in various biographies of the man. His family has not managed to avoid scandal as well; aside from his son who was jailed, his daughters were convicted and fined $500,000 in 2005 for failing to disclose their father's stakes in Goodwood Park Hotel, Central Properties and Hotel Malaysia.
Tan Sri Khoo Teck Puat passed away from a heart attack while in Singapore on the 21st of February 2004. Despite his death, he remains one of the most notable – and controversial – figures in Malaysian (and Singaporean) banking history.
If you enjoyed this story and want more, consider joining our HARI INI DALAM SEJARAH Facebook group ?