Earlier this month, you might have smelled a pungent piece of news. Former IGP Musa Hassan went on Twitter and shared an article about the CIA apologizing to the late Osama bin Laden after finding out that he wasn't involved in the 9/11 attacks. Sounds mundane enough, but there are two problems with that.
The news was from 10 months ago.
It came from The Onion, a site well-known for their satirical pieces.
Musa Hassan subsequently became a subject of ridicule on Twitter. But before jumping on the bandwagon and shaming an elderly for confusing fact and fiction, it must be noted that we are at a time when real news are increasingly sounding more ridiculous, so many people can have a hard time figuring out what is real and what is satire. Just check out these 100% real headlines: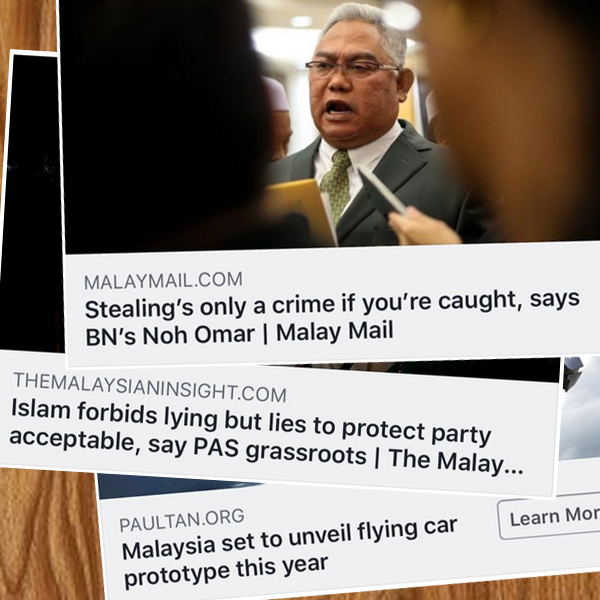 Even the people who run The Tapir Times (a local news parody site macam The Onion) told us that Malaysians have sent such ridiculous headlines to them, asking if they were behind those. So how can one tell what's real or not anymore? Well, we dunno how, but we can test how well you, the reader, can tell what's real or not.
To do that, we gathered some weird-sounding headlines from real, legit news sources, mixed them up with headlines from The Tapir Times, and set them in the form of a quiz. So get your bullsh*t detectors up and running, and try to sift through these. Can you tell which is which?
Truth can be stranger than fiction, huh? Well, regardless of whether you're just as likely to make the same mistake as Musa Hassan or not, here are the links to the stories behind those ridiculous headlines:
*NO CHEATING SCROLL BACK UP AND FINISH THE QUIZ FIRST*
"Uttering 'Bodoh lah polis' lands food despatcher with RM1,000 fine"
"MP moots ketum farming to boost smallholders' income"
"Loyalists suggest Putrajaya go back to Barisan so Anwar can lead Pakatan to victory"
"Khazanah: Too many airlines based here bad for Malaysia Airlines, weaker ones need to quit"
"Hundreds attend candlelit vigil for nation's property developers"
"Armed men arrested for stealing 52 goats in Bukit Mertajam"
"We can't afford compensation for toll hikes without toll hikes, says PM"
"MACC offering bribes to civil servants who report bribes"
"Bangsar expat impresses friends by saying 'Terima Kasih'"
"Dog broke my wrist, Najib's lawyer tells court, pushing hearing to Friday"
"Ex-IGP Musa Hassan removed from CIA watchlist"
"Shafee requests further trial adjournment after being poked in eye by pet bird"
"Ahmad Maslan offers to be GST consultant to govt – for free"
"Best way to manage a multiracial nation is to ensure no one feels happy — Dr Mahathir"
"Noting LTTE threat M'sian IS recruits fearful of returning home"
"Malaysian man, unable to prove he is gay, faces deportation from UK"
"To boost US ties, Malaysian officials offer to buy Trump penthouses"
"Cover up during Ramadan, Kelantan mufti tells Thailand"
"Police to Najib's lawyers: Just tell us who ate the chocolates"
"Loke: Transport Ministry to consider e-hailing bus proposal"