Half of Malaysia's population own smartphones (51% to be exact). And we're guessing that includes most of you reading this article. With 74% of those on games, 67% on social media, and 43% watching videos, it doesn't really leave much room for your kawanz or keluargaz.
And trust us, it's definitely an issue… When we asked our friends for a picture of antisosialism we could use, our friendfeed was literally flooded with kaifan requests (PS: Tersh we owe you a kaifan for the featured image!).

Yes. The smartphone is taking over our lives! OMG then how?!
Get MAXIS to sponsor contest lor 🙂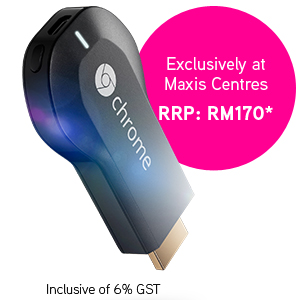 Yes, the lovely people at Maxis are launching a potential cure to mobile antisocial behaviour. They're bringing in a very cool product, called a Google Chromecast, that lets you and your friends share what's on your phone, tablet or laptop screens to a TV.
We know what you're thinking. Why not just get Smart TV (or media player) right? Well, Chromecast can do a whole lot more like
Play games with your friends and family on the TV
Queue YouTube videos via mobile, so each person has the chance to show everyone their cool videos
Cast from your laptop directly with apps like Deezer, NetFlix and yes, Popcorn Time 
The best thing about it is, you can do this wirelessly (Chromecast communicates via your WiFi), all while still using your phone normally (even if you leave the house, your YouTube video will continue playing). Quite magic right? You can watch this video if you wanna find out exactly how it works. Of course, Maxis is the exclusive distributor for them in Malaysia and you can get one from them at just RM170 (or RM150 if you're a Maxis ONEPlan subscriber). Of course, visit maxis.com.my/chromecast for more info.
"Ok ok, but what does this have to do with mobile antisocial-ism (and me winning stuff?)
Maxis gave us one to test a few weeks ago and we can tell you, it's quite AWESOME to have the whole family watching the same YouTube video, rather than individually doing their own thang. We could laugh together, queue up the next vid, and even show them links we created. Yea, really one. #CILISOSdunbluffyou1.
So to give Malaysians more reasons to get one, we want ugaiz to help us find Confirmed Signs that your kawan or keluarga are antisocial!
The first three winning entries (by date of submission) will win FREE GOOGLE CHROMECASTS COURTESY OF MAXIS YO! And for everyone else? Pairs of movie tickets yo!
Pictures aren't compulsory, but they will definitely help your cause (especially if they're funny and extreme).
Just fill in the form below, and submit it before 12th June 2015! Oh, and share with your friends la. Don't be so antisosial!