Culture
Politics
[UPDATED] How transparent? Can deduct tax? Here's what you need to know about Tabung Harapan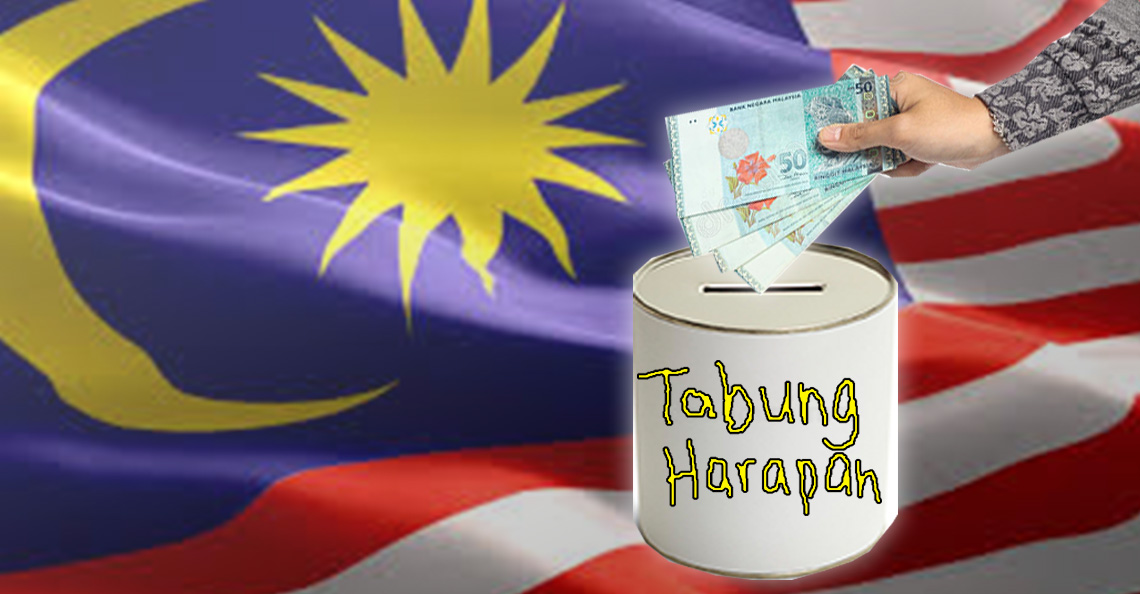 [UPDATE 13 November 2018]
So, some of ugaiz may have wondered what happened to Tabung Harapan (if you dunno what this is, then read this article la. But, if you've read it, then just find the updates in blue). Still ongoing or not? How much money ady?? And, most importantly, where will the money go???
———————————————————————————————————————————————————————–
Malaysians were once again seen united to battle yet another crisis and this time around it involved… money and debt.
When Finance Minister Lim Guan Eng confirmed that Malaysia's debt has reached RM 1 trillion (or actually RM 1, 087.3 trillion), many Malaysians came forward to help. A law graduate, Nik Shazarina launched a crowdfund campaign called "Please Help Malaysia" which raised RM 13, 476.57 .
Inspired by the patriotism shown by Malaysians, the Ministry of Finance decided to launch a trust fund called Tabung Harapan Malaysia (Malaysia Hope Fund) to allow Malaysians who want to contribute to reduce Malaysia's debt.
We managed to get in touch with DAP lawmaker and Bangi MP, Ong Kian Ming for more deets on this fund.
The Ministry of Finance wanted to ensure the fund is transparent… but how?!
There were several issues raised when Nik Shazarina launched the crowdfund like how there were no specific bank account to transfer the money to.
Segambut MP, YB Hannah Yeoh advised Malaysians to be wary of scams when the campaign ran and asked Malaysians to wait for official announcements from Putrajaya before donating. In fact, Ong supported this claim by stating how Tabung Harapan was set up to prevent fraud.
"People were already crowdfunding for this. It's much better if the government provides an official channel for these contribution. If not, there will be many causes of fundraising frauds out there." – Ong Kian Ming
But even with a proper, official channel, there are still fake accounts posing as Tabung Harapan. So ugaiz be careful of this fake accounts and check before contributing.
In addition, the Ministry of Finance claimed that the fund is transparent. But how transparent is transparent?
"It is a special account which only accepts funds for the purpose to reduce Malaysia's debt. It will be audited by the auditor general." – Ong Kian Ming told CILISOS.
According to Ong, the fund has no time frame at the moment. It only made sense why Malindo Air recently launched a three month campaign in relation to this fund. The airline offered to contribute RM1 to Tabung Harapan with each flight ticket sold. Other companies like Lay Hong contributed to the fund as well.
But to those who wonder how they can check on how much the amount the fund collected, Ong told us,
"There will be a daily update at 2pm by the Ministry of Finance."
Malaysians can check these updates on the Ministry of Finance's official website or through its social media platform. However…
Malaysia isn't the first country to launch a fund to handle debt crisis
South Korea faced its debt crisis, known as the "IMF crisis", not once but TWICE with the help of… GOLD?!
South Korea turned to the International Monetary Fund (IMF) when its economy began to fluctuate and was given $58 billion bailout package, one of the largest in history. The South Korean gomen raised funds to pay back the loan to IMF and since it was estimated that each household held roughly $20 billion of gold (which is more than their monetary value btw), many contributed their gold.
In 1907, men stopped smoking while women sold off their wedding jewelry to help pay the country's debt. When the country went through another crisis in 1998, South Koreans came in to contribute to the nation including a baseball star who brought 31.5 ounces of gold (worth $9,000) in all forms of trophies and medals.
Okay, maybe gold is a bit too much to contribute for commoners like us but another similar story might be more relatable. A Briton started a crowdfund (something similar to what Nik Shazarina did) to help repay Greek debt. When Greece faced financial crisis in 2015, Thom Feeney decided to launch a crowdfund to raise €1.5 billion ($2.1 billion).
But what was different about this crowdfund and the one launched by Nik Shazarina was the fact that those who pledged for this campaign will be awarded with gifts. Some of the gifts were postcards from the Greek Prime Minister and a Greek salad.
Unfortunately, the money raised had to be refunded as the crowdfund campaign didn't meet the targeted amount.
And while this type of effort might seem to be supported by many…
Apparently an economist sees this fund as an embarrassment to the country?!
While most Malaysians feel so semangat to contribute and show a proof of their contributions on the Ministry of Finance's Facebook page, some criticise the fund.
An economist and former finance ministry deputy secretary-general, Tan Sri Ramon Navaratnam said the fund is unprecedented. He claimed that it seemed as though the rakyat has to bail out the gomen's debt.
But when we asked Ong on his opinion about comments like this, he said,
"If you don't like the idea, it's fine. Don't contribute to the tabung. I don't think anyone will hold it against you. But you also don't need to criticise others who want to contribute to it."
He also added that Malaysians should be allowed to express their enthusiasm in helping to build the new Malaysia in a tangible manner. In other words, contribute if you may, but if you don't it's fine too.
But if Malaysians want to contribute, they have to remember to keep their receipts of transactions as proof for tax deduction purposes as Ong mentioned that,
"The contribution is fully tax deductible."
[UPDATE 13/11/18]
The fund which will end on the 31st December 2018 (yea, soon) has collected RM197,859,507.39 at the time of writing. You can actually check out MOF's official website for updates on this fund at 3pm everyday.
Dr Mahathir actually mentioned that the money from the fund will be used to help the gomen with its financial woes.
"The money has no specific purpose except to help the government resolve its financial problems and we will use that money as wisely as possible." – Dr M for Malay Mail.
[END OF UPDATE]
And while the fund is still running, ugaiz might wanna take the opportunity to reduce the country's debt by contributing to Tabung Harapan through this (real) Maybank account: 566010626452.