[Ed's note: This article was originally published in 2014. Updated a bit to reflect more current events… like A WHOLE NEW GOMEN YO.]
We've always wondered what will it be like if Malaysia qualified for the World Cup but we all know there's a better chance of marrying a Muslim without converting. So instead, let's imagine what it will be like if Malaysia hosted the World Cup. This might actually come true in 2034 as 10 ASEAN countries, including us, may team-up and bid for the event. To avoid hiring bomohs to peer into the future, we're going to base these simulations on previous incidents in the country. Let's start with the obvious, our favourite past time…
1. Road block road block road block. JAM JAM JAM JAM JAM.
When Obama was here for a weekend, KLites suffered unpredictable jams and road closures to accommodate the POTUS's 30-vehicle convoy. We understand that it's protocol and for safety reasons plus it was just for 3 days so we Malaysians took it well.
"Traffic jams were unavoidable as the temporary road closures were needed to ensure the safety of the convoy." – City Traffic Police Chief ACP Rusli Mohd Noor.
Now imagine the chaos if 32 teams of staff and players were to ronda around the city. One team comprises of 23 players, and around 20-50 coaching and support staff.
For World Cup 2014, England alone brought over 70 people to Brazil! That's like two 40-seater bus kilangs! Imagine two giant buses escorted by polis trying to make its way down the congested KL roads. Now multiply that by 32. Then multiply that by the thousands of foreign dignitary convoys and tourists asking directions to KLCC. Yes the Math scares us too.
2. Crowd control at stadiums
Last year's general elections taught the Rakyat two crucial things; always pay power bills to avoid blackouts and the importance of crowd control.
Pakatan's last stand at the KJ stadium after the GE13 results attracted almost 120,000 people, and the aftermath was utter chaos as ralliers transformed the LDP and NKVE highways into parking lots. Even Anwar himself had to ditch his car and tumpang a motorbike to reach the stadium. When the event was over, the crowd flowed out like a full bladder causing even more congestions that lasted up to 5 hours! A Malaysiakini journalist reported that she was stuck in traffic for 4 hours.
Now we know that WC18 matches will have a fixed amount of tickets, limiting the size of the crowd but more popular teams like Brazil and Spain will definitely attract tons and tons of fans, even if it's just to lepak outside the stadium, hoping to catch a glimpse of the players or to sample the array of burger Ramli stalls that magically appear. Anyone who has ever been to music festivals or concerts in Malaysia will agree with us on the importance of crowd control.
3. El Ni-no water
A mixture of drought and politics created a 3-month long water rationing in Selangor which left a lot of cars unwashed and businesses affected. But folks in the Klang Valley are still in the deep end of the evaporating pool as the El Nino weather phenomenon beckons. Drier skies and a heat wave hotter than Chua Soi Lek's sex tape is creeping over the horizon, threatening another major water crisis.
"We are fully aware of the risk and impact that El Nino will bring, thus, we have urged all water operators and other relevant stakeholders to be prepared for the dry weather by putting in place some of the monitoring strategies and water supply contingency plan" – National Water Services Commission (SPAN) CEO Datuk Teo Yen Hua
Heat is a major cause for concern, even the FIFA prez Sepp Blatter admitted that having the 2022 WC in Qatar was a huge mistake. But honestly, I would pay good money to watch 22 mat sallehs chasing after a ball in our scorching heat, then return to their hotels to find a badly scribbled sign on their doors saying "no water. Sorry inconvincenient". But we all know that won't happen lah… only the middle-to-low income residential areas will kena (just kidding). Teams from Latin America and the African continent should have an upper hand over the Europeans making this version of the WC unpredictable.
4. Raising the Roof
In 2009 the roof of the Stadium Sultan Mizan Zainal Abidin in Terengganu collapsed due to serious engineering flaws, shoddy workmanship, inferior materials, too many teh tarik breaks and lack of expertise in the key project management team. Thankfully only the contractor's pride was hurt.
But in 2013 during repair works, the roof came crashing down again! This time injuring 5 construction workers. Now we know this is an isolated incident and so far other stadiums are fine (touch wood), but this is the result of rushed shoddy work.
Let's say if Malaysia is really hosting the World Cup, how many new stadiums and structures will be rushed for completion. How many refurbishments of old stadiums will be rushed through the pipeline. Time isn't the only enemy here as corruption and poor planning have deeper roots.
Speaking of rushed jobs, the Sochi 2014 Winter Olympics comes to mind as the entire games were marred by incomplete hotels, bad stadium facilities, and lack of Putin memes. Wait a minute, it seems that Brazil may be skiing down that slope as the New Straits Times just reported that the carnival capital is rushing to finish the stadiums just days before the opening! Apparently corruption and poor planning (sound familiar?) took its toll on the capitol. Maybe there is hope for us?
5. But first, let ex-PM take a selfie
Well this is pretty self explanatory. Our ex-PM is known to be trigger happy, snapping pics with any awesome peeps he could find. From Obama to Turkish PM Erdogan but ironically we've never seen a selfie with Kak Mah just yet. She's probably having a bad #ootd (that's 'outfit of the day' for you Instagram-challenged people).
Now with all the evidence above, we know for a fact that Najib will definitely take pics with all the top players. We just hope he gets their team right.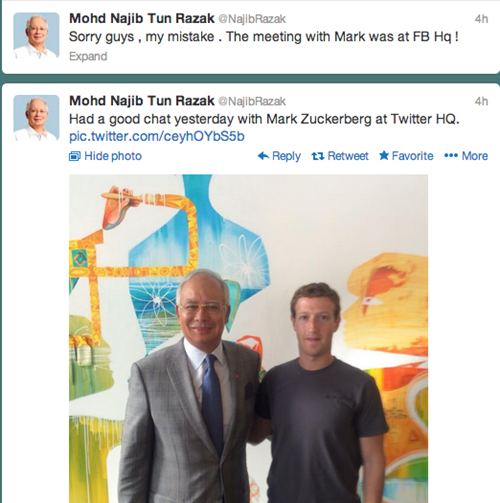 6. Corruption Scandals in FAM
Wooo suddenly serious ni.
With big sporting events come big government endorsed budgets. With big budgets come big pockets. Like mullets and that annoying Rick Ashley song, corruption has stuck to The Football Association of Money Malaysia since the 90's.
After rounds of leadership changes and internal clean-ups, the association is still caught offside. Racked with issues like faulty stadium facilities, monies owed to players, match-fixing scandals, disorganized league schedules, and poor international performances. In fact Malaysia has just failed to qualify for the 2015 Asian Cup. But FAM still managed to find time to have mini tiffs with the then-Youth and Sports Minister KJ  and worse, the Tunku Mahkota of Johor, Tunku Ismail Sultan Ibrahim who is president of the Johor Football Association.
We've also heard that bribery and match-fixing have been the unofficial source of income for some players. Off the record, illegal gambling bookies may control the outcome of matches. For example if Malaysia were to play Brazil, 99% of the people will bet on Brazil to win (duh!), bookie comes in, places a huge bet on Malaysia to win. Bookie then goes to bribe Brazilian goalie to allow a few goals in. Brazil loses the game, bookie takes back truckload of cash from the 99%.
Like we said this is off the record so there could be so many other possibilities but the WC is a bookie's favourite event, even better than winning 4D. The Star recently reported that local ah longs are offering loans of up to RM500,000 for betting addicts. During this period business is expected to go up by 50% compared to "normal days".
"A nationwide sting and cleanup operation by FAM, supported by the police and the Anti Corruption Agency saw 21 players sacked, 58 players suspended and 126 players questioned over charges of accepting bribes" – Lucius Maximus, author of 'How Malaysia Never Reached The World Cup: Harimau Malaya's 40-Year Chronicle of Failure'
The FIFA however, does not take too kindly to corruption hearsays, especially for a WC host. Brazil was especially in the hot seat during the previous World Cup, with claims of corruption causing them to run over budget and becoming some of the world's most expensive sporting venues. Bloomberg reports that the latest estimate for 12 new and refurbished stadiums costs about 8 billion reais (USD3.6 billion), 2.7 billion reais more than the first detailed estimate issued in 2010 and almost four times the amount that Brazil's FA told FIFA back in 2007. Qatar is also sinking into the sandpit as they have been accused of bribing certain members of the WC Bidding Committee to vote for them as host. UEFA prez Michel Platini is calling FIFA to hold another vote for the 2022 World Cup if corruption allegations against Qatar's winning bid are proved.
7. Unorthodox Industries that will Flourish during World Cup in Malaysia
1. Petaling Street
More foreigners will flock to KL's unofficial top tourist destination to purchase "original branded" goods. Ironically Petaling Street is run by mostly foreigners.
2. Red Light Districts
Come on now don't act surprised, we're sure you've heard of Chow Kit and Lorong Haji Taib! Tourists are bound to be loved long time and it doesn't matter which team wins the Cup as long as everyone scores.
3. Taxis that Don't Use Meter
This is already happening on a daily basis in the Golden Triangle of KL, especially to foreigners. Imagine the fortune waiting to be made with an influx of clueless tourists.
4. Burger Ramli Stalls
We guarantee that there will be at least 12 burger stalls at every stadium. Probably accompanied by lok-lok stalls too.
8. Malaysian Commentators FTW!
The only thing entertaining about sports in Malaysia are the commentators and their choice of words. If you weren't too busy cheering for Malaysia during the recent Thomas Cup finals or too busy praying for a public holiday, you would have noticed the local commentary. Well if you didn't, MSN Malaysia noted a few classics like "Tengok body language dia yang begitu cantik", "Pertahanan yang longgar!", and "Sayonaraaa…" (Commentator bids farewell to viewers after Japan takes home the Cup).
Here are a few examples of what we might hear at WC14 Malaysia:
"bola yang sangat cantik" – referring to a good shot.

"pegangan bola yang sangat ketat" – tight ball control.

"mulut gol terbuka tetapi bola tidak mahu masuk" – a missed shot on goal.

"Gunalan pass kepada Zaif pass kepada Azhari pass kepada Sham pass kepada Safee Sali Safee Sali menembak dan GOLLLLLLLLLLLLLLLLLLLLLLLLL GOL GOL GOL GOL GOL GOL GOL GOL oh tidak… offside."