For reals, ugaiz. When homegrown Grab first launched in 2012, we had NO idea that it would beat a global e-hailing company and eventually evolve into the giant it is today. It has also only been a little over a year since its in-app e-wallet, GrabPay, was officially launched… but in that short span of time, the service has already taken over our lives.  
(Ok, fine. Maybe one year isn't short for fintech… but Cilisos has been around for 5 years plus and some of our parents still think we're a sauce company. Sobs.)
We used to only use it to buy bubble tea or pay for our rides… now, we're using it everyday on everything, even to pay our colleagues lunch money! Honest truth, not saying this because Grab is one of our sponsors k.
Very soon, GrabPay will be everywhere
Previously, the e-wallet service was only available in eight cities… but they've recently added thousands more touchpoints to their merchant lists, so that Malaysians nationwide, from Perlis to Sarawak, will get to hop on the cashless culture with Grab.
And they're also expanding their network, both online and offline. While we were first introduced to GrabPay through F&B outlets like Tealive, La Juceria, and Penang Road Famous Teochew (this list has grown significantly btw), today we're able to even use it at convenience stores (99 Speedmart, Mr D.I.Y.), supermarkets (Giant, TESCO, Mydin), pharmacies (Watsons, Guardian), the movies (MBO), fast food joints (Domino's), petrol stations (Petron), lifestyle services (Healthland, A-Saloon), travel providers (KLIA Ekspres) and even online (ZALORA) and even more.
The thought that we won't have to walk around with notes and coins in our pockets is pretty liberating – no worrying about someone stealing our cash, or forgetting to bring our wallets.
Actually, the whole shift to a cashless culture isn't just benefitting us spenders – the idea is also to help SMEs and micro-entrepreneurs to grow their business without the cost, burden and safety concerns that come with managing cash. And by reducing the cost of cash-based transaction, Bank Negara says that these e-payments can save up to 1% of the country's GDP (that's about RM3 billion).
IYCMI, Grab is also the first e-wallet to adopt DuitNow QR and will be adding it to their app by the first half of 2020. What this means for them, is that customers and merchants will be able to have more seamless and safe payment methods.
So with this collab, we can expect GrabPay to be all up in our faces in NO TIME. As people who always malas to bring our wallets out, this spells good news 🙂
And even more good news for users like you and me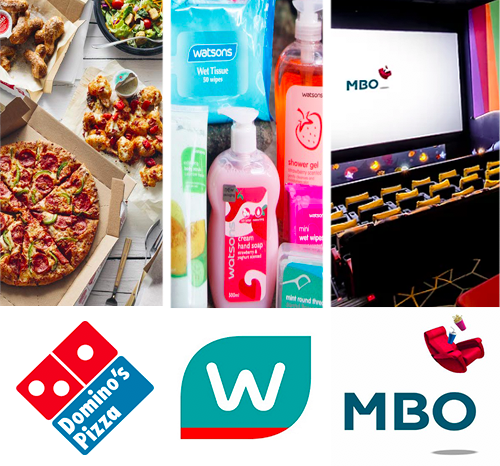 There are some pretty nice deals happening now that benefits the consumers! You can enjoy always lower prices with GrabPay Price. Just use GrabPay at the outlets below to get the deal:
Domino's Pizza:

regular pizzas from RM12.90 (normal price from RM31.90), large pizzas from RM19.90 (normal price from RM42.90). You can find the deal in "My Rewards" in your Grab App.

Ends 31 Jan 2020. 

Watsons:

20% rebate of max RM20 for any purchase; 3x Watsons Points.

Ends 30 Dec 2019. 

MBO:

Get RM7 off on Share Combo/Movie Combo when you purchase a minimum RM16 of movie tickets.

Ends 31 July 2020

.
And if you're not a convert yet, here's a thought. You won't get charged extra, you'll only get better deals. So if you're already gonna spend in these places, why not try using GrabPay instead?
Actually hor, maybe Cilisos should implement GrabPay for people to buy our sauces…