Terms and conditions. Privacy policies. Let's be honest: no one reads these things. They're long and many of them are kinda copy pasta from T&Cs. When we download an app, we just agree without reading them, because nobody's got time for that.
But sometimes, T&C can mean a lot, like WhatsApp's recently updated T&C and privacy policy. WhatsApp – or as our aunties like to call it, WhatsUp – is a staple in our daily lives, an app that we use to communicate with others and share fake news on. It's practically a lifesaver from us ever having to spend another sen on a text message. However, there's something about WhatsApp's new update that's kinda concerning…
Basically, WhatsApp will be sharing your personal data with Facebook, as in your contact number and location. Understandably, a majority of WhatsApp's user base got very confused and worried about it. Does this mean that WhatsApp is reading your messages? Is Mark Zuckerberg secretly laughing at all the shenanigans that go on in your chats? Is WhatsApp having a kick out of reading your sexts?
While WhatsApp has clarified that no, Facebook is not reading your private messages, the people here at Cilisos weren't convinced. So we decided to do an experiment and the methodology goes like this:
Get five people in a group chat on WhatsApp
Chat about topics that we don't usually talk about
Monitor our Facebook feed to see if related ads will start popping up
And the results were kinda creepy. Let's start with…
1. We talked about teething…and dental ads showed up
Only twenty minutes later, dental ads started showing up on at least two of our Facebook feeds.
After that…
2. We talked about bikini wax…and hair removal ads showed up
The first instance of hair removal ads showed up an hour later. It was pretty mild, all things considered.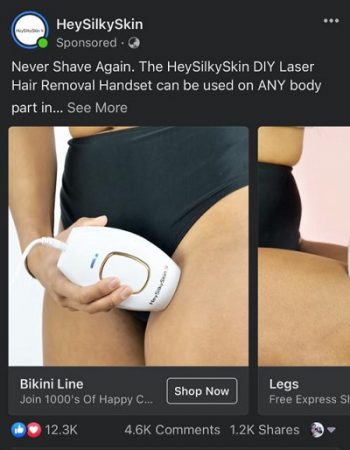 We thought that'd be it. But then a few hours later, someone else got a hair removal ad on their Facebook feed as well. Brace yourselves though. We're about to singlehandedly ruin rambutans for everyone.
Okay, take a moment to recover from that. We can wait. Done? You okay? Great. Moving on…
3. We talked about sex toys…and, well.
To be fair, this one only showed up on one of our Facebook feeds. But if you don't know how to satisfy your girlfriend in the bedroom, you might find this one useful.
But WhatsApp said they won't read our texts 🙁
In WhatsApp's further clarification of the updated T&C, while it is true that some info on WhatsApp will be passed to Facebook, it should only affect business accounts and shopping services, as the info can help Facebook in tailoring ads. They further reassured the public that neither the app nor Facebook will be able to see your private messages or listen to your calls due to an end-to-end encryption that would keep your secret sexts a secret.
"Whatever you share, it stays between you. That's because your personal messages are protected by end-to-end encryption." – WhatsApp, as quoted from Forbes
In addition, various security experts seem to trust WhatsApp's security features, claiming that a lot of messaging apps, other than WhatsApp, are relatively safe due to their encryption features, which are meant to protect users' privacies.
And yet, our experiment tells a different story. After all, once is an accident, twice is a coincidence, three times…is a pattern.
In the group chat, we decided to talk about eight things, including armpits, breastfeeding, and sperms. And out of these eight things, around five related ads showed up on all our Facebook feeds. But we chose to highlight the above three because they're glaringly obvious and gave us goosebumps.
Maybe it could actually be a coincidence, but we're inclined to believe that Zuckerberg may actually be reading our texts and showing us related ads on Facebook. Rest assured, we'll never look at rambutans the same way again.
In addition, WhatsApp has also specified that the updated T&C only applies to users outside the UK and the European Union, which isn't very comforting, because…
Jialat, a lot of Malaysians use Whatsapp
In a study done in 2017, it's found that Malaysians take up 51% of WhatsApp's userbase in the entire world, either to communicate for business or personal stuff. We can only imagine that the number's only grown since then.
Note: The NST article we initially referenced likely misinterpreted the Reuters Institute Digital News Report 2017. The full report actually says that 51% of their Malaysian sample size use WhatsApp. However, data from Statista that shows 98.1% of Malaysian internet users were on Whatsapp in 1998, Global Web Index showing Whatsapp's 92% penetration levels in Malaysia in 2020, and that you probably don't know anyone who's not on WhatApp still indicates that the number of users in Malaysia is pretty darn high. Sorry about the initial mistake though 😢.
According to former Communications and Multimedia Minister Salleh Said Keruak, this is because we tend to find WhatsApp simple and speedy, compared with other texting apps. In addition, businesses can also promote their products without spending too much money.
"Just imagine a WhatsApp group with 200 members. If someone has 10 WhatsApp groups, in a short time he can share information with 2,000 people." – Salleh, as quoted from NST
So given that we make up half of WhatsApp user database, it's probably not too far a stretch that the data that Facebook's getting from WhatsApp is largely from Malaysians.
That's not exactly reassuring. If you recall, the Social Network has a pretty colorful history of being hacked, exposing personal information of its huge user base. The most notable of such an instance was the Cambridge Analytica scandal, where a data mining firm stole data from millions of Facebook users to target ads and manipulate the 2016 US elections.
"This was a breach of trust between Kogan, Cambridge Analytica and Facebook. But it was also a breach of trust between Facebook and the people who share their data with us and expect us to protect it. We need to fix that." – Zuckerberg, as quoted from his Facebook post
Now, if you think that your data isn't really that important, we'd like to remind you that for both GE13 and GE14, Barisan Nasional (BN) had actually employed Cambridge Analytica to help them in the elections. And you can take a guess as to where they got all the data from.
But actually, right…
Facebook doesn't even need to read your messages to give you ads
See, Facebook has a lot of affiliations other than WhatsApp, such as Instagram and even Google. So whenever you do something on these platforms, even something as simple as leaving a comment, it leaves a data trail that Facebook will collect. You can leave a lot of data trail through Google searches, Instagram likes, and WhatsApp profile changes, and based on that data trail, Facebook will be able to deduce what you like and target related ads in your direction.
Basically, as long as you're on Facebook, you shouldn't even have to really worry about them reading your texts. They're already tracking you in other ways to know what kind of ads would appeal to you.
"Facebook is eavesdropping on you. It's just in a different way." – LA's Consumer Watchdog president Jamie Court, as quoted from Phys.Org
However, the topics in our experiment are things that we usually wouldn't search for or talk about, so logically, they shouldn't leave a data trail for Facebook to track. So if we're really paranoid people, the idea that Facebook's actually reading our WhatsApp texts isn't really impossible – or maybe someone amidst the group has been searching for ball shavers on the side.
At the end of the day, it really depends on what you, the user, choose to believe. If you are really paranoid about Facebook reading your WhatsApp texts, you can always switch to other platforms like Telegram or Signal. But is there a point to switching if Facebook already knows everything you're doing? You decide.
In the meantime, this writer is gonna go to a church for some rambutan cleansing ritual.