Crime
Culture
Politics
Jho Low told a bank manager to delete her Blackberry chats. Too bad she didn't know how.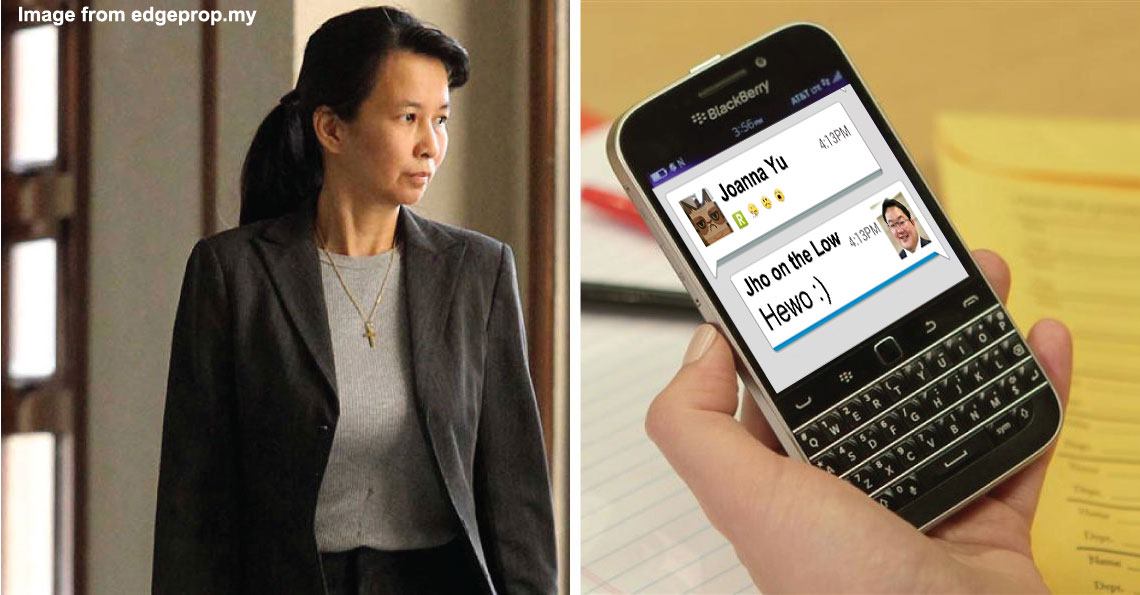 Unless you've been stuck under the proverbial rock, you've probably heard that the trial of the century is currently going on. That's right, the new season of Suits has been announced former Prime Minister Najib has been going in and out of court over his alleged involvement in the 1Malaysia Development Berhad (1MDB) financial scandal.
Okay so maybe that's technically "fake news" laa – the current case going on is actually regarding his alleged role in taking funds totaling RM42 million from SRC International, which was a subsidiary of 1MDB. Najib's been in the courts for three counts of money laundering, three counts of criminal breach of trust and one more charge of abuse of power.
Of course, in such a publicised case, a lot of juicy details have come up over how Najib, Jho Low and their pals allegedly operated to siphon out funds to fund various credit card swipes around the world. And most of them wouldn't have been revealed had it not been for this one bank manager: Joanna Yu Ging Ping.
Her texts with Jho were revealed in court cos she didn't know how to delete them
Alright so first off the bat, we should probably explain who Joanna Yu is. She was the customer relationship manager at Ambank, allegedly handling the bank accounts of a certain former PM whose name rhymes with 'wajib'.
Her involvement in the whole hooha began around the new year of 2011, when Jho Low got in touch with Joanna about setting up some bank accounts for Najib. It was around this time that the then-AmBank managing director Cheah Tek Kuang met with Najib himself to settle the paperwork. Joanna helped complete the process and opened said account, complete with the millennial dream of two credit cards.
That wasn't all tho. Jho also got Jhoanna Joanna to change the account's name, from Najib to 'AmPrivate Banking-MR'.
"…Jho Low had requested for the account to be identified based on the said account number only rather than by the name of the account holder to ensure confidentiality," – Joanna Yu, as quoted by The Star
This began a tumultuous number of years, culminating in Joanna being told to resign in 2015 after suspicions of financial hanky panky were aroused. In March that same year, Jho Low also apparently gave Joanna the instruction to delete all the Blackberry Messenger (BBM) texts between the two. However, she ended up not doing so, claiming that….
"I never did because I don't know how to," – Joanna Yu, as quoted by The Star
She would never get the chance to learn how to delete it either, as just a few months after that message from Jho Low, her phone would be taken away by the authorities when the AmBank branch she worked at was raided by Bank Negara Malaysia. This ended up becoming a crucial piece of evidence in Najib's ongoing SRC International, revealing several interesting nuggets of information from the texts alone such as…
1. Jho Low texted Joanna for help when Najib's credit card didn't go thru.
While Joanna was in court, a member of the prosecuting team read out part of her BBM messages with Jho Low. It revealed that Jho Low forwarded to her a message from Najib regarding his credit card not going thru while shopping at a Chanel store in Hawaii.
"Jho said it was urgent, and he (Najib) is in Hawaii and wants to charge US$100,000," – Joanna Yu, as quoted by Malaysiakini
Further messages reveal that Joanna got in touch with the credit card dept to double check, before replying Jho Low that it's all good on their side and that he can try again. The transaction was then cleared.
This would end up forming part of the backbone in the prosecution's case against Najib. While the conversation between Joanna and Jho Low happened on Dec 23, 2014, due to time difference it was Dec 22 in Hawaii, and it just so happened that around the same time, a USD130,625 transaction from Hawaii's Chanel store went thru. Joanna would later confirm that the credit card swiped was indeed Najib's Visa platinum card. (If you wanna buy number the card ends with 5496.)
It would also later be revealed that whenever the account's mandate holder – Nik Faisal, the then-CEO of SRC International – couldn't be reached to help approve some of Najib's account transactions, Joanna would reach out to Jho Low straight instead of waiting on Nik Faisal.
2.  Jho Low offered Joanna a job at SRC International for RM60,000 a month
In what could perhaps be viewed as a sign of how good she is at her job, Jho Low was apparently interested in hiring her as part of the staff in SRC International, with an offer of RM60,000 a month tabled. She was even offered not one, but TWO new iPhones as gifts from Jho Low.
In fact, she wasn't the only one from that AmBank branch offered a post in SRC International – Jho Low apparently wanted to hire a couple of her colleagues too. But unfortunately for him, no one from AmBank wanted to work for him. She even turned down those iPhones he got her *oof*.
"Actually Jho Low wanted to hire all of us but we did not want (to work with him)," – Joanna Yu, as quoted by Bernama
3. Her BBM messages hinted that AmBank's managing director "missed" Jho Low
Earlier in the article, we mentioned the former AmBank managing director Cheah Tek Kuang and how he personally met with Najib to settle his new bank account. As it turns out, Jho Low was there too.
"Once I arrived at Najib's residence, I met with Jho Low…. I was then taken into the residence by Jho Low, who then introduced me to Najib, and informed him that I was from AmBank. Najib and I proceeded to the guest room while I saw Jho Low waiting at a different part of the residence," – Cheah Tek Kuang, as quoted by The Edge Markets
In court, further messages between Joanna and Jho Low were picked up by the lawyers, with Najib's defence team highlighting a message she sent to him that suggested that the then-AmBank MD Cheah 'misses' him. It was also alleged that Cheah kept asking about Jho Low. This lead to the Najib's lawyers questioning just how close of a relationship did the two have.
However, this was seemingly dismissed by Joanna, who replied that as Cheah was the managing director at the time, we was bound to have good relationships with many of their clients. She also added that Cheah could've been looking for Jho Low over work-related stuff such as payments or documents, and not necessarily because they were close pals.
In fact, when Cheah himself was called to the stand, he told the court that he never trusted Jho Low. He also claimed that he doesn't speak to Jho Low and had no idea what Joanna meant in her BBM texts to him.
"I can tell you what kind of a person he is, (he is a) person who was never punctual. If an appointment was at 1pm, he would come at 1.30pm… I don't like him. I detest him. Cannot get close to that kind of person," – Cheah Tek Kuang, as quoted by Free Malaysia Today
The trial is expected to reach its end soon enough
So here's the thing: this SRC International court case that's seemingly been going on for like forever? It was supposed to be concluded by this Friday (Aug 16), according to the Attorney-General Tommy Thomas. The courts was then supposed to begin a new Najib trial – the long postponed 1MDB trial.
Buuuut, literally just as we were done with this article, news broke that this week's SRC trial hearings have been postponed to next week. The cause? According to his lawyers, Najib kena eye infection, and is out with an MC til Monday.
"The infection must have started last night. An eye specialist in MidValley gave him a medical certificate for three days. I will undertake to provide a copy to the court," he said, in applying for the trial to be postponed," – Muhammad Shafee Abdullah, Najib's lawyer, as quoted by Free Malaysia Today
Now we know, this may sound like a worn out excuse, but apparently it's legit. Even V. Sithambaram of the prosecuting team said that the infection was quite bad, and had no problem with the postponement despite him normally not seeing eye-to-eye with the defense.
Nevertheless, Tommy Thomas did mention earlier in the week that if they can't settle the SRC International case by this week, he expects this trial to be done and dusted in the next couple of days, so keep your eyes peeled on updates regarding that. Hopefully by then at least one part of this long running real life Suits drama can – just like Najib's infected eye – come to some form of a close.