*Artikel ni ada dalam Bahasa Melayu, tekan untuk baca!
Malaysia's weather is mad la. Just 2 weeks ago some of us were sweating through our eyelids. But a few days back? Well, many of you would have heard of the crazy flash flood that happened in KL.
It was reported that last Thursday evening, rain started to pour so heavily that several roads like Jalan Duta and Jalan Semantan were so heavily flooded that about 100 cars were left stranded because of it.
When we heard of this, the first thing that actually came to mind was to find out what to do if you're caught in flash flood. But NST beat us to it hahaha.
So the next big question on our minds was why is KL prone to this destructive mud-bath every now and then?
Well….
KL gets hit by flash floods because it's a developing city
There are many possible reasons why a flash flood can happen. From poor drainage systems, to deforestation, to construction debris clogging up drains, to unprecedented bouts of anger from the rain gods themselves. For Malaysia, The Star reports it to be a combination of "localised heavy rains, and inadequate drainage and water storage systems to cater for rapid urbanisation."
"The occurrence of floods is increasing due to land use changes and progress. Whatever we do on land will affect the hydrology of an area. The transformation from previous surfaces to artificial non-pervious surfaces will increase the runoff rates and volume." – Abu Mutalib Mat Hassan, flood management division deputy director at the Department of Irrigation and Drainage (DID), as quoted by The Star
In other words, we've developed our roads and buildings without considering whether our drains can handle it or not, because roads can't absorb water as quickly as soil can and urban development constricts rivers.
So the correct reason may not be because KL is a developed city, but a not-so-well-developed city. But now that we've determined the problem, we can begin to fix it right?
Actually we've been trying to solve the KL flood problem for decades
While flash flooding in KL doesn't happen all the time, we've found at least one report of flash floods a year for the past 5 years (2015, 2014, 2013, 2012, 2011), with some of them looking just as bad as the one we saw on a few days back. But flash floods in KL are definitely not new. One of biggest reports we could find was the 1971 flash flood which killed 32 people and affected another 180 thousand! This blog even has some pictures of the floods in the years after that.
But it was also reported that it was this flood that moved our then-PM, Tun Abdul Razak, to set up the Kuala Lumpur Flood Mitigation Programme.
Ever since then, the government has been constantly implementing new measures to counteract the flash floods. One of the biggest, if not the biggest of these measures was actually the building of the SMART tunnel in 2007, where SMART actually stands for Stormwater Management and Road Tunnel, where it's main purpose is to actually divert large volumes of flood water but doubles as a roadway.
But why are flash floods still out-SMARTing us after all these measures?
If some of us are already itching to ask why hasn't our SMART solved our flash flood problems, here's a possible reason why. Back in 2014 DID director-general Datuk Ahmad Husaini Sulaiman, said to not blame every flash flood on SMART not working because there are 2 types of floods in KL – river flooding and flash floods. SMART was designed to deal with river flooding from the Klang River.
On the other hand, flash floods can be localised and caused by an area's drainage. And it's interesting to note that one of the areas hit recently hasn't had a flood in the last 5 years.
"It was a surprise, there were no signs like dirty water or minor flooding, suddenly we had a flash flood." – Old Klang Road Market Traders Association chairman Koh Yoke Kook, as quoted by The Star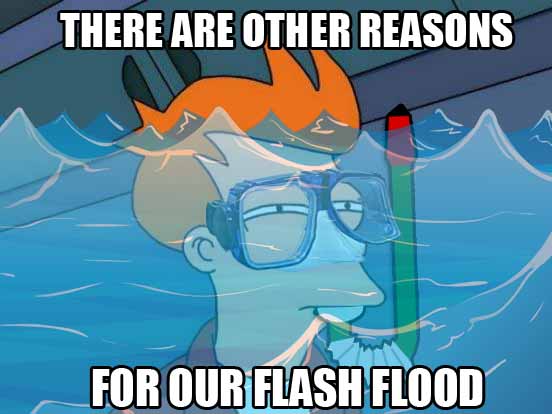 Many of the articles we read actually mention that it's not that we don't have measures to combat flash floods, but rather other issues like not just poor planning BUT maintenance as well.
"When a flash flood hits Kuala Lumpur and submerges parked cars, some people blame climate change. I think we should ask about the state of the city's drainage, its maintenance and whether it was originally designed to handle the volume of development that exists today." – Centre for Environment, Technology and Development Malaysia (Cetdem) executive director Anthony Tan, as quoted by The Star
But it may not be purely the fault of our gomen but the people as well, because our drainage system could also be clogged with rubbish or construction debris. As this letter elaborates…
"The public must be informed that the water drainage system is not a rubbish disposal system.

Ongoing construction works had been the culprit in causing many flash floods. Contractors often wrongly take shortcuts in temporary diversion works, thereby taking risks and reducing costs." – Ir Prof Dr Jeffrey Chiang Choong Luin, honorary secretary of the Institution of Engineers Malaysia, in a letter on MalaysiaKini
So the blame actually cannot be placed on just any one party.
But what can an average Malaysian do to improve the situation?
There are many suggestions online as to how the gomen can improve the way it's currently handling flash floods (really technical articles here and here).
But at the very least, we as people can start by not littering, and disposing of our rubbish correctly.
"There are other facilities for proper rubbish disposal, which should be provided for and used, whilst enforcement against indiscriminate dumping of rubbish must be carried out. It is time everyone understands that rubbish and other wastes can contribute to floods as well as other negative environmental effects." – Ir Prof Dr Jeffrey Chiang, honorary secretary of the Institution of Engineers Malaysia, in a letter on MalaysiaKini