Culture
Lifestyle
Know a Malaysian single mom who needs help? Here's where she can go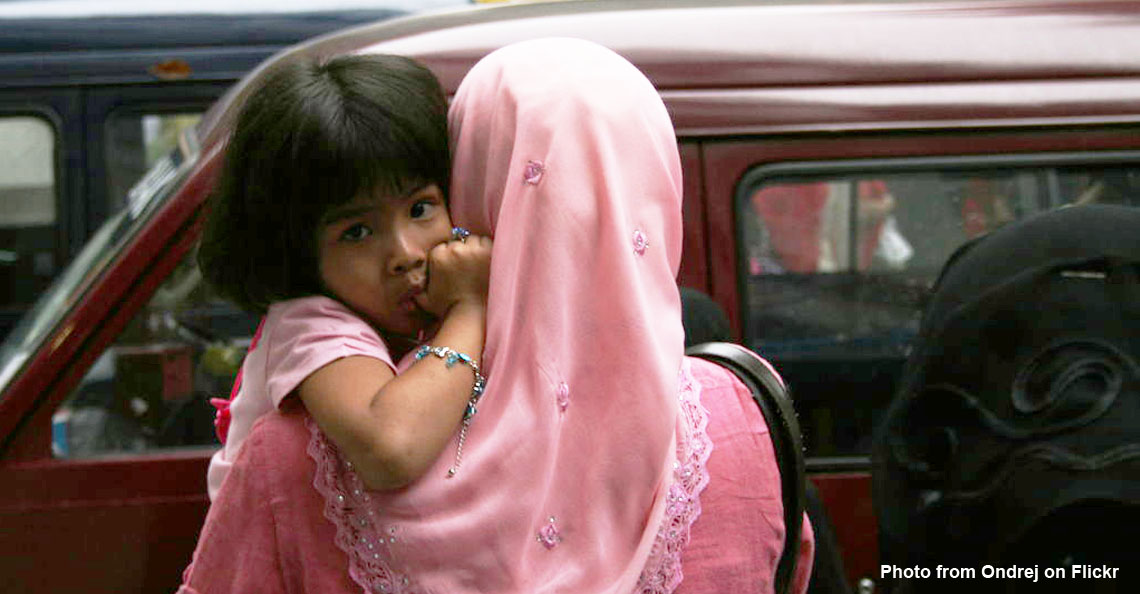 Mother's Day is this 8th May. Bought your gifts yet? Good, good, anak mithali. *pats head* While we spoil our mothers with spa vouchers and 'I Love Mom' mugs, let's remember the single mothers out there who have it so much harder raising children all by themselves.
But they don't have to struggle alone. If you know a single mom or dad who needs help, there are organisations in Malaysia who give aid, like the Jabatan Kebajikan, or even groups on Facebook here and here, and then there are NGOs like this one called Jumble Station (JS).
Jumble Station helps single parents pay for their children's education
In fact, they even help certain families pay rental, electric bills, groceries, and give them allowance!
We spoke to Adrian Ong, General Manager of Jumble Station (JS) and he has a super interesting story to tell. Ok first off, he is a 'single dad' himself to three fostered kids, Farah Nisha, Natasha and Diyana. But that's another story la…
Anyway, back to JS, it's a community program by Parents Without Partners (an NGO), founded by Sanice Yap, Mary Anne Tan and Lim Lian See. JS collects old junk and sells them to raise funds for the education of single parents' children. (Only in certain cases they take care of the immediate needs of families…)
"Some of them have overdue rentals, bas sekolah fees, school fees, etc. So they will refer to us. Or they have outstanding water bills, but we will ask to see the bill." – Adrian
Their coordinator Jayapratha goes from house to house to interview them. For example, if someone's husband passed away, they will check the death certificate, or the divorce cert, the electric and water bills, etc. to verify their needs. If they can, JS will try to see to their immediate physical needs, though Adrian stressed that they mainly aim to raise funds for the kids' education.
Speaking of education, JS has its own Reading Station at USJ1, Subang Jaya, where they give free tuition to poor children and children of single parents. Currently they need volunteers 😀 Know anyone who can teach English? Contact Jaya at 019-233 1730 (9am – 5pm) or email [email protected]. They also have non-conventional education, like teaching kids how to make robots and single mothers how to sew…
JS also thinks long-term…by teaching single parents to stand on their own feet
Single mother Rusnani is one of their success cases. Nani, who has six kids, had a spouse who was a drug addict that abandoned her while she was expecting their last child. However, she got skill – cooking yummy ayam berempah and nasi kukus! JS helped her raise RM3,000 to buy a van so that she could start a food business and some of you might know the stall as Farni's. Here's a food review written by Rebecca Saw with all the delish details.
As for those who don't have a skill like Nani, don't worry, can learn wan. JS conducts sewing classes for single parents. If you know any single parent interested in picking up this new skill, contact Adrian at 016-220 2958. As we got deeper into the conversation, he told us about his heartbreaking past… he was cheated by his partner and lost his money.
"Mary-Anne (one of JS's co-founders) mentored me until I was back on my feet. There are a lot of people who need help. At the end of the day, I'm very happy to have people in my life." – Adrian
When it comes to charity, it's so important to have people who love, care and understand. Because he went through a harsh phase in life, he was able to put himself in the shoes of those who are downtrodden.
Single parents suffer depression, but they are LEAST helped group in Malaysia
Here are a couple of points that might make you rethink the single parent situation in this country. First of all, the latest census shows there are 831,860 women who are single moms. That's A LOT of women raising kids all on their own! Of this number, fewer than 60,000 (or 8%) received aid. 🙁
"This is primarily because single mums do not live in a special home or a designated location, they live on their own and do their best to bring up their children in whatever way they can." – JS wrote in a blog post
Secondly, if you think single moms have it bad, single DADS seemingly have it worse! JS finds that society usually expects single dads to be strong and deal with it…but what happens if the dad is illiterate and lacks skills? This was the harsh reality that hit Sandra Babu (pronounced Chandra), ever since his wife who suffered from asthma, died in her sleep in 2007. He became a single dad to his nine kids overnight.
Finding a job was mission impossible – up to one point he even contemplated suicide. It was the thought of his kids that stopped him. But today, Sandra works as a lorry driver using JS's lorry. (If you ever need a lorry, can call Adrian at 016-220 2958.)
Thirdly, (like Sandra) most single parents in Malaysia are single because their spouse passed away, abandoned them, or they are divorced, reports the United Nations Development Programme (UNDP).
Have the heart to help single parents? Here's what you can do…
To reiterate what Adrian told us, it's important to have people who have a heart that cares and understands. If you feel you have the heart for single parents, Jumble Station could always use the extra hands in these few areas 🙂 :
Teaching English tuition – Contact Jaya at 

019-233 1730

(9am-5pm) / [email protected]
Donate items (ie. electronics, furniture, kitchenware, clothes, books, etc.) – For DROP-OFFS go to Recycle Centre, Level P1, Jaya One, Petaling Jaya. For PICK-UPS (big items) call Adrian at 016-220 2958
For other things, you can also contact Sanice Yap at 016-273 2000. Ok we'll stop with the phone numbers now before erbodeh pening.  😛
So how many hands do you think it takes to raise children now? If you used to think a minimum of four hands, talk to these single parents, they will show you it's possible with two.