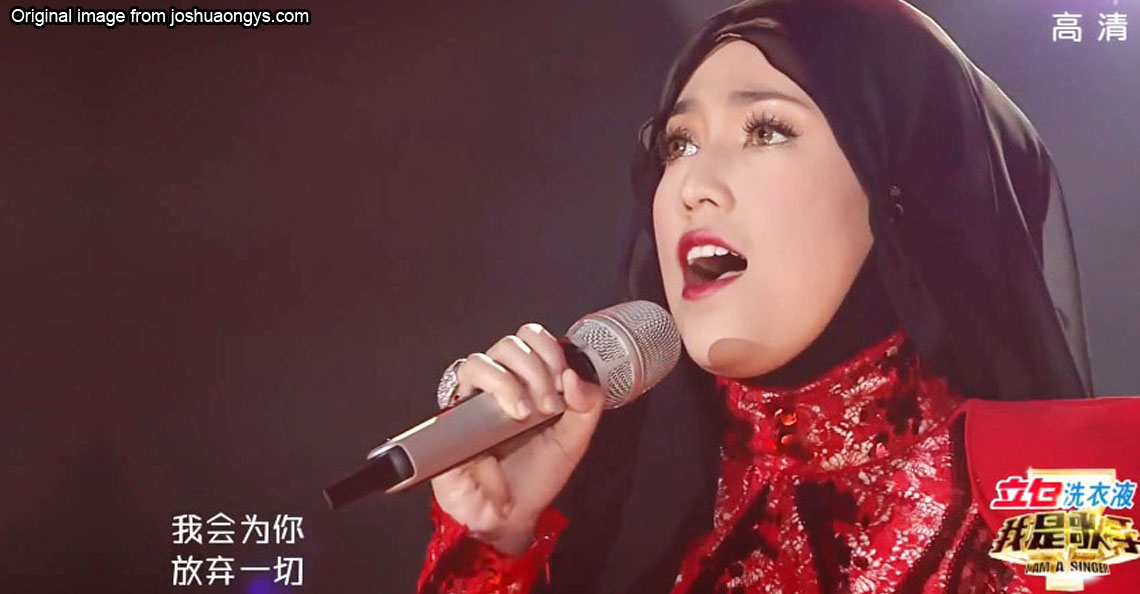 OMG y'all…did you hear that a Malaysian artist will be singing for the Rio Olympics in August??! Yeap, Yunalis Zarai, or better known as Yuna, will be one of 5 singers in the promo song for the upcoming games alongside other flers like Corrine Bailey Rae and Cinna from The Hunger Games Lenny Kravitz. The music video isn't out yet but the promo to the promo song is up on YouTube.
But while Yuna has achieved amazing things on the western side of the world (dueting with Usher is definitely something), another Malaysian has seen her popularity boom on the other side of the world – mainly China.
Shila Amzah is a huge superstar in China. After finishing 3rd in the China-based reality singing competition 'I Am a Singer' she ended up soaring in popularity. She currently has 2.5 million followers on microblogging site Weibo (a China hybrid of Twitter and Facebook), and 1.5 million followers on Instagram! finished
But why da heck is a Malaysian joining a singing competition all the way in China???
Well….
She actually started out in the Malaysian music scene first
Shila Amzah (or Xila to her fans in China) isn't some newbie to the music industry. She's actually the daughter of ND Lala, a Malaysian artist from the 1980's, and she actually won many singing competitions as a kid. 
But that's not all. Some of you may remember her as Shila OIAM because back in 2008, she was actually runner-up on the Malaysian reality singing competition, 'One in a Million (OIAM)'!
However, a combination of factors (like her contract, wanting to step out of her father's shadow, and the advice of a music producer) led her to decide that she needed to go somewhere else to further her career.
But why China? Well, with her being keen to expand her international audience, her dad ND Lala, or Amir Amzah Salleh, submitted a video of her to a Shanghai TV station. This led to her getting invited to another reality singing competition, Asian Wave, which she won! It was at this point that she started to focus on her career in China.
After all this only she joined 'I Am a Singer' which shot her to super-stardom in China. Check out one of her powerful performances below.
Hold on, did we forget to mention that she sang in Chinese? In fact, when she first started out, she actually didn't know Mandarin very well!!
"After I sang my song and went into the room full of performers, I had no idea what they were talking about … I nodded when they called my name. When people laughed, I laughed too." – Shila Amzah talking about her experience on 'I Am a Singer', as quoted by South China Morning Post
During the competition, she even had to memorise the words to the songs because she didn't know the language! And honestly because we CILISOS flers (almost) all banana, we just wanna ask y'all…
[Update: A CILISOS reader brought up that Shila actually had a good command of Mandarin before going to China. We cannot say for sure how good exactly was her Mandarin before going there, but this article (it's in Chinese though) mentions that she took Mandarin classes until standard 2, and started brushing up on it again when she entered 'I Am a Singer'. But from the looks of it, it wasn't top notch la. Still pretty amazing for her to be able to do what she did though.]
But with all this success in China, is there a chance that she would become a household name here too? Mebe not so soon la, because of something that happened in 2014.
She did come back to Malaysia, but the media tak layan her
In 2014, Shila Amzah announced that she would be having 2 concerts that year. First in China, then after that in Malaysia. While her concert in China went about without much issues (aside from some fella criticising it), it was the aftermath of her Malaysian concert in September that made news.
As the story goes, while her concert (which was her first solo concert in Malaysia) received a lot of attention from the Chinese media, not one Malay language media covered it.
This triggered a lot of questions from her fans and some subtly sarcastic comments by Shila, especially when most Malay newspapers responded by saying they were not aware of the concert. So big was this issue that even Datuk Siti Nurhaliza weighed in on the situation.
Long story short, the Malay newspaper Kosmo! said that the reason many Malay newspapers were not invited was because they claimed one of the sponsors of the concert was the biggest syarikat judi in Malaysia. And well, gambling is haram, so it made sense not to invite the Malay media.
That wasn't the end because not long after that, Shila and her dad organised a press conference to dispel the rumours that one of their sponsors was a syarikat judi. Sadly, it seems that it didn't go so well la, the relationship between Shila and the Malay media didn't recover. It seems pretty clear that the Malay media has boycotted her, and she even pulled out of contesting in the Anugerah Bintang Popular, an annual awards show, because of it.
And as long as things remain as they are (as far as we know there's currently even a defamation case going on between her and Kosmo!), it's hard to imagine her furthering her career in Malaysia anytime soon.
Maybe things just weren't meant to work out for Shila in Malaysia… at least for now
Back in 2012 after she had won 'Asian Wave', Shila actually said this in an interview.
"Actually, if one were to say that Malaysian artists are untalented, they must have not been doing their homework. We have a lot of talented artists, they just don't get the right opportunities. That's all." – Shila Amzah, as quoted by Sinar Harian, translated by SOSCILI.my!
And coming from someone who has been exposed to the music industry since the age of around 9-10 ish, that's really saying something.
And as she continues to reach new milestones in her career (like performing in Perth, Australia, and being picked by Cartoon Network to sing the BM and Mandarin versions of the theme song for the new Powerpuff Girls cartoon!) the more it seemed like another case of a talented Malaysian not allowing circumstances to get the better of them and persevere towards their dream. Even if that meant looking for better opportunities abroad.
But that doesn't mean she doesn't want to come back and be successful here though. This is something she said last year.
"If someone becomes famous abroad, they will also become popular back in their own country … Don't people think that way?" – Shila Amzah, as quoted by South China Morning Post
And if she can say that with tons of fans already screaming her name in China, we don't see why she can't win the hearts of Malaysians one day too. Just keep up what you've been doing, gurrrlll.
Update: A reader told us that she very announced her latest album! In what is her debut Chinese studio album, she sings in Chinese, Malay, AND English! It's not out in stores yet, but she said it will be in the next week (2 weeks when she first wrote the post).