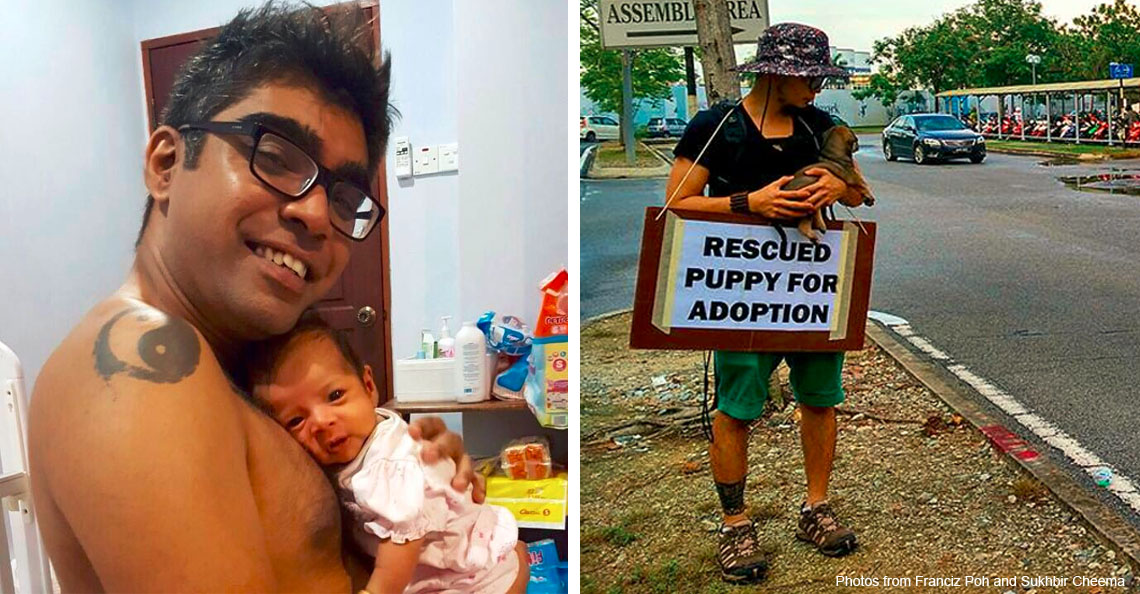 So ugaiz watched Captain America: Civil War yet? Terrer right? Erbodeh loves a good superhero movie. They always inspire us – BUUUT wait, what about ordinary Malaysians who do extraordinary things, and the funny thing is, they do this every day without expecting any reward.
If we really look around, there are so many under-appreciated people right under our noses. Like the IT support dude, our parents, the sampah collector, nasi lemak seller, or the tea lady (how to function in the morning without her carefully prepared cup of kopi?). Just because these ordinary people don't wear a tight suit and cape doesn't mean they shouldn't get a bonus too.
Luckily there's a way you can reward under-appreciated people, easily
Our awesome sponsor Domino's wants YOU to show some lovin' and appreciatin' to all the people who are truly deservin'. Rather than just a pat on the back, you can give them delicious, round bonuses – by that we mean pizza. DOhh!
All you gotta do is go to their Facebook Bagi Bonus Lah app and nominate THREE people whom you think really deserve bonuses by clicking on the 'Send the bonus letters now' button. Itu saja.
On top of that, you'll get moarrr bonuses in the form of RM3, RM8 and RM15 vouchers. (Click here for that one.) So literally EVERYONE gets a bonus!!
This could be the perfect gift to show your staff that you appreciate them. Now, how much is your staff gonna love you for that huh? The tea lady might just make your coffee extra sweet, you might have to get a diabetes check. 😛 Meantime, here are 5 stories of inspiring people who totally deserve bonuses. Don't cry ah. (Ok la maybe cry a little…)
1. Malaysian Steve Irwin who goes on animal rescue missions
Francis Poh is the puppy rescuer you might recall reading about on social media. He was the guy standing in front of AEON Bukit Tinggi mall in Klang asking if anyone wants to adopt puppies. BUUUT you probably did not know this about him:
"I am mainly into helping reptiles, like snakes, monitor lizards, those trapped in people's houses. I've also helped pangolins, burung hantu, almost any animal. I've been doing this for the past 3-4 years." – Francis
GULP! Stray dogs and cats we can understand la, but snakes and monitor lizards?!? Sounds like he's doing the Veterinary Department or DBKL a favour! Rather than calling these guys and leaving it to them, Francis would actually go all the way to make sure strays get good homes and reptiles get released into the wild.
He's also gotten calls from as far as Kajang for a reptile rescue! All these rescue missions are done at his personal cost and time. Many people don't realise that he pays for food and vaccination BEFORE puppies get adopted.
"If you were to ask me how I got involved in animal rescue, I've loved animals since I was young. I personally have pet snakes, dogs, lizards, frogs, and all sorts of animals at home, so why not I use my knowledge and experience to help animals." – Francis
2. Honest taxi driver uncle who returned somebody's iPod
This happened to our Editor-in-Chief Chak waaay back in 2010 when an iPod was considered, erm, valuable la. He paid RM999 for it.
He didn't take the taxi's deets down, so thinking that was the last he'd seen of his iPod, he was about to buy a new one. Two weeks later he got a note that it was with his neighbour!
Dear Lau Chak Onn, I found your iPod in my back seat. Call me at 012 xxx xxxx. – Uncle Keong
So the uncle actually drove all the way from wherever he was and dropped it off without expecting a reward. Summore when Chak called him that night, the uncle was like: "I can't hear you. I'm drinking, call me tomorrow." 😆  Next day, the uncle (prolly sober already) told Chak that his daughter just pressed some buttons and found his address.
"After I hung up, I immediately went to my iPod to see what button he pressed. It wasn't in the About section, it was in the Photo section cos iTunes automatically syncs with My Pictures, and I had a very old scan of my IC there!"
So, Chak and his family and friends used Uncle Keong's service until he retired about three years later.
Honesty is not dead, ugaiz, and this taxi driver is one of the many examples out there in Malaysia. He's a terrific representative of some of the hardworking taxi drivers in Malaysia, who deserve a break in these times where taxi drivers are struggling harder and harder to make an honest living.
3. Insurance agent who works #3kerja to put his kids through college
Here's one guy who took #2kerja to the next level by taking on #3kerja. He is a dad of two college-going kids – a son, who is 21 and a daughter, who is 19. Since he prefers to be anonymous, we'll call him Marlin (after a really amazing clownfish dad in Finding Nemo).  😉
Marlin actually works as a full-time insurance agent and has been selling insurance for about three plus years now, after he and his wife sold off their furnishing business of 12 years. Business was ok, but it was very labour intensive, at the same time, they had a foreign worker quota which made it difficult for them to sustain.
Then the time came for his kids to go to college and we all know how mahal education is. In fact, Malaysia is the fifth most expensive country in the world to get tertiary education. His son's Diploma is RM40,000 and his daughter's Foundation course is RM30,000. Not even Degree yet wor. On top of that, he has to settle house mortgage and bank loans.
So Marlin decided to take on two more jobs:
"I teach English tuition to three kids and three adults on weekdays and weekends. I also drive with GrabCar. Previously, I used to drive with Uber." – Marlin
From his tuition job, he earns RM1,500 per month, whereas for GrabCar, it depends a lot on his schedule, so he makes around RM200-400 a week. Meanwhile, his wife is a paid staff in Church and earns RM1,800 a month.
It's must be tiring working two jobs, so imagine doing three! But expenses can't wait, as Marlin said. Thankfully with the income combined, the family is making ends meet. This dad totally puts superheroes to shame, man. It goes to show, a dad is someone you can look up to, no matter how tall you grow.
4. Ex-TMI reporter and freelance political cartoonist who need to raise a baby
This is a brilliant cartoonist we personally know, who drew our Lu Ni Toon series. His name is Sukhbir Cheema and he used to be a journalist and cartoonist with The Rakyat Post. Before that, he worked at The New Straits Times. As a guy who is passionate about telling a story through cartoons, his creativity was unfortunately stifled in the media. They told him his cartoons were "controversial, idealistic and seditious". So he quit! But the timing seemed wrong…
"Coincidentally, the same month I quit was also when Ista (my wife) and I discovered we were gonna be parents! So I was excited and extremely nervous at the same time. I mostly was worried how I was gonna make it happen, especially when I just jumped into the freelancing world." – Sukhbir
Sukhbir's wife Ista Kyra Sharmugam who was a journalist with The Malaysian Insider, became the sole breadwinner. Ista was super glad she had a job…that is until the TMI itself got shut down and they all lost their jobs! Even worse, this was about ONE MONTH before delivering her baby. 
"When TMI shut down, she was sad, dejected and angry and felt it was terrible for losing her job just for doing her job." – Sukhbir
Since they had to prepare for the baby's arrival, they had to come up with a plan. When the going gets tough, the tough sell e-comics! So Sukhbir started selling his e-comic on press freedom titled 'A Malaysian Solution' for RM10. Click here to buy the comic.
Then came the big day… Sukhbir's daughter was born on 2nd April in Ipoh, a lil 2.6kg girl whom they named Sitarey Kygon Cheema. Sitarey means stars in Hindi, and Kygon is a wordplay between dragon and Ista's initials.
Sukhbir and Ista are two of the people who play an important role as the Fourth Estate in Malaysia – the ones that ensure that regular rakyat aren't like kataks di bawah tempurungs.
5. 74-year-old fast food restaurant worker who calmed a student kancheong about his exam
You may or not have read about this 74-year-old aunty Cynthia Sebastian who works in a fast food restaurant because she doesn't wanna retire. Cynthia has become a favourite with customers coz she's so friendly and will talk to customers – not just random chit-chat, but serious stuff like counseling them and even giving advice on marriage. People actually go find her in the restaurant to talk, true story!
For the past 32 years working as a waitress, Cynthia has done seven-hour shifts and six-day weeks. She's the longest-serving employee in the fast food chain! But here's a personal story that happened to a guy who suffers from severe anxiety attacks. It was the morning of one of his exams during Foundation (in 2010) when he went to the restaurant. And who should be working there that morning, but Cynthia…
"I was freaking stressed, I had eyebags and my hair was unkempt. When Cynthia saw me like that, she sat down and asked if I was ok." – Peter Nunis, 24, Social media executive
Cynthia didn't only scratch the surface of that conversation, but they talked for quite a long time. She encouraged Peter, saying just go ahead and finish the exam since he's studied for it, then go home and rest.
"Not many people get how important someone like that can be to someone with anxiety." – Peter
Last we heard, Cynthia is currently working in the fast food branch in Mutiara Damansara.
Inspiring Malaysians really do walk among us 😀
Better than fictional characters right these guys? Hopefully we will appreciate the people around us more after this. We know Domino's will. 😉 P/S: They recently brought some pizzas over to people who worked while we slept away during Labour Day.
Anyway, we hope these stories injected some positive vibes into your lives. Just remember – these are only six of the many hundreds and thousands of hope-restoring stories. The person who sits next to you on the LRT, or your favourite store cashier herself because extraordinary Malaysians are all around us. 🙂