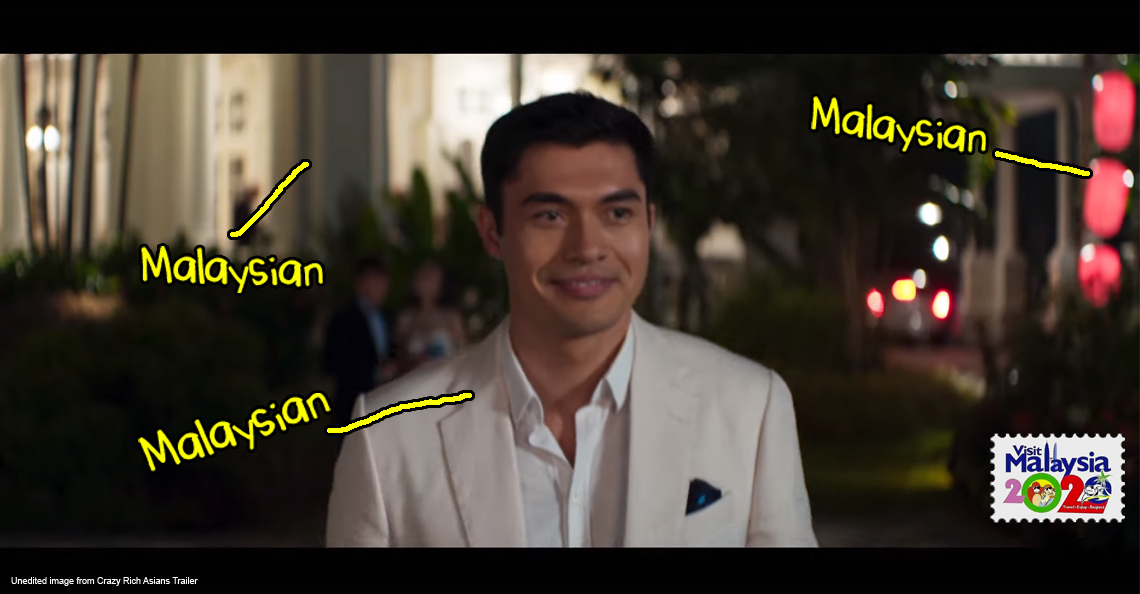 So the latest big hit in the cinemas is currently Crazy Rich Asians. The two hour Singapore tourism ad (-_-) came out recently and boy oh boy has it made some headlines. From it's ridiculously successful and profitable box office earnings to criticisms over its lack of diversity, it seems as tho no one – including Cilisos cos we need the views #ihatecilisos – can stay away from Crazy Rich Asians.
If you've watched the movie (super mild spoilers ahead) you would know that Henry Golding dies the film portrays quite a lot of Singapore with some tidbits of Indonesia here and there too. But a lot of it is actually *drumroll* MALAYSIA! In fact, when the movie ends, if you stayed to see the credits roll you would've noticed this:
Yep, that's the logo for the National Film Development Corporation Malaysia (Finas). Some of you more eagle-eyed readers would notice something else tho just above the logo… did Crazy Rich Asians get a 30% cash rebate to film the movie in Malaysia? But like, Malaysia wasn't even technically in the movie? So did we just give the filmmakers a 30% discount to depict Malaysia as *gasps* Singapore?!
Many films, local and foreign, can get 30% off for making movies here
So as it turns out, this 30% discount to make movies in Malaysia has been around for quite some time now. It has its origins in the launch of the Dasar Industri Kreatif Negara (National Creative Industry Policy) back in 2009. The main goal of this policy was to 'empower the creative industries' and to contribute to a high income economy while upholding Malaysia's cultural heritage. Part of this policy included giving out a 30% tax or cash rebate for film makers to produce feature films here.
Local filmmakers can apply for 30% tax rebate called the Entertainment Tax Rebate. Fun fact, until 2010, many Malaysian Chinese filmmakers couldn't get this 30% tax rebate as local movies needed at least 60% of its dialogue to be in BM to qualify. That all changed when the fire nation attacked the Mandarin movie Ice Kacang Puppy Love hit cinemas.
Its filmmakers challenged FINAS, claiming that as the movie was made by Malaysians it should qualify for the 30% rebate. Ice Kacang Puppy Love did in the end qualify for the Entertainment Tax Rebate, as the then govt allowed non-BM films as long as it had BM subtitles, was made mostly in Malaysia and was majority-owned by Malaysians.
For foreign films tho (including Crazy Rich Asians), the 30% discount works slightly differently. In 2013, FINAS decided to offer a 30% cash rebate to foreign filmmakers who made movies in Malaysia. Creatively called the Film In Malaysia Incentive (FIMI), instead of a tax rebate, FIMI offers mat sallehs a 30% cash rebate on their production costs when they film here. Of course, if you come here for one scene and spend only RM1000 for it, don't expect to claim back RM300 from FINAS laa.
In fact, the FIMI for foreign films has quite a bit of requirements before qualifying for the 30% cash rebate. You're going to have to spend at least RM5 million here for film productions, with another RM1.5 million if you do post-production here before qualifying for the FIMI cash rebate. There's even cash rebates for television productions, with the minimum spend for TV shows having to be at least RM385,000 per hour of TV to qualify for FIMI. But if the movie costs RM42 billion don't expect FINAS to cover 30% of that laa as there's a maximum compensation of RM7.5 million.
We're not the only country that offers incentives to filmmakers to film on our land tho. Singapore themselves have topped our incentives, offering filmmakers a 50% subsidy to film in Singapore (typical kiasu pfft). Funnily enough, their main requirement for foreigners to qualify for that 50% subsidy is, er, to make sure they portray Singapore in "a good way". It's kinda understandable laa, like, Singapore has been trying drive their tourism industry thru film for a while now.
But what about Malaysia? With Malaysia being depicted as *gasps* Singapore and *doublegasps* Indonesia in Crazy Rich Asians, what's the point of giving filmmakers a 30% cash rebate just for people to think it's our neighbours that look so good?
Well, as it turns out, FINAS probably didn't mind that happening as….
The main purpose of the 30% rebate Film in Malaysia Incentive isn't to drive tourism
Yep, so while some countries such as Singapore and New Zealand offer incentives for filmmakers as a way to boost tourism into their country, the Film in Malaysia Incentive isn't looking to do the same. Instead, it hopes to bring in more foreign filmmakers so that they can help improve the local movie making industry too. In fact, if you take a look at the Film in Malaysia Incentive website, you'd see that tourism isn't one of their goals:
So in a nutshell, they want FIMI to encourage locals to make better movies, get Malaysia as a known destination for filmmakers to make movies in, increase job opportunities for aspiring local filmmakers and companies, increase the arts' share in our economy and improve Malaysia's reputation as the best place for creating content. They even have a trailer (pun intended) for the incentive program:
Now we know what you're thinking, "but we had P. Ramlee and what not last time, still need angmoh help us meh?!" Well, the current situation for our film industry isn't actually looking that great.
Remember that National Creative Industry Policy we mentioned earlier in the article? It only survived for 5 years, as by 2014, funding for it wasn't even allocated in that year's Budget anymore. Meanwhile, there's been plenty of other initiatives to boost our creative industry over the years too, but they seem to always be a lack of info over who and where the money goes to.
Funding issues aside, it's not like we don't have the equipment to handle producing major feature films. In fact, quite the opposite – while we do have quite a lot of facilities and equipment for film-making, it seems to be quite underused. The opening of the Pinewood Iskandar Studios in Johor in 2013 was supposed to launch Malaysia into the region's next big Hollywood, but has so far struggled to find much work. A study done on Malaysia's creative industry late last year found that since it's opening Pinewood Iskandar has only produced one feature film and a handful of TV shows, and even stated:
"Pinewood Iskandar's stated ambition of "becoming the center for international film production in Asia" has yet to be realised," – Thomas Barker and Lee Yuen Beng, in Making Creative Industries Policy: The Malaysian Case
UPDATE (30/8/2018): So uh, Pinewood Iskandar Studios has actually replied to us, with some comments about the above points. We think it's only fair to hear both sides of the story so here's their reply.
"We take this opportunity in clarifying and updating you on the development at Pinewood Iskandar Malaysia Studios ("the Studios"). The Studios has brought significant economic and socio-economic benefits to the region as it continues to attract local and international film and television productions. The world-class filming facility is at the forefront of pushing the creative industry by being the catalyst to elevate the quality of local productions and transform Malaysia into a destination for filmmakers worldwide.
Since its inception in 2013, the Studios is home to over 680 hours of numerous television programs and feature films. The Studios is currently hosting a number of local and foreign films as well as large franchise television formats utilizing the entire facilities available. With the rising number of productions, the Studios is directly contributing to the development of skilled and professional talents for over 1,000 employed crew members from special effects designers to costumiers, accountants and set construction teams."
Original article continued below.
But as they say, we should always try to look at the silver lining, and in the case of Crazy Rich Asians filming here but depicting it as Singapore….
It's still kind of a win-win laa in the end
So yeah laa, it's not actually that bad laa okay. Sure Singapore may get all the credit on the silver screen, buuuuut, we still are getting some touristy hype. Like, people are already making lists of the Malaysian locations in the film and saving up to visit them.
We also have quite a number of Malaysians in Crazy Rich Asians portrayed as Singaporeans. From Ipoh's own Michelle Yeoh to the half-Iban Henry Golding, people looking these names up are bound to also bump into stuff about our own country. Plus, it gave us this brilliant tweet:
Who said #CrazyRichAsians is not authentic?

We have @henrygolding playing a Singaporean.

Once again, something beautiful, delicious and Malaysian that's marketed as Singaporean.

Henry Golding is basically nasi lemak.

— Dr Jason Leong (@DrJasonLeong) August 24, 2018
In any case, even if Crazy Rich Asians did get that 30% cash rebate from FINAS, if it helps boost and improve our local film industry, then yes, it does indeed check off all the requirements for the Film In Malaysia Incentive. We may now one day be able to watch, er, Gila Kaya Orang Malaysia?