Culture
Health
Weirdness
Malaysia sprayed roads with disinfectant to fight Covid-19, but… will that do anything?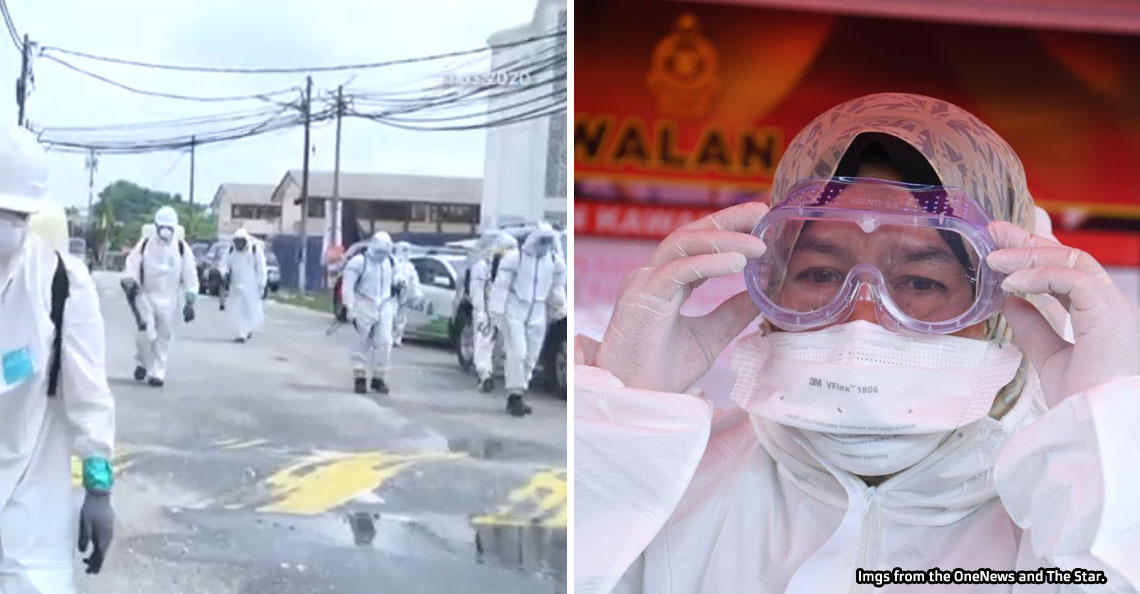 With the coronavirus pandemic progressing in Malaysia, you might have noticed that some areas are now marked as red zones. These are defined as areas that recorded more than 40 cases of Covid-19, and as of April 2nd evening, there are 16 red zones so far. Besides tightening the MCO enforcement in these areas, these zones are also the target for mass disinfecting exercises by the government.
"We want to clean up and disinfect public areas to prevent the spreading of Covid-19 especially in red zone areas… We are going to attack the virus at public facilities like bus stops, alleys, community halls and government buildings, where there is a tendency for many people to congregate," – Datuk Seri Ismail Sabri Yaakob, Senior Minister, as reported by The Star.
Also referred to as major public cleaning or sanitization exercises, it basically involves spraying large amounts of disinfectant to kill Covid-19 virus that may be lingering on various surfaces. The Federal Territories started their exercise on Saturday (28 March), and on Monday (30 March) another six areas identified as red zones (Lembah Pantai, Petaling, Hulu Langat, Seremban, Johor Baru, and Kluang) started theirs.
One would think that there shouldn't be that much drama surrounding something so mundane, yet…
The Housing Minister got criticized for… spraying disinfectant on roads
The sanitizing exercise on Monday kicked off at a mosque in Kajang and a wet market at Petaling Jaya, and it involved some 153 personnel from 10 government agencies, including, among others, the Bomba, police, Health Ministry, and the Ampang Jaya Municipal Council. This effort is presumably led by the Ministry of Housing and Local Government, because in the wet market exercise, its minister Zuraida Kamaruddin reportedly took part.
Zuraida was seen in a video wearing a set of Personal Protection Equipment (PPE) as she carried out the sanitization operation along with her ministry's personnel, but she reportedly got criticized for several things. One was that she performed the sanitization despite being untrained in the procedure. The other one was that a crowd can be seen during the event, made of both personnel and members of the public, which kind of went against social distancing practices.
But perhaps the biggest gripe about the event was how the sanitization exercise was done: chemical-laced water was reportedly sprayed on roads and curbs. We couldn't find the initial video on Facebook, but here's one from TV3 instead. And another one from One News.
The road-spraying perplexed quite a number of people, with some calling it a waste of funds. Datuk Dr Lokman Hakim, former deputy Health director-general, had essentially questioned whether the personnel know what they're doing, saying that the authorities should be disinfecting frequent touch-points like doorknobs, lift buttons and escalator railings instead of the road.
Eminent local virologist, Professor Datuk Lam Sai Kit, had echoed the sentiment, saying that roads are unlikely to be contaminated or be a source of infection.
"(Spraying roads) may even be a waste. Personnel should be trained to disinfect places where (droplets containing the virus) are likely to fall and be the source of infection. Not roads. From the photo (where personnel were spraying roads), it appeared that they are washing the road." – Datuk Lam Sai Kit, as reported by NST.
When asked about the matter, the current Health Ministry director-general Noor Hisham Abdullah had said that there is a possibility that local councils have started the exercise before getting the guidelines. As such, he had said that his ministry will engage with the local councils on the right way to do sanitizing works.
"Perhaps they conducted it earlier before the Health Ministry gave the guidelines. For example, the list of chemicals (to be used) that is approved by the World Health Organisation and also the method to do it. This is an implementation issue. The Health Ministry will act by advising them on the right way to do it," – Noor Hisham Abdullah, to MalaysiaKini.
From the video and the criticism, it would seem that Zuraida's efforts had been misguided… or were they? Well, according to her…
Zuraida was taking a 'better safe than sorry' approach
Most of us probably won't remember the last time we felt like licking the road or rubbing the gravel on to our mucous membranes, so it might seem like sanitizing road surfaces is a waste of money and time for everyone involved. However, following the criticism, Zuraida had defended her decision, saying that since we don't fully know how Covid-19 spreads yet, it's better to spray more places than risk missing some areas where the virus might be hiding.
In an interview, she even compared her supposedly precautionary move with a doctor's actions in handing out medicine.
"We meet the doctor and tell the doctor that we are coughing, got the flu. The doctor would then not just give flu medicines, but headache, body ache and cough medicines too. So this is something where I cannot label the doctor as doing something pointless. I am a professional and I have to take the doctor's advice and what's given," – Zuraida Kamaruddin, as reported by Malay Mail.
As for criticisms about her wasting money, she had clarified that each operation costs less than RM1 million, because 100,000 liters of the disinfectant liquid had been donated to the cause through corporate social responsibility by an unnamed sponsor. She had also not revealed what exactly the disinfectant liquid was, only that it is made locally, that more would be sponsoring the liquid, and that the liquid was approved by Malaysia's Department of Chemistry.
Regardless of the mystery surrounding the donated disinfectant, Zuraida's approach to disinfecting may have been more of a shotgun blast instead of a sniper bullet, and if we look at the public sanitizing practices done in other countries, it wasn't exactly unusual to spray disinfectants at seemingly everything possible. For example, in this image from China, it seems like they're disinfecting the very air above a road:
And in this photo from the Philippines, a worker can be seen spraying an antiseptic solution on to a street.
So what Zuraida did wasn't exactly uncommon, but just because it's widespread, it doesn't mean it's the best thing to do. However…
Will disinfecting our roads help fight the coronavirus?
At worst, it could be a harmful thing to do. Since we do not know what the mystery disinfectant the Housing Ministry had been using, we cannot say for sure what effects it will have. A popular disinfectant being used in other countries is diluted sodium hypochlorite, aka watered down bleach, which can cause iritation. Even if it wasn't bleach, most disinfectants can potentially be toxic in large amounts.
While we have yet to find reports on how these mass disinfecting exercises are affecting people in other countries, in February it was reported that more than 100 wild animals were found dead in a Chinese megacity, due to poisoning from the disinfectant they have been spraying to combat the coronavirus. Mass disinfections may have been an unnecessary risk as well, as some experts don't think that they help fight the coronavirus.
According to Dale Fisher, an infectious disease expert and chairman of the Global Outbreak Alert and Response Network,
"It's a ridiculous image seen in many countries. I don't believe it adds anything to the response and could be toxic on people. The virus does not survive for long in the environment and people do not generally touch the ground." – Dale Fisher, as reported by Reuters.
So why are these governments doing it then? Well, some, like Leong Hoe Nam, Singapore's Mount Elizabeth Hospital's infectious disease expert, said that they are eye-catching and may boost morale. However, he had also said that mass disinfections are probably not that effective as a virus control.
"It would have better effect using a water cannon to disperse people and make them go home," – Leong Hoe Nam, as reported by Reuters.
Okay, so maybe spraying roads with disinfectant isn't the best thing for us to do, but as Dr G Shathiskumar of UKM's Hospital Canselor Tuanku Muhriz had put it, there weren't international guidelines on mass disinfections, and basically no one knows exactly what to do since Covid-19 is a new kind of pandemic. So maybe the approach we should take is try everything that might work until we find ones that do.
"…at the same time, no scientific studies have shown that public sanitations aren't effective. This is because the pandemic is a first in the modern world's history, and with the world facing a huge pandemic, we should take steps with a 'trial and error' quality to stem this pandemic,"- Dr G Shathiskumar, translated from Berita Harian.
So at the end of the day, spraying our roads with disinfectant, if done in moderation, may be just a harmless attempt to do… something in the face of an unknown threat. Provided we're not short of disinfectants, of course.