Culture
Food
Health
Malaysian kids more stunted than those in Palestinian war zones. How did this happen?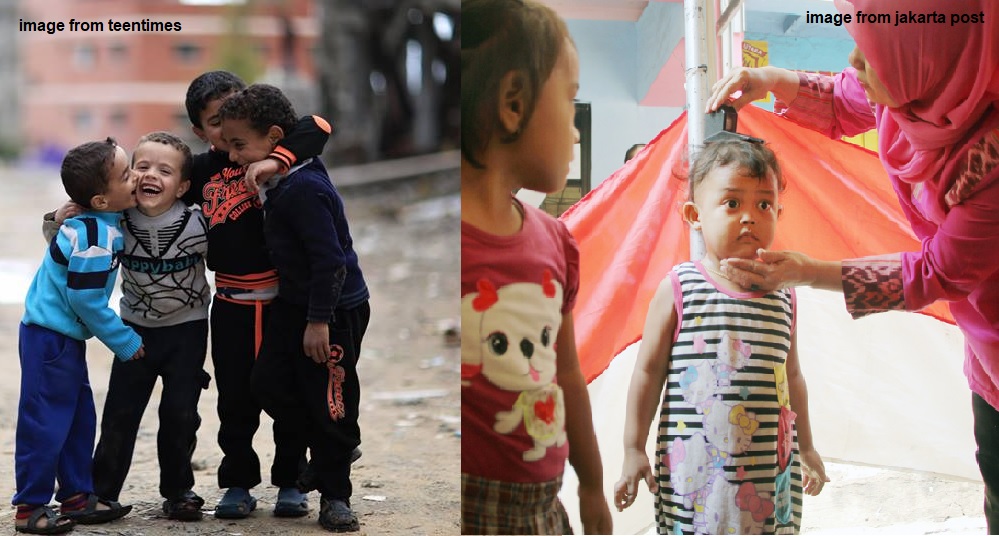 So recently, a study by a researcher named Derek Kok found that 2 out of 10 (or 1 in 5, or 20%, quick mafs) Malaysian children are stunted, which is actually worse than the stunting situation in the conflict-ridden West Bank and Gaza (about 7%). Those results echoed Unicef's (a UN program that aids children and mothers in developing countries) research on that from last year. Despite sounding pretty dry at first glance, stunting is actually a pretty big deal… but why ar?
Well, the World Health Organization (WHO) summarizes stunting as 'the impaired growth and development' in children caused by poor nutrition, repeated infections, and not enough psychosocial stimulation. They categorize a child as stunted if their height for their age is more than two standard deviations below their Child Growth Standards median. In normal person-ese, a stunted child is a lot shorter than other children for their age, due to not eating well, disease, or not playing outside enough.
This condition is irreversible, and it's not just about being short: stunted children may also experience cognitive impairment and difficulties all their lives. And although the data say 1 in 5 of our children are stunted…
Some Malaysian states have a higher stunting rate than… Zimbabwe??
So the 20% rate is the national average, but if you look at it state-wise, some are more stunted than others. Kelantan actually has a 34% stunting rate, which is the same as Zimbabwe, a country with one-ninth our GDP per capita… eight years ago. Today, Zimbabwe's stunting rate had dropped to 26%, which gives us three states with a stunting rate equal to Zimbabwe or higher.
Wah, so how can this be? We know that we be the fattest in Asia, and almost 13% of our children (aged 5-19) are obese, so do these kids have like terrible infections or stay in too much? Well, according to Unicef's report, while there are people who have too much too eat, there are also pockets of poverty in our society, with 1 in 10 of our children eating less than three meals a day.
97% of respondent households told the enumerators that high food prices prevents them from cooking healthy meals for their kids. 1 in 2 respondents did not have enough money to buy food in recent months and 15% experience this frequently.
"'Believe it or not, there's only one kilo of rice left in my house,' said a respondent when interviewed. She is a mother of three boys, unemployed to take care of her 7-year old." – Iwani Khairiah, Unicef enumerator, quoted from the report
If some of us regular folk feel the pinch of pricey food, what more the people in the Bottom 40% (B40) income group. And although money is a big part of it…
… the problem goes even deeper than just income.
Not all of the respondents interviewed are wealthy: 1 in 3 of the households in the study earn less than RM2,000 per month and 7% of households live below the poverty line, which officially is RM1,000. 77% of these households do not even have savings, with all the money they've earned gone towards their children's needs – food and school fees/supplies mostly.
"Some of them express their desire to save money like other people, but if they do, they say, they whole family would starve." – Noor Syafiqah binti Norrashid, Unicef enumerator, quoted from the report
While it would make this article a lot shorter to say "Ah, no money, of course not enough food, hence the stunting,", the more recent study found that stunting isn't an exclusively B40 thing: it happens across income levels, education levels, occupations, ethnicities, and even the urban-rural divide. So what's the root cause? Well, it's hard to tell, as it's a complex mix. Quality of living may play a part, especially with regards to hygiene.
Some of the families that Unicef studied stay in PPR houses (stands for People's Housing Program), where some have issues of sanitation, maintenance and management. While the enumerators found the place to be quite dirty…
"The cleanliness at the PPR area is highly unsatisfactory. It's dirty and smelly. Water pools on the ground level floor and garbage is strewn everywhere. The lifts smell of urine and there's garbage on the stairs. The cleanliness differ by level. Higher levels are cleaner and lower levels are dirtier and smellier." – Zaitun Othman, enumerator, quoted from the report.
…most (70%) perceive their area to be clean, with 20% saying that it's dirty and only 1% saying it's very dirty. Of course, actual hygiene and perception is still only part of the problem…
The causes are many, so the solution will require several angles
Rozanna Rosly, leader of the dietetic services at UM's Specialist Center, said that hygiene in food preparation is also a factor in combating stunting. She said that there's no point in providing nutritional food if the affected people have no clean water or a hygienic way to prepare the food.
"Giving milk powder without providing access to clean water would be useless. The authorities should also look at de-worming these children and giving them supplements comprising vitamins and minerals to prevent or improve nutritional deficiencies." – Rozanna Rosly, to FMT.
She also stressed the importance of educating parents on malnutrition and the impact it will have on their children, as some parents may not even know if their child is not growing normally. A 2015 study did found that only 6.6% of adult Malaysians have enough knowledge in health matters, and this may be the reason why there's a widespread pattern of inappropriate eating habits in some families.
There are actually several more underlying causes to stunting that we didn't discuss here, but suffice to say it's a complex problem that begins even before a baby is born, and may even affect that baby's future child. That's a huge pie to chew on, but is it possible to fix? Well, for starters, it's not impossible. As we've mentioned before, Zimbabwe managed to reduce their rate of stunted kids by 8% in the past 8 years, and Peru slashed their stunted rate by half (from 28% to 13%) in the same amount of time through commitment to a comprehensive government policy.
As of now, Malaysia has yet to set out a policy specifically for stunting, and there are still several gaps in the society that we may need to address first. Several suggestions had been made by researchers in the field, but whether or not the government will take them will remain to be seen.