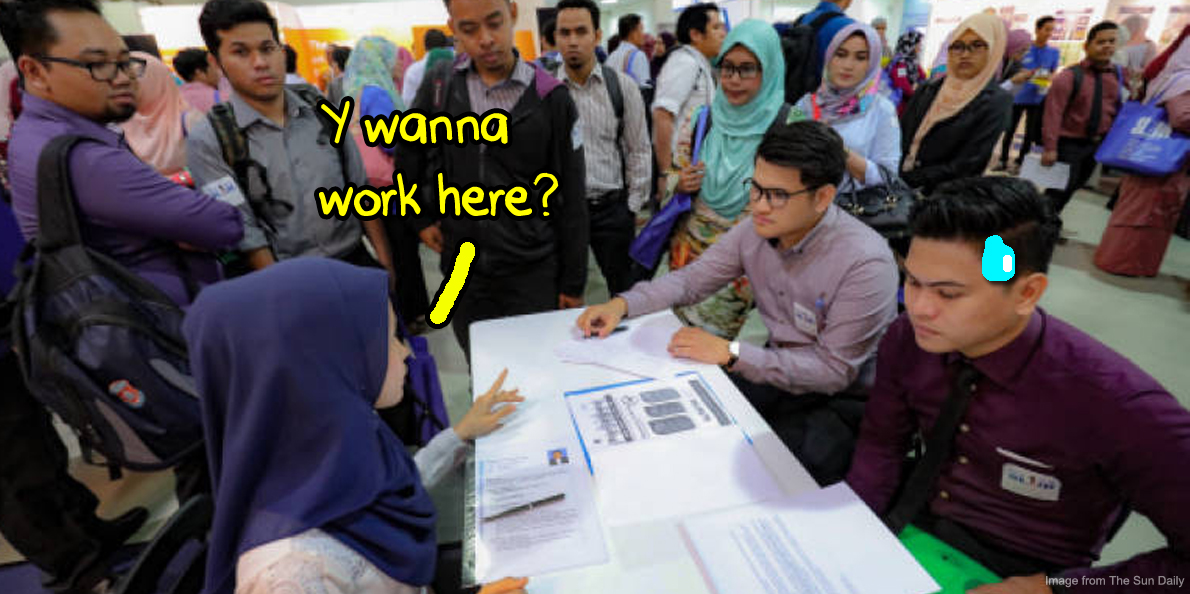 Getting and landing a job might be difficult these days. But just recently, PKR's Vice President, Rafizi Ramli, announced that the largest interview session in Malaysia will be held in the next two weeks from the date of announcement. In his LinkedIn post, he mentioned that the interview session will be held to tackle the job-match problem. This happens when a job seeker's skills and an industry's needs don't match (more on this  later). He also posted a video about it on his Facebook page:
"Since the last few months, my team and I had been focusing on developing a solution to this problem, that we think will benefit everyone." – Rafizi Ramli from his LinkedIn post.
While this might sound exciting, it wouldn't be the first mega interview event in Malaysia because…
There were mega interview events and one of it reportedly offered… 25,000 job opportunities!?
One comment on Rafizi's LinkedIn post stated that the Skim Latihan 1 Malaysia (SLIM SL1M) previously organised a large-scale interview event throughout the country for several years. Wait, what? Slim??
SL1M, which was recently rebranded to Protégé, is a training programme that was set up during the previous govt to enhance the employability rate among graduates through collaborations with government-linked companies (GLCs) and private sectors. Okay la, actually… public-listed companies were reportedly urged to participate in this programme by the previous Prime Minister, Datuk Seri Najib Razak, or they might face difficulty in securing large govt contracts.
Najib reportedly instructed the Treasury to make the participation of these companies into a precondition for them that would determine their eligibility for future govt contracts.
"So, if they do not participate, their opportunity to secure government contracts will also be slim." – Najib Razak for Borneo Post.
But unlike internship programs, SL1M didn't only help graduates but also job seekers with working experiences to find job. And the programme did this by making announcements on job vacancies on its website (something like Jobstreet) and organising open interview events for several years.
And it was reported that SL1M's largest interview event was held in 2017 with about 25,000 job opportunities offered! Visitors who attended the event dropped their resumes and some secured a job via an on the spot interview with their potential employers.
Visitors would then had to wait a while before being called to work with the company under the programme for a year. After the period ends, they may then be absorbed by their sponsoring companies, depending on the vacancies available in the companies. However, if they weren't absorbed by their sponsoring companies, they could still seek other opportunities in the future with the experience, skills and values they gained from the programme.
Reports also stated that as many as 46,700 SL1M participants, who were given RM2,000 monthly allowance under this programme btw, managed to secure jobs since SL1M first started in 2011. But why do we even need these interview events anyways? Well…
It's worrying just how many Malaysian youths are unemployed today!
A report stated that 13.2% of Malaysian youths (aged 15-24) weren't employed (as a comparison, our unemployment rate in general was reportedly at 3.3% which is considered okay la) in 2017. This is reportedly because they lack job experience and have insufficient skills or education to compete in the labour market.
However, hundreds of visitors of SL1M's mega interview event, who reportedly came from various places, have high qualifications or even plenty of working experience. Despite having the qualifications and experiences, they claimed that they have been unemployed for months, some even years! Eh, what's the real problem with youth unemployment??
Rafizi Ramli pointed out that the real issue with youth unemployment isn't about them being lazy or entitled. Instead, he pointed out what's lacking in graduates, especially when it comes to being prepared for a job interview, which might be the reason why they're not hired in the first place.
"Some graduates came to interviews without proper preparation, some do a copy-and-paste job when they submit their application. But there are also the good ones who make a great contribution to the workplace, though they have no prior experience." – Rafizi Ramli on his Facebook post.
He also added that the economic problem contributed to unemployment. And the main contributing factor to the economic problem is the job-match problem. The World bank-led coalition, Solutions for Youth Employment suggested that there should be more linkages between school and work to help equip youths with necessary skills related to jobs that suit them.
Rafizi, on the contrary, suggested that the first step to solve this issue is by getting access to important data such as the number of job vacancies, new jobs created and vacancies that are filled up. This would help job seekers know when and who is hiring at the moment.
However, the current statistics provided by the Department of Statistics Malaysia is only available for two quarters of the year. So, Rafizi suggested that these statistics should be provided every quarter of the year.
"Every quarter, people must know how many vacancies, how many new jobs are created, how many are filled and how many unemployed/job seekers are out there." – Rafizi Ramli on his Facebook post.
This suggestion might complement the effort to organise the largest interview event in Malaysia!
Excited for the event? Don't go without these tips 😉
Okay, we know some of ugaiz out there are interested in this event, which will be held in about a week from now btw, considering that you may be searching for a job… or a new one. And we'll keep ugaiz updated on this event since there isn't much info on it at the time of writing.
Buttttt we aren't just gonna leave you without giving some tips la cos #CILISOSluvsyou. Besides, Rafizi mentioned that one of the mistakes job seekers made, aside from copy pasta-ing their friend's CV, was not preparing themselves for a job interview.
So here are some things you SHOULDN'T do during a job interview, according to Malaysian employers:
Coming to an interview in your cincai, wrinkled shirt and bringing folded certs.
Include unnecessary skills or achievements in your CV such as winning a primary school 'pertandingan pantun' .
Sending your friend to pretend that it's you for your job interview. *facepalm*
Bringing your mother to your job interview.
We know that might sound silly to some of ugaiz but that was what really happened. We listed more job interview don'ts and included some actual job interview tips by Malaysian employers in an article we wrote sometime ago. If you're interested to know more and get yourself prepared for this interview event, you can read those tips here.
But ofcos we'll give you a brief of DO's for job interview la:
Google the company and make some research about it (such as the company's values)
Ask questions when the interviewer inquires if you have any
Point out the things you like about the company and how you hope to add to it
Be yourself
So, if you're prepared for the interview event then we wish you good luck! 🙂