Word on the street is that Malaysia will be rolling out 5G technology soon. Without getting too technical about it, that means that we can soon have faster, less laggy Internet. It's a bit more detailed, but let's not worry our pretty heads over the technical stuff.
But to get to the point where you can no longer use lagging as an excuse for sucking at online games, there will need to be a crap ton of upgrades to the infrastructures we're currently using. Who's going to do that? Judging by the title of this article, it's probably Huawei. Yes, the one that makes cell phones, and no, this is not a sponsored article. Far from it, actually.
Sometime in October last year, it was reported that Huawei Technologies made a formal deal with Maxis in which Huawei agreed to provide the equipment, services and know-how needed to build up Malaysia's 5G network. It was also reported that Huawei will be putting together a strong team of experts to give Maxis pointers on planning, operating and maintaining the resulting 5G network.
That piece of news sounds about as bland as the nasi lemak served in hospitals, but here's the sambal…
Some countries have banned Huawei due to security concerns
If you read global news regularly, this sambal may not be as spicy. It's no secret that many significant economies are wary of using Huawei technology, and some news sites dedicate entire articles that try to list the countries that have either banned or limited Huawei products in their 5G infrastructure. Among the countries said to have already done so include the US, Japan, New Zealand, Australia and the UK, although the UK had recently decided to allow Huawei into some of their setup. We'll get to that a bit later.
So why are these countries are so kancheong about letting Huawei touch their 5G systems? Well, based on what we've found, we can say that there are two roots to the problem that overlap each other: the (supposedly) sketchy nature of Huawei, and world politics. Let's get into the sketchy bits first.
First off, let's say that what's sketchy about the company warranted a 6000+ word Wikipedia article, so if you want more detail you should probably follow that link. But since it's a Wikipedia that's probably edited by both pro- and anti-Huawei people, take everything with a grain of salt lah.
In essence, there are a couple of zesty things about Huawei that may be causing the worry:
Lawsuits over intellectual property rights. Huawei had been the target of several lawsuits that alleged that it copied the technology or trade secrets of its competitors, like Huawei allegedly stealing Cisco Systems' code and using it in their products (settled out of court), and Huawei allegedly stealing parts of T-Mobile's smartphone testing robot (ordered to pay $4.8 mil in damages).
Ties to the Chinese army and the Communist Party. The CEO of Huawei, Ren Zhengfei, was said to be a retired major in the Chinese army who specialized in telecom research. There is also reportedly a Communist Party office in Huawei's headquarters, but that may not be unusual for companies in China.
Risk of spies using their hardware. This kinda ties to the previous point. Huawei allegedly grew big and strong with massive help from the Chinese government (particularly financially), which raises concerns that Huawei might do things if asked by Beijing, like let China use their technology to spy, or shut down their telecom systems in the event of a cyber war.
So yeah, with these allegations in mind and China allegedly including free bugs with their hardware before, it's not irrational for some countries to not let Huawei anywhere near their communication systems. But there is another component from earlier we haven't discussed…
The ban on Huawei may also be a side-effect of the US-China trade war
You might be aware of the ongoing trade war between the US and China, and Huawei recently became a part of it. While the lawsuits and suspicions against Huawei by the US happened since the late 2000s, it wasn't until May last year that Huawei was put on the US's trade blacklist along with 140+ other Chinese companies.
With the 5G wave recently happening, it would seem that the countries that banned Huawei did so based on their ties with the US. Japan, for example, is known to be allied to the US. Of interest, though, is countries in the Five Eyes alliance: a group of angmoh nations that agreed to share intelligence together, or to put it crassly, a multinational angmoh spy organization.
The US, along with Australia, Britain, Canada, and New Zealand, are members to the alliance, and the US had reportedly forbade the rest of the squad from using Huawei in their systems due to fears that the sensitive information they share with each other might fall into China's hands.
"You will see us united and linked that those most sensitive networks … won't have those technologies from those countries that pose a threat to us whether it's China and Huawei or others." – Rob Joyce, of the US's National Security Agency, as reported by Reuters.
But it would seem that not every Five Eyes member agrees. Although Australia and the US (obviously) have provisions that prevent Huawei products from entering their telecom systems, the other three aren't that strict.
Canada is still making up its mind, and although New Zealand had blocked Huawei from supplying a local mobile provider with 5G equipment, it hasn't completely ruled out Huawei yet. The UK, on the other hand, has recently allowed Huawei to build non-critical parts of its 5G network, an action that's quoted by many outlets as a defiance to the US's call to boycott Huawei.
Other developments also suggest that the call to ban on Huawei might as political as it is over security concerns. Germany, for example, was reported to resist the US's pressure to ban Huawei from its systems, despite the threat of the US refusing to spill the tea for fears the tea may leak into the hand of Chinese spies. They're keeping their options open to avoid the risk of delaying 5G development in the country by another ten years.
As put by German Chancellor Angela Merkel,
"There are two things I don't believe in. First, to discuss these very sensitive security questions publicly, and second, to exclude a company simply because it's from a certain country.'' – Angela Merkel, as reported by South China Morning Post.
Anyhoo, with the risks of using Huawei and the situation more or less laid out, one might still wonder…
Why are we using Huawei then? Malaysia not scared of spies is it?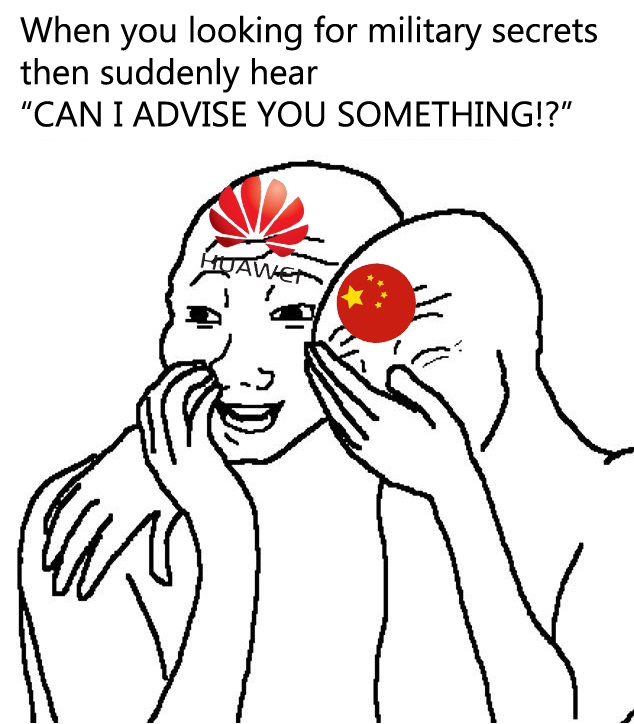 Apparently, nope. Despite the global pressure/concern to not use Huawei for the new 5G technology, at a conference in Tokyo last year the Prime Minister Mahathir Mohammad had said that Huawei's research is a lot bigger than what the whole of Malaysia would be able to do, and hence we'll be using it as much as possible. Also…
"Yes, there may be some spying. But what is there to spy (on) exactly in Malaysia? We are an open book… Everybody knows, if any country wants to invade Malaysia, they can walk through, and we will not resist because it's a waste of time," – Mahathir Mohammad, as reported by NST.
Even if we do have a theoretical missile silo beneath the big roundabout in Putrajaya, if the concerns over Huawei is real, China would have probably known about it already as Huawei has been in our systems for the past two decades. Huawei first set up shop in Malaysia in 2001, having provided their technology to major telecom operators in the country then. Since then, they've had their hands in some big tech projects in Malaysia, like
Huawei even received something the Multimedia Development Corporation (MDeC) called the 'ICT Industry and Talent Development in Malaysia' award in 2013, so you can see that Malaysia's not exactly wary of Huawei. They even lent a hand when we switched from 3G to 4G a few years back, having partnered with Syed Bukhari's Altel Communications and other telco companies back then.
"Huawei is a long-term partner for Maxis. Our 4G network was [enabled] by Huawei's technology, so I don't see any issues moving forward." – Gokhan Ogut, Maxis's CEO, as reported by Nikkei Asian Review.
It can be said that Huawei had long established itself in Malaysia before the whole security fiasco became mainstream, but even so…
It's seems that being too picky may not be a smart option for Malaysia
If there is a local company that has the necessary assets and knowledge to set up 5G technology in Malaysia all on its own, we sure can't find it. Like it or not, if we want to have 5G in the near future, we're going to have to depend on foreign companies, and it's slim pickings out there. As of now, there are only a few other companies competing with Huawei in the 5G arena, like Sweden's Ericsson, China's ZTE and Finland's Nokia.
Huawei seemed closer to the local situation, and apparently they're easier on the gomen's wallet as well. There seems to be a need for Malaysia to start out on its 5G journey as soon as possible, so partnering up with Huawei might be the most obvious choice at the moment. As put by Mats Granryd, director-general of the GSM Association, a global trade body concerned with mobile network operators' interests,
"It is not necessary to be the first (in implementing 5G)… But Malaysia should not take a wait-and-see approach either in pursuing 5G, although the technology is not widely available yet, as the adoption process could stretch out for years," – Mats Granryd, as reported by the Borneo Post.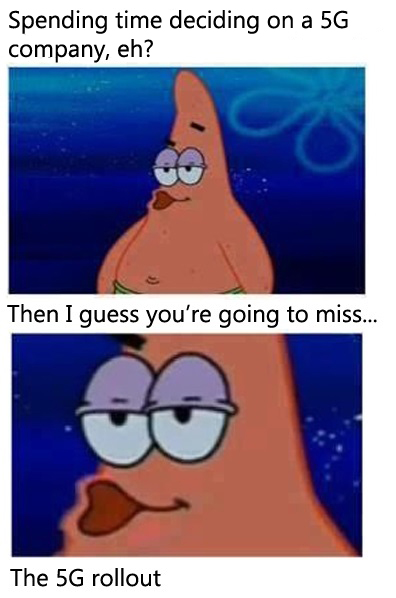 Still, we could always just make do with 4G if we're worried about Huawei letting psychic spies from China try to steal our minds' elation… oh wait. Huawei's got a hand in that too.