(Artikel asal ditulis dalam BM oleh kawan kami di SOSCILI. Klik sini untuk baca!)
Yes, it's another scam story! And this time around, we're bringing you one of the most familiar and most reported scams in Malaysia – the Macau scam. Upon the mention of the name of the scam, we're pretty curious as to…
Well, if you think the scam came from Macau because of the name, well, you may not be truly wrong as it is believed that it originated from Macau. But, just recently, five Malaysians (the people in our featured image) were arrested by the Malaysia Anti-Corruption Commissions (MACC) in relation to this particular scam.
As it turns out, netizens believe that these are the people behind the Macau scam in Malaysia. And many people allege that among the five people arrested were…
This Dato and Datin, who often party with Malaysian celebrities
If you were to look for news on this couple, the only thing you may find is brief info on who they are. According to news sources, one of the suspects is a Dato, who apparently owns an online gambling site and was accused of money laundering as well. It was also reported that the Dato and his wife often party with Malaysian celebrities.
While no names were mentioned in the article, netizens pointed out several people who are allegedly involved in this scam. One of them is Dato Addy Kana and his wife, Datin Alyaa Syuhaila. But how did netizens know who the suspects are anyways?
Well, it may have all started when Malaysian celebrity couple, Shuib and Siti Sarah, were called by the MACC for an investigation involving money laundering. They both run a beverage business called Bubblebee (not your average boba) and it was believed that one of the branch owner allegedly used it to launder money from the Macau scam. This owner is apparently an acquaintances to Addy and Alyaa.
In fact, there is a page dedicated to 'exposing' Addy and Alyaa on Facebook. It goes by the name Dato Addy Kana (don't be fooled, it's actually a troll page) and the posts are mainly targeted to expose Addy and Alyaa's lavish lifestyle besides alleging them of being involved in the Macau scam. And when we say lavish, we meant this…
datin alyaa ada kat mana ye skrg? Busy tolong bisnes kedai judi dato eddie kana ke? 😏 https://www.facebook.com/alyaa.syuhaila

Posted by Dato Addy Kana on Rabu, 17 Julai 2019
Not only that, MACC has recently found out that the masterminds behind the Macau scam have allegedly paid thousands of ringgits to a security agency to protect their crimes. However, MACC has yet to call in the senior officer of the agency for further investigations.
MACC has also recently froze 750 accounts worth RM75 million that were involved in the Macau scam besides seizing the assets of the individuals that were being investigated by MACC.
But how true are some of these allegations? Well, besides what MACC found, there is no direct evidence to these claims la. So, we'd advise you to take the info on Addy and Alyaa with…
Anyways, it only makes sense why Malaysians are so very angy anrgy angry at Addy and Alyaa seeing how a LOT of people, regardless of age, have fallen victim to this scam. Malaysians typically lost RM2 billion EVERY. SINGLE. YEAR from this scam, so it made us wonder, how do people easily fall for it. Isn't it just that one scam that has been reported countless times??
Well, as it turns out, there are SO MANY types of Macau scams out there such as…
1. Policemen or courts calling you for crimes you did NOT commit
If Macau scammers have a favourite role to play, this would be it. As it turns out, many Macau scammers, especially those in Selangor, love to pose as police officers, courts or even MACC officers.
And we're pretty sure some of you have kena this type of call before. Honestly, we have received several calls from 'courts' claiming that we have some unsettled cases in… uhh… other states. 
Heck, we've even written a story of how a Malaysian almost fallen victim to this type of scam and the whole setup seemed hella convincing. You can click here to read more about her experience.
But if you're still in the dark about this type of scam, well here's the gist la. The scammer would call you to tell you that you may have committed a crime or have an unsettled case. They would then request you to transfer an amount of money to the given bank account to prevent your account from getting frozen. 
As of 2018, there have been 334 cases involving Macau scammers who posed as police officers and duped victims of RM14.76 million(!). Despite that, it seems as though Malaysians are getting more aware of this kinda scam that they can pull a reverse card on these scammers instead:
2. Bank Negara officers who want to help you unfreeze your accounts
Besides pretending to be police officers, Macau scammers also love to pose as bank officers. And mysteriously, they could be officers at two banks at the same time! Or worse, they would pretend to be Bank Negara Malaysia's officers.
Sometime in June this year, a pensioner lost RM682,000 to this type of scam. The pensioner, according to Asst Comm Noorzainy, received a call claiming that there was an illegal gambling line registered under her name. 
"The call was then connected to an investigation officer with the rank of sergeant who disclosed the details of the victim in an alleged further investigation and asked her to deal with a BNM officer who would contact her soon for clarification and assistance." – Noorzainy, as quoted by Malaysiakini.
The so-called BNM officers then contacted and instructed the pensioner to transfer all her money to a bank account that was apparently registered under her name. If she didn't transfer it within a given time, she would be arrested and remanded for investigation.
If you were to put yourself in her shoes, you'd obviously do what the pensioner did – transfer all the money into the bank account given. And that's how the pensioner lost her money.
By now, you'd probably notice how cases like these normally involve scammers who would pose as bank and police officers. And they have pretty legit number by using a method called spoofing. This is typically done to make the whole setup seem real.
"Spoofing is done using Voice Over Internet Protocol (VOIP), that enables the caller to mask their number to resemble any number." – Asmawati, as quoted by The Star.
3. Online lottery ads on Facebook
We're pretty sure you've come across many online lottery ads and oftentimes, they scream DODGY. So, if you think that the Macau scam online lottery ads look like those badly-made, super weird advertisements, then you're wrong.
These advertisements used by Macau scammers seem pretty legit and they're on real platforms like Facebook! 
What would happen is that once you're exposed to this ad, you'd wanna find the way to win the lottery. These ads would provide the contact information of the lottery agent. Once you contact this agent, he or she would request you to pay a deposit or 'income tax' before getting your prizes. But we're pretty sure you know what happens after that la.
Another tactic used in this type of scam, according to PDRM head of corporate communications Datuk Asmawati Ahmad, is that you would receive a call from a Hong Kong company claiming that you won millions of ringgits.
"The victim would then be asked to transfer money to certain accounts to prevent his account from being frozen by the authorities." – Asmawati, as quoted by BERNAMA via Malay Mail.
Back in August 2020, a college student lost RM39,987 to this scam. According to the North Seberang Perai police chief, Asst Comm Noorzainy Mohd Noor, the student received a message saying that he won a lucky draw worth RM8,888. He then proceeded to open the link in the message before submitting his personal information.
"The victim did not realise he had exposed his personal information to the syndicate members. He also received several transaction authorisation code (TAC) numbers and had also sent them over to the suspects." – Noorzainy, as quoted from Sinar Harian. Translated from BM.
4. Kidnappers demanding ransom for your nonexistent CHILD?!
Imagine this: you receive a phone call and are informed that your child has been abducted. You are then asked for a sum amount of money for ransom. What would you do?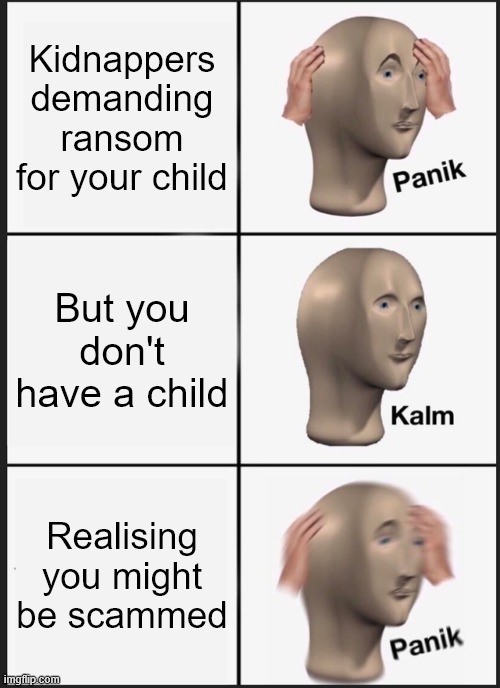 OK for those of you who think that this won't ever happen to you cos you don't have a child, well, these scammers can be smarter than you. It won't be a surprise that they dug up some info on you online and use your niece or nephew or any other family members instead as their so-called hostages.
In a typical ransom situation where you'd be concerned of the safety of the hostages (normally your loved ones la ok), you won't think twice about paying ransom. And this is pretty much the same situation you're put in by scammers. 
However, it may be noteworthy that this may not be the most common tactic used by Macau scammers since there isn't much reports made on this.
And, now that you have a brief idea of the different types of Macau scams out there…
You can actually prevent yourself from falling victim to these scams
At the time of writing, there are just so many Macau scam cases in Malaysia. In fact, there has been a 20% increase in the number of Macau scam cases during the movement control order that was implemented earlier this year.
And just to give you a clearer picture of how serious Macau scams are, there has been an alarming increase in the number of Macau scam cases in Kelantan with total losses of RM5 MILLION. In that state. ALONE! Imagine the total losses suffered by Malaysians throughout the nation.
Aiyo, so how to prevent yourself from being scam? Well, we've written these ways before in our previous articles but, just to be safe, here's what you can do:
Always beware of the tricks and tactics used by these scammers.
Don't rush things, you can always delay your decision to provide your personal info or money.
Do NOT ever provide your personal info like your bank account, IC number or even full name over the phone.
You can verify the call you receive from the real company instead of redialing the same number used by the scammer.
Go on to BNM's website to keep yourself updated with dodgy companies that are suspected of money laundering or scams.
You can always check out what you can do if you become a victim to a scam, as recommended by BNM. But, as we always say in our previous scam articles, if it's too good to be true, then it probably is.