Uncategorized
3 awesome Malaysians making us proud in New York City!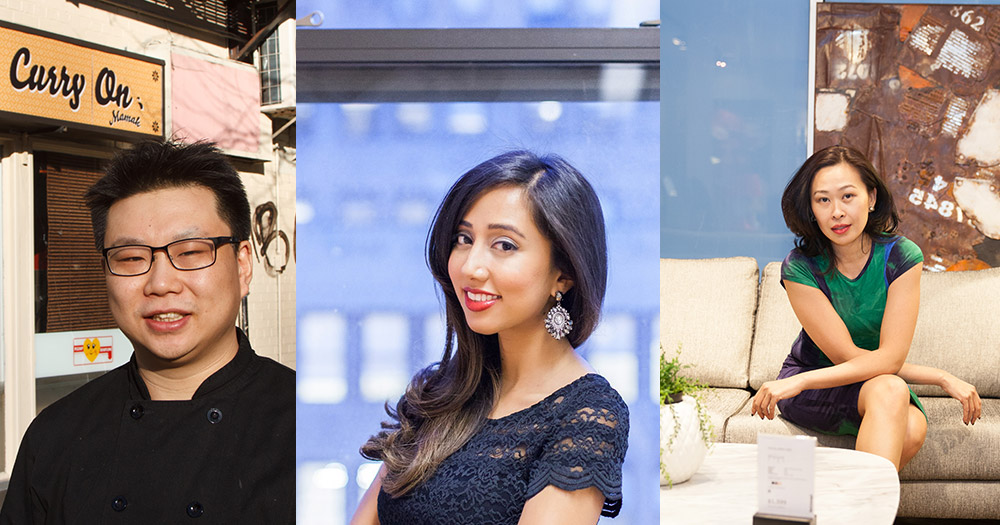 What's not to love about Malaysia?
We have a fantastic tropical climate that tourists flock to. We don't have natural disasters like earthquakes or volcanic eruptions.
We only have to deal with the occasional pesky flash flood, annual haze, political issues, water cuts, devaluing Ringgit, human rights and animal abuses, censorship in movies, Najib's alleged private jet, etc etc.
Even though some of these things are why Malaysians migrate abroad (thus leading to a brain drain), yet, even when they're far away from home, they're still—in their own way—making Malaysia proud. Take a look at Cheong Choon Ng, who immigrated to the US and invented the Rainbow Loom. Or Zang Toi, a renowned fashion designer now making NYC his home.
And, no matter how successful they are, they're almost always Malaysia's unofficial tourism ambassador when they talk about and promote Malaysia to their new friends, colleagues, or customers.
New York, like Malaysia, is a melting pot of cultures. There's always something to do wherever you go in NYC, and this city buzz is what that lured people from all over the world. I've met people from nearly every continent that came here to start afresh, who are chasing the American Dream.
In fact, my roommate who has been quite a traveller, once told me, "Once you lived in New York, how can you live anywhere else, y'know?"
I've also met Malaysians who are pursuing this very dream through the freedom, equality, and opportunity provided to them. Here are three brave, inspiring Malaysians who took the courage to start anew in this City That Never Sleeps.
1) Erik Cheah, owner of Mamak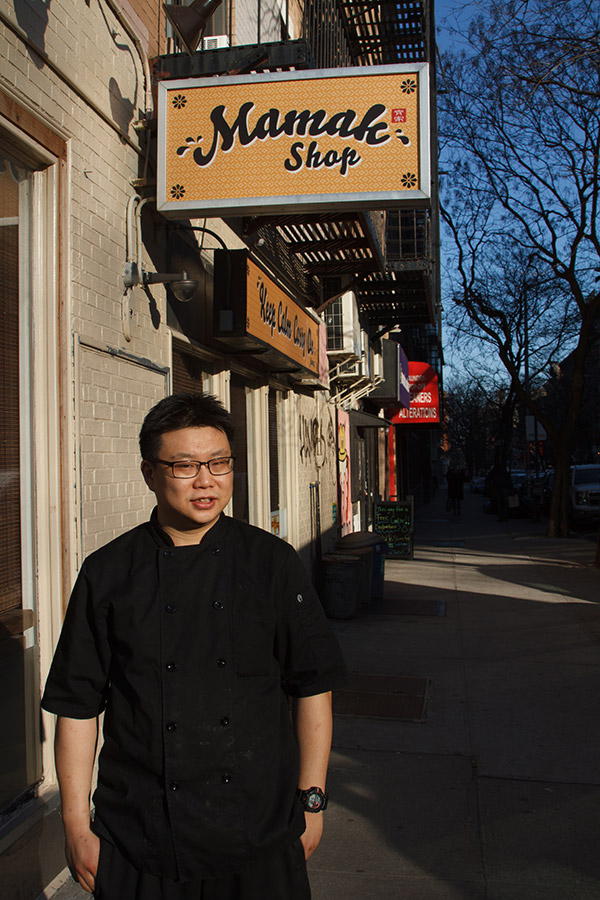 Challenges faced when moving to New York: English
Most memorable experience since moving to New York: seeing snow for the first time, which made him crave for ice kacang
What does he love about New York? "The different kinds of people here; it's like a little world in a state."
What does he miss about Malaysia? The food
What does he not miss about Malaysia? The steaks there. "The US has the best steak house!"
What do most New Yorkers think about Malaysia? "I think a lot of them didn't know much about Malaysia until MH370…"
—
During a lull on a weekday afternoon, I went over to Erik's restaurant, aptly called Mamak. When he told me that he's 34 this year, I was taken aback. "Sure boh?" I thought to myself. He looked like he's in his 20s!
Despite his boyish look, Erik has a wealth of experience under the belt. He did his internship at Per Se, an upscale New American restaurant in NYC. After that, he went on to open a Thai restaurant (with a business partner) called Rhong-Tiam, where he earned the coveted Michelin Star as the head chef there. I was impressed.
He said he first moved to New York together with his family in 1996, where he studied at the local high school and college, and then culinary arts at The Art Institute of New York City.
Though his initial main challenge in New York was English, he has a pretty decent command of the language when we spoke.
So what it's like being a New Yorker?
"It's a busy life. In a restaurant business, we work long hours: 12pm till 1 or 2 in the morning, 7 days a week. This is our own business, so we have to put in a lot more effort than other people."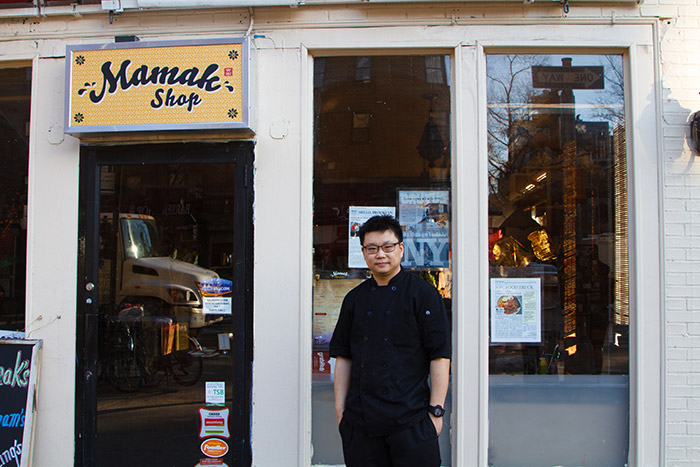 His interest in cooking and starting his own restaurant runs deep in the blood of his family—they started Penang, a Malaysian restaurant in New York and New Jersey.
After helping out in his family's restaurant, he decided that he needed to come up with his own brand: Mamak. So he partnered with his cousin, Jordan, and his brother, James, about a year and a half ago and started small with a food cart. A few months ago, they finally moved to a physical location in East Village.
But what prompted him to start his own business here?
"I want to make New Yorkers know more about Malaysian food. Americans know about Thai food, Thai food, Thai food, but Malaysian food is more well-balanced. And the flavours are not too spicy, not too salty, and not too sweet."
I lamented to Erik about how difficult it was to make my own nasi lemak, and he chimed in, "That's Malaysian food. It's not just [using] salt and pepper. You need a lot of patience to make the paste."
He also mentioned that some ingredients were tough to get here in New York as they can't be imported here, so he did have to learn to adapt. But his challenge was in explaining Malaysian food to local New Yorkers. For instance, "beef rendang" is a "Malaysian-style stew with lemongrass and coconut". I never would have thought of it that way before!
Any advice for new Malaysian chefs?
"Just focus and don't give up. It took me 5-6 years [to be where I am today]. Just believe in yourself."
2) Putri Nurul Ida, co-founder of a startup, Fiestah
Challenges faced when moving to New York: none that she can think of
Most memorable experience since moving to New York: "It's really hard to pick. If I had to pick one, it's when my friends and I started the day by having brunch at the Meatpacking district, going to the theatre, having a massage—doing all kinds of things in New York."
What does she love about New York? "The diversity. The city inspires me to work harder."
What does she miss about Malaysia? All of the food in Malaysia and her family
What does she not miss about Malaysia? Traffic jams
What do most New Yorkers think about Malaysia? It's summer all year round
—
I spoke to Nurul over Skype, as she was in sunny Chile for Start-up Chile—her startup has just accepted and received funding from the accelerator. And having visited 52 countries so far, she's quite the globe-trotter.
She received a scholarship right after high school, where she then moved to Illinois to pursue a degree in actuarial science and economics. She then worked for Goldman Sachs in Singapore, Accenture in Illinois, and Barclays in New York. "It's because of New York [that] I quit my job and start my own company. I met a lot of people who weren't like me: creative people like photographers and designers, and people in startups," she told me. "They get to set their own hours. There's more to life than working 9 – 5."
She told me that her dream was to move to NYC; she was attracted by its diversity.
"I only knew 2 people in New York [back then], but it didn't matter that I didn't know anyone. When I got there, I realised how easy it was to make friends."
Nurul admitted that she stared at people when she first moved here, captivated by the spectacle and bustle of this city. But having lived here for a while now, she's unfazed by the "crazy" things that sometimes happen here.
She offered some of her observations:
"People here really hustle a lot. New York does that to you—it's not easy to live here if you're a laidback person. It makes you a person who can take a lot more [challenges]."
But what's her day like in New York?
"I'd wake up, and either go to the gym or make my own coffee. I'd then go to my office in Times Square; it's really easy to get to from where I live at the Upper East Side," she said.
Her office is really one big co-habitation space with other startups. And her own startup, Fiestah, connects event planners to vendors, which include caterers, rental companies, and staff. They're even expanding internationally, first to Santiago, and Malaysia next month!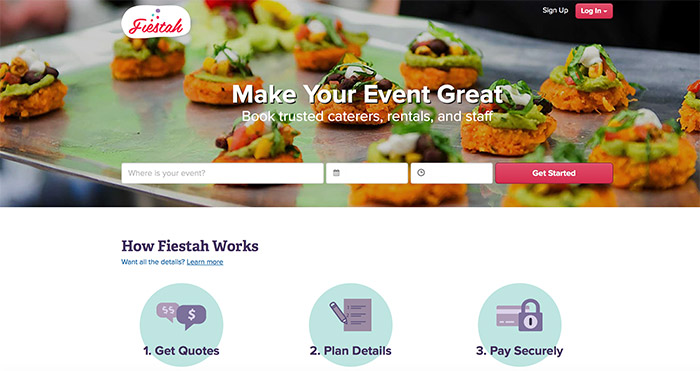 Nurul's enthusiasm about startups was infectious. Through her, I learnt that the Malaysian startup scene is gradually thriving with some assistance from the Malaysian government. Right now, there's a community platform like MaGIC, grants from Cradle, and funding from Qeerad.
And her advice for budding startup entrepreneurs in Malaysia?
"Work in a very lean way. You don't have to build a website to start something. For instance, for us, when we were starting out we didn't even have a website. I was in the wedding planning industry before this and people would ask me if I know any photographers or caterers—and we'd take a commission from connecting vendors with event planners. That's when we knew there's a demand for this."
3) Niki Cheng, co-owner of five BoConcept franchise stores in NYC
Challenges faced when moving to New York: worked in a few restaurants before finding her calling
Most memorable experience since moving to New York: having to give birth at NYU Medical Centre without a midwife and the associated pantang
3 things Malaysians should know about living in New York: the weather change here is drastic; there are free yoga classes for first-timers; and you shouldn't go on a hop-on, and hop-off bus as getting an MTA pass would be relatively cheaper
What does she love about New York? The diversity of food, culture, and weather, and friendly New Yorkers. "When I was pregnant, there isn't a time when no one would offer me seats on the subway."
What does she miss about Malaysia? Malaysian food, weather, and kind-hearted Malaysians
What does she not miss about Malaysia? Traffic jams, getting into a car with hot A/C, poor public transportation system, and taxi drivers who rip people off
What do most New Yorkers think about Malaysia? It's a Muslim country with beautiful resorts, amazing food, warm weather, and favourable exchange rates (for them la)
—
Plucky and down-to-earth are words that come to mind if someone were to ask me how I'd describe Niki, who's in her early 40s. She's easy with her laughs and honest about herself.
I asked her my first question, "Why did you first move to New York?" and she asked me in return, "The real story or not-real story?" before we both erupted with laughter.
So what's the real story?
"I needed to break up with my ex-boyfriend. My parents were already here, so I thought maybe I'd just be here for a couple of months to take a break from working. And once I got here, I fell in love with the city."
She worked at a few restaurants before deciding it wasn't her. She then worked at a furniture retail store—where she was sponsored with a H-1B visa—which was when she realised she was actually great at selling furniture.
(Niki was even lucky enough to win the green card lottery—where your chances of winning it is… as low as an actual lottery! She eventually got married to her husband, Shaokao, and didn't need to go through the hoops that come with the Diversity Immigrant Visa program.)
After moving in with her husband, she then realised that there wasn't a market that caters to the in-between: one that sits between a $300 Ikea furniture and a $10,000 one. And when she stumbled upon the BoConcept brand while perusing through an issue of the Interior Design magazine, she pounced on it and contacted BoConcept about opening a franchise store in New York.
"They said no to us as they thought the rent in New York was too expensive," she said. But after a year of researching, she and her husband persuaded BoConcept to let them try it out. After all, they had nothing to lose.
Fast forward 12 years later, after struggling through the first few difficult years and learning many business lessons, they now own and manage five BoConcept franchise stores in NYC.
So what it's like being a New Yorker now?
"I think New York allows you to be who you are. [New Yorkers] are not afraid to ask you questions; you can even have a decent conversation with someone in an elevator. I've also become more daring in fashion."
With two kids aged 5 and 8, her usual day begins by preparing breakfast for her children before sending them to school at 9am. She'd then attend her yoga class everyday. "And when I say everyday, I do mean everyday," she enthused.
By noon, she'd be at work to make sure the showrooms look good. And by 6pm, she'd be cooking a Malaysian dinner for her family, which always includes a soup. In fact, cooking Malaysian food is her speciality.
And how different is the furniture industry in New York compared to Malaysia?
"Furniture is almost like fashion. Some people like it classic, some people like it trendy. In Malaysia, the [interior] space and house is bigger, so they need a lot more furniture compared to New Yorkers. Most of the time, Malaysians focus on the functionality and the use of the piece, and how economical [it is]. Here in New York, they focus a lot on the aesthetics."
She added, "At the end of the day, everybody's lifestyle is different."
And her advice for Malaysians who just moved to New York?
"People in New York are more open-minded with your ideas. If you have any ideas or want to achieve something, there are so many support [systems] around here. I can't say it was easy for me to start a business, but nobody really laughed at me or say, 'Are you serious? You really wanna open a furniture store?' Instead, they'll say 'Oh good!' and it was very encouraging.

Back in Malaysia, people would be more like, 'Lei yao mou gao chor ah?" ('Are you kidding me?')"
In short, take calculated risks, and go and pursue your dream.
—
At the end of the day, even though Malaysians continue to leave the country, that doesn't mean all of them have completely quit this tanah air.
Even Marina Mahathir has told Malaysian youths, "You can go anywhere you want but stay engaged, stay invested in Malaysia."
I'm inclined to agree. I'd like to think that we're all still proud of our Malaysian heritage. And even if we're living abroad now, we will never forget the country that shaped us into who we are today.