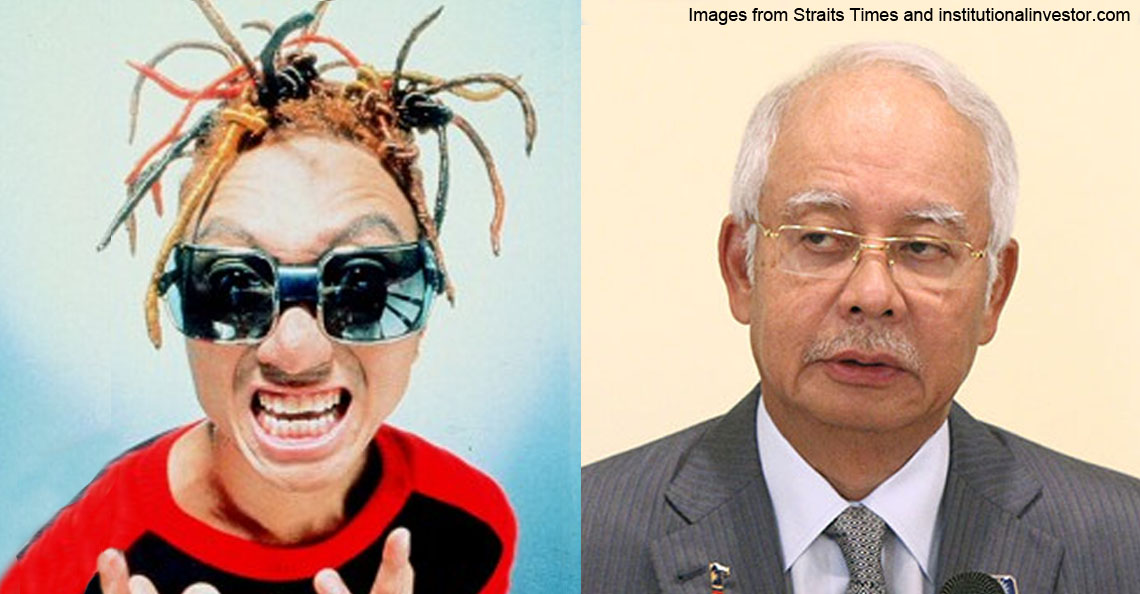 A Singaporean comedian got into trouble for making fun of Malaysian Prime Minister Datuk Seri Najib Razak! The comedian in question funnily enough has the same name, almost… Najip Ali. So yeah, Najip made fun of Najib.
But how?? He's all the way in Singapore, what's it got to do with us here? The joke happened on TV, on a show called OK Chope! (a weekly live comedy panel show that looks at the funny side of current affairs). Host Vernetta Lopez and her panellists Najip Ali, Mike Kasem, Rishi Budhrani and Sam See, have to 'chope' each other, to give their take on the latest happenings in social media, news and pop culture. So, on the 29 March episode, one of the their lines went like this:
And that was when Najip gave the line which has apparently offended certain parties. He said:
"Najib with a 'b' slams Najip with a 'p'" – Najip Ali on OK Chope!
But tbh, the other three panellists said WORSE…
Not to downplay anyone's hurt feelings, but if you think about it, "Najib with a 'b' slams Najip with a 'p'" seems harmless. If you interpret it properly, it would mean Najib slams Najip (the comedian) for threatening Malaysia's progress. Nothing dangerous or seditious there right? By the looks of it, it's not Najip the comedian who is the threat to Malaysia's progress.
In fact, when we watched the segment, we heard the other three panellists Mike Kasem, Rishi Budhrani and Sam See, giving WORSE answers!
Sam See:
"Najib slams kissing female officers."

"Najib slams Beaty and the Beast for threatening Malaysia's progress."
Rishi Budhrani:
"Najib slams himself for threatening progress."

"Najib slams bomoh's heads with his own coconuts."
Mike Kasem:
"Najib slams the news for threatening progress."
https://www.youtube.com/watch?v=iiWd63mPyIQ
In the end, the real answer was revealed to be… drum rollll plz:
To detract from the topic for a while, this article entitled 'Najib slams 'fake news' for threatening Malaysia's progress' was published on Today Online, a Singapore news site. The article reported that Najib said Malaysia almost lost out on a big investment deal with Saudi Aramco, which amounted to about RM31 billion, because of fake news.
Back to the show… dunno bout you guys, but to us, it really sounded like Najip was just wordplaying with the spelling of their names. We wouldn't go so far as to call it an insult or a mockery, but that's just us. You guys also can judge for yourselves after watching the video (above).
In spite of that, Najip was singled out and even reported to the cops!
The incident got mixed reviews from the audience, which spans across Singapore, Malaysia and Indonesia. Some Malaysians were angry, notably the Malaysian Artistes Association (Seniman). They went out of their way to make a police report! Its President, Zed Zaidi (real name Rozaidi Jamil), lodged the report at the Dang Wangi District Police headquarters in the Malaysian capital, later telling reporters that Seniman hoped the authorities would act sternly.
FYI, the same guy had also made a police report against another celeb in December 2014. He reported Vanidah Imran, who is the treasurer at Seniman. The committee members (Sofia Jane, Lisa Surihani, Sharifah Amani and Rashidi Ishak among others) slammed him for doing that. Additionally, Zed has had beef with Aaron Aziz and Shah Iskandar in the past. Both are Singaporean entertainers just like Najip Ali… hmm, coincidence?
And then the Malaysian government released a statement, saying the Malaysian government viewed the offensive comments and insinuations against the PM seriously and hoped that they would not be repeated. Yikes.
However, Najip did get support from Malaysians la, one of them being our own funnyman Afdlin Shauki. Couple of people started a hashtag for him #WeLoveNajip.
Sounds like Seniman doesn't want to kasichan to Singaporean entertainers
When you think about it, Najip and OK Chope! aren't even Malaysian. He's a Singaporean comedian and the show is Singaporean. What can we do? We can't shut the show down. But Seniman hints at another purpose for creating trouble for Najip… ok, forget hint, they publicly and unreservedly declared their agenda:
"Seniman will take this issue to the higher authority to ban those involved from entering Malaysia. If possible, we will try to reduce inflow of foreign artistes to Malaysia, so that more opportunities will be given to local artistes." – Zed Zaidi, as quoted on Straits Times
They're not alone. Local scriptwriters group Angkatan Karyawan Nasionalis (Akar) shares the same sentiment, urging the government to ban Najip Ali from entering the country.
You'll be interested to know that Seniman has prior experience calling for Singaporean entertainers to be banned here. Last July, Singaporean stand-up comedian Fakkah Fuzz jokingly called our PM a 'pencuri' during a skit. So Seniman reported it to the… you guessed it… police.
"We also want the Immigration Department to blacklist his name and bar him from entering our country. We don't need people like him here." – Hafiz Nafiah, Seniman Secretary-General, Today Online
Asked if this meant the organisation wanted ANY entertainer who joked about Malaysian leaders to be banned from entering our country, Hafiz affirmed it.
But you see, why Najip was picked on out of the four panellists is because he works in Malaysia. If you watch Astro's Maharaja Lawak Mega, Najip is the host! Also some of you will remember him as the host on Asia Bagus too. That show was the Akademi Fantasia of the 90s, but bigger. It was popular throughout Malaysia, Singapore, Indonesia, Korea, Japan, Taiwan and Thailand. All in all he's had a reasonably illustrious career here… until now.
So for poor Najip, it's not just that he's gotten flak for the 'b' to the 'p' quip, he's LOST A JOB. Yep, Astro fired him four days ago:  🙁
Astro replaced him with Aznil Nawawi (aka Pak Nil), who also gave Najip encouragement.
Anyways, both Najip and Mediacorp have said sorry lor
The comedian wasted no time making his apologies. On 5 April, he said this:
"I realise how insensitive and callous I was. I would like to apologise unreservedly to Malaysian Prime Minister Najib Razak. I beg his forgiveness and that of my viewers and friends." – quoted on Free Malaysia Today
Unfortunately it wasn't enough to smooth relations with Astro, coz he was replaced two days after saying sorry.
Meanwhile, Mediacorp also apologised. "Channel 5 and the production team behind OK Chope! wish to sincerely apologise to Malaysian Prime Minister Najib Razak for a segment on last week's episode. We have thus pulled it from repeat telecast with immediate effect," said Mediacorp's Chief Customer Officer Debra Soon.
Last we read, our Foreign Ministry duly notes the apology, according to Malaysian press Bernama.
So what do ugaiz think? Did Malaysia make a mountain out of a molehill? As Afdlin Shauki remarked, poor Najip really shouldn't be made the scapegoat out of the four panellists la. Besides, we all could use a laugh once in a while la. What will the world come to if we cannot indulge in a little harmless joke?
"Robust satire is often a sign of crisis and the ability to share and consume it is a sign of a free society." – Sophia McClennen, author of 'Is Satire Saving Our Nation?'