In case you missed it, The Star Online posted an article at about 6:13pm on the 11th of April reporting the closure of the SMART tunnel in the city due to heavy rains and rising stormwater levels.
Funnily, there were a few comments on the article on The Star Online's Facebook account with the common punchline: "I guess the smart tunnel isn't so smart after all."
Based on this, it seems as though some people are still a bit unsure about how the SMART tunnel works but don't worry; we gotchu covered!
The SMART tunnel IS supposed to close during flash floods lah
First things first, the "SMART" in "SMART tunnel" actually stands for Stormwater Management And Road Tunnel (so when you say "SMART tunnel", you're actually saying "Stormwater Management And Road Tunnel tunnel" LOL!!!).
As much as we'd like for the tunnel to have a touch screen interface or Internet access, it's not that kind of "smart." (Not yet, at least ?)
The SMART tunnel's purpose is to solve the problem of flash floods in KL and also to reduce traffic jams in and around the city centre. But how? By being a dual purpose tunnel that operates as a regular tunnel for cars, AND a stormwater tunnel to contain and divert storm water to prevent flooding. It has two "levels" of motorway tunnels and the stormwater tunnel runs below the motorway tunnels.
Its purpose and success has even been recognized and applauded by the United Nations as it received the UN-Habitat Scroll of Honour Award in 2011 (an award given in recognition of great contributions to the development of settlements). Imagine that – a tunnel winning an award! It has also been listed as one of CNN's 10 world's greatest tunnels.
The SMART tunnel is the longest stormwater tunnel in Southeast Asia and the second longest in Asia. This tunnel is designed in such a way that it has 4 operational modes which are actually pretty simple to grasp.
The first two modes are pretty much the same, where the motorway tunnel is still open for use. But when the rain water reaches a certain level – like in Mode 3 – traffic has to be evacuated from the motorway tunnel as a precautionary measure, just in case the heavy rain doesn't stop. If the heavy rain continues, Mode 4 activates and both the motorway tunnel and the stormwater tunnel get filled up with water. More detailed info about the operational modes can be found here.
It can also take a while for SMART tunnels to re-open
Typically, these closures only last about 2 days but in serious cases, it could take up to 4 days before the tunnel is re-opened!! ?
This is because once all the flood water is led out to the rivers, the tunnel has to be verified and checked before cleaning. The tunnel is then cleaned via pressure-washing (just imagine all the WHOOSH echo sounds in the tunnel, man!) and special Alam Flora Road Sweepers designed just for cleaning the SMART tunnel. When all is ready, the motorway tunnel will then be re-opened for use.
On top of that, the tunnel also sometimes undergoes maintenance services every few months so that it can function properly. These maintenance services take place overnight on weeknights so when the tunnel closes in these situations, the traffic isn't heavy, though the closures will still be reported by newspapers and websites as a PSA.
So, next time you see news that the SMART tunnel has been closed due to flooding, don't worry, it's only doing its job. ?
Actually… The tunnel may close more often cos KL's flash flood problem tak habis-habis
As we know, KL is very prone to flash floods because of numerous reasons: poor drainage, localised heavy storms, and urbanisation.
There have been reports of the SMART tunnel being closed due to heavy rains in the past, and between January 2007 and July 2010, it successfully prevented 7 potentially dangerous flash floods in KL! So actually, the SMART tunnel is already a super effective way of preventing floods. But… so far, there is only one SMART tunnel in Malaysia, so that won't stop other areas from getting flooded.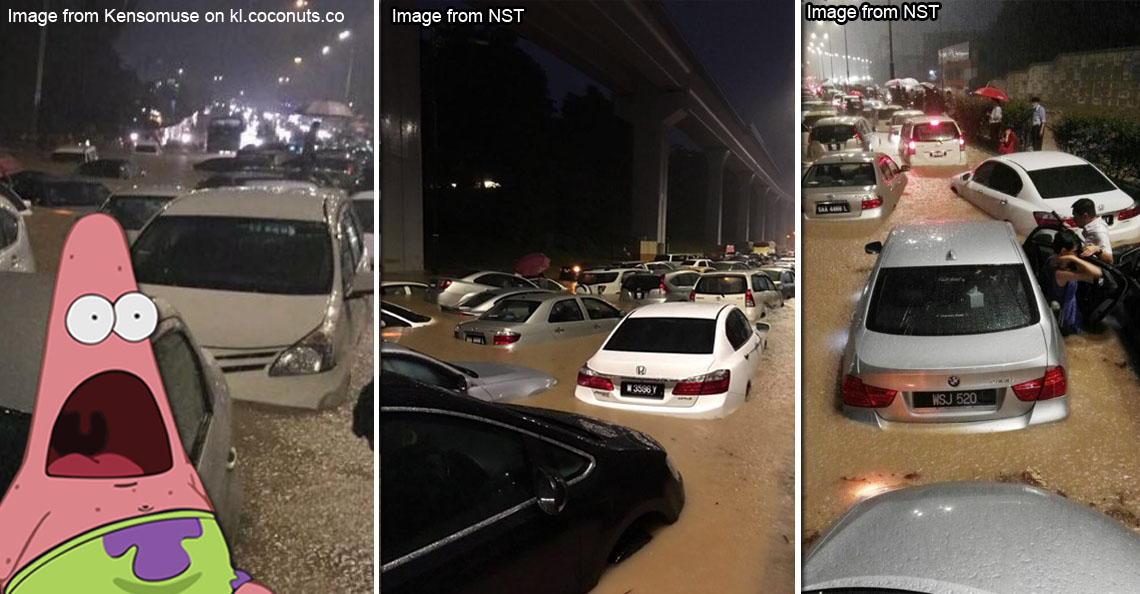 Take for example about a year ago, there was a flood near Jalan Duta and University Malaya that resulted in over 100 cars being stranded. University Malaya is about half an hour outside the city centre and is also outside the "protection" of the SMART tunnel, so that area reallyyy kena.
These flash floods have even been so bad that people ended up getting killed in 1971!
While the SMART tunnel is doing its job in preventing flash floods in the city, we can also do our part in reducing these occurrences in other areas by throwing away our rubbish properly, and not into drains. This issue has been brought up before by Ir Prof Dr Jeffrey Chiang Choong Luin in a letter to Malaysiakini:
"The public must be informed that the water drainage system is not a rubbish disposal system… There are other facilities for proper rubbish disposal, which should be provided for and used." – Ir Prof Dr Jeffrey Chiang Choong Luin, from MalaysiaKini