No one would argue that it's been a difficult month for Malaysians, with the political chaos, the Covid-19 chaos and now even a water cut chaos for Klang Valley (although we hear that's been resolved, whew).
But they say it's always in adversity that you see true colours, and those colours are shining brightly for Malaysians. From the frontliners, this touching image was being circulated wildly yesterday…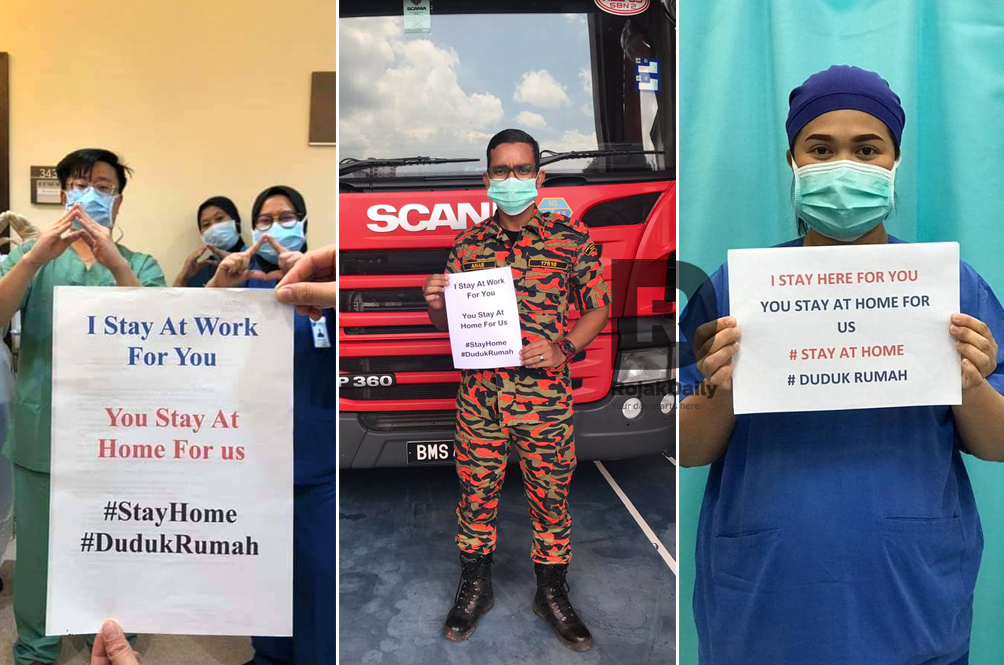 Yes. So if there's one key message to all this, before you read any further, it's….
That message aside, the rakyat also seem to be sending a message to our Covid-19 frontliners – those at hospitals taking care of patients, and testing suspected cases. In less than 24 hours, numerous initiatives have sprouted from the Malaysian public, specifically to help our over-taxed health workers deal with the crisis at hand.
Here's a few of them and how you can help.
1. Free makan for night shift frontliners (and cops too!)
Zarina heads a portal called GoJob.my, which helps marginalised comunities in Malaysia get jobs (including catering). So when the news broke of the lockdown and the rise in cases, she had a thought, which quickly sprung into action.
"So when the news came, I asked two friends leading at Sg Buloh and Serdang what they need to ease their work, and Dr Ferwahn concurred too that its hard to find food for 8pm to 8am shift. Dr Yasmin at Sg Buloh also said they needed some dry supplies.

Initially I was thinking of raising funds to pay caterers. However, some of my friends in the F&B some says they will sponsor themselves and some says they can get others to chip in too. So now we have Mozer's, PichaEats, and Puan Sri Nisa Bakri sponsoring food and we have them booked till 16th April!" – Zarina
In a nutshell, they're getting professionals to pre-pack the food, and arrange for Grab transport to bring them to the 20 night shift Covid workers who work from 8pm to 8am with no breaks at Hospital Serdang, with each shipment costing around:
RM55 (transport) + RM200 (food for 20pax) = RM255 per shipment
They're calling it Projek Food4Frontliners and they've already managed to secure sponsorship worth RM3k! If you're interested in helping out, you can:
Bank in any sums into the following account for food delivery – Please state COVID 19 Food and state your Name and Tel No when you do any banking transactions to the following account: Public Bank Berhad 3212015428 (GoJob Sdn Bhd)
Since this article was published, they've received a good number of donations, so they're expanding to GHKL and Balai Polis as well now! Keep those donations coming and keep spreading the word 🙂
Any additional funds will also go into purchasing additional stuff such as…
Chlorox/ disinfectant wipes
Mineral water
Packet drinks
Biscuits
Instant noodles
Shower gels
20 Thermoscans (there's a shortage now so the price is estimated to be up to RM400 per piece; they have secured 6 pieces already for Serdang Hospital as at 18.3.2020)
If you're interested in helping even more, contact Zarina for Team GoJob at 0122880444 🙂
Update: 19 March 9.26pm
There's now ANOTHER Food4Frontliners initiative by Persatuan Penyokongan Susu Ibu Hulu Langat organising meals in collaboration with Unit Pemakanan Daerah Hulu Langat. They're distributing food to 16 Clinics and health offices in the Hulu Langat area. They're estimating the same RM10 per meal across approximately 800 front-liners in the area.
If you want to help out in that area, bank-in money to CIMB : 8603650423 (Persatuan Sokongan Penyusuan Susu Ibu Hulu Langat), or contact the following numbers
Puan Khalidah – 014 802 6468
Puan Fadhlina – 019 356 7372
Puan Suriati – 019 662 7409
2. Childcare… cos while they take care of our families, we need to take care of theirs
This is another initiative headed by the newly formed initiative, POWR (Projeck Wawasan Rakyat), which aims to drive unity through grassroots initiatives amongst other things.
They noticed that while healthcare workers are busy treating Covid cases, they often have children unattended at home. So they teamed up with Kiddocare.my, which offers childcare services in Malaysia. They're looking to subsidise childcare fees by at least 50%, meaning having someone at home would cost RM64 instead of RM128 for an 8 hour slot.
It's still a little on the high side, but basically that's where ugaiz come in! The more donations they receive, the more subsidies they'll be able to give.
UPDATE: 22 March 3pm Due to overwhelming donations, the subsidy is now 90%! WOOOOOO! (this includes a very generous RM10 from KL & Selangor Chinese Assembly Hall)
So send your donations in to Angkatan Belia Islam Malaysia (ABIM)'s bank account at BANK ISLAM 14023010011219, and proof of transaction to 0135933496 as well 🙂
Important – Please reference your donation "FrontlinersFirst" to allow them to track all donations accurately.
If you like, you can contact POWR for more information at [email protected] or their Facebook page.
And Malaysians everywhere are helping in so many other ways as well #KitaJagaKita
While the frontliners are being taken care of, Malaysians everywhere are actively looking for people to help! An FB group was created by a guy called Joe Mathers called Caremongering (vs scaremongering), which is looking for both problems and solutions for vulnerable people and groups during this lockdown. There are already more than a thousand members, and they even have a form to help people request assistance, with numerous cases being opened and closed already.
There's also a summary of various causes and assistance needed at www.kitajaga.us, ranging from counselling needs to certain organisations with food needs.
And we just found out about another similar FB Community group called Covid-19 Community & Network Support Malaysia (wah a bit of a mouthful) also hooking up those in need with those who can help.
Wow. All this in 48 hours?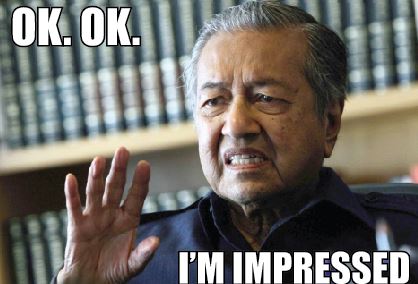 It's tough times for Malaysians, for some more so than others, but if there's one thing that makes everyone feel a little better, it's knowing that Malaysians have each others' backs. Very importantly, while sharing does help, it only helps if someone eventually lifts a hand, so do consider actually donating or helping supply something in kind.
Malaysians are sometimes accused in situations of staying at home and doing nothing, but in this case, we can stay at home and still do something.
But most importantly…