Lifestyle
Wah why did these ballsy Malaysians climb a Dubai tower on Hari Raya?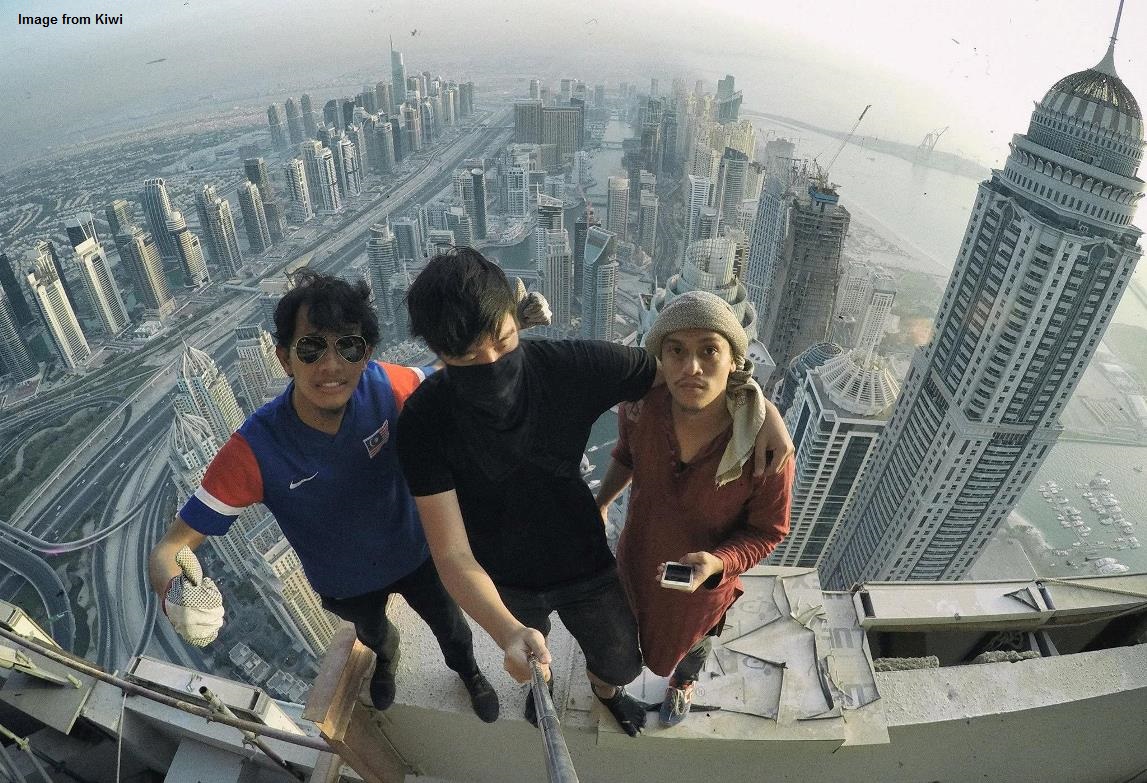 During Raya, most of us were either balik kampung-ing, chomping on food, going for holidays or just enjoying an extended night's sleep.
But a ballsy Malaysian (guy in the mask) climbed up to the peak of the tallest residential building in world (the Marina 101), with NO harness, NO helmet, NO kids yet to carry on his name, and brought along with him… TWO Malaysian buddies. Yep, those are the guys in the image above.
And they had TRIPOD with them to take pictures at the edge of the building! Walao, how is that not dangerous!?
Who IS this guy and why was he pulling such a crazy stunt? And HOW does he even do it? CILISOS invited him over to the office to find out why his legs so itchy…
So who is this labah-labah?!
His name is Keow Wee Loong… or you can just call him Kiwi.
…who, by the way, just celebrated his 27th birthday a few days back. Happy Birthday, man!
Kiwi is into climbing, but this is waaaay different from climbing trees! This activity is called rooftopping. It's a sport that not many would attempt, and yet there's a thriving community of rooftoppers around the world. Essentially, you scale a really tall building with a camera and videotape your ascent, or take dizzying photos of the cityscape from the edge – photos may include selfies or dangling feet.
You've probably seen photos like that on the Internet. It looks something like this:
We kid you not, it's not photoshop-ed!…. this is photoshop-ed:
But Kiwi's photos are fo' legit documentation of his rooftopping. Now you're probably wondering, WHAT ON EARTH IS HE THINKING? Well, there's a perfectly logical explanation to how he began his hobby. It started out as a way to let off some steam. He was studying for his law degree in the UK and went to Thailand, where he met his wife. He was 21 when they got married. However, things didn't work out, so they decided to get a divorce.
"After my divorce at 22-years-old, I started doing daredevil stuff. I just wanted to do something fun to blow off some steam. My life changed. You should find positive things to do, so I cycled across Southeast Asia, starting from KL to Vietnam, in 16 days." – Kiwi
So that's how Malaysia got it's very first and so far only regular rooftopper. After his law studies, Kiwi never took up the practice:
"Law is not my passion any more so I moved into photography."
While most Malaysian parents would choose a law career for their kids over photography, Kiwi's parents were totally cool with his choice (and with his rooftopping activities). But even more surprisingly…
He photographs Anwar!
Though Kiwi's been called Spiderman and Daredevil in the news (truth is he hates these nicknames), all he wants to be known as, is a freelance photographer. His job has brought him to fascinating places and awesome experiences, such as being official photographer for Pakatan!
"I was their campaign photographer during the Kajang by-election."
He snapped many important moments like their speeches, rallies, even candid moments. And sooo many kiut pics of Wan Azizah! Wan Azizah making ais kacang, riding bicycle, and pointing at rainbow. Click here to view his Pakatan photo collection on Facebook.
On top of that, he's shot photos for Aung San Suu Kyi during Burma Independence Day and covered 2 protests – the Hong Kong Umbrella Revolution and Bangkok demonstrations.
"I slept on the streets with the demonstrators. You can't sleep in a hotel coz if you're not on the ground, you might miss something. I was also shot at twice by rubber bullets. It's painful!"
It was during the Bangkok protests that Kiwi found a gas mask lying on the ground. He kept it as a souvenir, but the gas mask would become an important tool for him later.
All in all, things turned out great for him, taking up a photographer's life. After 3 years of photography, he decided to combine it with rooftopping. He uses a Nikon D800 and puts it into his blue bag with a tripod when he climbs.
Aside from getting assignments, he'll go rooftopping, take amazing shots, and sell them to the media.
"If I wanted to go somewhere, I would want to be published and get the news as far as out there as possible. I charge US$100 per story."
CILISOS also paid him for his awesome photos btw. Anything else that's not paid, but relevant to the story, we took screenshots of from his Facebook. On and off, he also takes wedding photographs to earn some extra cash.
He has scaled more than just buildings…
That's right, man, Kiwi's climbed a VOLCANO too! He scaled the Ijen Crater in East Java, Indonesia. You remember the gas mask he picked up in Bangkok? It came in handy for him on this trip.
"At the volcano, I went in alone without the guard. I was in there for about 1 minute and almost suffocated because of the gas, coz I was occupied with my camera. Then I quickly put my mask on."
Kiwi doesn't even remember how many buildings he's rooftopped in total. The first one he climbed was the Shanghai Tower in April 2014 – he took the stairs to the 90th floor and from there, climbed outside a window to the top. He chose to do it at night during the Ching Ming festival since there would be fewer people around, he wouldn't get caught.
"I had heard about 2 Russians (Vadim Makhorov and Vitaly Raskalov) who climbed it. That one was challenging, he said, coz security quite intense. It was surrounded by an electric fence and guard dogs!"
Plus he's also climbed a ferris wheel. He went up the Observation Wheel in Hong Kong.
How does he even do it?!
Well.. First off…
But that aside, surely rooftopping is illegal or something, right? Well, it is. In case you were wondering why we didn't put pictures of his real face, he covers it with a handkerchief to protect his identity. When he climbed the 1Sentrum Tower, KL, during Ramadan last year to wish Selamat Hari Raya, he got ARRESTED. Got video of him climbing summore.
"I climbed that one during the day. There were a lot of people around. They thought I was insane. They took me for tests – urine, blood, drugs… The judge was very kind lah."
Speaking of keeping his identity safe, what about physical safety? We already told you the scariest part of his climbing – that he wears NO harness. 
"It will be too obvious if you're gonna bring harnesses. People will stop you. Also it's not good for climbers to bring too many tools up."
Alamak! Then what does he wear?
"T-shirt and shorts."
How about training or preparation? Don't you need to get fit for something like this? But Kiwi told us he didn't train for anything. It was all spontaneous for him. No push-ups, sit-ups, or chin-ups… just go UP.
Despite all the risks, he does it for a reason…
He wants to send people a message
Every time he rooftops, Kiwi makes sure he brings a message for a cause up with him. In this photo, he climbed the IB Tower with his equally-brave friend Fatin Ilani and they brought up a Save Gaza message and Justice for MH17.
(Chup – how on earth did she climb up there in a Baju Kurung?! Nola, actually she climbed up in t-shirt and pants. When they decided on a nice spot to take the photo, she put on the outfit.)
And remember at the start, where we showed you a photo of him and 2 other guys in Dubai? (Who, by the way, do have experience with extreme stunts – one's into parkour and the other's also a rooftopper).
That was his Hari Raya climb to the Marina 101, where they brought up an anti-racism message. Kiwi related how all 3 of them shared one bottle of water in simmering hot conditions. During the summer, the inside of the building reached 50°C. All the windows are shut and they were climbing up 101 stories! With teamwork, they sampai the top together. Malaysia Boleh!
"They're my friends working in Dubai. They were spending Raya alone so I asked them to join me. It's not good to leave a fellow Malaysian behind."
Very timely, what with the Low Yat fuss and all. Kiwi thinks it was a misunderstanding and some people were just taking advantage of the situation to cause racial riots – exactly what other moderates in Malaysia have been saying all along. Here's a video of their climb:
There will come a time where Kiwi will finally stop rooftopping – that's when he puts Malaysia on the map. There are so many rooftoppers from Dubai, Hong Kong, and China, and hundreds from Russia, but he's the only one from Malaysia. "I just want to set the record. I always try to bring our flag up, to make a name for the country. I'll make sure people know this person exists in Malaysia and that's my final. The last one will be tallest tower in the world… it's not the one in Dubai any more," he said.
Oooh, so there's more to come. Who knows what's next for Kiwi. Even he doesn't know yet…
"I would say I'm still searching for something. You dunno when life gonna end, so I say take every opportunity and just go for it!"