While many people might be hating on social media these days, some times it gives you some real gems. One example of that is Wire Hon – a 30-something year old Perak guy who has a collection of hundreds of action figures which are a LOT more than just lying around collecting dust.
They cook him noodles…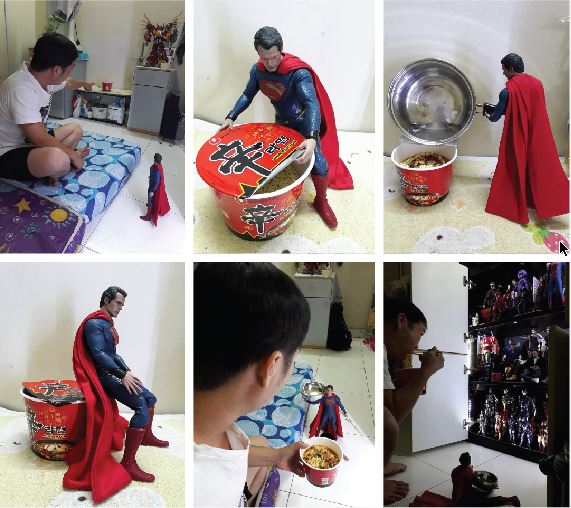 … play with each other…

… oh and they also help around the house…
And here's how Wire Hon does it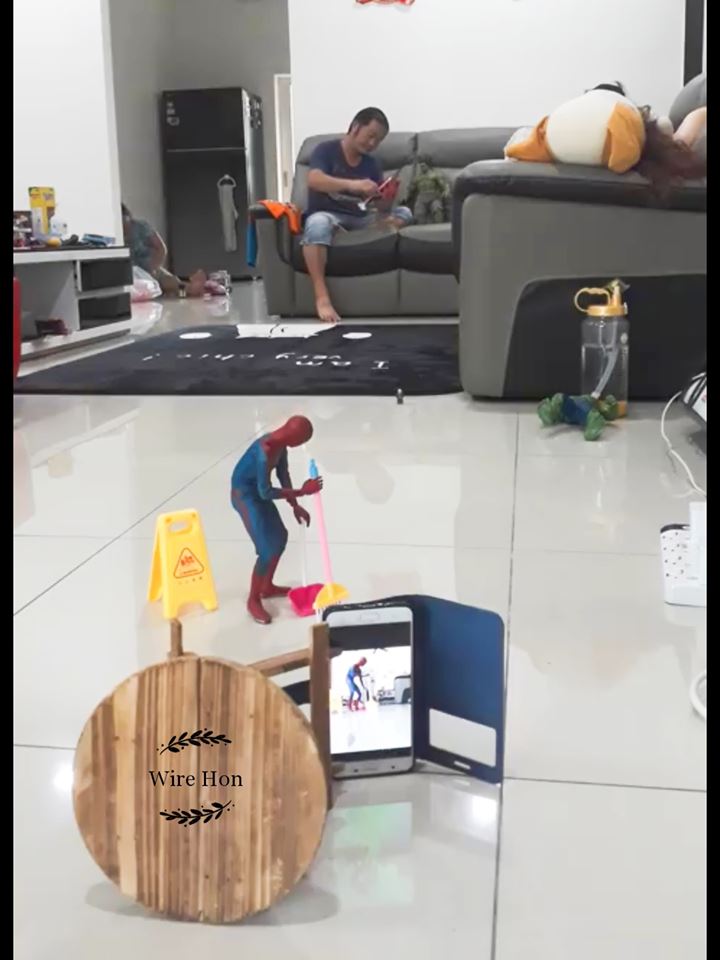 Wire Hon uses a pretty old technique known as forced perspective, where you can play with relative size, from only ONE angle, take any other angle and the illusion is gone. You might remember it for how the LOTR movies made Gandalf so big compared to Frodo.
"On the Internet, I accidentally saw the photos of the forced perspective and influenced it. From the first attempt, it was a success! The secret is the background, angle and lighting." – Wire Hon, to CILISOS (Google Translated from Chinese cos we banana)
For any of those wanting to try it out, here are the camera settings he used, conveniently sent to us on a video via FB. FYI he takes just about 30 minutes to generate a shot 🙂
For the last two years, Wire Hon has been taking one or two shots a week with his Samsung J7 Prime, as he commutes between Pahang, and his hometown of Perak. The people who appear in the photo his kids, his wife, and other family members.
But above and beyond the technical prowess is the sense of comedy and local culture that has pretty much made Wire Hon the undisputed champion of forced perspective in Malaysia..
He's also been featured on ComicBook.com, ComicsBeat.com, MalayMail and a lot more!
But what the toys don't do, is earn him money…
"The money only went out, probably spent more than RM30,000. I didn't go to the official calculations and I didn't dare to think that it was worth it!" Wire Hon to CILISOS
Surprisingly, he tells us he has a total of maybe 50 action figures, but he gets the really top-notch stuff. Each Hot Toys action figure costs between RM800-RM2000! And although some Taiwan toy manufacturers do sometimes give him a few freebies, he's spent a LOT of money on giving us a bit of positivity on Facebook and Instagram, with a fanbase from all walks of life, some even beyond our borders.
Got an idea for how he can make money out of his hobby? Let us know in the comments, and we'll be sure to pass your ideas along to him 🙂 In the meantime, to get the ball rolling, for making our bellies roll, CILISOS has given him a small royalty fee for using his photos. We love you 3000 :*)