Crime
Law
PDRM is actively arresting individuals with gang tattoos. Here's what they look like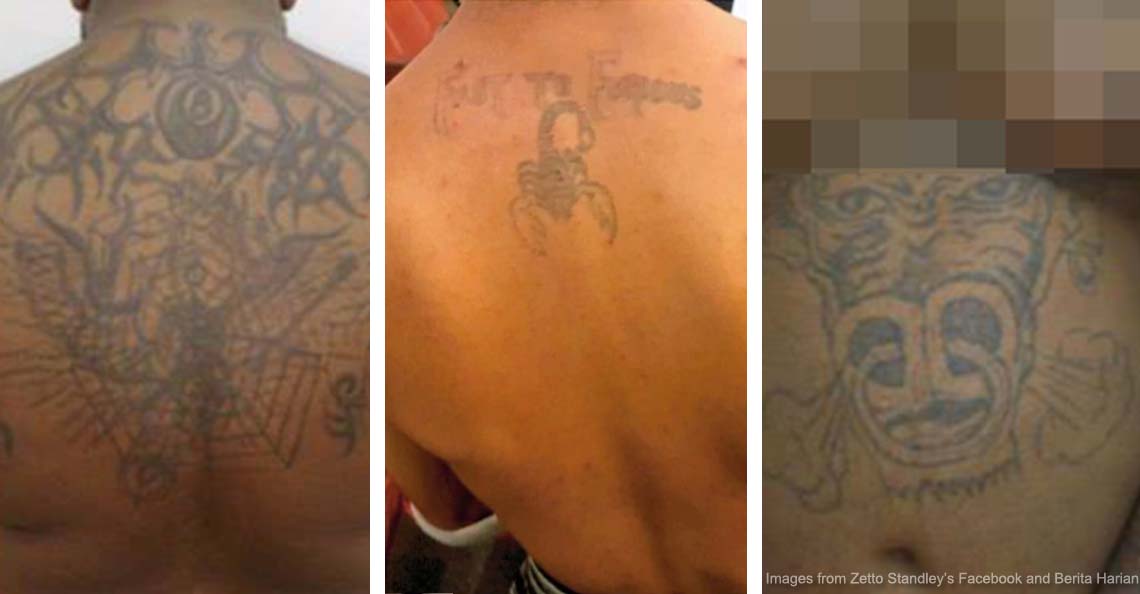 If you happen to have a tattoo, then high five! Some of us at CILISOS do too but with the recent announcement by the Royal Malaysian Police (PDRM) about peeps with gang tattoos will be arrested, then having tattoos may be a bit worrying.
Datuk Rohaimi Md Isa, Bukit Aman Anti-Vice, Gambling and Secret Societies Division (D7) principal assistant director, mentioned that 72 secret societies (gangs) as unlawful organisations under the Societies Act 1966 in 2013. He also stated that the those caught with the tattoo or symbol on their body could be sentenced up to three years in jail or fined of up to RM5,000, if they're found guilty.
So which tattoo is considered a gang tattoo? Well, if you have tattoos…
Hopefully your tattoos don't look like these
Some of ugaiz may have missed this but PDRM has released several series of photos involving the identity of 49 gangs in Malaysia sometime in 2013. Among all those are tattoo designs based on each gang.
According to Datuk Abd Jalil Hassan, former Bukit Aman Anti-Vice, Gambling and Secret Societies Division (D7) principal assistant director, there seem to be a common theme such as animals (mostly predators like tigers, spider or eagle), spider webs and numbers. Most of the time, the numbers represent gangs like Gang 08.
A former gangster, who used to be known as Kingpin, shared his experience in a gang.
"Throughout my recruitment period, my body was tattooed and I had to join painful ritual such as stabbing my palm with the knife and drinking the blood as a proof that I am loyal to the gang." – Kingpin told Berita Harian, translated from BM.
Speaking of painful ritual, one of the gang listed by Abd Jalil actually perform this ritual. Gang 36 was said to perform a ritual where the members' right arms would be slit and the blood from their arms would be collected in a bowl. This was done on top of a tattoo of the gang logo on their body.
But you won't only get in trouble for having tattoos in Malaysia. In Japan, for instance, you may not be allowed to enter places like public swimming pools or communal onsens where guests are usually required to bathe nude. This is because tattoos in Japan were commonly associated to the country's organised crimes or yakuza (Japan's most powerful and misunderstood criminal gangs).
Tattoos were reportedly used to mark prisoners with the crimes they committed. Yakuza adopted elaborately artistic designs to sorta own this branding and cover up their flashy rap sheet. But thanks to that, it's still illegal for anyone without a medical license to administer tattoos in Japan up til today.
Despite the announcement on detaining people with gang tattoos, Rohaimi pointed out that the use of tattoos among gang members are getting less these days. So, if you have…
Gang car stickers and banners also can kena
Rohaimi pointed out that the gang members can be identified by other things. Apparently, PDRM had also released the logo and culture of the gang such as the festivals they celebrated and funerals.
Some of ugaiz may noticed how some of these logo may look familiar. Well, that is probably because these logo may look like other thing that may represent a totally different, non-gang related association or party! So, it probably makes sense if some people have these logo stickers on their cars or homes.
Back when these photos were released, the police had advised people to avoid sticking gang logo at homes or cars. If they do, Abd Jalil had advised people to remove them.
"This is also to prevent them (the public) from being arrested by the police. They may not know what the logo means and not be a member of any gang groups. However, if they still insist or are found to be involved in those activities, then actions will be taken." – Abd Jalil told Astro Awani in 2013.
He also added that gang members would usually place stickers of their gang logo on their cars during festivities or funeral. But how would the police know this anyway? Abd Jalil reportedly mentioned that the police would attend these festivals or funerals.
"If we see the logo is being placed on the vehicle that brings the body of the deceased (during funeral), we will ask them to remove it." – Abd Jalil for Astro Awani in 2013.
There's a video of Abd Jalil explaining the tattoo, logo and culture of these gangs in a press conference and you can watch it here.
Okay la, at the end of the day, we still get how some of ugaiz may still feel scared if the tattoo you own may get you arrested. Buttt…
…don't worry. If you're not in a gang, you'll probably not get arrested
When our friends at AskLegal contacted PDRM, they were informed that police will only be taking down your information if you were found with tattoos which look similar to gang tattoos. After going through investigations, if the suspects are found guilty of being a gang member, then the police arrest you. But if you're clean, you'll be good to go (and make a cover-up tattoo).
We've inquired with the police about the gang stickers and banners but PDRM hasn't get back to us if the police officers will arrest peeps with those kind of stickers.
But this effort isn't new either. PDRM has been combating terrorism and gang groups with implementation of operations like Op Cantas Khas. A total of 369 secret society members have been detained under the Prevention of Crime Act (POCA) over the past five years since 2014.
"Implementation of 'Op Cantas Khas' using Poca and Security Offences (Special Measures) Act 2002 has given positive impact on measures to combat secret society activities." – Rohaimi told MalayMail.
However, if you happen to have any information on gangsters or their activities, PDRM encourages you to provide them the information via WhatsApp at 011-1227 7478 or you may want to send those information to police contingent in each state. You can find their numbers here.