So we all definitely know someone who has studied in the UK, or we are that someone. But with the UK aaallll the way on the other side of the globe, we wonder why do so many Malaysian students still go there to study?
Of course there are the obvious reasons la, better quali-tea (hehe) education, better job opportuni-tea (hehe x2), perceived superiority over local grads, etc. But these are the reasons these students give their parents to send them to the UK… Sure got some other reasons also one ?.
And British Council wants to help you take the next step
In case you don't know what our friends at the British Council do, well, they provide advice on the prospects of studying in the UK…. so if you're toying with the idea of studying there, it wouldn't be a bad idea to check out their annual Study UK Malaysia Exhibition.
They bring universities, colleges, and boarding schools to your backyard so you can be spoilt for choice when it comes to getting a world class education. You can personally go and meet representatives from all these universities and ask them questions face-to-face instead emailing them and waiting for days.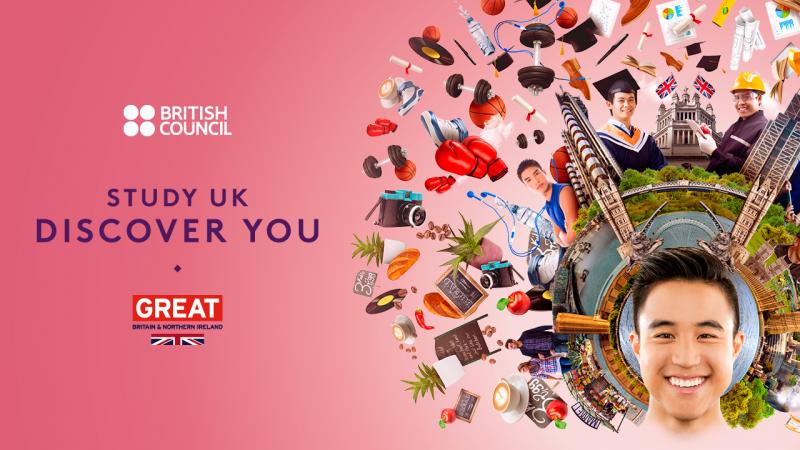 Best of all? It's FREE! You can check it out on 20 and 21 October 2018, 1pm – 6pm, in Hall 5 of the KL Convention Centre.  If you're interested, just click here for more deets on the exhibitors and pre-registration. FYI, there will be 50 or more institutions participating in the event, such as the University of Edinburgh, Oxford International College, University of Essex and King's College London.
They'll also have UK alumni to whom you can kepoh about cost of living, quality of living and their experiences. We actually managed to speak to some of them to find out the reasons they chose UK (that they didn't tell their parents)! Here's what they told us: 
1. Ho ho… it's very hard for your parents to contact you.
Staying at home, a lot of us are spoon-fed and have our parents doing everything for us. Our parents pay for everything, they do our laundry, cook food for us… but much to our parents' disappointment, this isn't the best way to make sure that we are ready for the real world. Rainie, who did Hospitality and Tourism Management in York St John University, had also always been sheltered by her parents and realised that she needed to break out if she wanted to be independent.
"I felt that I was too comfortable in Malaysia. I wanted to get out to a new place to learn more about life and be in charge of my life." – Rainie
It took a while to convince her parents, but she tells us that it was hands-down the best decision she ever made. Although initially she found it difficult to integrate, she says it was good that there was a massive difference in time-zones. Malaysia is actually 7 hours AHEAD of the UK, so you know what that means… when you're wide awake, the fambam's sound asleep!
This meant that Rainie couldn't pick up the phone and rant to her parents whenever she wanted, and instead had to learn to solve her own problems. She even found a part-time job to earn some extra pocket money during her time there. 🙂
2. After class is over, just tukar baju and go watch Coldplay live
The UK is famous for the amount of gigs and concerts they host. Farah Othman, a graduate from the University of York told her parents that she wanted to get a degree in English and what better place to do it in than England? What she DIDN'T tell her parents was that she was a hardcore music fan and reeeally wanted to check out the concerts scene in the UK.
In the UK, there are gigs and concerts EVERYWHERE. You'll never find dull weekends. Europe is also known for its Music Festivals, like Glastonbury or the super epic Tomorrowland festival in Belgium. It is the BIGGEST electronic music festival in the world with some of the most popular DJs on the planet, mind-blowing stage design and spectacular firework displays. Check out the video from this year's Tomorrowland:
Other than the music festivals/concerts in the UK, there are many other festivals in Spain, Croatia, and the Netherlands too. With some flight fares even cheaper than bus fares in the region, you could just take a 1-2 hour flight from London to whichever city the festival is happening in and attend the festivals.
"We would make 3 hour train journeys to go to gigs to see our favourite bands play. It would be like a whole fiesta where my friends and I would finish our work early, wake each other up on the day of the gig, and it was…just amazing. Studying in the UK, it met my expectations, and then some. Truly a life changing experience."-Farah Othman
3. Ketiak tak basah everyday 😛
We gotta clarify… those are our words, not our interviewee's. Heheh. This writer is legit sitting and writing this article with her pits all clammy in the Malaysian heat wei.
See, in the UK, their summer is like Cameron Highlands for us. Their hottest month is in July and highest temperature is usually 19°C! So when Haiqal Hisham went to the UK for his Masters of Health Psychology degree at the University Of Leeds, he was over the moon to find that he could just sit outside at the cafes and lepak with his friends.
"The whole culture and lifestyle is an experience in itself. Its very different from Malaysia." – Haiqal
Haiqal says he had previously visited the UK and loved the quaint little cafes that you could sit in and watch the world go by. (Hwah… Imagine us sitting outside at the mamak in the afternoon… melt into the tar road liao.)
He loved it so much that he convinced his parents to let him go to the UK to study. He also joined some clubs and societies that enabled him to make friends from all over the world. He pointed out that it was never too hot to do anything, which happens to be the case in Malaysia on some occasions.
4. Can go jalan-jalan around Europe
Being in a central location, the UK is a hub for Euro travelers. Kim Victoria has always wanted to travel and she got a fair bit done during her breaks while studying Psychology at the University of Portsmouth. She managed to visit Amsterdam, Paris, Prague, Berlin, and many other major cities during her time there.
Wahh…So rich ah?! Lol… Not really la. She says once you are already in the UK, travel is super cheap and very easy to do. Flights inside Europe cost almost nothing, and every major travel destination is only about 1-2 hours away.
"I took up some part-time jobs during my free time to fund my travels. I did some freelance work, and was also a research assistant for a while. It's really not that hard to find part-time jobs there as a student." – Kim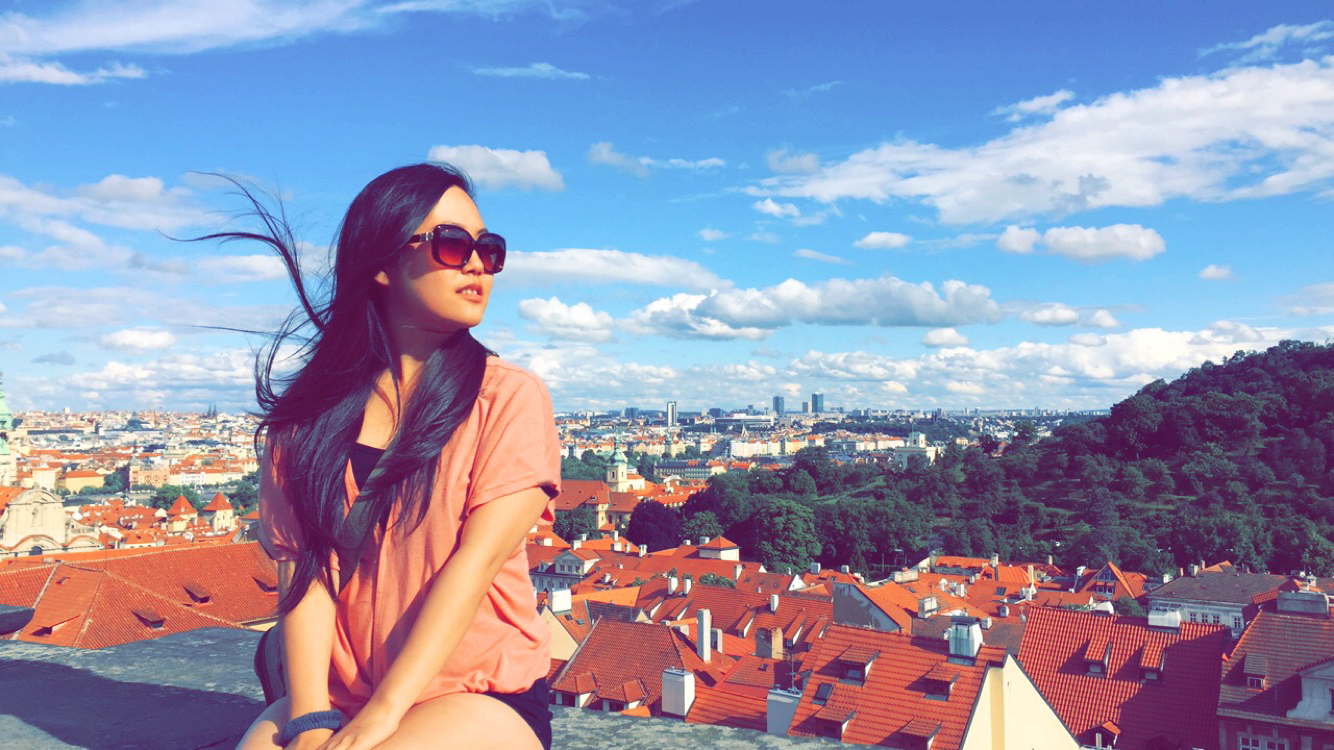 Kim in Prague.
But how cheap is cheap? A Cilisos staff told us that he once flew from Manchester, England to Milan, Italy and paid only 17 Pounds! That's RM89.94 to go to another country. Here ar… fly within Malaysia itself spend a few hundred ringgit liao. We did our own price survey and found that you can get return tickets from London to some major European countries for under 50 Pounds (RM 260). So cheap. T___T
5. It's a heaven for Art and History lovers
With such rich history, Great Britain has collected quite a collection of art from across the globe from their colonising days. Not only can you visit historical sites like Stratford-upon-Avon where William Shakespeare was born, but you can also visit places where some of the modern art is being created like the shooting locations of world famous series like Sherlock and the Crown.
Being an Architecture student at the University of Bath, Sue Yen had always been excited to check aalll the historical sites that the region had to offer, but of course you can't do it over a 2-week trip mah… So she convinced her parents to let her study in the UK so that she has 3 years to do all the exploring she wants.
But that's not all.
"Actually, initially I had considered going to Australia instead of the UK to study, but after all the calculation, I  realised that the cost of studying in the UK and Australia is pretty much the same." – Sue Yen
Hah!? We macam tak percaya so we did our own research and came across this website that has done a comparison of the cost of studying in 6 different major world destinations. Not only is the tuition fee, lebih kurang the same, but the cost of living the UK compared to Australia is also much lower?!
6. It's a pilgrimage for football fans
Whether you are a fan of Arsenal, Liverpool, Manchester United, or Chelsea (others not famous enough), there is something for every fan here. You can visit the historic stadiums where you favourite football legends have played. You can feel the atmosphere as you walk down the players' tunnel at Arsenal Stadium, tour the players' dressing room at Chelsea FC or discover Manchester United's fascinating history.
Marcus, who did law at Northumbria University in Newcastle, is actually a Bayern Munich fan. And having watched the 'beautiful game' since young, it was just impossible not to immerse himself in the birthplace of football.
"I miss the freedom that I had there. I could make impromptu travel decisions with friends and we would just go. The trip to Old Trafford was like that. I was visiting a friend in Sheffield and he told me his friends were going so we all on the spot decided to go as well. It was great." – Marcus
Whatever your hidden agenda may be, the UK has something for everyone
One thing all the graduates we interviewed told us was that it isn't so much the quality of education that makes the UK experience great (that reason is for the parents ?), but the whole experience of being there. You get to sit where once great leaders sat and studied.
These graduates all made friendships and memories to cherish for a lifetime. You can create your own British memories too. Not sure how? Just visit the Study UK Malaysia Exhibition to kick-start your own Study UK journey! All your queries can be answered on 20-21 Oct 2018 at the British Council's Study UK Malaysia Exhibition in KL Convention Centre. 🙂