Culture
Lifestyle
Weirdness
RM4.2k for the new iPhone X?! You'd feel better spending that money on these 10 things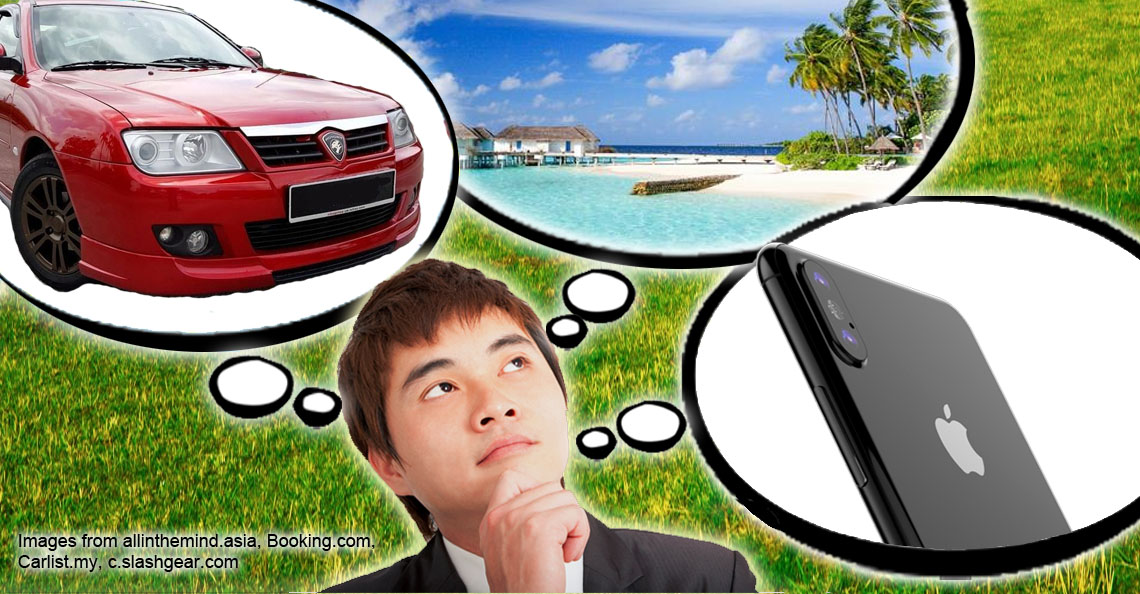 So Apple just launched its much-anticipated iPhone X on 12 Sept. A glass and stainless steel device with edge-to-edge display, wireless charging, infrared camera and facial recognition…whewww nak!! Everyone would be rushing out to buy one except for one problem. The price! 😛
The iPhone X will be priced at RM4,200 (US$999). Ermagerd, that's like, 4,200 RM1 notes. Can you imagine what else you can do with that kinda dough? Here are 10 other things you can buy with RM4,200:
1. A second hand car
For RM4,200 or less you can buy a used car in Malaysia. Whether or not it's in good condition (or can even start enjin 😆 ) is another matter la. We found used cars ranging from RM1,000 to RM4,200 on Mudah.my and Mymotor.my. There are plenty of other car sites you can check out too.
For that price, you can get a less-than-a-decade-old Proton Iswara, Saga, Wira, Perodua Kancil, and even *gasp*… a 2011 WAJA… but we could also find a coupla old 1990s Japanese cars Toyota and Honda, and even 1990s Mercerdes Benz and BMWs (though these run a lil over RM4,200). Unfortunately, no Aston Martins, Bentleys, Cadillacs or Maseratis for that price.
2. A private security guard for 2.5 months
Do you know how much foreign workers earn? Definitely not enough to afford an iPhone X. CILISOS went around interviewing foreign workers for Labour Day 2015 and found out from three security guard – Bijay, Mobindra and Thaman (all from Nepal) – that they earn RM1,470, RM1,500 and RM1,350 per month respectively. Let's take the average salary RM1,440…you could hire one of these guys for 2 months plus approximately. Your very own private security guard for 2.5 months.
3. Start your own T-shirt making business!
Ever wanted to be a successful entrepreneur? With just RM4,110 you can start your own t-shirt making business. So don't worry about capital, this Shirt & Sticker Business Package we found on Fulry comes with a heat press machine (38cmx38cm) worth RM1,200 with even a 12-month warranty. Besides that, you also get a bunch of other things  Cameo Silhouette V3 Plotter (A3 Size) worth RM1,380, an Epson L805 Printer worth RM1,530 and so much more.
That's literally everything you need to work super hard to MAAAAAAYBE afford the Iphone XI in a year?
4. Settle PTPTN loan
A university education ain't cheap! Malaysia has been ranked the 5th most expensive country to get a university education in relation to household income. So many families opt to take a loan to finance their kids' education, one of them being the National Higher Education Fund Corporation aka PTPTN loan. PTPTN offers loans to families earning RM4,000 income. These families can only afford the iPhone X if they work for more than a month… provided they only eat air.
When it comes to PTPTN, there is a fixed amount you are expected to pay back monthly, however they will accept more if you wanna pay off a huge chunk of money, say RM4,200. If you forego buying the iPhone, then you will be RM4,200 closer to being debt-free, yahoo!
5. Help a Rohingya child survive and be educated for more than 8 months!
Ok, #justsaying… maybe we can spend the money on someone else? As you know, the Rohingya have a tough time anywhere in the world, so maaaybe can consider giving one of these kids a better shot at life? Dignity for Children runs a great program where they provide these kids not just with a life, but an education as well, and you can pay anywhere from RM50 for join sponsorship to RM500 for sole sponsorship of one of these kids, like Ishak here.
AND, unlike some other programs where the money doesn't seem to reach the kid, with EmpowerAChild, you actually get to visit the kid whenever you're feeling the pinch of using a XiaoMi instead.
Alternatively, the Women's Aid Organisation (WAO) has a programme to sponsor a kid for a year for RM720, so instead of the phone, you can sponsor the same child for over 5 years – that's all the way through secondary school!
6. An atas 5-Day 4-Night holiday in Maldives
If you're in desperate need of a vacay, you might wanna disconnect from the world and not want to bring along a handphone with you (except to take Instapics?), so when it comes to a choice between the iPhone X or a holiday, here's a lovely overseas option that's available – 5 days and 4 nights at this resort and spa in Maldives! [P/S: This is not a sponsored article]. We just happened to come across this sweet deal. Hecking RM4,200 for a holiday in Maldives?!? *packs bags.bye.
Alternatively, you can also run away to Langkawi for a whole month on holiday if you stay at these Airbnb spots for below RM50 per night!
7. 1 and a half years of petrol
This week in oil prices (13 Sept 2017):
RON95 = RM2.21/litre (up 1 sen from RM2.20)
RON97 = RM2.52/litre (up 4 sen from RM2.48).
Diesel = RM2.14 per litre (up 9 sen from RM2.05)
So if you were to purchase the motherload of petrol, you could buy 1,900 litres of RON95 petrol. Or if you pump RM50 for a full tank, you can pump up to 84 times…provided the petrol price remains the same throughout. If you pump only once a week, that should be able to last 1 year and 7 months. Roadtrip!
8. Lasik – yes for both eyes
Four-eyed people (like this writer) know the pain of spending so much money on glasses or contact lenses. But now you can actually get lasik, which stands for laser in situ keratomileusis. This procedure uses a laser to reshape the cornea of the eye, which allows light to properly enter the eye and ultimately correct vision problems like nearsightedness, farsightedness and astigmatism.
We Googled and found out that Vista is offering lasik and cataract for only RM1,998 one eye – that's RM3,996 both eyes. But this one is offer price la, so siapa cepat dia dapat.
9. Barista skills
How about picking up a new skill with RM4,200? We came across this workshop called The Barista Fundamentals coming up on 18 December for that price on the dot. The five-day course covers roasting, sensory, brewing, barista skills and latte art on a basic level. Don't worry about not having a new phone to show off, we're sure your latte art will blow everyone's minds.
10. A 30-minute helicopter tour of KL
You don't need no fairy dust or drone to see KL from above. Here's a 30-minute helicopter tour of KL for 3 pax for RM3,070 (US$730). The pilot also will be your in-flight commentator, giving passengers commentaries on landmarks such as KLCC, Batu Caves and many more. On top of that, you'll be given one souvenir and one event certificate. Now, if you fork out RM1,000 more, a cameraman will be on hand to record your whole experience with a sport camera, as well as editing services. In total, it's RM4,070.
Actually, why are iPhones so expensive?
The iPhone X is the most expensive iPhone that Apple has ever made. But TBH iPhones have never been cheap from day 1 – even when it debuted in Malaysia in 2009, the iPhone 3G with the then-eye-watering price of $500 (RM2,100). But why are they so mahal?
Becoz quality lor. They use premium components in the phone, designing and engineering the hardware and software of each phone. You get access to more than a million apps and features like iMessage, FaceTime and iCloud services that are bundled free on the Apple ecosystem. And lastly, clever marketing…Apple positions the iPhone as an elite product. While this has kept it from being a major player in some developing markets like India, it allows Apple to reap much higher profits on each phone than its competitors.
So we can totally understand why Malaysian Apple fans would go gaga over the new iPhone X and would spend an arm and a leg once it hits the market. If you can afford buy away, but don't sampai bankrupt la.