Culture
Lifestyle
So what exactly happens at a royal funeral in Malaysia?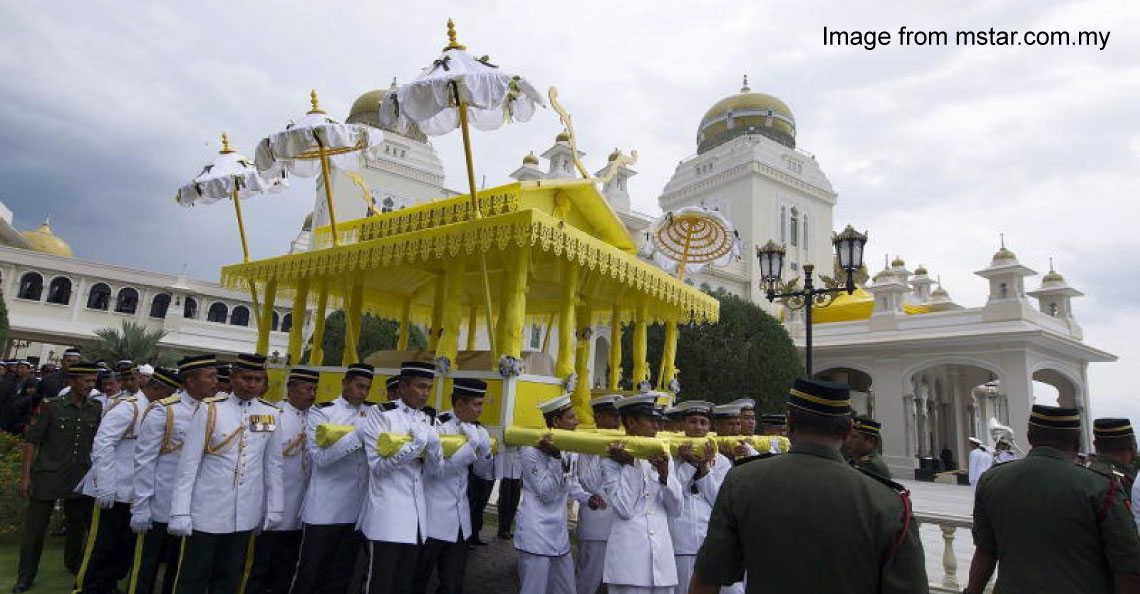 UPDATE [18/9/2017]: One of our readers pointed out that a Sultan actually cannot be buried until a new Sultan is established! Upon the death of the 24th Sultan of Malaysia, Almarhum Sultan Ali Al-Mukammal Inayat Shah, his sons were not able to be contacted to ascend the throne, so his body could not be buried for a whole month until they found a replacement for him.
Our reader, who also happens to be Tunku Abdul Rahman's granddaughter, told us about how TAR had wanted to be buried in his home state of Kedah, and also had a lying-in state, as it has been for all prime ministers who have passed away so far. Thanks Nur Qistina!
As many of us already know, Malaysia's 14th Yang di-Pertuan Agong Sultan Abdul Halim Mu'adzam Shah ibni Almarhum Sultan Badlishah passed away two days ago.
Besides being the only Sultan who served as an Agong twice, he was also the oldest Agong in Malaysia's history. To contrast between age, Malaysia's current Agong is 47, while the late Sultan was 89. Talk about an impressive track record!
Did you know that the phrase Yang di-Pertuan Agong itself means he who is made lord? With a title like that, you'd expect the the best of the best to be given to the YDPA- after all, he does have a lot of power to change the fate of the nation.
That being said, the funeral for the late Sultan was expectedly grand as well, with the Sultan's body placed in a special palanquin, which is kind of like a box with poles for people to carry.
Also, 89 shots were fired as the funeral procession left his palace, symbolising his age at death. This is similar to the funeral of Sultan Azlan Shah, where 86 shots were fired as he passed away at the age of 86.
Watch some snippets of the funeral from The Star here:
Besides seeing it on your news feed, do we really know how a royal funeral looks like? The funeral how come so fast one? Why must put yellow cloth on top? Can I go to the funeral? Here are some of the proceedings that come with sending off someone royal.
(Note: this is just based on what we could find! If anything salah pls tell us in the comments!)
Before their death, family is usually close by
As the Agong is the head of Islam for various states, one of the requirements of Agong-ness is to… well, be Muslim. Therefore all funerals for Agongs, both past and present, will follow Islamic proceedings. One Islamic belief is that if a person is on their deathbed, it is highly encouraged for the person's family members to be close by, and to encourage them to recite the shahada, which is essentially a proclamation that there is no other God but Allah, as Muslims believe.
In the case of the late Sultan, Almarhum Sultan Abdul Halim, his family was close by with his granddaughter writing a heartfelt tribute on Instagram after his death was announced. Even in death, he was buried next to his first wife and his younger brother.
Wait wait. Why do we call him Almarhum Sultan Abdul Halim, and not just Sultan Abdul Halim? Almarhum is a word used to indicate that:
– The person is deceased and
– The person is a royal.
Now that that's cleared up, here's another case of family being close by: Before the late Johor Prince, Almarhum Tunku Abdul Jalil Sultan Ibrahim passed away, his family was very close with him as well. In a Facebook post, his mother details how she was with him at the hospital. You can read his mother's note below:
After death, there is a certain way to clean and wrap the body
There are two main steps to prepping the body- washing and shrouding, which is when the body is wrapped. The body is washed three times, or until it's clean, but it has to be an odd number of times. In the late Sultan's case, his body can be washed by relatives of the same sex, or by his second wife, Tuanku Hajah Haminah.
Once the body is clean, it is wrapped in a white piece of cloth, with the left hand resting on the person's chest and right hand above it, like a person would be doing during prayer. Usually, a person would be buried in the cloth itself, but royalty is usually placed in a coffin so that the body can be carried by royal pallbearers, as seen even in the funeral of Malaysia's 11th YDPA, Sultan Salahuddin Abdul Aziz Shah.
The Sultan's body also needs to be buried ASAP
Other religions like Christianity and Buddhism for instance do not require their funerals to be on the day of death itself, but for Islam the funeral has to be done either by sunset or in 24 hours. There is generally also no viewing of the body.
For a Sultan -especially one that's so atas!- there is usually what's called a lying-in state, where the body is placed in a coffin in a public area so that people, both the very highclass ones and the bawahans (like us!), can pay their last respects.
Some royalty, like the late Sultan's sister, Tunku Hamidah Almarhum Sultan Badlishah did not have a lying-in state before her body was moved to the royal mausoleum. But… what's a mausoleum, you ask?
The body is taken by cortege to a mausoleum
Chup, too many fancy words! Here's what they mean:
Cortege: The funeral procession, or convoy– the people that are in the group going to the burial site
Mausoleum: A building that houses tombs; a very fancy burial ground
The late Sultan was buried in the Langgar Royal Mausoleum, which is the same place that Malaysia's first Prime Minister, Tunku Abdul Rahman is buried as well! Even though he was not a Sultan, he was considered a part of the royal family and therefore is buried there with his wife. Most royalty are buried in mausoleums, be they the Queen or a sibling.
Just like many funerals regardless of religion, the funeral processions go through quite a few roads before reaching the burial grounds. The late Sultan's cortege was led by a group of 55 men who carried the royal symbol of Kedah. It was also mostly in yellow, as yellow is Malaysia's royal colour.
In mourning, flags can only naik halfway
A lot of us know that when a ruler dies, flags have to fly at half-mast- but why? Apparently, there's an old English belief that flying a flag half-mast makes room for the invisible flag of death. Spooky stuff, kan? Now, it's really just a sign of mourning la.
For the death of the late Sultan, all state (especially Kedah, since he is the Sultan of Kedah), national and other flags in the state will have to be flown at half-mast for three days. If he were to still be Agong, all flags nationwide would be flown at half-mast for seven days.
There are other forms of mourning as well. In Islam, mourning a close relative lasts three days, and weeping and crying is acceptable– as long as it isn't loud wailing and acting out. For the spouse of the deceased, mourning can last up to a little over four months.
When the 4th Raja Permaisuri Agong, Tengku Ampuan Intan Zaharah Almarhum Tengku Seri Setia Raja Tengku Hitam Omar (she's a Queen!), passed away, Terengganu declare a statewide, 40-day mourning period. As for Kedah, there is now a seven day mourning period going on, with no entertainment being allowed; the day following his passing was even declared a public holiday.
The late Sultan's funeral was rich with tradition
Aside from being a doting grandfather, Almarhum Sultan Abdul Halim was said to be a caring person and a good ruler, with many saying that he went above and beyond what was required of him to serve the people in both his terms as Agong, and even as the Sultan of Kedah.
His brother, Tan Sri Tunku Sallehuddin Ibni Almarhum Sultan Badlishah succeeds the late Sultan, and will carry on with not only his duties, but his legacy.
It's interesting to see that even for funerals, the protocol and tradition surrounding it goes above and beyond- truly symbolising the honour that is given to royalty, and the honour that was given to the late Sultan.