Quick, close your eyes and picture what it's like to be a university student in England. Actually wait, no, read this first then close your eyes. Good. Now, close your eyes again and picture what it's like to be an American university student.
It's very likely that your image of an English education would be quite proper, in muted sepia tones, and respectable – kinda like Harry Potter but without trolls in the girls' bathroom. On the other hand, your image of an American university would likely be something like this:
If you've based this entire perception on what you've seen in movies and TV shows, we hate to break it to you but… you're partially right. We say partially because there's more to American student life than one big party (more on this later) but, more importantly, our friends at EducationUSA like being completely honest and upfront about studying in the US. In case you haven't heard of them before, EducationUSA is a U.S. Department of State network of over 425 international student advising centers located all around the world. This makes them the most official source of info you can get on colleges, universities, scholarships, and general student life in the US.
We interviewed several Malaysians studying in the US with our best cringe American accent and asked them to address a few common stereotypes we tend to have about an American education. Here's what we learnt.
The cost really depends on which state and uni you go to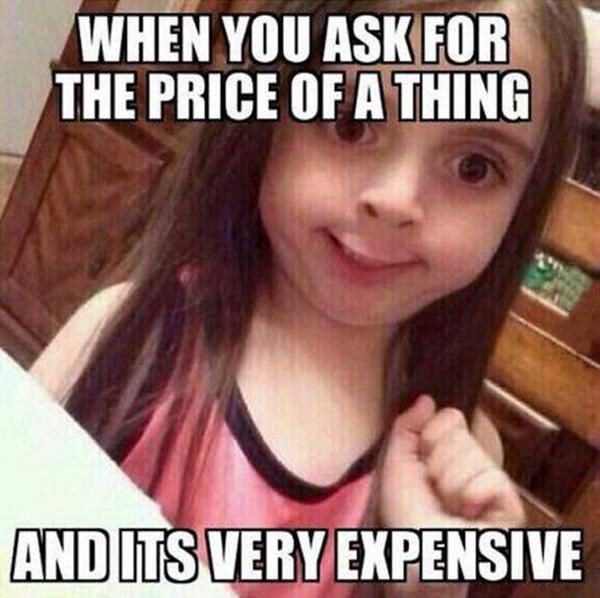 For many of us, cost would be one of the main considerations when it comes to studying overseas. This is where it get's kinda tricky because, of the four students we spoke with, two of them said it was "pretty expensive", while two told us it was "not expensive". So…uhm…what happened here?
Well, the main bulk of the cost would be split between living expenses and the tuition itself. For living expenses, the differences would start making sense once you consider that America is a HUGE country and each state has different rates and policies on tax. This, along with a bunch of other factors, mean that the cost of living can be super different in each state.
For instance, Munira, a Masters student at the University of Toledo in Ohio tells us that the cost is "low to affordable" – with rent being $405 (RM1,679) a month without utilities – because her campus is located in the suburbs. On the other hand, Anderson considers his cost of living to be high but that kinda makes sense once you know his school (Foothill College) is located in Mountain View California…where Google's HQ is. For reference, he's says the monthly rent for an unfurnished studio is $1,900 (RM7,870), not including utilities 😱
The other thing to note is that educational institutions are decentralized in the US which, simply put, means that there can also be a super large difference in tuition fees and scholarships. For example, Munira says her university (University of Toledo) requires a 3.5 GPA in SPM to get enrolled, and you might also be eligible for a scholarship that saves $5,000 off your tuition fees per year. In her case, her tuition fees were $18,000 a year, but she only paid $8,000 because she got a scholarship from the university.
In essence, if cost is a concern, you might want to do some research beforehand. Sean tells us that his dream was to study in the University of California, Los Angeles (UCLA), but wanted to find a way to save on cost, since tuition and housing fees would cost about $68k (RM286k) a year.
"My priority was to save money for the first two years. I researched pathways for me to get to UCLA and Foothill had a transfer program that gives priority admission to UCLA. Community Colleges are actually really cheap compared to universities, and Foothill was about $30k a year in total." – Sean
In general though, day-to-day living expenses really aren't as bad if you're earning US Dollars (more on this later) but it can be pretty painful if you start converting every price tag to Ringgit.
"If you don't convert, then it's okay. But if you convert everything then nothing is okay. I couldn't buy or eat the things I wanted, and my parents had to ask me to stop converting." – Anderson
Some of the stuff you see on TV is actually true
Whether it's American life portrayed on TV or actual events covered in the news, our impression of the US is largely influenced by the media – and that's true for our interviewees as well.
"I found out a lot of the impressions we get from TV are based on high school life. It doesn't happen in a higher education setting, even though my uni is known as a party school. The closest are sororities and fraternities, or pre-football game partying." – Aisya, Engineering student at the University of Wisconsin-Madison
Yup, frats and sororities are going to be a common sight in American colleges and universities. Known formally as Greek Letter Organizations, they're set up mainly to encourage a sense of brotherhood or sisterhood and provide networking opportunities. And social activities, of course.
While Munira hasn't been to a frat/sorority party, she's been to a pre-game party (also called a Tailgate Party) where students would drink, barbeque, play games and mingle to drum up hype and support the night before the big game.
"People back home will ask me, 'Is it true Americans do [parties and other wild stuff] like in the movies?'. Actually, that is true. They're quite wild. But there are also people who are quite moderate. It just depends on who you want to hang out with. You just gotta find your niche and you'll be fine." – Sean
Even on the more serious end of things, it seems that the media portrayals of racism or violence aren't really as common as it might seem. While Aisya's friends asked her to be careful of Islamophobia, she says she hasn't directly experienced it; although she has seen one instance of China Virus graffiti and received small slide glares in certain areas. Munira says she felt scared at first, but soon felt quite safe since Toledo is pretty diverse. Similarly, Sean and Anderson also mentioned they didn't encounter any discrimination because of the racial diversity in California.
Be prepared to say "Thailand" and "Singapore" a lot
Kinda like that thing where yuo olny need the frist and lsat ltter to raed wrods, Malaysia seems to only be recognized once you mention it's "the one between Thailand and Singapore".
Not a lot of Americans have been on a plane, not even out of Toledo, so I'm not surprised they don't know Malaysia. I would have to explain oh, it's between Singapore and Thailand. They would know Singapore. They would know Thailand. They don't know Malaysia. *face of dunno if should laugh or cry* – Munira
You may also encounter surprised Pikachu faces if you happen to be wearing a hijab…
They're confused with me. They're not sure if I'm Asian or Middle Eastern because I have an Asian face but I'm wearing tudung. I'll explain we have Muslims in Asia too, it's not just in Middle Eastern countries. – Munira
…or that your race can be one thing but your nationality is another, like having to explain that being from Malaysia doesn't mean you're Malay (Kinda like how being from Thailand makes you Thai).
It's not just with Americans, but with students from other countries…
"Students from China will ask if I'm from Taiwan or Hong Kong, and get surprised when I say I'm from Malaysia. They don't know Malaysians can speak Mandarin." – Anderson
Of course, it works both ways since Malaysians will also have to get used to a lot of new and strange experiences, like the small talk culture.
"I'm still surprised at how much people want to talk to you. In Malaysia no one would talk to you in an elevator but, in the US, people start making conversation. My reaction at first was like 'What do you want? Do you want money from me?' but I got used to it." – Sean
Overall though, it's what copywriters for an article about studying overseas would call a cross-cultural learning experience since it allows both sides to learn about each other. For instance, there are more people in Toledo who now know there's another country between Thailand and Singapore; and Munira even told us how the Malaysians taught the locals to use 'lah' in conversation. It seems that we Malaysians can leave quite an impression in return.
"There's a lady living in Madison who's been volunteering to take care of us Malaysian students for more than a decade. She would pick us up from the airport and be there during Malaysian events. She's even close to my mom through Facebook! One past Malaysian student got married and invited her to the wedding through a Zoom call. So yeah, she's pretty nice." – Aisya
Don't stuff your bag with packets of Maggi mee
Almost every Malaysian that has studied overseas would have brought a ton of Maggi with them, only to find it locally available; and the US is no different. Depending on location, you won't just find packaged Malaysian favorites like Maggi, Mi Sedaap, and Milo; but also ingredients like pandan, cilisos *cough*, santan, ikan bilis, and belacan. Typically, they can be found at Asian food stores, but some Wal-Marts have started stocking them as well. But of course not same price as Malaysia lah.
However, if you do plan on bringing food, our interviewees suggest packing your favorite brand or variety because those would be harder to find. Oh, and here's a tip… Sean told us how he brought over his favorite Sarawak laksa paste and ended up cooking it as a party potluck, so if you do bring over some local food, sharing is a great way to make new friends.
Halal food also isn't an issue in most places, although you should probably check how far the closest halal restaurant or marketplace is. For instance, Toledo has a large Middle Eastern community, so Munira says getting halal food there is "surprisingly" easy. On the other hand, Aisya says she needs to take a 30-minute drive to buy halal chicken, which isn't so bad considering some of her friends in other states have to drive for over an hour. Protip: You can always check with the school's international students office, student associations or, if you know any, current students there.
However, one thing you WILL miss is Malaysian food. Even though there are Malaysian restaurants, they're gonna be expensive and perhaps missing the wok hei. Sean says roti canai in California costs between $5 – $10 (RM20 – RM41) for 2 pieces, and don't taste as authentic. And we apologize to Munira for our insensitivity in asking her about Malaysian food:
"YES I MISS IT! I would cry right now. Nasi lemak. Oh my god. Village Park nasi lemak………………." – Munira
A US education is a completely new experience (in more ways than one)
You might want to study overseas for a variety of reasons; whether to experience the American Dream, attend the school of your dreams, or because it's the closest step to landing the job of your dreams. But even if you don't have a career or education plan in mind, the US would still be a great place to start because you don't actually have to decide on a major until your second year.
Even if you have your entire future mapped out, the American system focuses on giving students a holistic education; meaning that you'll have the freedom to also study elective subjects outside of your major that interest you.
"Right now I'm an Actuarial Mathematics and Statistics major, but I learn things like Anthropology, media, music… which I think is one of the strengths of the US compared to other countries like the UK, where the education system doesn't allow you to venture out into other areas." – Sean
Oh yeah, and education aside, you can also take the opportunity to travel; as some states can feel like entirely different countries. Aisya's suggestion is to visit places that you've seen in the movies, but our preference would be strange local attractions such as The Biggest Ball of Twine in Minnesota.
If you feel bad about spending your parents' hard-earned money on trips, you can earn some pretty good money working on-campus; or wait until you graduate. US university graduates are eligible for a 1-year OPT (Optional Practical Training) to work in the US within their field of study. Better yet, STEM students get 3 years of OPT, so you'll have plenty of time and money to visit the Boll Weevil Monument in Alabama.
But hey, enough of us telling you stuff – now's your chance to tell us why you decided (or want) to study in the US in the poll below. If you have any questions about studying in the States, get in touch with the nice people at EducationUSA (Facebook | Website). They also have regular webinars on courses and announcements of those sweet, sweet scholarships.