Studying abroad is one of the most beneficial and exciting experiences for a university student. You get to see the world, experience different styles of education, learn about new cultures… plus, it'll look good on your CV. Employability Level 100000000! In fact, if 70% of Malaysian students had their way, they would totally go overseas to study.
For most Malaysians, the UK seems to be the TOP destination for studying abroad. Why the UK? Simply because…quality. Students expect to gain a world-class education in a challenging environment to boost their personal development and career prospects. But which university? And what to study? So many choices, cannot brain… Thinking about your future is hard! CILISOS can't give you advise on that, but luckily we know someone who CAN. 😉
The British Council will help you find you the right course and uni
With so many options to consider, your eyeballs are probably spinning like a slot machine, but not to worry, our friends at the British Council are here to help. The Study UK Exhibition is back again in October 2018, and they're bringing representatives from UK boarding schools, colleges and universities TO YOU. You'll probably get a headache trying to Google a UK qualification that suits your budget/ambition/lifestyle/parents' wishes yadda yadda… so might as well just go to one place where you can get all your questions answered by real humans with real experiences.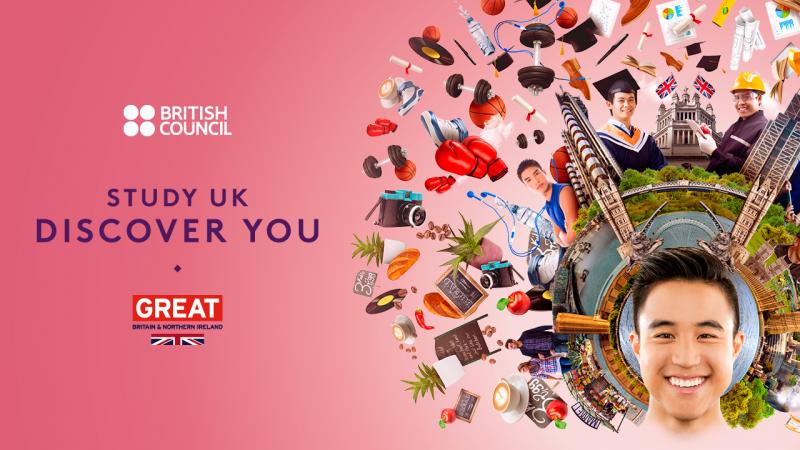 If you haven't discovered what you want for your future, it wouldn't be a bad idea to listen to the many stories several UK alumni would be sharing at the exhibition. Whatever questions you have, whatever you want to know about unis and courses in the UK, these guys will be your guide. Oh and of course, it's FREE! Here are the event details:
Date: 20 and 21 October 2018
Time: 1pm – 6pm
Venue: Hall 5, KL Convention Centre
Click here for more deets and pre-register now. FYI, there will be 50 or more institutions participating in the event, such as the University of Edinburgh, Oxford International College, University of Essex and King's College London.
FWAH, everything available for you there. This generation of kids really have it easy lo. The only thing they need to worry about is how many packets of Maggi and Milo they can stuff in their luggage.
But life wasn't this easy in the past. A few decades ago, there were no fairs or counselors to answer your 1001 questions. So CILISOS and British Council spoke to 5 Malaysians on how difficult it was studying in the UK 40 years ago.
1. The Engineering student who sent out his application letters and got uni info by snail mail
We take for granted how technology has made life so much easier, but 40 years ago, if people wanted to connect with others halfway across the world, they had to correspond by snail mail. Imagine how agonising it must have felt for students awaiting acceptance into a foreign university! This was exactly what Looi Kok Kheong, 57, went through in 1978 when he applied for an Engineering degree in Oxford Polytechnic (now known as Oxford-Brookes University).
"Communicating with them was challenging as we had to write letters and they would send all the forms, brochures and so on. There was no organisation where the information was centralised that we could contact either here or in the UK. You relied very heavily on information provided by the college on accommodation and student life over there." – Kok Kheong
Nowadays, you can even enrol in a uni at edu fairs (don't forget to bring all the necessary documentation such as transcripts if that's your plan). 😉
Another challenging thing is corresponding with families back home. Kok Kheong would write letters often with his dad in English coz international phone calls were just too expensive. Unfortunately, some of his friends had difficulty, especially those whose parents were not educated in English.
"I know of friends who corresponded in BM because they could not read or write in Mandarin. A lot of them probably got round this issue by writing to their siblings at home. Today you have messaging apps with voice messaging and calling, so this is no longer a problem." – Kok Kheong
2. The Agricultural Economics student who ate vegetarian every day coz halal food was hard to find
Of course, as Malaysians, one of the things you will miss the most if you study overseas is…FOOD. Nasi lemak! Roti canai! Char kuey teow! Samion Abdullah, 69, who studied Agricultural Economics at the University of Reading in 1975, had to survive exclusively on vegetarian food when he ate out coz halal food was hard to find.
"In campus we had only fish and chips. But to cook on our own there was a Pakistani shop selling halal meat in Reading. Those days one went out for meals at Pakistani, Indian and Arab restaurants or ordered only Southeast Asian or vegetarian meals." – Samion
Festive seasons, especially Hari Raya Haji and Hari Raya Puasa, were the loneliest moments during his time there, as his thoughts would drift to home and the loved ones he left behind. Several of Samion's uni mates were already married and their wives accompanied them to the UK. Their wives would make Malaysian delicacies from time to time.
Today, the UK has become more cosmopolitan than ever and halal food can be found in lots of places. As a matter of fact, most big brands such as Tesco, Sainsbury's, KFC, Subway, Domino's Pizza and so on have switched to halal meat because both Muslim and non-Muslim customers can buy it. So the problem Samion faced all those years ago is no longer a problem for Malaysian students.
3. The Econs student who brought along her badminton racket and Teresa Teng cassettes
While most of Peggy Tan's friends at the time couldn't afford to study abroad, she went on a 'Father-Mother Scholarship' 😆 In 1979, she enrolled for an Economics degree at the Portsmouth Polytechnic, now called the University of Portsmouth, being the eldest daughter and the only one among her four siblings to do so. Although she was one of the lucky ones, it's not like things were very cheap, the exchange rate was like RM5.50 to a pound, and that's not far from today's exchange rate.
"I can live on £120 (RM660 at the time) for a month then, which was almost the whole of my mum's salary as a teacher in a Chinese school." – Peggy
But the more menyusahkan part was the culture shock. She couldn't catch British slang and jokes at first, so Peggy, 59, went to see the uni's Head of Department (who was Polish), and he asked the lecturers to slow down. Then there were other weird things, like how the public bathroom cubicles in uni had NO DOORS. She wrapped up with a sarong to bathe which amused the English girls very much.
Being 6,579 miles away must have made a lot of our students homesick. In this situation, you just want to cling to anything that reminds you of home. Thankfully they did have Malaysian societies in the 70s.
"Most students studying overseas then always brought their badminton rackets over, and not forgetting the cassette player, and lots of Teresa Teng and Fong Fei Fei's cassettes." – Peggy
LOL, even in the 70s, badminton was one of the things that unites us. Today, networks like these are probably stronger and more widespread than back then. Most, if not all, booths at the British Council's fair will have representatives to speak to about getting settled in the UK, so that even if you're 6,579 miles away, they'll help you as much as possible to make you feel more at home.
4. The Engineering student whose flight stopped to refuel 5 TIMES before reaching the UK
Forty years ago, a youngster would never think of asking their parents to send them overseas to study. The best one can hope for is to study locally. But Ken Lau, 67, had an older brother who went to the UK to study and then wrote a note to their parents to let Ken go because it would be a beneficial experience.
Of course, it was easier said than done. Sure, Ken had the grades to get into uni, however getting there was literally a pain in the backside. These days, flying 12-13 hours to the UK also we complain sakit pinggang and punggung, but you won't believe what Ken went through.
"I will never forget how I got to London from KL. I flew on a charter flight, paid RM700 (RM3313.59 today) for a one-way ticket. The plane they used was a Boeing 737 – the range is not very large and it's not designed for long distance, so the plane had to stop to refuel 4 or 5 times on the way! You may think it's funny, but it wasn't pleasant in those days." – Ken
If you're wondering what a charter flight is, it's a not a regular scheduled commercial flight. Each stop lasted about an hour and a half, every six hours…so in total, his flight lasted approximately 20 hours!!
"I can't recall all the refuelling stops. Certainly Calcutta, Karachi, one in the Middle East, I think it was Dubai, I'm not sure, but we had to go through serious security there. Finally (possibly last) one is the airport in old Yugoslavia." – Ken
Aren't you grateful that flights to the UK now only takes 12 hours?
5. The Civil Engineering student who paid almost the same amount of fees as the British kids
Clearly there are a number differences between studying in the UK now compared to 40 years ago, but none more syok than this one… syok for the older generation, that is. When Foo Win Yin, 61, took up Civil Engineering in the Newcastle University in 1974, he discovered that his fees as an international student wasn't very far from what the local Brits were paying!
"My fees was 500-600 pounds (approx. 5,400-6,500 pounds today) per year. I can't remember how much my British coursemates were paying, but back then international and local students' fees were not very far apart. Nowadays the gap in fees is much more significant." – Win Yin
How much are kids paying today? We did a bit of digging and found out that for undergraduate level, international fees for 2018 are pretty much the same as previous years, at around 10,000-35,000 pounds (RM54,000-190,000) or more, with an undergraduate medical degree at the top of the price range. Whereas for home students, universities in the UK can charge up to a maximum of 9,250 pounds (RM50,000) per year for undergraduate degree programs.
But you know what? Win Yin actually didn't pay a lot for his degree coz he got a scholarship from his second year onwards hehe. In fact, he also did his Master's in the UK on full scholarship – his lecturer had helped him apply for a grant from the British Council. 😉
Pheww, thankfully the days of applying to universities by snail mail are OVER!
You don't have to wait by the post box to receive forms and brochures from overseas. No need to send out countless letters and lick stamps until your tongue is dry. We really dunno how these students did it 40 years ago, but they did it, and we have to salute them for putting themselves through a wringer in order to achieve their dreams.
Don't worry if you are considering studying abroad today. Things have changed. You'll have access to plenty of halal restaurants, hooking up with Malaysian societies, can WhatsApp call your parents. All your queries can be answered on 20-21 Oct 2018 at the British Council's Study UK Exhibition in KL Convention Centre. 🙂
Ed's note: This article was originally published on Feb 22nd, 2017