Lifestyle
Malaysians can get FREE insurance for vaccine side effects. Find out how!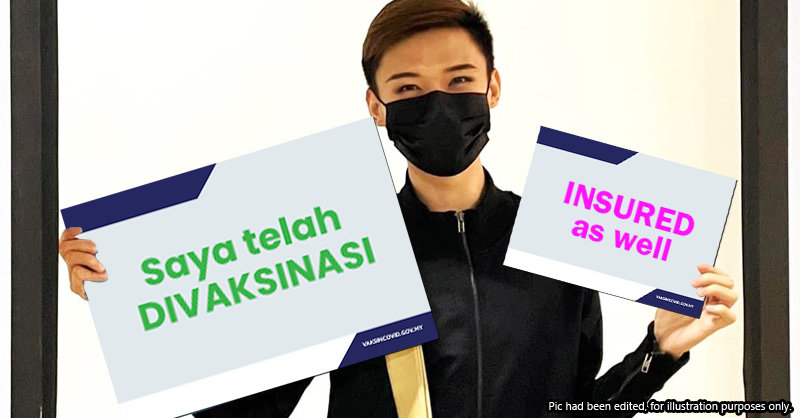 'Tis the season for vaccinations! The nation is all ablaze with the vaccination sensation, so have you gotten your appointment yet?
While some of us are just waiting – desperately – for that appointment to come in, it can't be denied that some others were less excited. There are a lot of things to worry about: What will I wear to the Pusat Pemberian Vaksin (PPV)? Will it be crowded and/or dangerous? Will I need to take MC? What if I get really bad side effects?
Well, we can't help you pick out an outfit, but for your side-effect worries, you should know that…
You can apply for FREE insurance for that!
Yes, free! As in you don't have to pay for it with money. And no, it's neither a scam nor an MLM. After the vaccination program started in Malaysia, there were concerns about the possible side-effects of vaccines (since they're new), and many insurance companies had since offered to cover their policyholders in case the side effects get out of hand. Some of them, like AIA Malaysia, offers this for free through their Free Covid-19 Vaccine Complications Cover.
How it works is that you register for this plan before getting vaccinated (it's open to anyone, regardless of whether you're already an AIA client or not), then go for your vaccination. Then you wait.
If within 30 days after cucuk you get side effects so bad that you get hospitalized, you will get RM100 for each day for up to 14 days. No payout for the usual demam and injection pain ah. And if the side effects got bad enough that you *perish* within the 30 days, a lump sum of RM20,000 will be given to your parents or next-of-kin. All of this, free of charge.
So what's the catch, you might ask? Well, there's the fine print, of course. The vaccine have to be approved by Malaysia, and everything – the vaccination and the side-effects – have to happen within Malaysia as well. Only Malaysians between 18 to 70 years old may apply, and since it's a free thing, AIA had allocated a limit of RM3 million for the claims. So the program ends either when the RM3 million had all been used up, or on 31 December 2021, whichever comes first.
Still, it probably wouldn't hurt to get some free protection just in case, so you might be wondering…
Omgosh how do I get me some of that free protection?!
It's so easy, you can do it without getting up!
Step 1: Call up an AIA Life Planner if you know one, and tell him or her you want the free insurance for vaccine side-effects. If you're an AIA customer, you probably can just call your agent. They'll help you register for it.
Step 2: Don't know any Life Planners? Just e-mail your particulars (name, contact number, and simple location – like Puchong, Selangor for example) to AIA directly at [email protected], and make sure you set the subject of your e-mail to "Free COVID-19 Vaccine Complications Cover". They'll get in touch.
Step 3: Uh… once registration is settled, just go for your vaccination with peace of mind we guess? We dunno. We started out typing this thinking there'd be more steps.
You can check out their FAQ here for more detail, but do note that registration is only open until 31 July 2021, so if you want it, gotta go fast!
This campaign is as free as Facebook, but if you want extra protection, you can always get premium versions at about the price of two delivery meals on AIA's Shopee shop. Yes, apparently you can buy insurance for Covid and vaccine side effects through Shopee nowadays. The times we live in.