Right now, most malls are closed due to MCO (at the time of writing) so trying out clothes or checking out electronics in retail shops is out of the question. As annoying as it may be for us, it's probably much, much worse for the local business trying to survive. Here's the good news: online shopping still lets us scratch that itch albeit in a slightly different way and we can support local SMEs at the same time.
To that end, MDEC partnered up with a few e-commerce platforms such as Lazada to launch the "Shop Malaysia Online" campaign, offering awesome discounts, free shipping and more when we buy from local sellers.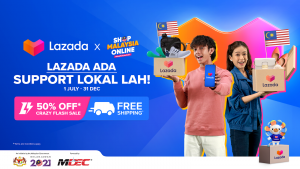 There's more, their "Go e-Commerce" campaign is set up for the benefit of local entrepreneurs; to make it easier for them to transition into the digital space. To show how steep the deals are, we picked out some products listed by local sellers on Lazada that we think you guys might like (disclaimer: the prices we cited were accurate at the time of writing).
1. Health & Fitness Products
Maybe there's less things to distract us compared to the office, but we've been paying a lot more attention to our health since we started working from home. We know a lot of you guys get your health supplements online; we do too, and this listing for Blackmores Vitamin C tablets is a steal at less than half price. Get one of these, and you'll be set for the next month or two.
Home workouts are an awesome way to stay fit and keep motivation levels high. These fitness resistance bands can be used as a part of any yoga, crossfit or other exercise routines, and they're less than RM6 a pop.
Do these listings offer FREE SHIPPING?: Yepperinos.
2. Work from Home Products
Some of you might be working on the sofa or a bed at home – no judgements whatsoever, we do that too. Something that came in handy for us was this laptop table that came with an adjustable height feature and wheels on its legs. And at RM37.90, it's almost half the price compared to when we bought ours! Practical, convenient, what's not to like?
If you're already working in a proper home office but you've noticed that your neck or back hurts after typing away for hours on end on the laptop, this RM9.80 laptop stand could be what you need. Lightweight, sturdy and durable, the laptop stand helps prop your laptop closer to eye level which helps your posture.
Do these listings offer FREE SHIPPING?: Only the laptop stand offers free shipping, but the shipping fee for the table is only RM2. (We paid RM15 weh!)
3. Kitchen Appliances
At least half the Cilisos staff can't cook; some of us even burnt water before. Anything that makes the cooking process easier is a win in our eyes, like this little hand-propelled garlic chopper. All we had to do was stick some peeled cloves of garlic in, give it a couple of tugs and BAM! Diced garlic, and all you have to pay is RM4.45.
Making your own sauces or dips is a Herculean task – without this professional grade blender, that is. For RM157, you'll be able to make your own milkshakes, smoothies, sauces, sambal and more.
Do these listings offer FREE SHIPPING?: That's a resounding YES for the garlic chopper, while there's a shipping promo for the blender.
4. Food & Snacks
Chips are nice, but if you don't wanna get (too) fat, this pistachio almond trail mix (RM6.90) by Signature Market is just perfect. In a bag of trail mix, you'll find a happy marriage of raisins, almonds, pumpkin seeds, pistachios and more. Who can resist a bag of these while binging Netflix, right?
Coffee connoisseurs are gonna love this one: espresso capsules. You can use them with Nespresso machines to make a fragrant, great tasting cup of joe. A box of 10 capsules is going for RM19 so if you need a pick-me-up in the morning or a boost to power through the night, this is for you.
Do these listings offer FREE SHIPPING?: Heck yeah.
5. Home Organization Products
Everyone has loose knickknacks lying around – keys, charging cables, you name it. Everything's okay until you need to find that one specific thing, and the house gets turned upside down. Don't let that happen; get a storage drawer and keep your hoarding organized. This one happens to be just under RM10, and the drawers are made from transparent plastic which makes identifying the contents fairly straightforward.
Vacuuming isn't enough, not anymore. You want to kill the icky, freeloading germs that inhabit the surfaces of your home. With this multifunctional mop/steam cleaner hybrid, your floors, carpets, windows and even kitchen will soon be rid of dirt and bacteria. A gadget like this might sound like it's gonna be pricey, but it's less than RM230 after a huge discount, making it a worthwhile investment for any living space.
Do these listings offer FREE SHIPPING?: Affirmative (there's a shipping promo for the mop/steam cleaner hybrid).
Support Lokal Lah!
While there may be plenty of international sellers for you to choose from, choosing to buy locally can keep those ringgits flowing in our country, and you might also be helping out some Malaysians who are just starting up their online businesses.
The "Shop Malaysia Online" campaign lasts a whopping 6 months (1 July – 31 December 2021), but there's no reason to dilly-dally. The next time you wanna shop for whatever you need, here's where you can go! There's discounts, there's vouchers AND FREE SHIPPING!
On the entrepreneurial end, Lazada's "Go e-Commerce" is here to help new sellers start their digital journeys with:
An enhanced Pintar Niaga stimulus package with benefits worth up to RM1,500
0% commission and listing fees
FREE RM300 sponsored Discovery Credits
FREE SHIPPING vouchers for 30 days
New sellers will also receive guidance and support from a dedicated incubation support team for the first 90 days to ease them in. It's a win-win for both Malaysian shoppers and businesses!