The Parliament is one of the most important institutions in Malaysia. It's our democratically elected representatives come together to debate, pass, amend and repeal laws that affect the entire country. Truly a hallmark of human progress. Conversely, it's also where some of the MPs say stuff like this:
And while we're pretty sure y'all are aware of these occasional breaks in Dewan Rakyat decorum, no one really knows which MP kicks up the most fuss during Parliamentary sessions… right? Well, thanks to MyMP, we do know.
See, during every Parliamentary sitting, there will be a transcriber whose job is to write down everything said during said sitting. If the Dewan becomes too noisy or unruly, the transcriber will simply jot down 'dewan riuh'. The same goes for when laughter takes over the Dewan – the transcriber notes that down as 'dewan ketawa'.
What MyMP has done is they've gone through the HANSARDs (the transcripts of Parliamentary sittings) and took note of the two names preceding every 'dewan riuh' and 'dewan ketawa'. According to the data…
Shahidan Kassim is currently the most 'riuh' and the funniest MP
In Parliament sittings from December 2022 till June 2023, Shahidan Kassim, MP for Arau, takes the cake for being the funniest and most chaotic representative. His name has shown up relating to the terms 'dewan riuh' and 'dewan ketawa' 72 times and 75 times respectively. As expected of the man who made fun of the conduct of his fellow MPs in Parliament, saying:
"Kami nak rakyat lihat kami, kami maharaja TikTok," – Shahidan Kassim in the 25th May 2023 Parliament sitting
Shahidan was also the 'dewan ketawa' champion during the 14th session of the Dewan Rakyat from 2018 to 2022, amassing an impressive 238 instances of 'dewan ketawa'.
The previous title holder of 'dewan riuh' was Sanisvara Nethaji Rayer, MP for Jelutong, who was responsible for a remarkable 531 'dewan riuhs' from 2018 to 2022. Other names in the top ten of both categories include Bung Mokhtar (of course), Sany Hamzan, Rafizi Ramli, and Takiyuddin Hamzan.
These figures are, according to MyMP co-founder Chak Onn Lau, a fun way for them to keep an eye on MPs, and an encouragement for the rakyat to do the same. Chak also said that…
Shahidan and Rayer are both effective MPs, according to MyMP data
If you're just looking at the 'dewan riuh' and 'dewan ketawa' numbers, it's easy to dismiss Shahidan and Rayer as inadequate representatives. That, however, isn't the whole truth. Take a look at these stats from the MyMP page for Shahidan: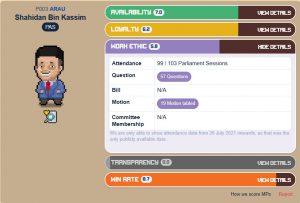 …and Rayer: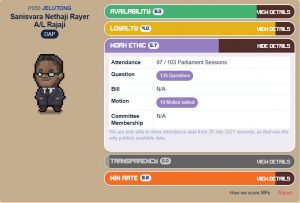 Both Shahidan and Rayer attended almost every Parliamentary sitting they're eligible for, and have asked pertinent questions: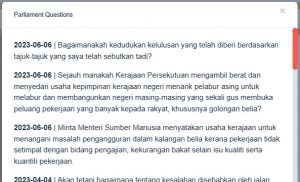 …and tabled 19 motions each, which is apparently pretty good, by MyMP's measures. But yeah, if y'all are interested in how your MP is doing in Parliament, check out their MyMP page, and you'll be able see their profile, Parliament attendance rate, how many motions they've tabled, how many questions they've asked, whether they've declared their assets and more. Toodle oo!