Culture
History
Politics
There's a new party in Sabah started by angry ex-BN guys. And they're attracting crowds.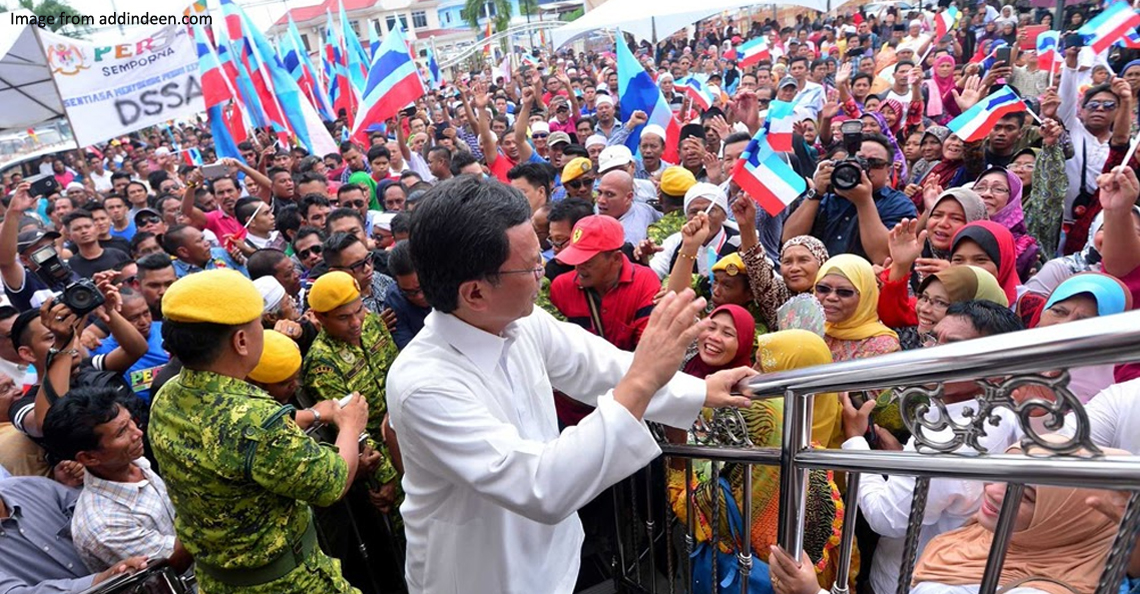 Quick! Name 3 Sabah based political parties! If you managed to name 3, you're either a Sabahan or just very (very) interested in Sabah politics. If you didn't manage, don't worry, even the very best in our office could barely name 3 without having to think twice.
As you know, the elections are coming, all kinds of storms are brewing in the news feed with talks about MPs, parties, and dissolution of parliament. But over in Sabah, a political party no older than 2 years seems to be making waves. Introducing Parti Warisan Sabah (PWS), and check out the turn out at their general assembly recently:
And here's a video of the venue entrance:
Judging from the pictures and videos, support really seems to not be lacking for this new party. The party has recently announced tha they will be working with Pakatan Harapan to topple BN in Sabah. But who is this PWS? Where did they come from? And how did this party become so popular? We take a deeper look.
Formed in later 2016, the party is lead by a former UMNO vice president
Parti Warisan Sabah (PWS) was founded in October 2016 by Mohd Shafie Apdal, the MP for Semporna (Sabah), and a former UMNO leader. But Shafie Apdal wasn't JUST  any other UMNO leader, he was one of the three vice presidents of UMNO, the other two at the time being Dato' Seri Dr. Ahmad Zahid Hamidi and Datuk Seri Hishammuddin Hussein.
He was also the first Sabahan to become VP, and was also appointed as Minister of Domestic, Trade and Consumer Affairs (with Pak Lah) and Minister of Rural and Regional Development (with PM Najib). But then in 2015, Shafie Apdal was removed from the cabinet and suspended from UMNO, all because he questioned the Prime Minister's handling of the 1MDB scandal.
Along with him, several other Sabahan representatives quit their previous party to join PWS, including Penampang MP Darell Leiking (formerly PKR), Sulabayan assemblyman Datuk Jaujan Sambakong (formerly UMNO),  Likas assemblyman Junz Wong (formerly DAP), and Moyog assemblyman Terence Siambun (formerly PKR). As you would have noticed, PWS fashions itself as a multiracial party, while emphasising on the welfare of Sabah.
"For the first time in more than two decades, the Muslims can turn to Shafie and a Sabah-based party to look after their interests," – Warisan Deputy President Darell Leiking, quoted from Straits Times
That's nice and all, but going by the results of the last elections, BN has a pretty solid hold on both the state and parliamentary seats in Sabah. In terms of state seats, BN now holds 48 seats, while the opposition has 11, and another party has 1 seat. In terms of the parliamentary seats, there are 25 seats in Sabah, which account for 11% of the 222 total. BN holds 22 out of the 25.
PWS may have formed a pact with Pakatan Harapan, but as illustrated previously, the position don't hold much seats in Sabah in the first place anyway. Considering the seats of the current representatives in PWS, it would swing only a few sets to the opposition, and that's only if all the current leaders hold on to their seats. So how is PWS hoping to beat BN?
BN has lost in Sabah before (!). Kinda.
To answer that question, we have to brush up a little bit on Sabah election history. You see, back in the 7th General Elections in 1985, BN suffered a SURPRISE defeat in Sabah, when it lost 25 out of 48 seats to Parti Bersatu Sabah (PBS). It resulted in the 1986 Sabah riots, and after some PBS members jumped ship and negotiations were made with BN, a snap election (known as the 1986 Sabah State Election) was called. PBS ended up winning even more seats (34 out of 48), BUT subsequently formed a new coalition with BN.
In the subsequent election (state election 1990), PBS managed to win again for the 3rd time, gaining even more seats than before (36). But this time, PBS pulled out of the BN coalition on the eve of the election, and joined Gagasan Rakyat, the opposition coalition of that time. So for a time, Sabah was actually ruled by the opposition!
THEN in the 1994 elections, PBS won the state elections AGAIN, with a margin of only 2 seats. But this time, PBS assemblymen defected en masse to BN, causing PBS to lose control of the state. Eventually in 2002, PBS rejoined BN to become one of its component party, and it has stayed like that ever since. The point of this story is to show that BN had to fight an uphill battle to wrestle Sabah. But then…
Has the party gained enough support in less than two years?
Sure, there was a huge turnout at the party's general assembly. But what about throughout the almost 2 years they've been around? We've found some videos from when he was attending ceramahs and making his visits to various parts of Sabah, and the crowd the party's drawing seems hard to dismiss. Here's a video from November 2016, shortly after it was formed:
We don't know where the location of the previous video was, but this next one is in Keningau, Sabah, also the home state of former Sabah Chief Minister, Joseph Pairin Kitingan. (Skip to 10:59 to see turn out)
But one has to wonder, what was Shafie Apdal like when he was still so high up in UMNO's ranks? We tried to find news about him that isn't related to PWS or the time when he was kicked out of UMNO, and found almost nothing to suggest that he was a controversial character. Of course, he spoke up for government agencies while he was still in the cabinet, but there were no squabbles nor drama surrounding his tenure, but he wasn't spared from his share of scandals.
Prior to his departure from UMNO, the only scandal he was involved in (which was unverified) was accusations of him spending obscene amounts of money on a mistress. After his resignation, the MACC launched an investigation into corruption allegations involving RM1.5 billion worth of rural development projects in Sabah. The projects were during his time as Rural and Regional Development Minister, and he was detained for 8 days.
"Well, it's all very political anyway," – Shafie Apdal told reporters when he returned to the Parliament after his release, quoted from The Star
His biggest enemy will be the longest serving Chief Minister of Sabah, Tan Sri Musa Aman. The two have been at odds even since Shafie Apdal's UMNO days, with the Sabah state administration seeing Shafie Apdal as UMNO's top pick to succeed Musa Aman. Favour from the federal government can be a bad thing in Sabah politics, because its seen as an attempt to grab Sabah by the sovereignty.
"Take for example Sarawak, the Chief Minister was chosen with the consensus of the BN leaders there, it was not the decision of the Prime Minister. Sabah's rights in all aspects, including the choice of Chief Minister, must be respected." – Gerakan Akar Umbi Umno Malaysia (GAUM) President, Zulkarnain Mahdar, quoted from Free Malaysia Today
And when it comes to the rights of the Sabah and Sarawak state governments, East Malaysia does not fool around. All the proof you need was the time when they sent a team of lawyers to London to verify the details of the Malaysia Agreement, a.k.a the agreement Sabah, Sarawak and Malaya signed to form Malaysia, and it's exactly this sentiment that PWS is counting on in the coming election.
There's a strong feeling that Sabahans finally want to take control of their own destiny
Much of the voter composition in Sabah has changed since PBS first won the Sabah state election. Aside from redrawing constituency lines, the BN government has also been awarding citizenship to Muslim immigrants to create a voter base for the rulling state government.
"In 2004, there were 3.3 million Sabahans while Sarawak only had two million. If you base our growth to Sarawak's rate, we should have, at best 1.3 million people. Where did the rest come from? Illegal immigrants of course," – Former state secretary Simon Sipaun told Free Malaysia Today
In 2013 Royal Commission of Inquiry hearing, a former director of Sabah's National Registration Department had admitted to issuing temporary identity cards to immigrants to allow them to vote in the 1994 state election. Tun Mahathir himself admitted to giving citizenship to Filipino refugees in Sabah, but stressed that they were handed out legally. Either way, there are many that think Sabah is ripe for another revolution.
"There is a feeling that Sabahans have been taken for granted and it takes many forms, ranging from wanting greater autonomy to the small share of the state's resources, and also socio-economic neglect." – Former Chief Minister Yong Teck Lee, President of Sabah Progressive Party, told The Straits Times
Pakatan Harapan (PH) also seem to think PWS is on to something, as Sabah will be the only state where PH will not be leading the opposition for the elections. Though they are formally in a pact, PWS has not joined the PH coalition, and PWS deputy president Darell Leiking gives a reason that sums up their party's purpose nicely:
"We will not join because our mission is to ensure that Sabah is fully free from the clutches of other parties making decisions for us, it defeats what we want for Sabah." – PWS deputy president Darell Leiking told MalaysiaKini